I recently learned about this new type of Mud Control mat/slab from a posting in the Horse Human Bond Facebook group. A member had shared her recent experience with these new interlocking slabs on a muddy pathway in her horse pasture. Vanessa O wrote:
"A few months ago we were discussing mud control mats on here. I purchased 10 sq mts as a trial. Put them down in a muddy gateway with no surface prep. They just clip together and it must have taken about 20 mins for two of us to put them down. Here are the results, they are absolutely fantastic. Wet clay soil, 6 horses of various weights walking over them. Will definitely be getting more of these. These are made from recycled plastic in Germany. They are quite heavy but are absolutely idiot proof to put down. I did absolutely no ground prep at all just put them down on the already wet ground in January. I've had a very large Friesian thundering over them and they do not move. Hubby has driven his tractor over them too."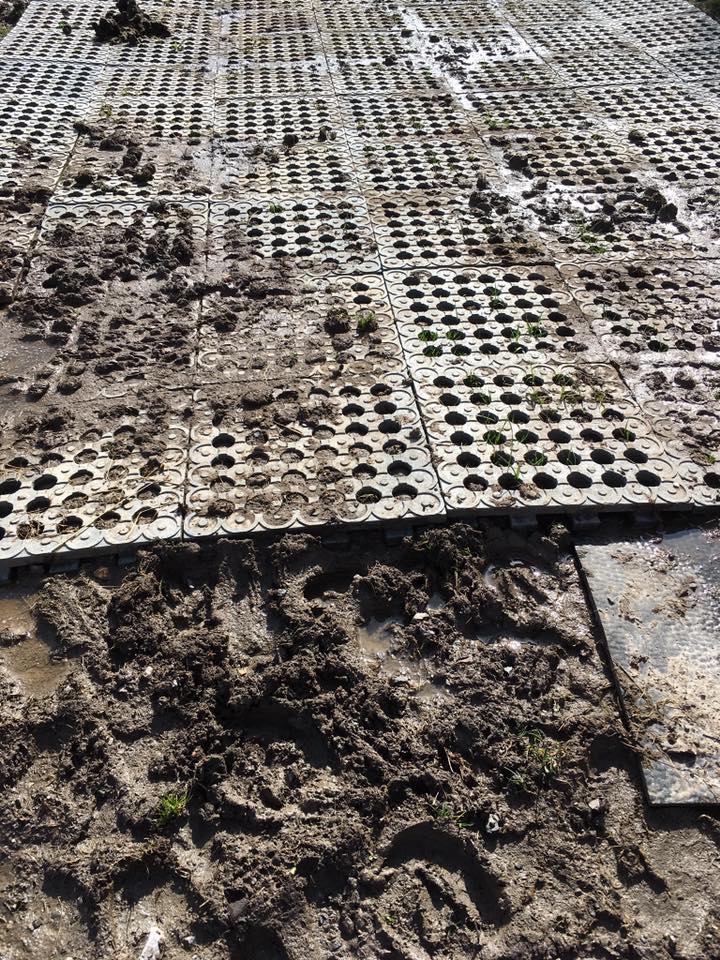 Well Vanessa's experience was intriguing enough for me to look deeper into this option. Especially since I am prepping a new area to be turned into a well-drained paddock surface plus I'm going to be putting in a gravelled track system; so my horses can come in and out of any sheltered area without having to stumble through 18-inches of mud.
The UK distributor for this product, Kerry Weisselberg, does plenty of experiments with her own herd of 5 horses in a climate as rainy as mine, so here's some more info from her posts about Mud Control INB grids:
"The Mudcontrol INB slabs are 100% recycled plastic and fit together to give a stable, instant 'hard standing' on top of even the worst mud. They won't pull apart or sink into the mud, they are so well designed that they even float on water (in spite of weighing 7kg per slab) and they are certified to withstand 60+ tonnes. They are 50cm square (4 slabs in a square metre).
I have had them down in my clay fields since September and they don't move, they are rock solid, and the horses choose to hang out on them. They are stamped on top with a double nub pattern to give grip, and can be laid without a sub-base, just on top of the mud, or on sand if you want to ensure a level surface when the mud is difficult to level out.
The slabs are rock hard (you can saw them and hammer a nail into them) so you won't damage them. I scrape the mud off mine (as it pushes through the holes) with a snow shovel or a metal shovel."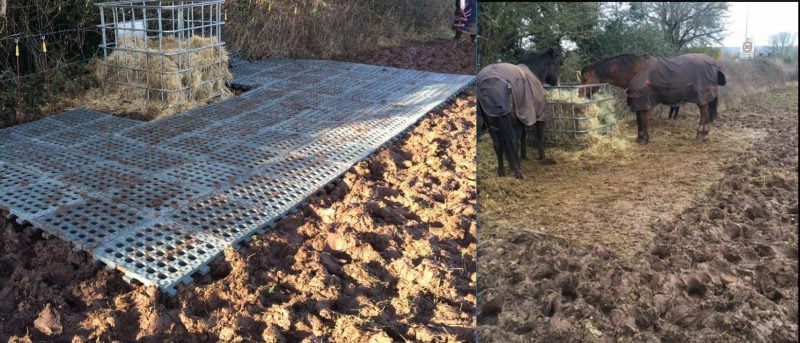 What do they look like if you don't scrape them clean in heavy mud?
"I took this photo today of slabs which have been down since September (it is now March), in daily use (5 horses and ponies on and off them), and not scraped clean for about 6 weeks or so, as a test. They haven't moved and they haven't sunk."
"With sloppy mud like this, the horses will carry some mud on, and some will squish up through the holes, so it will need scraping or brushing to keep the top clear. But they will not sink into the mud. They float on water, as you can see in the next pic. They won't sink, they slot together and stay in place."
This is the same walking track a few weeks later:
"This next photo was taken this morning of the slabs I laid about 6-8 weeks ago on heavy clay. They have had 3 big horses and two ponies on and off them every day, and only been scraped clear every few weeks. Obviously we have had a lot of snow and rain on them since then; a lot of mud!"
What do these cost?
I'm not sure what the US$ price is on these, but you can check with the US distributor through their Facebook page, INB System USA. Not sure why, but the Mud Control grids are not listed on their website, only on this Facebook page.
The current UK price for these slabs/grids is UK5.50 per slab or UK22.00 per square metre (4 slabs) plus VAT.
So if I convert that to US$, it works out to US$7.25 per grid and US$29 per square metre
Of course, the next thing I want to do is to run some numbers to see if this solution would be cheaper than using my traditional paddock footing…
1 acre = 4047 square metres
The area I need to prepare is about 1/4 of an acre, which would be 505.5 square meters. So to use these grids to cover that area would cost me about $14,659.00. Wait. What??
To be fair, the Pros of this solution are that I could do it myself (with some help) and no equipment rentals needed. And since I'm leasing this land, at least I would be able to take my investment with me. But still. To use my current method is going to cost me $2,600.00 – which is less than 20% of the cost of these plastic slabs. Then of course there is the fact that they are plastic – which I try to stay away from consuming. Yes, I know they're recycled plastic, but sooner or later (20+ years), they're going to break, and then what? Most likely they'll be dumped in a landfill somewhere – unless you're willing to dig them out, pressure-hose them clean and take them to a recycling centre. Which is certainly possible!
I am now mystified as to why people on some of these Facebook posts are claiming these are a cheaper solution to using layers of drainage rock, gravel, etc? Perhaps they are not running their numbers to find out? Or, perhaps they are only needing to cover one or two small areas, so the Bobcat/tractor rental then makes it more expensive for them…
I also wonder if there's a psychological component at work here? These grids feel easy-breezy DIY. Hiring an excavator, arranging rock/gravel delivery, hiring a Bobcat or skid steer to spread the gravel – and coordinating them all can be a bit daunting! I've done it four times now and it still feels like a big, difficult job to me.
I think possibly the best application for these would be small areas that you would normally try to use rubber mats on (which don't work at all, they just sink), where it's just not worth the money to hire the Bobcat. Maybe you just have one pathway, or the area around your slowfeeder. That's when I can see this being a great solution. Or, if you want to just do a small bit at a time, according to what you can afford. Because these grids lock together, you can start with just 12-16 slabs to start (or test) and then gradually add more as you can afford it.
And yes, there are a number of other recycled plastic grid solutions like TrueGrid and Eco GreenGrid, but none of them float the way Mud Control INB does – that's what makes it unique. Let us know if you try this solution and how it goes for you…
New Muddy Footing Solution from Germany
Jini Patel Thompson is a natural health writer and Freedomite. She began riding at age 2 in Kenya, and got her first horse at age 8 in Alberta, and so continues a life-long journey and love affair with these amazing creatures.