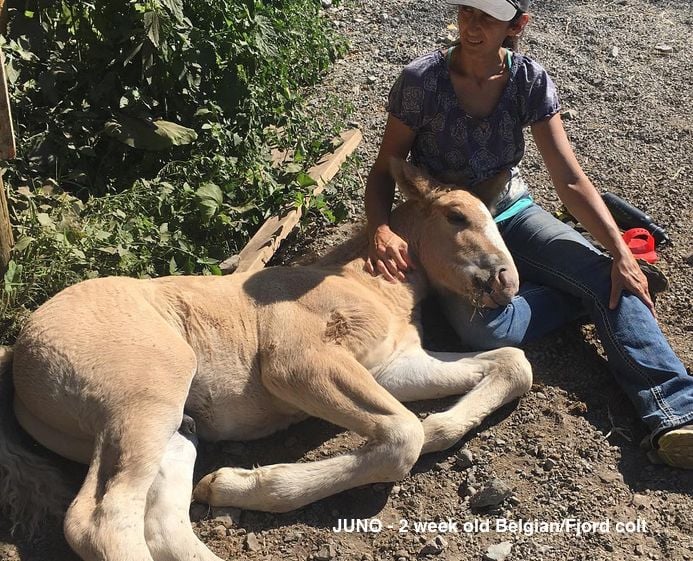 Listen To Your Horse is about entering into a fully sentient relationship with your horse(s). We are Jini Patel Thompson and Kesia Mei Nagata.
Between us we have 16 horses: from Andalusian to Belgian to Arabian to wild Mustang.
We say to all our horses: WHO do you want to be in this world?
Let's journey together to your most magnificent self.
Together, let us open to the expansiveness of possibility.
Here's a little bit more about each of us horse listeners and what brought us here to this vibrant place…

Jini Patel Thompson
I started off being led around on a pony at a stable in Nairobi, Kenya when I was 2. Then I got my first horse in Alberta, Canada when I was 8 – she was an Arab/Morgan mare in foal, named Dobbin. My parents and I knew pretty much nothing about horses. I had one book from England, My First Horse, to guide me. And none of our neighbours/friends had horses. I couldn't lift the saddle, so I rode bareback.
Everything I learned over the course of the next decade, where I accumulated three horses and two foals, was taught to me by Dobbin. I was trained first by a horse. 25 years later I was trained by humans. The two worlds have very little in common.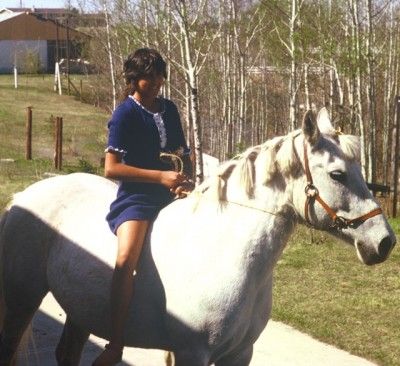 Of course, I didn't realize at the time what a tremendous privilege it was to be trained by a horse, rather than humans.
And then for a long time (like 20 years) while I traveled the world and had my own babies, I didn't own a horse.
I worked with and learned from other people's horses, and various riding instructors; English, Western, and Natural Horsemanship. I've done equine-guided and equine-assisted therapy, yoga with horses, and liberty work using only my energy. I got to experience what humans say/teach about horses.
Then, my new equine soulmate came to me through a bizarre series of events, which you can read about here. And a year later, she impelled me to open our tribe to three more fabulous equine heartmates – who then birthed one more!
Four years later, I was once again impelled to open our pasture to 6 wild mustangs from a cull north of Vernon, BC. That story begins here. And the process of integrating two very bonded, family herds into one herd of 11 amazing beings, was the education of a lifetime.
Here is a brief description of each member of the Singing Horse Herd, along with a photo of each, and how they got their name.
I am continually in a process of synthesizing the two streams of knowledge (equine and human), sifting through and seeking to understand, letting the process emerge, and reminding myself to rest and surrender to the journey. I'm posting what I learn and what I wonder about here. And hopefully you can share your ideas and experiences too.
Horses are the dolphins of the plains, the spirits of the wind.
– Lauren Salerno
When I'm not reveling in horses I'm writing health books, or painting, or connecting people to their freedom. I welcome your stories, your questions, and I invite you to share your equine journey with us.
Kesia Mei Nagata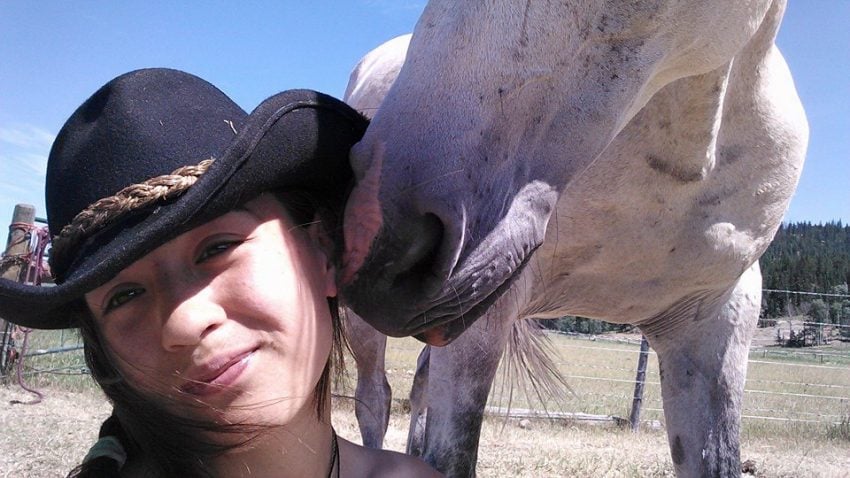 I grew up in the city, and as soon as I could make myself understood, I was asking for horses. Nobody knows where I got it from, but I got it bad. I wanted to be near them so much it hurt. When I did get to be with them, the gratitude and wonder welled up through the soles of my feet and my heart was full and my face was in their manes and I couldn't get enough.
When I was seventeen I had my dreams answered – I leased a QH mare from my aunt and later bought her on a mom-enabled whim…with my college fund.  Amalia is still with me, and I am still learning from her every time I'm with her. Soon after we were joined by Spero, a green Arab/Andalusian 4 year old I literally found on Craigslist, and the plot thickened. Faced with the care, training, and need to build relationship with two very different, very complex horse-beings, my life began taking strange twists and turns as I took opportunities and refused others in order to facilitate our journeys together.
I've had to make it up, tackle giant learning curves, improvise, and take risks all along the way. The three of us have lived and worked together in show barns, in backyard acreages, on 1500 acres of range, by wide and roaring rivers, at the feet of mountains, under old-growth cedars.
I've worked in dressage and jumper stables, ridden the range looking for lost cattle, and worked as Equine Specialist and herd manager at a Equine Facilitated Therapy centre. I've studied barefoot trimming, equine ethology, and equine nutrition. I've ridden English, Western, treeless, bareback, backwards and sideways. I've looked into every training method under the sun, and tried whatever felt right at the time.
But really? My absolute most favourite horsey-time activity?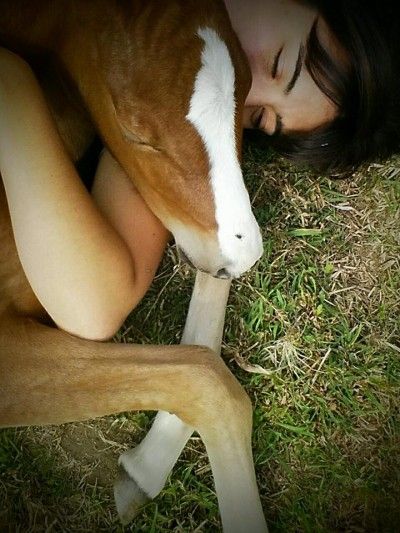 Just being. Seeing what happens. Exploring the depth and width of relationship, daring it to go deeper or wider. Being surprised. Being together. Being with all that they are. And learning ever more about who they are and why they have chosen to be here, on this earth, in these bodies, with us.
Especially since The Firefly joined us, on July 5th in the cool dark of the early morning, after a long and productive stay in the brave womb of my dear Miss Amalia Brown. She feels like the exhale after seven years of holding our breaths. She feels like the spreading warmth of a good single malt. She feels like home. I don't know where she'll take us all next, but I have some ideas. I'll keep you posted.
In the meantime, I'm writing songs and poetry largely inspired by my journeys into the wild, more often than not with a horse or two or three at my side. And practicing Ki Aikido. And campaigning for real food, and holistic health. And staying open to the flow…
---