I arrived at the barn. I could feel a rumbling of anger beneath the rib cage, just above the belly button. Like a heartbeat that with every pulse, the anger would swiftly move up to my throat, then back down again… up, and back down. Tears were there too, just behind the eyeballs, but I would not let them go. I wanted to just forget about it, and BE with the horses. Just BE with Jini, without a story. Without telling her that a recent ex-boyfriend had reached out to me to have coffee. Reached out to me after our excruciating heartbreak only a few months earlier. We ended where nothing seemed finished and yet everything seemed finished. I had asked for no contact because he had started a relationship with someone else already, and I wanted nothing at all to do with that show. I wanted to move on. OR I wanted to move into it with him. But, to be the go-to "friend" for coffee, while he's with someone else!!!???? I was hurting. I was angry. I was grieving us, and our dreams. and now, he's making them with someone else but wants to have COFFEE!!???
The lump in my throat would not go down. As I was grooming little Juno, ironically (now that I think of it), we were cutting off balls of mud and shit that were stuck to his long winter coat under his armpits and belly. Wouldn't it be great if I could just cut away the hurt and anger that seemed to be balled up like shit stuck to me…
Jini and I would rotate, I would work a bit, and she would keep Mama Aude distracted by scratching her udder and her ears, and then we'd switch. We wanted her close by, so Juno would stand still for us.
It was my turn to keep Audelina from interfering. She is known to be mouthy and lippy, but I trust her to not bite. Standing there, mindlessly scratching her, trusting her enough to turn my back to her as my gaze settled on the satisfaction of watching Jini slowly cut her way through the mess in Juno's coat. I tuned into the anger that would not leave me alone and watched one by one as if she was cutting those balls of crap off me. I stood quietly observing the anger work it's way down my neck, through my veins, down to my toes, then back up again and the instant before it hit my heart I felt Aude's teeth around my whole hand. I felt the crushing sensation of my palm collapsing and fingers meeting fingers in jaws that could easily snap my bones like toothpicks. I yelped in pain. My voice shaking, still not ready to let go of the tears and the choking sensation of so many words that wanted to pour out of me… stifled like a palm over a screaming mouth. My hand was not broken, but marked with her lovely tooth pattern, and certainly bruised. She knew enough to stop before she damaged me.
I think I swore at her and with full aware intensity, I cut her off with my energy. Turned my back to her and felt the rage kick in even more now. I was DONE. I couldn't believe she bit me that hard when I was already SO raw and vulnerable. She is the LOVER horse. She is who we go to for hugs, not bites!!!
Jini began an EFT Tapping session for me as we switched places and she stood with Audelina. She asked me to speak out loud in response to her guidance as I tapped on the side of my hand: "I am so angry that…[fill in the blank] I can't believe…. I'm super pissed that… And nonetheless, someday I would like to deeply and completely love and accept myself anyway." I worked with my own story… our story… and she walked me through the pain of a broken heart. Walked me through the anger, as tears finally fell with the shitty balls of dried up mud that gathered in my hands.
I began to feel a bit better and needed to rest my arms. Jini took over as I leaned on the fence. Aude approached me and my response was to get her away from me. I told her to go away. I didn't want to talk to her. Nor did I want her talking to me. As far as I was concerned, we were done for the day. I spoke to her out loud and told her to go away, still with hurt and anger in my voice.
She pinned her ears back at me, swiftly turned her bum to me and let out a giant fart. It could not have been any closer to my face. And it could not have been any more obvious what she was thinking about me and my response to her genuine willingness to help get me out of the rut… and my defiance and hardness to see her, to hear her, to see me and hear me, and listen to what she was telling me about this kind of energy and how damaging it is to us, when we keep it in for so long. When we don't allow it to move through us.
Messages from our animals
This was not the first time one of the animals worked with me. I believe that animals are in such a state of presence that if there is anything out of balance in their environment, their instinct is to dissolve it, or at least pay attention to it, because ultimately, it affects them in one way or another. It doesn't matter what kind of animal it is. The nature of them is peace and if someone, in this case me, comes up with spiky and inharmonious thoughts and feelings churning within, they will respond accordingly.
A few weeks after this incident, this dark cloud moved into me again, repeating the same old story. I was playing on the beach with my dog, Sigh. I was running next to him, and he jumped up and bit me so hard I actually had to sit and rest my weakening body that was on the verge of fainting. He has NEVER bitten me. It was not in aggression at all, just play, but I was like, what the f**k Sigh!!? Later that day I went out to the barn, and Jax took hold of the skin on my arm, in his teeth, and would NOT let me go. I actually had to pry his teeth off my arm that he had raised up high over my head. He also has never bitten me! What was going on!!?
Of course, when I'm willing to look at it, I know exactly what this is about and the consequences of letting these dark, spiky thought forms live in my head/body. In my own work on my Self and my own Mastery, I understand the messages and gifts. One of the great things about going through the journey with my readers, supporters and clients is that I can show up for them fully, with insight and wisdom to help them discern the difference between an accident, or something that is very calculated.
A month after my two loves' teeth getting to know my skin intimately, I was working with a client. Shortly after the session, with her and her horse, she ended up with a couple of shiners. It was as if her horse was working WITH us and WITH her. Almost as if her horse was a part of the session in re-arranging the cranial plates that hold so much of the story of our body and how it functions.
In my studies with BodyTalk and countless hours spent just being with horses and other animals, I have been able to come to such a deep understanding of the bodies associated with our sentient machines and how they are all directly related to the other. The mental, emotional, spiritual are ALL tied to physical. Sometimes when we receive what we think is a maiming, it is actually the animal realigning us. Jini has some great stories of Jax giving her chiropractic adjustments as well as spiritual adjustments.
If we do not listen to these minor teachings, the larger hits come. The greater we step into the game, the bigger the lessons. It's entirely up to us at what depth we want to hear ourselves; how brutally honest we wish to be with ourselves. The sooner we can own our shit, the sooner we can see into our triggers and curiously lean into them. The sooner we can identify where we are leaking our energies, the more likely we are to walk away with all limbs intact.
The horse will reflect aspects of yourself that you are in denial of, that you might not even know are there… or, maybe they will reflect back to you deep truths that are stopping you from moving forward or outward, or inward. Wherever it is, they can call your attention to what thoughts, emotions, memories, patterns, desires, etc are taking you hostage.
Resistance is the sign. Sometimes we push. Sometimes the horses have to bite me or step on me to get me to listen…. I can't physically bite my clients, or step on them, but the words that come through for the client may feel like that, and yes, my client will get angry, and this is perfect (don't think I wasn't pissed off when I got bit).
The next time something triggers you, go deep. Go into that place rather than keeping the resistance alive. You will find that once the tension dissipates, you will be at another place in your Universe. Your whole life will begin to change. Is this not why we are doing the work?
The responsibility is in your precious hands.
This is where the gold is.
Remember to listen with all your heart.
~ Love G and the animals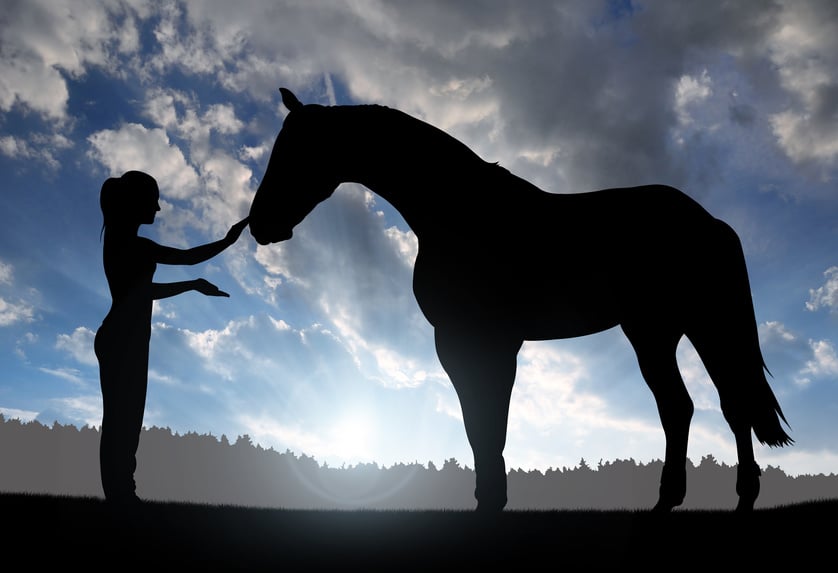 Special stories and experiences from fellow horse listeners