I scrambled for my phone, realizing I had left it in my car. I didn't want to miss this precious moment I was quietly witnessing between Jini Patel Thompson and her giant horse Aude. She was sitting on the earth, finally able to since the weather was warm and dry for a few days, giving the cold wet soil a chance to dry off – at least the top few centimetres were dry enough to not seep through her jeans.
So Jini quietly gave me her phone, which I took ever so gently, by making myself as invisible as possible, so as not to change the palpable energetic vortex that was created by the conversation between the two of them.
There was a tenderness, intimacy, and balance of the energetic boundary of where the personal safety bubble of Jini was, and the physically massive body of Audelina. For those that don't know her, she's a very big Belgian mare, who is not yet "trained" or "broke" so she is quick, and still in her fullness of loving being in her body. This works for and a bit against the one sitting on the ground in vulnerable and open presence. Aude is basically untouched, so she is very aware of her body. Her energies have been allowed to be hers in their full power and manifestation. But, because she is not yet aware of her giant size, and the the actual frailty (relative) of the tiny body on the ground, she doesn't understand that she can't bump into the human with her giant hoof, or very large shoulder, without some form of consequence to the human.
I was observing the very subtle communication between Jini's body and Aude's legs. I could sense the split second before Jini's energy changed, when her body became uncomfortable with how Aude was going to move. Jini experienced a physical impact by one of her horses about 6 months ago. Her body is now in a place of "on guard receptivity". She is ready at any given instant to leap out of the way. There is a very fine line of really allowing the full expression of the horse to reveal itself, and blocking it because of fear. Trust is not something you have a bit of. You can't sort of trust something or someone. It's like the notion of trying to do something. You either do it or you don't. You either trust or you don't. And both of these are OK!
Jini is VERY good at NOT confusing the horses. She is clear both in her spoken word, and mental images of the TRUTH of what she is experiencing in her own body. She is aware of what she is experiencing, and she does NOT try to pretend. In the horse world, we call this congruency. When the energetic body matches the physical body, the mental images match the emotional energy. As you can see in the video below, Aude knows exactly where her feet are. Jini is clear and honest about where she is within her emotional, mental, and physical body. Aude is then in trust of Jini, and vise-versa.
When there is clarity, there are boundaries. Where there are boundaries, there is safety, and where there is safety, there is trust.
So, as I observe what trust looks and feels like, my thoughts are inspired to look into life and how we have been conditioned to live. Where have we become so unclear about our boundaries, that it becomes an actual dis-ease in our lives? And how can we shift from the place of not knowing (it's not your fault, it's a conditioning of a culture that is fed by being told what to do, what to eat, where to go to school, what car to drive, what job is the best for making money and what is the best way to spend your money…) to a place where we are led by our hearts, because we TRUST our hearts, because we have developed a relationship with our hearts based on clarity, safety, and trust?



What does safe intimacy look and feel like? We can delve right into the analogy of the horse and human relationship and apply it to a relationship with ANYONE.
First, let's feel what safety feels like to you. For me, safety means feeling comfortable in my vulnerability. In the case with Jini, she is feeling comfortable in her vulnerability under her horse. If at any point she gets uneasy… the energy shifts, and the horse (in particular these wild ones) FEELS it and senses it, then the horse goes into uneasiness, which then shuts off her careful awareness of where her feet and body is, and the horse is now standing on guard for what it is that made her human uneasy. So, it shuts her down to Jini's energy, where Aude is no longer paying attention to where she is putting her feet.
It is in your hands where the level of comfort lays, and it is vital that you stay in this place, and as Jini states in the video, slowly work your way up to a closer encounter, and to be honest within it. Do not tell lies to yourself, because the horses can feel it.
So as I'm filming this, I realize that we are touching on something much bigger than what meets the eye. It brought me back to a recent relationship with a human where he felt that I was shut down; with a certain unwillingness to share intimacy. Remember, intimacy is more than just a physical reality. What was happening in that relationship was a shut down from my own emotional, as well as mental body, because I did not feel safe in expressing those aspects. However, I felt totally comfortable with physical affection because… I felt safe physically. I have ALWAYS felt physically safe around humans AND horses because I have never been physically abused or hurt on purpose. But, emotional and mental intimacy are a different story. So… here is where the work can begin. And how just simply sitting with a horse can bring about deep perspective changes within ourselves.
Where do your mental images in your relationships (human or animal) not match your words?
This can make for an untrustworthy experience for the other person, or animal, in relation to us. This creates a confusion in the other being and therefore a sort of attack on us emotionally and mentally – and thus can create a shut down in ourselves; a blocking out and a very unhealthy understanding of boundaries. This is where this work can be so powerful. In just paying close attention to ourselves. Sitting with your horse, and going inwards. At which point does your own energy shift, and what is the horse's response to it?
Go try it and lets hear about what comes up!!!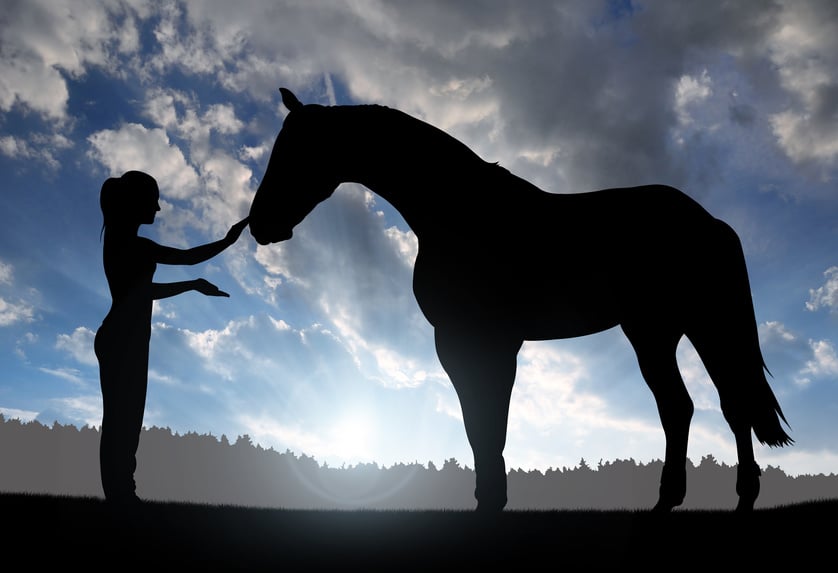 Special stories and experiences from fellow horse listeners