Carrying on from our last discussion about the challenges of equine-assisted work, and how to improve conditions for the horses involved… let's look at the other side of the same coin, with our heart-horses and the horses in our personal care. I'm going to tell you two stories about how this played out with Montaro and Posa.
If you caught my previous post on the interview with animal communicator, Ginny Jablonski, you'll notice in a few of Ginny's stories, the animal is mirroring the human; using their body to message or communicate with the human for the human's growth and evolution. In other stories, the issue is with the animal themselves; anything from karmic contracts, to taking on things they shouldn't.
Well I had this conversation about boundaries with Montaro not too long ago. His physical body had not been doing well, for a few reasons, but one of them is that in helping a human, he allowed their dark, sticky energy to enter his physical body. I was actually shocked that he allowed this to occur – don't forget, this is Montaro! My energy/Ki Sensei. If anyone should understand boundaries, permissions and shielding, it's him.
As I dialogued with him about this, I came to question how much horses/animals actually can choose around this phenomena? What Montaro, Posa, and the trees have showed me, is that nature doesn't need to shield against each other. Perhaps because the transference of dark, manky stuff doesn't exist in their world. This seems to be a purely human phenomena – only humans put their shite onto others. Trees don't put their negative emotions or trauma into other trees, or into the horse that grazes beneath their branches. But how many times have humans hugged a tree and let all their sadness, depression, shitty mood etc flow into the tree, or into the earth? Expecting the tree to take it from us and transmute it. And tree does. How many times have you done this with an animal?
Dr. Juliet Ghodsian told me about a man she knew who worked full-time as an energy healer. As he cleared negative/dark energies from clients, he threw it into a pile in the corner. At the end of every day, he gathered up the pile and took it to a tree outside. He gave it to the tree to process and clear. One day, as he was unloading human crapola on the tree, he noticed it was dead! From that day onwards, he kept a bowl of salt water in his clinic room and threw the negative energy into the bowl instead. He realized that processing all that negative stuff had killed the tree.
Remember the Ikea experiment?
So if trees and plants are this sensitive to, and affected by, human energy and emotions… how much do you think horses are affected by our darkness, negativity, trauma, woundings etc?
I remember being stunned the first time I heard there were rescues specifically for equine therapy horses. These horses were so burnt out and screwed up from helping emotionally/energetically wounded humans, that they needed a rescue where they never had to interact with a human again.
I discussed this phenomena with several people who work intimately with  horses at an energetic/spiritual level and they all surmised that horses seem to have a directive or desire to help humans. So they believed it's their choice to assist humans in this way. The same way dogs and cats will absorb human emotions, diseases, etc in an attempt to help humans.
Physical body and etheric body
But is it actually their choice? And if so, does that make it right? Does that make it optimal? If horse consciousness has a directive to help humans evolve, then they could actually give far more help if they did not become ill, or die early, due to taking on human pain and wounding.
I then did a Lazer Tapping session with Montaro, where I invited horse consciousness (and any horse that wished) to join us. During the session, I introduced the possibility that Montaro (and all horses) could allow the human's pain/trauma into only the fifth layer of their energy field, and then encase it in pink (loving compassion) light. So they could still access all the information they needed, but the darkness didn't need to enter their physical body.
In talking with Dr. Juliet – who sees 8 patients per day – when a client comes in with a dark energy or entity attached, she does not allow that dark energy into her treatment room. It must stay outside the door. So she can still connect with it, and access information, discern the nature of the attachment, karma, etc. (in order to help her client), but it is not allowed in her inner space. In this way her body and energy field is protected and she doesn't need to invest her own energy in continually shielding or managing that darkness/negativity, nor does she need to risk negative effects to her physical body.
I created a similar concept for Montaro and horse consciousness, tapping in the knowledge that if you maintain a healthy boundary around your physical body, you will be able to help a lot more people during your lifetime – perhaps this could fulfill the directive/desire of horse consciousness, yet also prevent needless suffering.
I headed back to the coast and brought this discussion to Aude and Kaliah. Those of you who have experienced Audelina's divine mother energy, know that she has a ginormous heart and flows a tremendous amount of love to others. However, she also demands people take responsibility for their own stuff – don't try to get her to carry it for you! And Kaliah, well Kaliah dances with and holds both light/dark simultaneously – with no ill effects. She has the depth and breadth of a being who inhabits oneness. And she is fierce! She is the fire. There is no leeway with her.
Their advice was to have humans grow in awareness, take responsibility, and spearhead the boundary-setting needed to protect their horses. Just like Juliet doesn't leave it to her client to set the boundaries for the session; she takes charge and sets the boundaries and permissions for her sessions with clients and whatever they bring to the clinic.
We should not ask our horse to help a human, without clearly setting the boundaries for what that help may involve. Whether in a formal session, or for a friend, or family member. And of course, the horse must ALWAYS be able to say No. Or not right now, or not in this space, or not in this way.
Many people are pretty good at setting and holding boundaries in their work, it's the personal realm where things get sticky. After Montaro had been ill for over 4 months at the ranch, with none of the physical remedies having any effect, I booked a session for him with Jen Snow.
Some of you may remember Jen Snow from 7 years ago when Zorra first arrived and I shot this video of a session Jen did with Zorra (which is now at almost 600,000 views!). At the time of her session with Zo, Jen was clinically blind. She had told me her guides took her physical sight, so she would stop messing around and fully develop her spiritual/energetic sight. Several years ago she regained her physical sight (and ability to drive a car – yay!) and she now splits her time pretty evenly between working with animals and working with people.
When I asked Jen to come to the ranch for a session, all I told her was that Montaro was not doing well. I did not tell her any of his symptoms, or any of my thoughts, no details on what had been happening with me or people at the ranch – nothing. I wanted to know what Montaro would choose to tell her about his situation.
What was extremely interesting, was that before Jen was allowed to approach Montaro, she had to do ceremony with the herd first. Juno especially, had a lot to share and communicate. By the time she got to Montaro, I filmed for a while and then went up to the house to get more water for us. The herd told me to stay away for a bit, as they wanted time alone with Jen, so I did.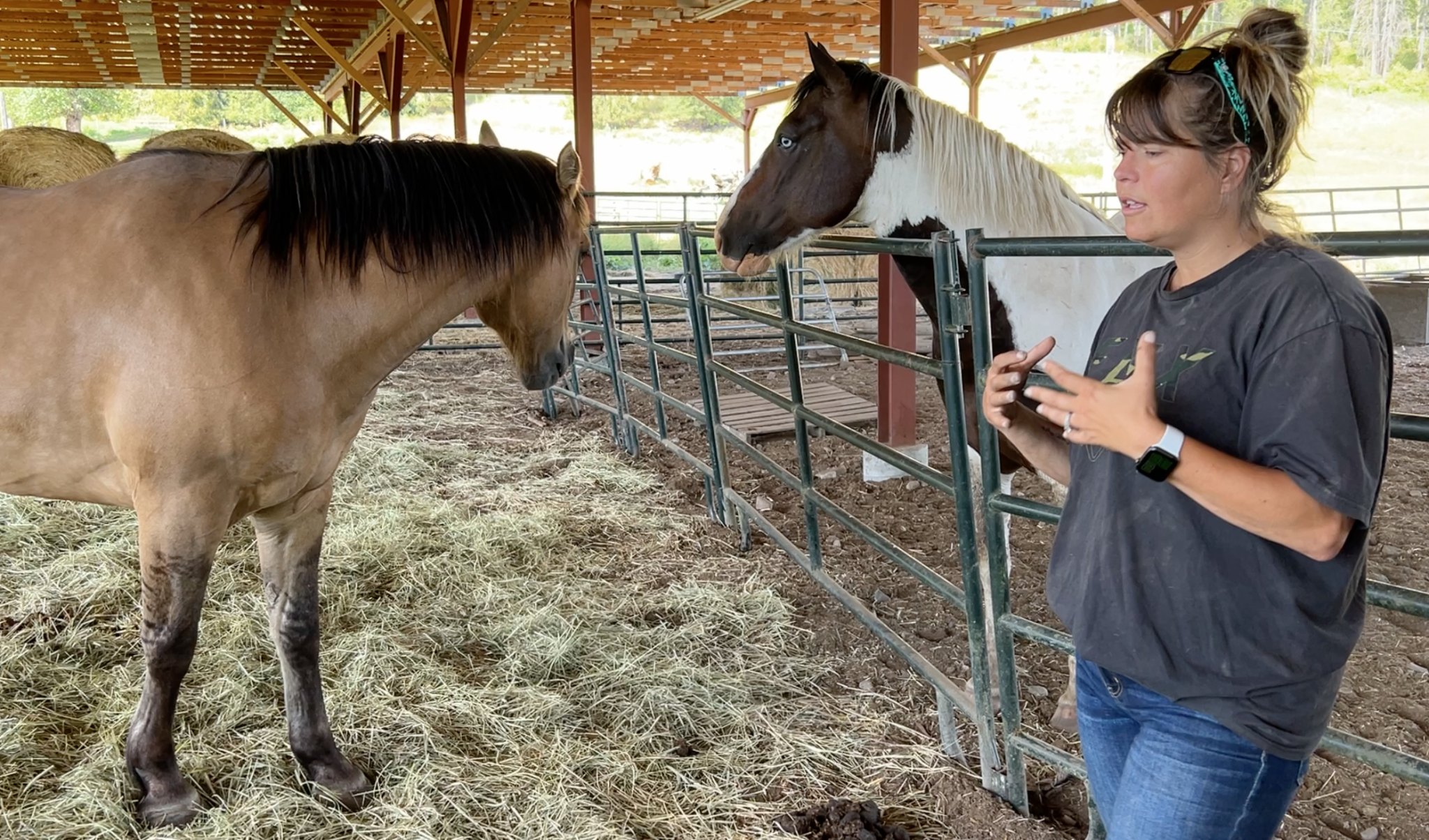 Upon my return, Jen told me that Montaro had taken on the trauma of someone at the ranch, into his physical body, and that's why he was ill. I asked her, "But why would he allow it into his physical body, why would he take that on?"
"Because a herd member asked him to" was her response.
But here's the shocker, the herd member that asked Montaro to help this person in pain, was not a horse, but a human. Let that sink in.
If you work intimately with a herd, doing this kind of deep work, walking a pathway of development, evolution and expansion together with the horses, you are part of the herd!
So if your mother is in pain (for example), or needs help, and you take that pain and sadness to your horses, make sure you also set up the boundaries needed to protect their physical body. Don't forget the importance of this safe container, just because you are not formally in session with a paying client.
Remember that horses and trees do not have boundaries/protection in their world – probably because they don't need it. Us humans are the only ones who ooze, transfer, or project our stuff (unconsciously) onto other beings. Therefore we must also be the ones to set the protected container for the horses to work within.
If you don't know how to set boundaries, or create a protected space around your horse, then either join the herd's Apprenticeship program, or take a course with Ginny Jablonski.
Montaro's last request during his session with Jen, was that I do Lazer Tapping on the wounded masculine. Then he would decide whether whether to stay, or leave this dimension.
Two nights later, I finished writing out the outline for the series of Tapping sessions I would need to do on this topic – this is a big one in our world! And the next day, Montaro walked out of the pole barn for the first time in months, and began grazing in a nearby field.
After I did the first session – where I actually began with Ho'oppono'pono – he rested for the day in the pole barn and then ventured out at night, walking about 15 acres, until he returned to the pole barn around 8am in the morning.
Two days after I completed the second session – Tapping amongst the Cedars with the wind also assisting in the session – Montaro led his herd from the pole barn, halfway up the mountain, walking slowly but surely. Two days after that, I filmed him trotting across the field.
Keep in mind that nothing changed physically to produce this shift. I had made him white willow bark powder suppositories to help with the pain (because Bute messes up the gut) in the early stages when his pain was acute. He was also given numerous remedies and supplements daily (remember I have a huge healing toolbox) and nothing made a difference. He had rallied during our Circle Workshop, but then reverted back as soon as the participants left. He had also shown some improvement the week Zara, Juliet and I all worked on him. But for most of the time, he had been unable to do more than hobble around a small arena, lying down often to give his feet a rest.
The length of time from the session with Jen Snow, where he had not walked more than 10 steps for months, to him trotting across the field, was 17 days. Nothing changed physically and I had even stopped giving him supplements or remedies about 10 days prior to their session. And then 10 days after I finished the final session in the Tapping series for Healing the Wounded Masculine – that Montaro asked me to create – he galloped and bucked across the fields and up the mountain.
Physically leaving the herd
There is one more important aspect to this boundary-setting concept of establishing protected containers for horses, that I would like to discuss.
What happens when you have someone in regular contact with your herd, like a friend or barn worker, who is carrying a lot of trauma – but you are not always physically present when they are around your horses? How can you set and hold the necessary boundaries in these instances?
In my experience, you cannot.
Let me give you an example. I had a barn worker, let's call him Sam, who was instantly drawn to Posa. And likewise, Posa showed a special fondness and affinity for him. Now this lad was from a broken home and had been on his own since he was 13. Mom had a brain injury from a car accident, Dad had been in prison, etc. So we're talking deep trauma from infancy, along with various forms of abuse. At 17 years of age, Sam was just starting to look at and understand the need to heal his woundings.
A month or so after he began helping at the barn, Posa developed her first injury. It did not respond to any physical treatments and she became more lame in that leg and in obvious pain. When Juliet did a session with Posa, it emerged that Posa was messaging Sam, using her physical body to deliver the message. So Juliet then included Sam in the session and it was a very powerful healing experience for Sam. Even his deceased grandmother showed up and Sam was able to feel/perceive her. A couple of days later, Posa was fine.
This cycle continued on for months, and both Juliet and I continued to do sessions with Sam to support him in his healing. And then Posa would heal quickly from whatever injury she had manifested. But. Sam was either not ready, or not willing to lean in and action the information and insights he was receiving. And so this cycle of Posa becoming injured–session with Sam–Posa healing–rinse & repeat, continued.
Both Juliet and I tried everything we knew of to get Posa to break this cycle, to break her link with Sam, as we both felt it was too damaging for Posa's body. How long was this going to go on – 5 years, 10? And then what state would Posa's physical body be in? Keep in mind, that most of the time Sam was doing chores at the barn, neither Juliet nor I were there. So there was no one to set and hold those important boundaries for Posa when Sam was with her.
It all came to a halt one day when I arrived at the barn to find Posa bleeding from wounds on both sides of her head. I examined her head and it looked like she had bashed or ground her head into a rough surface, and then done the exact same thing on the other side of her head. I asked Posa what on earth had happened and she said, "Sam."
So I took pictures and texted them to Sam. I told him that Posa said this was to do with him and did he have any idea what this injury could mean?
About half an bour later he called me and said, "Normally I would not tell anyone this, but I feel so bad about Posa and I don't want her to suffer anymore."
Sam told me that whenever he feels he can't cope anymore, and the pain of his life overtakes him, he smashes the side of his head against the wall until the physical pain obliterates the emotional pain. And then he has this quirk, that whatever he does to one side of his body, he has to do to the other side too. So then he smashes the other side of his head into the wall.
And there was Posa, with both sides of her head smashed and bleeding. That was the final straw for me. Whilst I felt tremendous compassion for Sam, it is not my place, nor is it helpful, for me to take responsibility for anyone else's healing journey. Sam had had plenty of time to action a number of important insights he'd already received, and he had not leaned in, nor moved forward in the last few months. And that's totally fine – nothing but acceptance and compassion for his journey and however long it takes.
But, as the guardian of this herd, it was not okay with me that Posa continued to suffer. She could not (or would not) break this link with Sam, so I would do it for her. I explained everything to Sam and sadly told him that he could no longer help out with the horses. I told him he could still come visit with the herd, but he would need to arrange it with me, so that I could be there to hold the protective boundary around Posa. He came in for a final day, so that he could see the damage Posa had done to her head, sit with her for a while, and say his goodbyes to the herd.
It has been two years since he left, and Posa has not been injured since.
If the person your horse is mirroring or messaging with their physical body is a family member, then you may have a karmic contract to assist, or walk that healing pathway together. In that case, it may be okay for you to continue on the injury/illness–messaging–healing loop for a while. But whether friend, family, or acquaintance, if that person is not actually healing, transforming, or moving forward, or, they have so much trauma that you're looking at 5+ years of healing, then at some point you may have to make a judgment call to protect your horse.
At one point, Zorra developed colic as a way of forcing my daughter Zara to lean in and heal/release quickly! That journey may have been only a few days, but it went way deep into the emotional, psychological and spiritual realms. That full story is in the herd's Apprenticeship Program.
If anyone reading this has experience with this topic, or has found a way to stop this human-horse linking when you're not present, I would love to hear from you! Please share your stories in the Comments section below.
p.s. If you'd like to try the first session in the Tapping series on Healing the Wounded Masculine, fill out the form below and I'll email it to you:
Boundaries & Permissions in Animal Communication & Equine-Assisted Therapy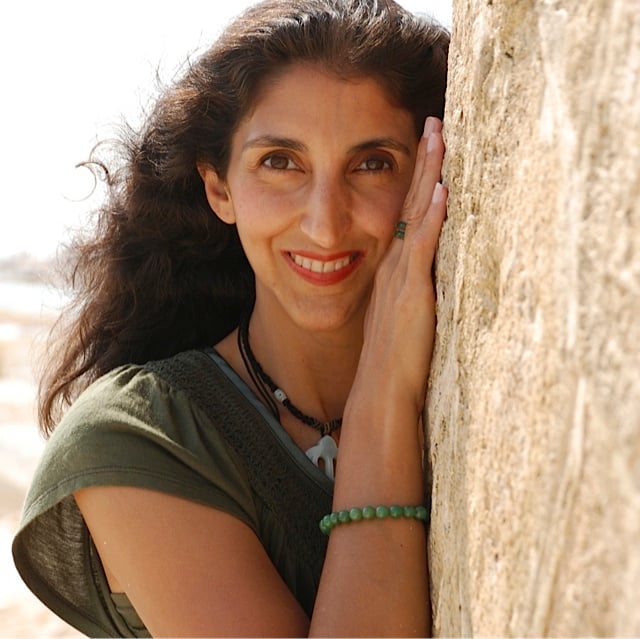 Jini Patel Thompson is a natural health writer and Lazer Tapping instructor. She began riding at age 2 in Kenya, and got her first horse at age 8 in Alberta, and so continues a life-long journey and love affair with these amazing creatures.