Imagine, for just a moment, that you were not afraid of death. Imagine you had already had an NDE (near death experience) so you already knew that death (aka transition to oneness and your most vibrant self) was a beautiful, wonderful experience. So if you were no longer afraid of death, and were at complete peace with transitioning to beauty, joy and bliss when it's your time… how would you act/behave now?
An increasing number of my health readers have been asking me for my opinion/advice on the covid situation – as they become forced with ever increasing pressure to give up their sovereignty over their bodies, in order to keep their job, or their school, etc. Keep in mind, these are a segment of the population who have worked (or are currently working) extremely hard to heal themselves of supposedly incurable diseases (far worse than covid) and reclaim their lives.
They are not in the same position as someone who's never been seriously ill, wondering what's wrong with a jab or two from Big Pharma. These are people whose lives have already been destroyed by drugs and surgery and they're clawing their way back to wholeness. So I set up a brief, pithy webpage with salient facts (clinical trials, medical journals) and key resources: BigChi.org
And you'll notice the title at the top of that webpage is: Choose Resilience… Not Fear
Because I don't think the core issue here is about health. It's much deeper than that. And if you didn't notice, we are in a KALI cycle here; where destruction occurs for the purpose of re-birth. The phoenix cannot rise from the ashes, until the current edifice/system/life has burned.
In a number of videos now – both public and in the Apprenticeship program – Kaliah has emphasized the utmost importance of tuning into and following our own intuition/guidance, no matter what. She has told us that is the best way to suffer the least (or perhaps not at all) through this Kali cycle. And also to hold the space for our re-birth; for what we want to emerge from the ashes.
The choices you make for your health are not the overriding issue here. The big issue here is WHO do you want to be in your one short life? What do you stand for? What role do you want to play in forming this new earth that will rise from the ashes? What is your gut telling you? What is your soul yearning towards?
If we are sucked into fear; sheltering and chattering with anxiety, as our nervous system locks down in terror and overwhelm… then we cannot hear our intuition! We cannot hear our angels, our guides, or our own body wisdom. This is the real tragedy.
Imagine, for just a moment, that you are not afraid of death. Imagine you have already had an NDE (near death experience) so you already know that death (aka transition to oneness and your most vibrant self) is a beautiful, wonderful experience. So if you are no longer afraid of death, and are at complete peace with transitioning to beauty, joy and bliss when it's your time, how would you act/behave now?
What would be important to you for your time remaining on this 3D planet? Are you in alignment with what you came here to do/be? Do you even know what/who that is? THAT is the real work here. That is the deeper work the current political-economic situation is forcing people into.
Or not. Because it's our choice.
This is my latest collaboration with the herd, the land, our Mother Nature… immerse yourself for 7 minutes…
Namaste ~ the divine in me, sees and acknowledges the divine in you.


The Alchemy of Resilience
Change is inevitable.
It is one of the few things guaranteed in life.
And yet, people are still shocked when it occurs.
If you lived more in rhythm with Nature, you would not be so surprised.
Nature is continually changing; death, rebirth, animals flux, plants vary. This year blackberry has massive growth, the next year plantain dominates.
Always shifting, changing, varying…
How can you make peace with change?
How can you channel the essential reality of Nature up through the soles of your feet and suffuse your body with its endless variation?
In a closed-earth system, nothing is lost. It simply changes form and is re-born again in a slightly different iteration; one of endless variation.
If you truly understood this, would you make different choices?
Would your goals for your one short life change?
Would your values and aspirations change?
What needs to change in your life?
BE that change.
DO that change.
Because change is inevitable anyway.
When you align with change and begin riding the wave, instead of being flooded, battered, or tossed around by it, you align with the natural flows and rhythm of the Universe.
Change is here.
There is no normal.
There is no return to normal.
There is endless change, variation, evolution, creativity, diversity, and flux.
How will you evolve in your one short life?
What can you create?
How can you contribute to this endless variety and diversity of terrible splendid tumult?
Even the tiniest rabbit hits this earth knowing it must zig and zag, run, eat, drink, forage, hide, dive, dig, sleep, birth, nurture, evade, evolve — why should you be any different?
You too are part of the cycles of life, the rhythms of nature. No matter how much you delude yourself otherwise.
When you embrace, receive, and welcome change… you also develop resilience.
In a world of continual change, safety is a chimera. A fool's dream.
But resilience is a cloak of alchemy.
Do not waste your one short life seeking, striving for an illusion.
There is no safety.
No protection.
A bear cannot hibernate forever. Only for a season. And then change comes again.
When you channel your thoughts and energy into fear; avoiding change and seeking this illusion, this deception called safety… you also give up all opportunity to develop Resilience.
Resilience is your magic wand! Your superpower.
Do you want to mince your way through life, desperately trying to never place a foot wrong?
Or do you want to practice falling, rolling, and getting up again – in a smooth, flowing movement of great beauty?
That.is.Resilience.
That is what resilience looks and feels like. We don't resist the ledge, the stumble, the misstep. We flow into it. We release into change. We fall, we tumble, roll, and back up on our feet.
Resilience means change doesn't have to hurt.
Change is inevitable.
Change is guaranteed.
Safety is an illusion; a fool's journey.
Resilience metabolizes change.
Resilience is woven together from knowledge, skills, acceptance, forgiveness, self-love, adventure, creativity, risk, exploration, experience, practice, courage, patience, persistence, authenticity and art.
Do you have those elements in your life? In each day?
Do not seek to avoid change.
Instead, weave together your Wizard's cloak of Alchemy, your superpower cape of Resilience.
(c) 2021 Jini Patel Thompson. All rights reserved.
*Feel free to share as long as you credit Jini Patel Thompson as the author and include the website: SingingHorseHerd.com
p.s. If you love the clip with the eagle as much as me, you may be wondering what type of eagle it is?
Philippine Eagle (Pithecophaga jefferyi)
This species of eagle is native to the Philippine forests. Their plumage is brown and white, but they have a crest of white feathers around their head, which some feel gives them the appearance of a lion. Their irises are a distinctive gray-blue color. They measures about 1 meter in length (3.3 feet) and their wingspan is over 2 meters (6.5 feet). They are also known as the monkey-eating eagle, because monkeys are one of their main sources of food. Sadly, the Philippine Eagle species is listed as critically endangered, due to pollution, illegal hunting, and mining.
p.p.s. And if you'd like some help with opening to and increasing your resilience, come tap-along with me to shift your fear (and the longing for safety) at a cellular level, in this free session on Lazer Tapping (EFT) for Not Feeling Safe & Increasing Resilience
If you read the comments underneath this tapping video, you'll see how helpful and transformative it is for many. Just remember to drink a glass of water before you begin and do the entire 30 minute session in one go. Don't start if you don't have 30 minutes to complete it! Simply repeat the words I say, and tap-along with me on the various acupuncture points. Get ready for shift and feeling a whole lot better 🙂
The Alchemy of Resilience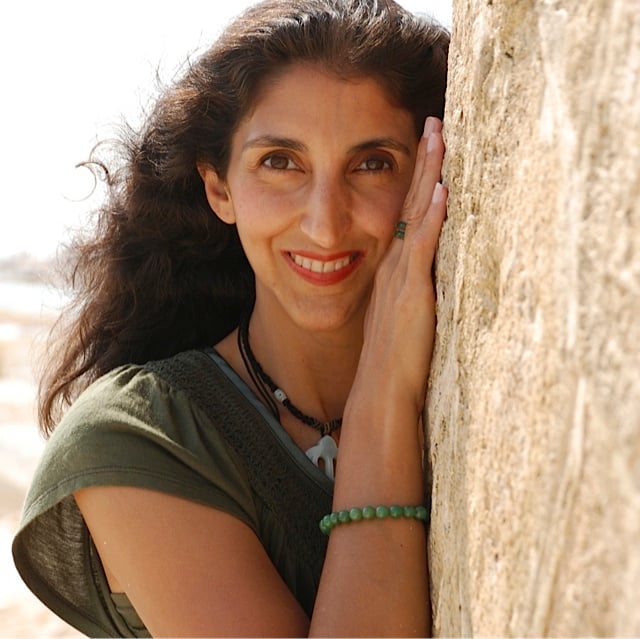 Jini Patel Thompson is a natural health writer and Lazer Tapping instructor. She began riding at age 2 in Kenya, and got her first horse at age 8 in Alberta, and so continues a life-long journey and love affair with these amazing creatures.