If we want to understand how horses communicate in THEIR language, it's a good idea to spend lots of time just watching/observing them. Observe how they communicate with each other, and see what you can discern. Join me for a real-time horse energy/body language tutorial…
The other thing you'll notice when you spend time simply watching horses, is that their physical body and energy body are completely congruent. Unlike humans, they will never smile or hug (for example), while they're actually upset – like humans do with each other.
So when you observe horses, try to perceive their energy first, then watch and see if their body language confirms, or alters, your ideas.
As you spend more and more time simply watching horses, you will come to understand how things like the angle of your body, where your eyes are looking, whether your posture is straight or rounded, all have meaning to horses.
We can take courses or read books on this form of communication, but the best way to become fluent is to let your horses teach you. Spend hours and hours just watching, noticing, paying attention. When you think you've figured something out, test it! Your horses will quickly show you whether your perception is correct, or not.
I have shocked both wild and domestic horses by them realizing, "Wait, what??! She hears/speaks our language?!"
I remember taking care of a couple of horses who'd been born into domesticity and used by humans their whole life. So they gave almost no physical cues – pretty much all their communication was energetic. Domestic horses learn very quickly that physical expression (of anything other than yes) is swiftly punished in one way or another.
I put down hay for these horses and immediately felt their anxiety that they wouldn't have enough time to eat all the hay, or that I would take it away. Even though their physical body communicated nothing. Not even a flicked ear. So I told them not only would I not touch their hay, I would give them more than they could eat in a day. Utter shock and surprise. But they couldn't quite believe it.
So after I had distributed two days worth of hay, both loose and in several hay nets, I then gave them alfalfa. Well once I put down the treasured legume, I felt protection/possessiveness coming off one of the horses, and aggression coming off the other. Well okay! I gave each of them a berth of about 4 feet each time I walked by them as I put out 5 piles of alfalfa for them. Again, sending the clear message that there was plenty and I was not going to touch it or come anywhere near them.
Was there a single physical sign of aggression? No way! Not a smidge. But my body instantly responded to their energy by quickly backing away and then giving them a wide clearance as I deposited the remaining piles, and then leaving them completely alone for the next few hours. They were gobsmacked.
But not surprisingly, when horses realize you can hear/understand them AND you then listen to them and do what they want… you build trust very quickly.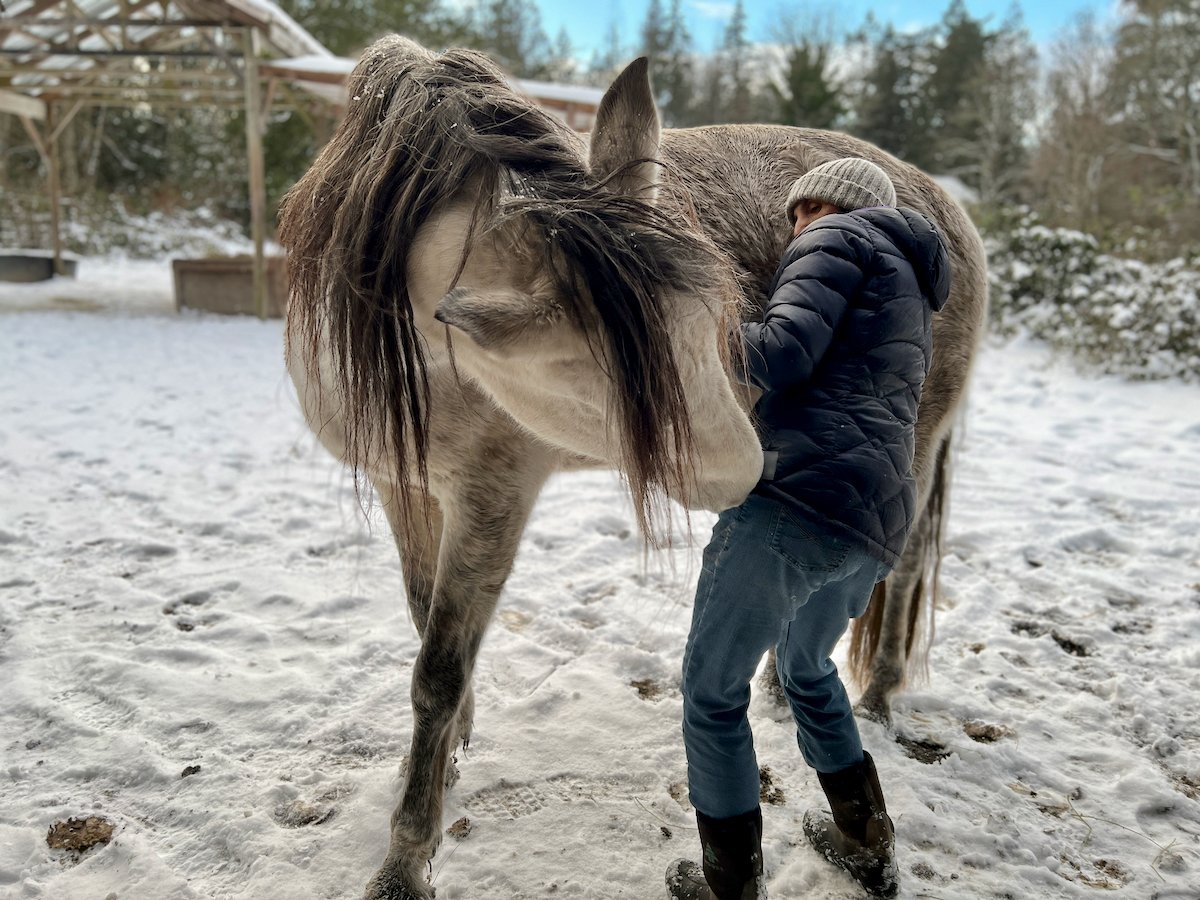 I spent a combined total of less than 6 hours with these horses over the next 10 days and then didn't see them for a month or two. The next time I saw them, they greeted me cordially and asked for some food, which I provided. About an hour later, my dog started barking. As I scanned the property, I saw that one of them had caught his hoof in the haynet, which was hanging from the fence post and was in full panic mode. Being a very large, strong horse, I knew he would either wreck his leg, or break the fence in the next minute or less, so I tore off towards him at a dead run.
Now here's where that trust comes in. Even though this horse and I had hardly spent any time together, he had already learned from my behaviour that I could hear him, understand him, and that I listened to him and usually did as he asked (unless I had a good reason of my own not to, using involving herd welfare – which I would then communicate). Therefore, he knew that I was trustworthy. And so when I took a deep breath and said, "Whoooaaa" he calmed himself almost instantly and stood perfectly still as I struggled to unhook his hoof. I had no knife or anything on me, but at least I was wearing gloves. It took me a couple of minutes (those were looooooong minutes) of twisting his leg, while he balanced on his remaining three, and struggling with the net to get his hoof unhooked. But he surrendered completely to my direction, staying as still as he could, even though it must have hurt his leg.
This is no small feat. Because usually when a horse is triggered into full blown panic/flight reaction, they fight like hell until they're either exhausted or something breaks.
But this is why I say, over and over, that my safety with horses doesn't lie in control mechanisms. My safety relies on my relationship with the horse. Trust and intimacy is a two-way street. I had already allowed/honored this horse's aggression, his wish for me to go away, his desire for me to stay 4 feet away from his food piles, and so on. This trust held even into a life-death-panic situation.
I had a similar incident happen with Big Mama Audelina. There was stack of about 12 heavy-duty steel arena panels stacked against the fence and secured with a chain. Somehow, Aude managed to insert her foreleg 3.5 feet off the ground, into the chain, then pull back, and cause the entire stack of arena panels to fall towards her, while the chain ratcheted tight around her fetlock. Can you imagine?? And yes, she went postal.
Again, I ran towards her, knowing that she MUST go still and stop pulling/struggling for me to be able to get the arena panels off her and then somehow get the chain off her leg, before it broke any one of the three joints from her fetlock down. Luckily a barn helper was also there, so as soon as Aude stopped thrashing about (because I asked her to), I asked Natalie to hold Aude's leg up, to remove any tension from the leg, while I manoeuvred the chain and panels to create enough slack to get the chain off her leg. Aude went from blind panic to heaving stillness in a second… because I asked, and she trusted me.
If your horse cannot trust you to stop, or go away, or respect their boundaries – if your horse is not allowed to say, "No. Get lost." Then it will be very hard for your horse to trust you in the midst of terror. True intimacy, love and connection honors the word, "No." Rock solid trust, that holds in a panic situation, with a horse you barely know, can start from honoring the horse's "No."
I realize this goes against most principles of horse training and natural horsemanship. But think about it. Think back over the intimate, trustworthy relationships you've experienced in your life… has your "No" been honored in those relationships? Have your boundaries been respected?
And here's an even deeper question: Are YOU allowed to say No? Do you honor your own boundaries? Do you allow yourself to set strong boundaries around your time, your health, your energy? Do you trust yourself to take care of you?
Start with you. Then extend that respect and permission out to the people, animals, and plants in your life. There has to be a space to say No, to honor boundaries, to negotiate needs. As soon as we take away another being's autonomy over their own body, "for their own good," we are in dangerous territory.
If Cobra doesn't want me to cut his hooves and chooses to go lame as a result, is that not his choice? Is his body his own, or is it mine? Is he free, or is he a slave?
Infantilizing animals, children, or Mother Earth – under the guise of, "But they don't know any better, so it's my responsibility to help them," is a fast ride down a slippery slope.
Horses very clearly communicate NO. Or not right now. As you can see in the video above. Do you listen? Or do you not? And your relationship stems from there. In all the horses I've ridden, fallen off of, been bucked off of, not one of them has ever left me and run home, or run away. Taking my semi-feral crew for walks out on the road, or into trails and having something scare the crap outta them so they've bolted away… they've always come back to me. Or ran 10 feet down the road and stopped and waited for me. No matter what mistakes have been made (usually by me) none of my horses have ever left the relationship (run away or run home) – no matter how scared or how pissed off they are. That is real trust and intimacy – and it is so, so precious.
Horse Herd Communication – Energy & Body Language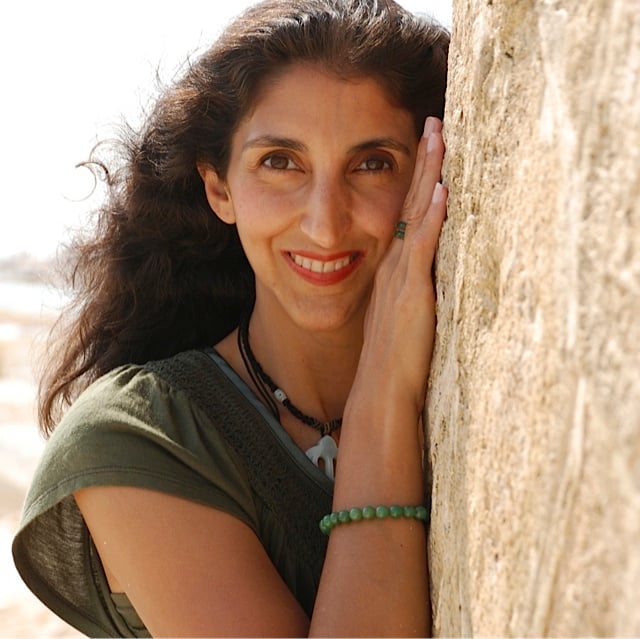 Jini Patel Thompson is a natural health writer and Lazer Tapping instructor. She began riding at age 2 in Kenya, and got her first horse at age 8 in Alberta, and so continues a life-long journey and love affair with these amazing creatures.