It's been four years since I adopted 3 wild mustangs after they were culled from their range and loaded onto a truck bound for slaughter. Two pregnant mares and one stallion. I also made the somewhat radical choice of allowing those wildies to remain fully wild and untouched – simply providing for their physical needs – as I was interested to see what these wild horses would choose to do (or not do) when given full, REAL freedom of choice.
The only glitch in that plan, was having to castrate Makah. Obviously, I could not have a stallion amongst a bunch of mares in a limited, domestic environment – on 30 acres in the middle of a city. But aside from his castration, Makah was untouched and uncoerced, before and after.
I arrived at the barn after trailering Xadaa and Posa up to the Singing Horse Ranch, and the wildies were bunched tightly together and peering out at me nervously and fearfully. It reminded me so much of the time I first met them, at the rescue, after they'd been culled from their wild herd. Kaliah, Siyone and Makah were bunched together for safety and wondering what these humans were going to do to them next.
And at that point I realized, oh my God, I did not ASK them what they wanted! I just assumed that because they are wildies, that of course they would prefer to run free on 160 acres in a wilder area of Canada. But I did not actually ask them about their opinion, or their desires.
Then I thought about their actual behavior over the last few months of summer the year they arrived – as the pasture was filled with grass and plants to forage – and yet their favorite place seemed to be the barn and paddock sheltered areas, eating low sugar hay from the slow feeders! Calling into question all my ideas and assumptions about "wild".
It feels like the barn and slow feeders represent incredible abundance to horses who have been through seasonal starvation their entire lives. So they have very little desire to go out and forage when this incredible banquet is in front of them, full, all day every day, no walking required! Also key, the barn has the least flies and biting insects of anywhere on the property. So by their behavior they are choosing domesticated comfort and ease, over wild and natural.
In this period of climate change, back-to-nature movements, and the growth of earth-based spirituality, many humans are focusing on our lack of connection to wildness, our lack of connection to nature. And feeling like everything would be made so much better, and we would be much happier and more peaceful, if we re-wilded ourselves.
In the midst of all of this, we have these powerful beings who have come straight out of the wild, with no pressure to even be touched by humans, and they are choosing domestication. What??
With this wild mustang herd now under my care, they have realized how many good things can come from the hands of the humans. But, key point here, those good things are not conditional upon them being coerced into becoming tame; because I do not require them to change their behavior, or boundaries, or ideas of what is acceptable, in order to have access to the good things.
So instead of needing to allow humans to touch them and work with them, and put objects on them, in order to get privileges, my wildies are free to do as they wish. They have figured out their own ways of communicating with me to get the benefits they see the domestic horses receiving. They use body language, energy, and telepathy – flashing me pictures of what they want.
Makah walks over near the gate to the hay storage arena, with the horse trailer parked next to it. As he looks at me he flashes me a picture of the gate opening and him walking through it. So I go to the gate, open it, and stand well back from the entrance, and he walks in. I close the gate so a dominant horse cannot come in and trap him in the small arena. He walks towards the horse trailer and goes up to the entrance and sniffs it. He looks at the bags of alfalfa hanging inside the trailer and then looks at me with searching eyes. I understand that he wants the alfalfa, but he doesn't want to go into the trailer. So I get him some alfalfa and put it on the floor at the entrance to the trailer and he immediately walks up to it and begins eating. And so our dialogue continues and our connection grows.
Over the course of the next few weeks, he comes in and out of the small paddock arena. Eats alfalfa from the entrance and then with 2 feet inside the trailer – did I mention he leaves the herd and comes alone to ask me to play? All this occurs without the use of a halter, rope, stick, treat, or touch. Eventually, he follows me fully inside the horse trailer and then stays there eating from the hay net, even after I leave the trailer.
The only touch he asks for is to greet me; by having me hold out the back of my hand so he can touch it lightly with his muzzle and sniff it. I do not try to touch him more, or further, because I am happy for him to remain as wild and untouchable and autonomous as he wishes. And he seems to be very happy showing me how much we can do together – without using touch, aids, or even any desire from me. The desire for this play/interaction comes solely from him and his ideas, and by him communicating what he wants, and me responding willingly.
After Makah had been with me for two years, I was out in the field with the herd, and as he walked up behind me, he flashed me a picture of what he was going to do – so that I would not be startled. He wanted me to stand perfectly still, with my arms at my side, so that HE could feel my body. He did not want me to touch him, he wanted to touch me – to explore what my body felt like, using his body.
As I stood there perfectly still, overcome with wonder at this gift of trust and exploration, Makah walked up alongside me and first pressed his face to my bare arm. He moved his cheek and his nose over my skin, feeling the texture, temperature, odor of my skin.
Then he started at the top of his neck and pressed his neck against my arm and side of my body. As he moved the contact with me down his neck (by taking tiny steps forward), he experimented with different amounts of pressure and touch against my body. Then his shoulder, then all along his belly, then his hind, often pausing to simply feel the pressed connection at certain places. He touched and explored the side of my body using every part/section of the side of his body. And then he slowly walked off and began to graze.
It was one of the greatest gifts a horse has ever given me. The trust, the weightiness, the sensuality, the totality of the experience… it was holy. It was a sacred ceremony.
This incredible experience was only possible because I had created a space for them to remain as wild as they wished. Because my curiosity about, "But what would horses CHOOSE to do, if allowed to remain wholly wild?" fashioned a container for this possibility.
AND I was 100% okay with them choosing to have zero interaction with humans – to never even come close to me, let alone touch me. To simply feed and shelter them and allow them to exist – with no expectation of reciprocity.
I had already fully satisfied my curiosity about "training" horses in my youth, and rehabbing dangerous slaughter-bound ponies for re-sale to hopefully better homes. I had already had my semi-feral crew ease my fears about not having any control – what if they get out??! If a tree takes down the fence, or a barn helper leaves a gate open, how will I get them back to the pasture – they will be running around with cars and roads!!?? By this time, I had enough experience with herd dynamics and how a herd functions, to know how to use the power dynamic and relationships within the herd to move horses around – on or off roads.
And here's another thing: You don't need to have control over an animal to have a relationship of trust and a strong bond with them. It is not the rope, halter, sticks, treats etc that creates a strong trust-bond that will hold in high energy or dangerous situations.
When I trailered Cobra to the Singing Horse Ranch (160 acres of Canadian wilderness), I saw/felt him 'turn wild' again the minute he stepped off the trailer and surveyed his new domain. I thought, "Well that's it, he may never come near humans again." He was potently, magnificently wild again, in an instant. On a large piece of land with running creek water, where he could meet all his needs without human assistance.
And yet, his final healing from all the human-inflicted trauma he had suffered since his capture, happened when he was finally free to never even look at a human again. He came down out of the hills one day and CHOSE to ask a human to scratch his entire body, his belly, his brutally castrated sheath.
Two weeks ago he showed me the raw skin on his chest from bug bites and itching and asked me to apply diluted wild oregano. So I did. I offered again, twice over the next week or so, but he refused. One application was all that was needed – he knew – and I watched his chest heal up nicely.
Makah and Siyone were absolutely ENLIVENED when they arrived at the Singing Horse Ranch. Their bodies were suffused with energy, joy and vigor. They did not even wait to be gradually integrated into the herd, but jumped the fence when they deemed it time. They too were once again fully wild and free – needing nothing from humans ever again.
Except last week, Siyone came down to the pole barn and asked/allowed me to take some chunks off her overlong toe. As I knelt beside her (using the side-trim method Montaro taught us, where you don't need to lift the horse's hoof) she thoroughly explored my hair and face, for the first time in 4 years, and exchanged breath with me (circle/tantric breathing).
She let me cut off one chunk of her split toe, and then walked away. I left the hoof nippers there and went to do something else. When I looked over again, she was back in the hoof trimming spot. So I went back and she let me cut off one more chunk, then walked away. This happened 3 times, with about 15 minutes in-between each cut. And then she'd had enough hoof trimming. Was I happy with the state of her toe after 3 cuts?? Nope! But: her body, her choice.
Somehow she still manages to run around 160 acres, up and down hills, moving the other horses around, in between limping when it gets acute, and that is her choice. There is a reason wild & free are always paired together.
What have you lost, or given up, in the pursuit of 'safety'? When you look back over your life, over the times you chose to ignore your body's wisdom, or the call of your wild soul, in order to remain safe… was that a good choice for you, in the long-term?

What would change for you if you always, always, chose authentic freedom over safety, over fear?
Many of us, when we look upon the devastation humans have wrought on Mother Earth, honestly feel the planet and all the non-human creatures would be much better off if we went extinct!
But what if we have missed the point? What if we have, yet again, done our human thing of polarization, rather than integration?
The wildies – given real, full freedom of choice on 160 acres of wild land – have chosen to integrate what humans have to offer. They have not disappeared into the wilderness only to be glimpsed from afar. No. They happily partake of the cool, bug-free environment of the huge pole barn on swarming summer days.
When it pounds with rain, sometimes they will stay out in the fields, sometimes under trees, and sometimes under the pole barn. During January and February, when the snow forms a hard crust covering the forage in the fields, they come down to eat from the round bales put out for them – rather than cutting their legs pawing through the icy crust.
They usually choose to break their own waterholes through the ice, rather than drinking from the trough – but during cold spells where the ice is frozen thick, they are happy to have access to thawed water in the trough.
How can us humans integrate our wily minds and ability to seriously change the environment, to help Mother Earth? To make life better for wild animals, plants, trees, etc?
In her fabulous book, Braiding Sweetgrass, Robin Wall Kimmerer tells of an experiment they carried out with sweetgrass – to test whether the plant did better left entirely alone; or with the selective harvesting traditionally carried out by indigenous people; or with clear-cut harvesting in patches. Funnily enough, the plant was helped by the selective, appropriate, indigenous harvesting method, and both plant growth and resistance to disease increased.
Until the last few hundred years, we humans lived very successfully in an integrated whole with Mother Earth and our fellow earthlings. Because all life was respected. We never took more than we gave; understanding that you don't bite the hand that feeds you. We lived in symbiosis. Healthy indigenous tribes lived as just one part of a thriving, integrated whole – where every being (including rocks, trees and water) was given freedom of choice and space to live and breathe.
In this time of global chaos, and the crumbling/destruction of many pillars of 'modern life', how can you make daily choices, take daily actions, that bring you back into integration with all sentient life on this planet?
The place of true power, true alchemy, exists in our own home, our backyard, the daily choices we make.
What do I think is key for this pivotal time of transformation?
Here's my own personal Shift List:
Learn how to grow food – indoors as well! Changing weather patterns and human mayhem will necessitate indoor gardens. An apartment balcony is plenty of space to grow enough food for a family. Half my living room is enough space to grow everything we need indoors. While lettuce and tomatoes are great, also grow nutrient-dense foods that store well, like potatoes and squash. Purchase organic or heirloom seeds now, today.
Stock your pantry with things you would eat anyway – prepping for food shortages doesn't have to involve giant sacks of beans and camping food in sealed bags. Just stock 3-6 months of the products you would normally eat. I did this last year and we've already eaten through half of it. I was prepared, but fortunately, the food shortages didn't happen my area. I'll stock up some more since this is a bad growing season due to weather, fertilizer, fuel, and grain shortages (not to mention active sabotage of farms and food processing plants). If food shortages don't happen, great! No loss. If they do happen, I'll be super glad I stocked up.
Get money out of the bank and into land – whatever amount of land you can afford, and make sure it has a natural water source. When the world is burning, there are only 3 things humans need to survive; food, water, shelter. See below if you don't have a natural water source.
Get active in a local community of like-minded people – as 'money' disappears or is completely controlled (aka China), we will need to be able to trade/barter for what we need. If Big Pharma/cabal agendas move to enforced injections (the next step after the current coerced agenda) we will be most comfortable if we can support each other and trade goods in communities that create a parallel reality to the dominant offering. Let's not just look to survive this global Kali-destruction, let's seek to enjoy ourselves and possibly even tumble into a preferred, better way of life while we're at it.
What is the lifestyle you would choose to walk upon this earth? Now is the time to opt-out of mainstream reality/systems and create it. And yes, this is hard! And terribly frightening, and overwhelming and… you can do it anyway. Take baby steps, find inspiration from people who are already doing it. YouTube is a great place to be inspired, with many filming their off-grid journey in great detail. Watch enough of them until it starts to feel do-able. If you're the type of person who needs lots of help from the get-go, then seek out an alternative community who is already living like this in Costa Rica or Mexico, and join them. There are quite a few running already.
Set up your own heat and power – no question we are going to see disruptions and black outs to the power grid. So how are you going to keep yourself warm or cook your food with no electricity or gas available? If you can't afford solar, or micro-hydro, what kind of winter camping gear can you get? Look to solutions already used and tested in third world countries, like this gravity light and this cookstove, or here's the Amazon version. If you don't have a natural water source, then water storage is also a very good idea. Power restrictions are already happening in Europe and people with electric cars are only allowed a limited amount of charging time per day. Germany has told it's people to get ready to burn wood to heat their homes this coming winter. A good place to stay informed of what's happening globally is via Ice Age Farmer.
Move online activities to private platforms – if you make money online, or you have an online community, make sure you have the email address and phone number (physical address is also good) of every one of your tribe. So that when you get censored, or shut down, you can move your online community to private, password-protected platforms that are not accessible to google and other censors. This has already happened within my health business. One of our payment processors told us we could no longer sell certain key supplements, or they would cancel our account. If you move to a hidden platform (that can't be spidered or mapped by search engine bots) then you can continue to provide your tribe with what they need and want.
Pay off your land and donate it to your Foundation – if you're in the financial position where you can pay off your land – do so! Then set up a Private Foundation (just like Bill & Melinda Gates have done) – this will cost about $5,000 in set-up fees and then annual accounting/filing. Then donate your land to your private family foundation. Why?? Because if we want to opt-out of the globalist agenda ("you will own nothing and you will be happy") we have to follow the big boys lead. Do you think the billionaire elites (Schwab, Gates, Soros etc) are going to be happy owning nothing? Nope. They are protecting their assets in "non-profit" Private Foundations. You know this vehicle is going to be safe from their agenda, because they are using it! Do not use a non-profit charity, as you can be kicked off the board and your land taken from you at any time. Use a non-profit private foundation and there are lawyers who specialize in these structures, like this one in Canada and this one for overseas foundations.
If all this feels completely overwhelming, break it down into just these 3 simple elements: food, water, shelter.
Think about how you can provide these for yourself, without relying on government or corporate resources. Just like humans have been doing for thousands of years! Also keep in mind that humans can live for months without food – I always like to go worst-case-scenario and deal with my greatest fears, then work my way back. Water is the crucial element. Luckily we have great resources like Find A Spring – free, local water sources – if you don't have your own water supply. Learn where several are that are closest to your home and visit them so you will remember if the need arises.
Also buy a Berkey water filter so you can filter whatever water source you find. In a pinch, iodine or potassium iodide can render even suspect water safe to drink. I've stocked up on liquid potassium iodide as its very potent and small to store/carry.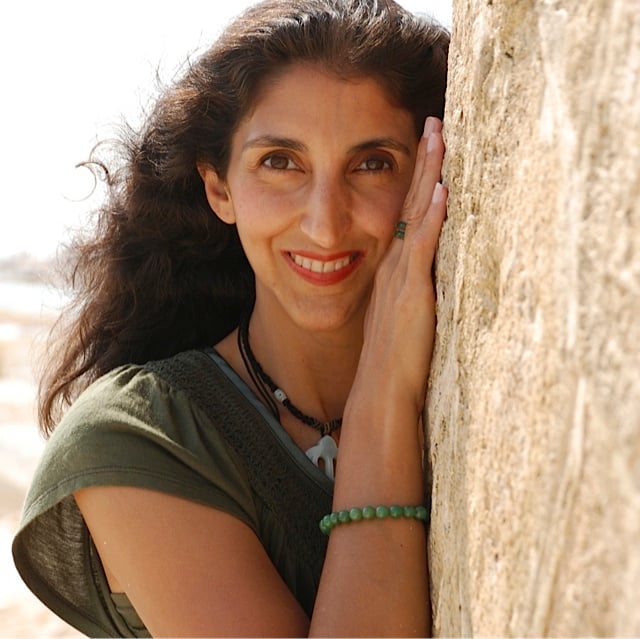 Jini Patel Thompson is a natural health writer and Lazer Tapping instructor. She began riding at age 2 in Kenya, and got her first horse at age 8 in Alberta, and so continues a life-long journey and love affair with these amazing creatures.