Montaro's healing journey is splendidly complete, 7 months after it began. Witness his transformation and also join me in pondering some of the deeper layers of meaning within this journey.
You may remember the terribly weakened state Montaro was in during our tapping session for Laminitis, Cushing's & Founder, as well as his session with Reiki healer and animal communicator, Jen Snow. Those were just some of the milestones and elements of his long and complex healing journey. Here's a few more details and the celebration of the end of a long-ass journey!
As you saw previously, Montaro had me create a healing series for the Wounded Masculine. I connected to him to bring forward each of the Lazer Tapping sessions in this series. And 10 days after I completed the last video, Makah told me to grab my camera and the herd gave me this splendid show (above). Yet another example of the healing circle:

Because we are all ALL ONE on this earth planet.
What's fascinating about this video is if you re-watch it multiple times, watching a different member of the herd each time. Their behaviour and groupings in this video echo the roles they played during Montaro's healing journey:
Siyone – held herself apart, firmly anchoring health, vitality and vigor. The mirror for Montaro to remember his true vibrant, sparky self.
Xadaa & Posa – sometimes anchoring, holding space, channelling healing, sometimes stirring up energy, but always working as a team.
Cobra – holding the King energy in the herd, supporting and placeholding for Montaro's return. Embodying utmost strength but never challenging.
Makah-Mahpee – the warrior who walks alongside another warrior. I would often see Makah hanging back and walking alongside Montaro as he was slower than the herd. Sometimes he would urge Montaro on. In the last few months, as Zorra began to go off more with the herd, Makah was often Montaro's close companion.
Juno – both the devoted son and the leader that prods you to move forward. Like Makah, Juno would often switch between roles. But he is the only horse that can 'drive' Montaro. Sometimes Juno would come down alone with Montaro to get minerals and salt (free choice in feeders and in the pole barn) and then accompany him back out to wherever the herd was grazing.
Zorra – did not leave Montaro's side for months in the early part of his journey and refused to be separated from him – going without food or water until she made her point. She supported him on the physical plane and right alongside him in other dimensions (as she often does for many of us). Like Juno, she often walked with him to salt/minerals or shelter. When I watch her in this video, she has a special link/affinity with his freedom – like she manifested it too.
Does Montaro's journey mirror any of the elements of your life – are there any take-away messages here for you?
The next piece
Two days after I shot this video, Juno woke me up at 5 am to give me more information about Montaro's journey, and also to request that I gather the Apprentices together to action the next piece.
Juno showed me that Montaro has generated a tremendous amount of energy around this phenomenon of Sacred Rage. He created the opportunity for us to join together, and facilitate a critical shift/healing/opening. We are not to waste this great work, Montaro's gift to this world at this time.
What is sacred rage? What kind of rage is sacred? And I was shown the first nations, the aborigines and their holy rage at what was done to land they have successfully stewarded for thousands of years. And in a mere 100 years, the devastation and destruction that has been wrought is nothing short of incredible.
How does Gaia herself feel about what has been done to her flesh and her blood (water ways)? This, too is sacred rage. It is sacred because it is appropriate and it is a holy fire intended to burn away what doesn't belong, to burn away the rot. Like cauterizing a wound. So that the body can then heal without sepsis occurring.
We are not to waste this opportunity for great healing and shift that Montaro has created for us. Like opening a portal in the fabric of the universe. It has come at tremendous sacrifice, and is a great, great work. WE need to do the next piece.
I sent Juno's message out to all the members of the Apprenticeship Program, and one of them emailed me back with a dream she'd had that same morning that echoed Juno's message and the role we humans need to play:
"Montaro was in a fenced area – the fence low. Then he leaped over it, so high I could see his entire underside. All I could sense was his MASSIVE voltage. At first I felt concern he may run down a road – he was near a road, not on SHH Ranch. I instinctively began toning his name low like baritone. Motaro remained where he stood, then smiling humans appeared, held hands, creating a half circle. A complete feeling of ALL IS WELL flowed."
Earth Singing is one of the concepts in the herd's Apprenticeship Program – using sound/toning to heal the earth. Just as we've seen with the wildies (see Cobra's journey), when humans put trauma into the earth – via destruction, or massacres, poisons, etc. – then humans have to heal that trauma. The earth can't heal it herself. Just like a traumatized horse simply turned out with a good herd cannot heal all the damage done to him by humans. There has to be a completion of the karmic circle – a balancing of the karmic wheel. What humans destroy, humans have to heal and restore.
Here is a brief heart-opening meditation from that gathering with the herd on the land – please join us. And so we work together, under the guidance and assistance of this incredible herd of master senseis in horse form. It is all good.
Montaro's Emancipation – My Freedom is Your Freedom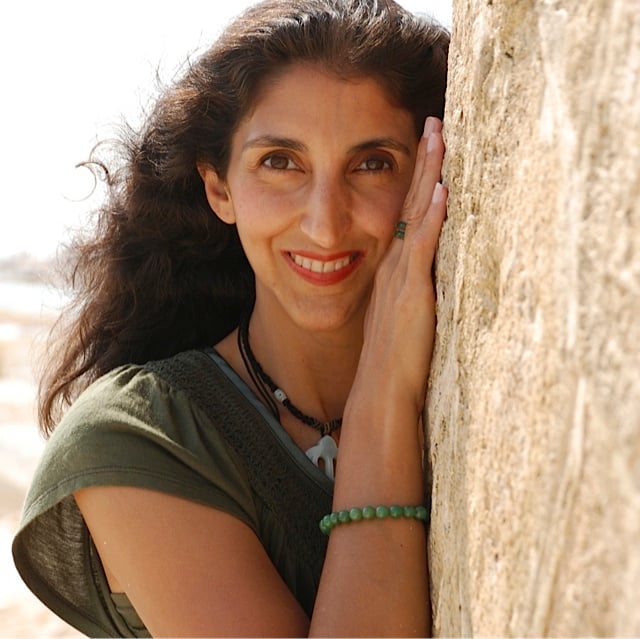 Jini Patel Thompson is a natural health writer and Lazer Tapping instructor. She began riding at age 2 in Kenya, and got her first horse at age 8 in Alberta, and so continues a life-long journey and love affair with these amazing creatures.