By Pat Rothchild

Forty-two years ago, when I began my journey to become a healer of the soul, which was psychotherapy's original mandate, I dove into a murky world that wrestled with the pathology of those most healers were unwilling to touch. There's a big resistance among those of our culture to cozy up with crazy. That's too bad, because we're all a little nuts, at least sometimes.
I decided to have a look around the field to find a niche that I could dig into. I worked in an urban general hospital that had three in-patient psych units, two county out-patient mental health units and two programs for acting-out teens. I saw a wide range of ways the human mind can get off-track and not many interventions that did more than contain the problem. None were based on respecting the human who was carrying the disease. Nothing seemed to change the course of these diseases. People endured ridiculous abuse in their or their families' efforts to cure them.
Eventually, I wound up on a committee to design a program for Vietnam-era veterans who just couldn't seem to get themselves off the streets. When the program opened, I decided to work there. The veterans were great. I knew what they needed, at least superficially, because I asked them! Holy Moly, nobody had! They showed me that yes, profound stress changes a person. Whether those changes are empowering or debilitating has a lot to do with what happens next.
When the vets returned home, a lot of their nervous systems had been compromised by the stress of war. Though they had endured similar stressors, there seemed to be three distinct possibilities for their courses after they were home. Those who got that life was now different, and always would be, did far better than those who kept searching for their old selves. The latter group was more likely to hold onto their stress symptoms than recover.
This group had two outcomes. About half appeared to be still in the throes of war. Their dreams returned them to horrific battle scenes they had survived or moments that engendered shame or regret. They endured flashbacks, nightmares, difficulty in relationships, outsized startle reactions. It was as if their nervous systems were stuck on high alert. They were full of symptoms that were similar to those of other known mental illnesses, but the patterns of their illness was unique. Those folks would later be diagnosed with Post Traumatic Stress Disorder, when the term was invented about a decade-and-a-half later. The guys who managed to keep on keepin on, but didn't let go their old, wounded selves as the Thrivers had, became symptomatic intermittently, but they were able to maintain enough function to meet most of their developmental milestones. These guys weren't healthy, but they made do.
Enter the Dog
Then, one of my dogs needed to see the veterinarian on a work day, so I brought her along. The guys lit up with her. She thoroughly enjoyed their attentions too, even though she was feeling funky. The guys got that and treated her with exquisite tenderness.
The next day, the energy at the clinic had shifted. It wasn't a huge change at first, but it was palpable. The guys were making more eye contact with each other and me. Curiosity about the others' lives rose. The group discussions were more personal and lively. It was as if Ilsa, the dog, had awakened their sense of connection with Life. The guys demanded information on Ilsa's health every morning. Eventually, I just began bringing her and her pal, Ollie, to work.
I had no idea why or how it had happened back then, but what I was seeing every day was entirely different than what I saw before Ilsa's first encounter with the men. They started talking about what they wanted to create moving forward. They began calling each other out on inappropriate behavioral patterns, kindly, with compassion. Some got off on helping others. Others ventured further out into the world and brought back enticements for their comrades to do likewise. I noted a bit of pizzazz flowing into many of them. A whole bunch of these guys were getting better!
That was a huge deal. Psych patients were managed then, not cured. It just didn't happen. Every psychotherapist I talked with about what I was seeing looked at me like I was nuts, until they came and saw for it for themselves. Even then, most rationalized it as an "artifact." Frankly, that pissed me off.
I knew that I had stumbled onto something. I didn't get why my colleagues weren't as excited about figuring out how this was happening as I was. I mean really, how could a person dedicate her or his life to healing and not be thrilled to find something that was fun, easy and worked, especially for a huge population that had been thrown away? After a year of trying to whomp up enthusiasm and money to study it, I decided that route was a waste of time. I brought my practice home and honed my focus to whoever showed up for help.
Neurological Changes In the Presence of a Well-Loved Critter
I still don't know how it works, but there's no doubt in my mind that neurological changes happen when humans practice mindfulness while in the presence of a well-loved critter. They link energetically, both release tension and then, often, but not always, information passes between them. Afterwards, the human and the critter both appear to feel energized, sometimes after a good, long nap. It's not a one-sided deal. Almost always, both the human and critter leave those encounters eager for their next.
In the late eighties, a group of psychotherapists began to look at Post Traumatic Stress Disorder, which had just been given a name and a place in our Diagnostic and Statistical Manual that is our professional Bible. It became a thing for which psychotherapists could bill insurance companies for. Wow, that changed everything!
I was beginning to have deep questions about my colleagues' motivations. Events in my personal life eclipsed work concerns for most of the nineties, so I didn't respond to invitations to participate in those discussions. I just kept treating people. Word was out that whatever weird stuff I was doing with people out on the mountain worked. A few therapists came by to see for themselves. Within a few months, therapists became my primary client base. I got a reputation for healing burnout, which appears to be a form of vicarious PTSD. That's the number-one occupational injury for shrinks.
The most common question I get from clients is, "How can something this much fun do any good?" My standard response was, "Happiness heals." Sure, it's a gross simplification, but it's accurate. There's all manner of data now to prove it. Hazzah! That only took forty years.
I worked with dog and cat co-facilitators for a couple of decades before one of those strange twists of fate brought me back to horses. By then the last of five magnificent co-facilitator dogs had died and all but one of the cats had passed. The horses showed me, again by accident, that they did the same things for humans, only slicker than their smaller colleagues had. Now, that fascinated me.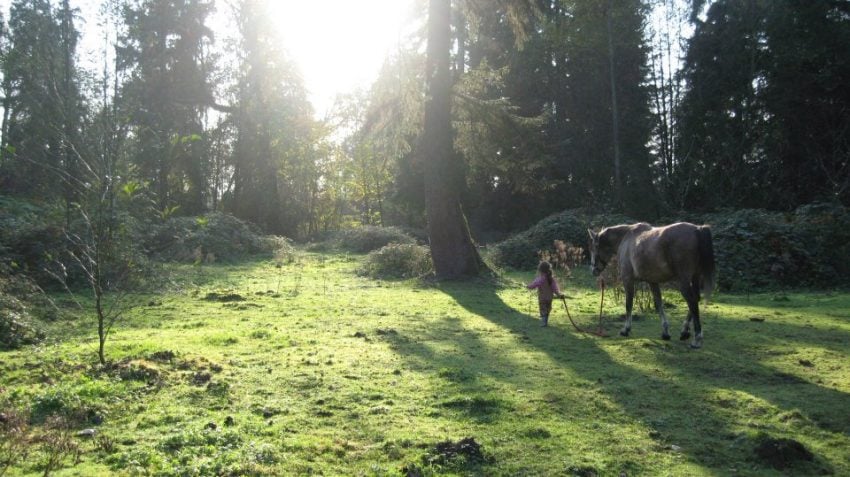 Throughout my career, I've tried to stay in the stress lane. There are all manner of things that can go sideways in human psychology. Most are categorized as thought, mood or character dysfunctions. Each category has a slew of subsections. Therapists seem to love to categorize folks. There's some utility in this from a clinical perspective, but not enough to justify as much juice as it gets, in my opinion. Throughout most of my career, stress treatment hasn't gotten much attention from the larger community of healers. I liked it because I found something that worked and was fun for me and my clients. What's not to like about wandering around mountain trails and meadows with laughing people and wagging tails?
From time-to-time, clients who suffered from other issues found their way to me. I didn't get the same results with them as I did with those who had been wounded by stress. Those who also carried serious mental illnesses, didn't find full recovery through their work with the critters. Most discovered new levels of acceptance for the fact that they had mental health issues. That helped them to develop more effective coping strategies. They managed themselves better when their diseases flared. Most were able to avoid the use of psychotropic pharmaceuticals most of the time. This was a definite improvement, but it wasn't anything like what I saw with those who were contending with outsized, chronic stress reactions. Most of those folks wound up far better off permanently after working with the critters.
I certainly was not the Lone Ranger in finding that a bunch of my stress patients improved. Most do, if they have a good support system that can help them reframe their traumatic event and move on. The trouble is, that's tough to find, especially if you're super stressed.
Remember, most people in our culture, including psychotherapists, appear to instinctively hide from crazy, whether it be their own or others'. Think about it. What's the one thing people say most often when they want to invalidate someone? "They're crazy!" Social ostracism can be deadly. There are few more debilitating punishments for a social creature.
Joy Before Pathology
Later in the nineties, another group of psychotherapists decided to look at joy. They were interested in finding what made people happier and more functional, instead of what broke them. That was an exciting moment in our profession.
If I were a horse person looking for a psychotherapist to work with, I'd look among them first. From my perspective, they're on the right track. The field attracts people who appear to be less controlling and rule bound than those who look at their patients as bags of pathology. That gives them more options. They're also a lot more fun to hang out with. Your horses will probably be more comfortable with them too. Mine were.
That group decided to look at why some highly-stressed people thrive. A lot of folks who experience profound stressors appear to use the experience to propel themselves into their best version. The joy gang discovered a few factors that appear to account for why some thrive, others manage to hang onto a semblance of normalcy, but their lives are filled with struggle and others go off the deep end and never resurface.
Today's Global Stresses – Change or Die
Let's unpack this a bit. Settle in. I'm going to take you for a mind ride that I hope will whomp up a conversation, at least within our own minds to start, about envisioning what may be possible for those willing and able to step into the world-wide stress of the moment, which appears to be flirting with its crescendo. That stress is tied into the sixth great extinction spasm our planet has, thus far, encountered. People of all political and spiritual persuasions are experiencing huge stress now. Everyone appears to be shuddering under the weight of this moment.
When people must contend with profound stress that they lack the power to change, their minds can tilt into dangerous territories. The amygdala is a little mechanism deep within our brains that modulates emotion. Prolonged and/or profound stress makes it hypersensitive. This appears to be why so many who suffer from PTSD have issues with explosive or deadened emotionality. It looks to me like making a neurological connection with another mammal while in a state of Mindfulness modulates this hypersensitivity. When we do this, our minds and bodies relax. PTSD symptoms tend to go into retreat. The person carrying the wounds appear to dump their hyper-arousal. Their other symptoms begin to break up too. They sleep better and laugh easier. They share having more interest in reaching toward others. Their curiosity is enlivened. They begin to look like they've reclaimed their agency over their own lives and found the energy to live them.
There is a path to not just heal this dysfunction, that's been around as long as we have. Stress can lead us to tremendous personal and collective growth, when we engage it properly. There is no better set of coping mechanisms for stress available than those hiding out in disused portions of our own nervous systems. They're function is to boost us over big humps in our personal and collective paths. Our nervous systems know how to rise to these occasions. Accessing these tools requires us to let go of our old ways of thinking, processing emotion and believing.
For some, the environmental and political stressors of the moment will look like all-out war, as is currently happening in Syria and much of the Middle East. For others, it may look like economic collapse, as appears to be happening in India now, who recently recalled its currency. Still others will be confronted with despotic rulers, who are on the rise, as is common during high-stress periods. For examples of that, we can look toward Britain, the Philippines and the United States, among others. Every being on the planet is dealing with the toxic soup our corporate overlords have produced for us. All the while, our governments appear unable or unwilling to focus on the broad issues that threaten us. Stressors of these magnitudes leave us little choice but to change or die.
Profound stress, well engaged, has the power to transform us as nothing else. Clearly, nothing less than a transformation of our collective unconscious is called for now, if we are to turn the wheel of human destiny from lust for destruction (Dominion) back toward creation (reverence). This is where the horses and we can be of greatest service now.
There are a lot of psychology professionals who have looked into the phenomena for the last quarter century or so. We have been playing around with various ways of tilting the probability of Post Traumatic Growth (PTG) outcomes instead of a Post-Traumatic Stress Disorder (PTSD) following profound stressors. A lot of folks have contributed to the field from all sorts of disciplines. This is a good thing.
The Transformative Power Of Suffering
It's shown us how varied the operant variables are. This is great because it translates into there being several viable portals through which we can access the positive power of stress to undue ways of thinking, being and doing that no longer serve us. I can't think of anything that humanity and our whole life-support system needs more now than this. Another piece of good news is that this isn't a new field of inquiry. All religions reference the transformative power of suffering. It shows up everywhere. Literature and sermons are littered with it. Stories are tremendously powerful potentiators of growth. Critters are too. I think that horses are our apex healers for this moment.
They and other critters can bypass our human resistance to change. Have you ever tried to talk someone out of a dysfunctional behavioral pattern? It doesn't work. No matter how great your argument for change is, words usually just sheet off the person, like water off a raincoat. The important take-away is that we healers, educators and spiritual guides need to seat our information into the physiology of our patients, students and parishioners.
The most efficient way to accomplish this is in a state of Mindfulness. The most supportive environment I have found is out in a natural setting among well-kept critters and mindful humans. The critters I have worked with have been great at linking with clients and patients when they're in a state of mindfulness. Something happens in that linkage that appears to dissolve the stress-related neurological changes that often prevents us from actualizing our potential. I don't know what it is, but I know that it works.
The change/growth we're looking for isn't because of the stress. It appears to arise as a result of the struggles we engage in to adapt to it. In fact, growth after a traumatic event is more common than the development of PTSD. At least it used to be. From my perspective, it appears that our positive adaptive skills need reinforcement now.
I'm seeing the effects of unresolved stress everywhere since we in the States began our presidential campaign that ultimately drove Donald Trump toward the White House. It's been a two+-year ordeal. It isn't wearing well on a lot of folks, including me, now.
Okay, so things are looking grim. Humanity is off balance. We're angry, frightened and confused. The unresolved PTSD folks are poised to take over the nuclear codes. This does not appear to be a good thing, unless we can engage the resultant stress to turbocharge a massive transformation. Transformations of these magnitudes start small. They tend to grow in size and speed in proportion to the degree of the initiating stressor(s). There have been none larger in our species' history.
When Stress Induces Growth
Okay then, what tilts us toward growth instead of persistent wounds that generate further dysfunctional spirals? Spirituality that doesn't need to be religious in character is a predictor of stress-generated growth, as are strong social and familial connections. These predictors work best when they're well integrated into the consciousness and actions of folks before a big stress event occurs. They're helpful afterwards too. Apparently, the presence of a spiritual path and social network don't only prep us well for whatever Life may toss our way, they also may modulate the pathological response to stress through the Hypothalamic-Pituitary-Adrenocortical (HPA) pathway in the human brain (Ozbay 2007).
The ability to accept what cannot be changed is another great predictor of stress induced growth. People who have developed this skill have a big edge in survival situations. The official word is still out, but there's good evidence accumulating that having an opportunity to give voice to one's distress within a supportive, non-judgmental group is also helpful. I think that this is a finely-hewn-double-edged sword. Proceed with caution here. Revisiting old wounds sometimes just reinforces their toxicity. Sure, find ways for the person to discharge in safe, contained ways that keep looping back into positive realms. When I see a client begin this positive feedback loop themselves, I know that they're on the way toward thriving. Group work can be super helpful, so long as it isn't allowed to get stuck in a 'poor us; ain't it awful' vibe.
I often potentiate a positive feedback loop through storytelling, if it feels like my client(s) are wallowing in their personal toxic soup. I just weave a little story that incorporates the archetypal elements of the client(s) story into the lives of characters who are easy to empathize with. It's a simple, fun way to discharge toxic energy without generating defensive blow back onto your horses or yourself. Sometimes, Life comes up with the story by itself. Wee, that's when I know for sure that we've found the 'zone.'
What personal characteristics are predictive of growth following profound stress? Optimism, extraversion and openness to experience all weight us toward growth. This doesn't mean introverted depressives can't get there too. They just need to hoe their rows better than the optimistic extroverts. They need more external support to get themselves on a path toward thriving. It's important to have others with whom we can revise our narratives around our traumas so we can find the openings we need to recreate our lives on more solid footings.
Designed to Thrive
We humans are vulnerable to missteps when we're recovering from major stress. It's easy to slip off Life's balance beam during or in the aftermath of major stressors. I spent most of my 36-year professional career fishing folks out of the abyss they landed in when they slipped, then pushed them toward growth-generating experiences designed to awaken their Inner Thriver. Most did.
This sounds harder than it is. We're designed to thrive. Every time we feel love and acceptance, have an authentically good thought about somebody else or ourselves, smell something associated with good times, laugh, pray, enter a state of Mindfulness and/or smile and hold it for more than thirty seconds, we increase our body's immune function and decrease our inflammatory response. All manner of biochemical signaling occurs that ready our bodies, minds and spirits to thrive.
Have you ever seen someone called to horses meet one in a positive, healthy setting who wasn't smiling for at least thirty seconds? I haven't. That silly grin is potentiating a huge biochemical shift that's a prerequisite for growth after trauma. Wow and yippee skippy to that! That translates into 'happiness heals.' Holy Moly, that's terrific news.
Reading the history of psychotherapeutic interventions tried on the range of ways that the human mind can break, is a study in torture techniques. It's hair-raising stuff. And, there's a portion of the field still deep into that trajectory. It doesn't work.
We humans figured out Post Traumatic Growth a long time ago. How so many psychotherapists missed it is a mystery to me. As a non-therapist looking to work with profound stress reactions, or stumbling into them by accident, it's a good idea to have a good therapist available. Finding a good one can be tricky. We're well trained to engender trust and to mask our authentic reactions.
The characteristics I look for in a good therapist include a strong reluctance to turn toward psychotropic pharmaceuticals to manage behavior, thoughts or feelings. I happily trot toward those colleagues who have educated themselves about herbal remedies for psycho-spiritual trauma, but I test out their potions before recommending them. An ability to be fully present in the moment with their clients is a fundamental requirement for a good therapist. This is easy to learn so, in my mind, initial shakiness in this realm isn't a reason to rule out someone who may otherwise be a good candidate, unless they think that they're too educated/important/entitled to need to. Unless you're called to roll up your sleeves and remake that therapist from the bone marrow up, I'd leave those guys behind.
Integrating Therapists in an Equine Facilitated Environment
If you're going to have the therapist working in sessions with clients and horses, teach them how to handle themselves around horses! This is important to the energy of the healing offer you make. Don't make your horses contend with whatever is up with the client(s) and the shrink! That's asking too much of them and clouds the energetic communication between everyone involved. Again, if therapists feel too important, skilled or entitled to bother learning how to engage competently with horses, send them packing or break through their trances.
Horses are great at initiating that, if your setup is such that you're sure that you can protect them from whatever Dominion Delusion may be lurking in the therapist's unconscious. It probably is if you're working with clients already. Just keep an eye on any projections, negative or positive, that you may have in play with psychotherapists. That can cloud your judgment. Remember, the shrink is just another vulnerable person trying to get by, just like you. We don't have super powers. If you get an inkling that they think that they're better, smarter, wiser… than you, by virtue of their licenses, they're full of it. Or, they may just be trying to cover their insecurity. Ask them about it or send them packing.
You could ask your horses to help you get them to authenticity. I've seen psychotherapists lay down their Dominion Delusions before horses on many occasions. It's a beautiful sight! A therapist who has done this, will be a powerful asset.
When I work with other people's horses, I always work with the horse and her/his handler before I bring in a client. The way I work requires Mindfulness skills on the parts of the humans involved. I teach this before clients pass through the horses' gate. In my methodology, this step is critical. That may not be true for yours. That's fine. Keep in mind though, Mindfulness works well for the horses. They appear to know exactly how to link consciousness with us when we're Mindful. And, it feels wonderful for the human(s) too. I insist on taking the time to link Mindfully with horses I'm going to work with at least once. I need to experience how the horses hold and release their stress. They need to know how I do it too. It's a fun, easy little dance I do as a warm up. It gets us all firing on the same trajectory. Horses are far more skilled at this than most folks, including me.
Being Awake and Loving: Our Only Real Defense
If thinking kind, loving thoughts boosts our physiological functioning, Mindfulness superpowers us. Our nervous systems light up. We generate new neurons which our autonomic nervous systems send in to make new linkages, often around neurological glitches that otherwise would skew thoughts and feelings into dysfunctional realms. I wouldn't have a clue how to get people to thrive after major stressors without it. I would be at just as much of a loss without the help of critters and, sometimes, herbs. That's the toolkit that's seen me through a long, varied career working with stress reactions. I've never been complained about or sued, which is becoming rarer with each passing year for my profession. These tools have served my critter helpers, clients and Self well. I recommend them highly, but they're not what makes or breaks our work. We are.
One of the first things I learned in my psych graduate training is that what we do doesn't matter. How our clients experience us is what makes the difference between an effective therapist and a blowhard. If our people register us as authentically caring about them, they get better. If they don't, they don't get better. It's far easier and more fun to love authentically than it is to fake it. People always know, on some level, when we're not being authentic, as so do all critters. The good news about other critters is that they're far less likely to tolerate inauthenticity. Most critters register that as DANGER, which is on point.
Weird, huh? When we really, truly care about each other, we heal and are healed. Life is as simple as that. Now, when all Life on earth is in flux born of our human imbalances, being awake and loving is our only real defense. This opens us so we can perceive opportunities and dangers far enough out to be useful.
There are some tricks I've learned along this path about taking care of oneself while loving strangers. First, nothing is personal. People who are enduring more stress than they can effectively metabolize can be as dangerous as a spooky horse in the hands of someone who doesn't know how to help them release tension. They often say and do inconsiderate, annoying stuff. I just think of that as diagnostic. When folks are in pain, they get super self-involved, some become very controlling. This doesn't' have anything to do with me, so I don't need to react. My job is to reflect love. So is yours, if you're taking the role as either the horse handler, the therapist or both. It's not about you, beyond your ability to hold your center Mindfully.
When I don't know what to do next in a session, which comes up a lot, I ground and wait for the horses to show me. They always do. Once the horses, or one of them, makes the link with a client, I try to stay out of their way. I watch the horses for cues even more closely than I observe the client. From a position of Mindfulness, the horses and I are connected intimately. We can feel and show one another our next steps subtly, without drama. Energy flows, it feels enlivening. The client and horses will reflect this liveliness too.
Mitigating Stress in Equine Co-Facilitators
I like to hang out with horses in a Mindful frame of mind without an agenda after I've worked with them. Invariably, we help each other release tension that may have accumulated during the session for the horses, me and whoever else may be assisting. Working with stress is stressful. We need to build in ways to support ourselves and our horse partners if we want to avoid burnout. Getting moving at a good enough clip to become dewy for at least twenty minutes is necessary to metabolize the biochemical waste of stress. It's a step that we do well to incorporate into our practices. So far as I know, it's the only thing that works completely. This also provides a host of other physiological, intellectual and spiritual benefits. There's always something to do around where horses live that'll get our blood moving. Do it, and then some. Not only will you dump toxic stress metabolites, you'll give yourself an efficient boost of energy.
When I work with critters, I watch them carefully after sessions and check in the following day to find out how they are. Almost always, the horses are supple, balanced and relaxed after sessions, though sometimes they need a good nap and/or a few bucks and a gallop first. If anything seems to be off with the horse who made the direct connection, I go back and do more release work. I feel that it's my sacred duty to be sure any critter who helps heal humans with me is better for having had the experience. I think that's your duty too.
If the horses show me they're not quite right after a session, dollars-to-donuts, the client who worked with them isn't either. I call to check in when the horses are off the next day. They're fruitful calls. I've never made one that wasn't needed and well received.
Learning to Thrive in the Wake of Stress
To recap this discussion, the human nervous system (NS) has three choices in the aftermath of profound or chronic stress.
The first group of stress reactors appear to spiral toward the drains. Their traumatic reactivity grows instead of mellowing. Each successive stress event slams them deeper into reactivity. Many can become explosive when something triggers a stress reaction. Over time, when these issues aren't fully resolved, people often begin to harden into highly reactive, self-involved control freaks. Their empathic skills go sideways. Often, they become manipulative. They can become tough to love. That just makes the situation harder for them, because what folks in this quandary need most is love and attention. Horses work well with these folks, so long as the humans assisting them are on point.
The second group of trauma sufferers don't thrive, but they become more resilient than they were before the stressor. They look like they're powering through choppy waters, but they keep on keepin' on, often with clenched fists and gritted teeth. This group does okay. They manage their lives fairly well, considering what they've been through. From time-to-time, when new stressors arise, they might slip off their balance beams and show up with PTSD symptoms. They're usually fairly easy to boost back onto the beam. Sometimes those slips open a portal for them to jump over into the Thrive group. This can also happen when these folks shift from one developmental stage to the next. Interestingly, this looks like it may happen most often when people achieve their elder years. Most mental illnesses seem to lose their power over their hosts at this stage of life too. There's a lot of good stuff that happens as we age. From my perspective, that's the best.
In the third option, we can recognize that the stressor has changed our lives forever. There's no going back to 'normal' because it's not there anymore. The only option is to create a new life incorporating what was learned during the ordeal phase. These folks are on point. They invariably emerge from the stress stronger and more balanced, supple and relaxed. They thrive in the aftermath, often without help.
In my practice, the horses appear to do their best work when the humans involved in the sessions are skilled at entering a Mindful state at will. This is a specific neurological pattern that promotes neurogenesis in humans and appears to open communication channels between the critters and humans. This connection appears to shift the underlying neuropathology after exposure to profound stress.
Working with humans who are suffering from stress reactions without the help of Mindfulness can get messy. Rarely, though often enough to note, the messiness can escalate into danger. Narcissism and borderline personality disorders are common sequelae to PTSD. These are tough conditions to treat, particularly if the person has been in that state of mind for a while. I've dealt with this issue often. I wouldn't do it without a well-practiced mindfulness strategy or critters who weren't comfy engaging with folks. The great news is that these disorders can be readily treated in this context. Since they appear to be big contributors to what's killing us, it behooves us to get on it.
We humans have the capacity to use stress to propel the evolution of our consciousness as individuals and as cultures. We can also be sunk by it. Stress is up now worldwide. Having folks out there who get how to potentiate the most positive outcome to stress is critical to our survival and that of our life-support system. All hands-on deck!
A Third Option: Post Traumatic Growth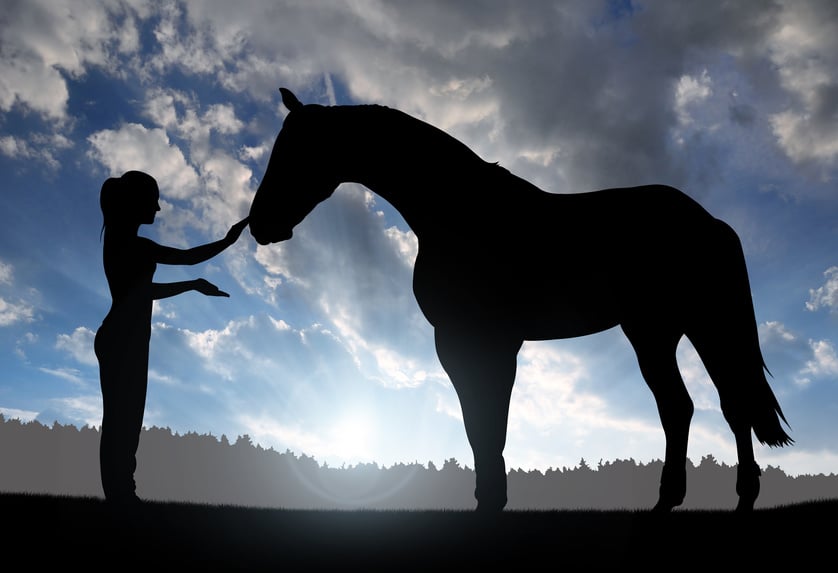 Special stories and experiences from fellow horse listeners