It's interesting how many times the wisdom the horses share dovetails perfectly with what I'm learning, or something I'm currently in process with, in my own life. The very next day after I watched a video lecture from world-renowned medical intuitive, Caroline Myss, I arrived at the barn to have Siyone and the herd SHOW me exactly what Caroline talked about as one of the biggest choices we make that negatively affects our health.
Caroline Myss is easily the most well-known medical intuitive on the planet – this means that she can energetically/psychically scan someone's body and diagnose their illness, or their dis-ease. Her skills have been extensively tested by medical doctors for accuracy. And here's the kicker: She doesn't even need to see a picture of the person. All she needs is your name.
Choices people make that destroy health
After 35+ years of scanning people for illness and also being able to see the roots of that dis-ease, in the video below, she shares the top 5 choices people make that negatively impact their health and strip them of empowerment. Caroline says, "The power of the choices you make have infinite consequences."
After watching the first half of Caroline's lecture, I went to the barn. Where Siyone gave me a live demonstration of the importance of Choice #3 – which is choosing to do the thing that scares you. Choose the risky option – because it doesn't matter whether it's the right choice or not, what matters, says Caroline, "is that you take risks in your life. Don't wait for proof, take risks. Because when we diminish in strength and stamina, we review the life we should have had… had we taken risks."
"Do not make choices out of fear of humiliation. Don't take the safe path. Don't look backwards for guidance, there is nothing back there, it's over, you are not that person. What builds vitality and builds the desire to live your life fully and be present, is for you to say, "It's time for something new." Be in the newness; not afraid of it."
And that's what Siyone gave us a live demonstration of. We have no idea of the trauma, or suffering she has been through. How many times she has escaped capture before this final cull, how many foals she has lost, how many winters she has starved, or injuries she has healed. In May 2019, after being with me for almost a year, she felt safe enough to take some hay from my hand for the first time:
Makah-Mahpee took hay from my hand after few days of arriving at my place. Cobra took a few months. We cannot stipulate a timetable for the healing or trauma-release of others – it is a deeply personal process. But you can see how remarkable this video is – that 20 months after she arrived at my place, she chooses to walk into the "catch-pen" and re-wire all her mind/body circuits to create a new NOW.
Siyone shows us that we don't just take risks wildly; we take our time to assess whether people, circumstances, situations are trustworthy. We take a risk that has some good odds in our favor. We are kind and gentle with ourselves, and give ourselves lots of time to heal and settle and strengthen.
The whole herd knew it was time. They were in position and waiting for me as I parked on the barn road. When the herd has something important (the air is literally full of portent) to share, or experience, the energy is so clear that I snap to attention to discern what wants to happen. By the time I slipped through the gate, I knew what was going on. And the rest you can see in the video above.
AND THIS is why I have no interest in "training" these horses. I am far more interested to find out what they can teach me, what we can learn and discover together, the push and pull of real relationship, the magic of true intimacy; where each of us is advocating for all our highest good.
Not that I'm knocking someone who enjoys training horses! We each have our path and the things that turn our crank. For me, this is where the magic happens. This is the stuff that fills me with joy and makes me feel like my world is full of blessings.
And now I will leave you with this gift from Caroline Myss. If you resonate with her style, then you will love her course on , The Anatomy of Your Health or a deep dive in, The Science of Medical Intuition.
Horse Wisdom: Take Risks, Face Fears & Write a New Story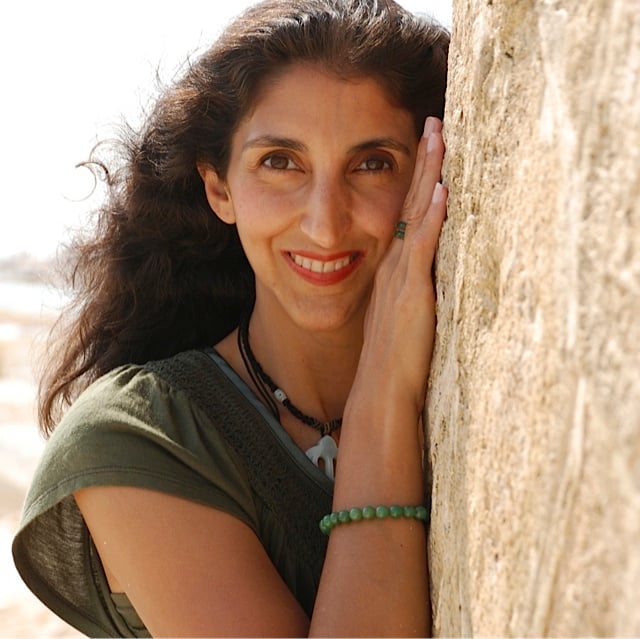 Jini Patel Thompson is a natural health writer and Lazer Tapping instructor. She began riding at age 2 in Kenya, and got her first horse at age 8 in Alberta, and so continues a life-long journey and love affair with these amazing creatures.