By Ainsley Beauchamp
It seems a small thing, to lend a friend a book.
We don't necessarily recognize when life changes. Trumpets and fireworks don't usually accompany the quietly profound moments, when we may hold a catalyst for change in our hands. It's not until long after, when we look back and realize we're no longer the same person. We've been given permission – no, given ourselves permission to become more of who we really are. Maybe take that real new 'us' out into the world, in teeny tiny brave increments, and try it out, gauge reaction. Feel a little safer, braver, tiny steps on the journey of becoming our most authentic self.
My friend Sandro was an electrician, a pragmatic, down-to-earth guy with a sweet grin and kind heart. I met Sandro some years earlier when he would bring his then-girlfriend to ride at the stable I worked at in Princeton, BC. We would explore trails with good horses, and a respectful friendship ensued. We had endless conversations around horsemanship, Sandro green and enthused, me more experienced and still enthused. I was delighted when he finally entered the world of horse ownership with a big flighty-hearted bay, an off-track Thoroughbred named Snoozer that kept him guessing and learning. Snoozer brought the man immense happiness.
Sandro's specialness as a human being was highlighted when he phoned one day to tell the story of a trail ride gone terribly wrong, the emotion evident in his voice. He'd gone out to a local park, riding on Benji, a horse he'd borrowed for the day. They crossed a bridge that had been ridden over many times. The bridge deck gave way and Benji fell through, front end catching on the girders, hind legs hanging, thrashing below searching for purchase. The horse floundered while waiting for rescue, fire trucks on route. Sandro climbed down beneath the bridge and stood knee deep in the freezing water, risking a barrage of kicks to the face as he wrapped each of the horse's legs to protect them from further injury. The courage of this act was extraordinary – he barely knew Benji and one kick from a panicking horse could have changed his life forever if not killed him. But all he cared about was helping the terrified creature. He did his best to stay calm, hoping his quiet would rub off on Benji, or at least not frighten him any further.
A sling was arranged and the fire department dragged the horse unceremoniously to freedom, but it was too late. The shock was deeply entrenched and the borrowed horse lay unmoving on the ground. A flight animal that's been trapped will eventually give up as prey animals do – a death that comes when the spirit has left the body is a death that is no longer agonizing. Even though his injuries were nowhere near enough to kill him, the horse had given up and was shutting down.
The vet that arrived on scene said if the horse didn't get up, he would die. Desperate measures may sometimes require brutal actions, and the vet began kicking the horse as hard as she could, trying to force him to get to his feet. The animal lay there, boots thudding against his ribs. After a few hard shots, Sandro stepped in and told her to stop. He dropped to the wet ground, sat cross-legged and pulled the horse's head into his lap. He stroked the animal, speaking softly, offering the same gentle encouragement as he had while standing under the bridge wrapping legs in mid-flight. Sandro cuddled and crooned, rubbing Benji quietly, willing him to come back.
Ten minutes later, the horse rolled over and clambered to his feet, walked away a few yards, had a big shake and began to graze. He completely dismissed the incident and carried on as though nothing had happened. Sandro was in disbelief. A few scrapes, some bruising, but physically the horse was relatively unscathed.
From this kind man who saw that what was most needed in a moment of crisis, was support, came a book. As he handed it to me, he said, "It's a little far out there for me, but I thought you might like it. It seems like it's up your alley."
And so change begins. I opened the book, Riding Between The Worlds, a volume too 'woo-woo' for my traditional Italian friend, and found myself lost into a place of possibilities. Where horses are seen as sentient, conscious creatures sharing emotions and needs as fellow-earthlings. Where horses love and cry and have deep relationships. Where horses see people for who they authentically are at a soul level and have many lessons to teach us.
This was Sandro's gift. I felt like I'd come home, that all the floundering I'd done, my round peg-square hole existence in the equestrian world now had a name, a place, a belonging. I had a community.
I devoured that book with hunger. The next step was to get onto the internet and google Linda Kohanov, the author. There was nothing for it, at whatever expense, I would study with this seer and learn to see for myself, the connection, the spirit, the surrender of dominance and submission, not only in my life with horses, but as a goal in every interaction from that point forth. Because to change such an immense chunk; to shift this hard into becoming who I really was, painted the world with entirely new possibilities.
My search turned up an apprenticeship program in Arizona. Yes! I would do this thing. For my own spirit this was the most important turning point of my life to date. Not that I wished to worship at the altar of some guru, or that Horse had taken on the guise of religion, but it was as if my soul shifted and retrieved parts of itself that had long been shattered and scattered like shards of stained glass, even though, at that stage, I could not have languaged it so.
But Arizona is a long ways to travel and as I scrolled down through the computer screen, the words Chiron's Way leapt off the page. In Maple Ridge, BC, a Kohanov apprentice offering the same learning only three hours away. I didn't have time to send an email. I was driven to pick up the phone. The poor woman on the other end, she must have shook her head at my endless prattle about how inspired, how important this was, how I must, must participate.
There was an Epona workshop offered that weekend. There was a space for me.
And so life changes, just like that. As simply as opening a book. And while it may have been too far out there for my friend, it seems to me that he already embodied many of the teachings. If we could all show a bit of the intuitive action, kindness, and respect to our fellow creatures that Sandro exemplified with Benji's accident, wouldn't the world be a much improved place?
Books, Accidents & Intuition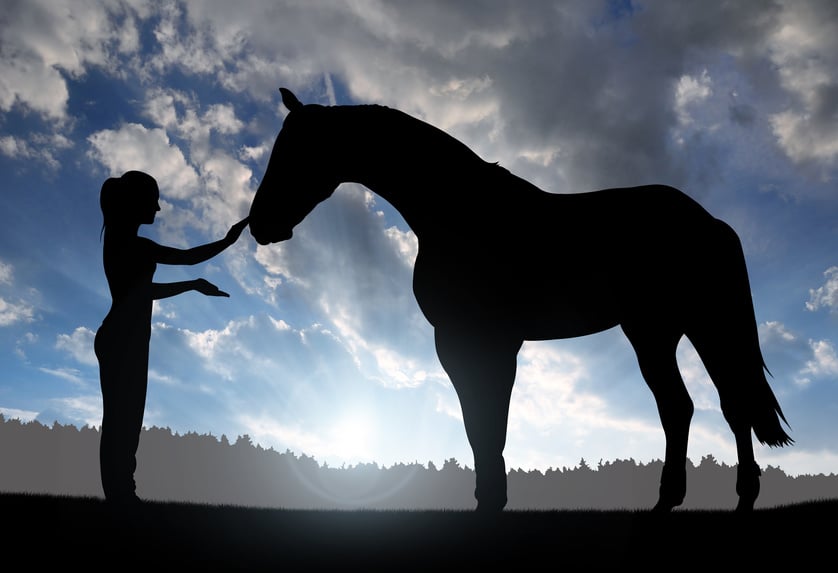 Special stories and experiences from fellow horse listeners