I have been having so much fun buying horse-themed art from artists on Facebook, that I thought I'd share my top picks with you. Along with some other horse-themed gifts for whenever you need to buy for a horse-lover, or yourself! Hang on for a visual feast and lots of really unique gift ideas…

Zuzanna Rajchert Equestrian Art
Zuzanna Rajchert is part of our community of Horse Listeners here on the blog. If you've been here for any length of time, you've probably seen one of her honest and open comments on any number of blog posts. Her thoughtful comments made me click through to her Facebook page, which is where I discovered she is an excellent equine artist!
So aside from custom portraiture on paper or canvas, she will also hand paint up to 8 images of your horses or animals on a set of wooden coasters (sealed with varnish) – my favorite, since I use coasters all the time – or a wooden keepsake or jewellery box.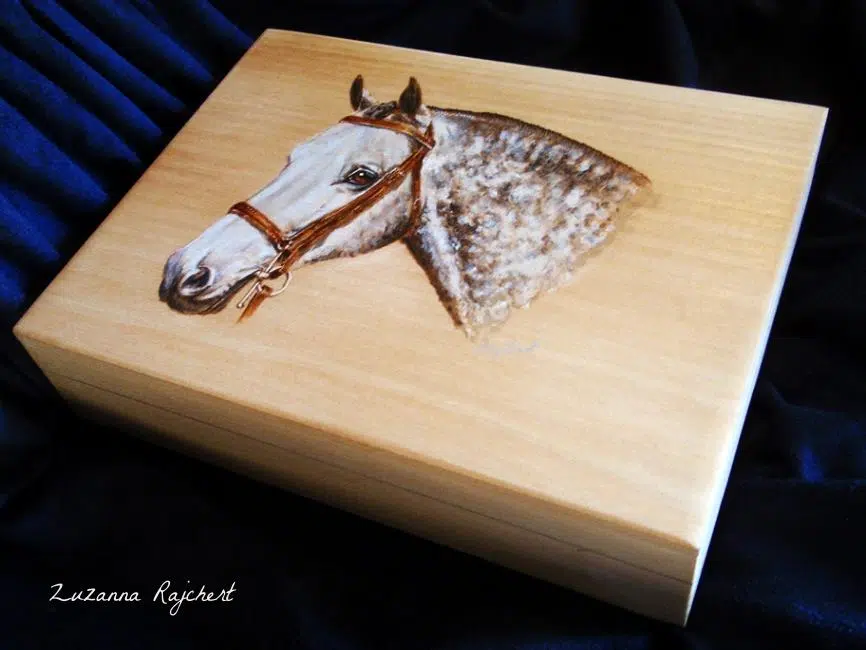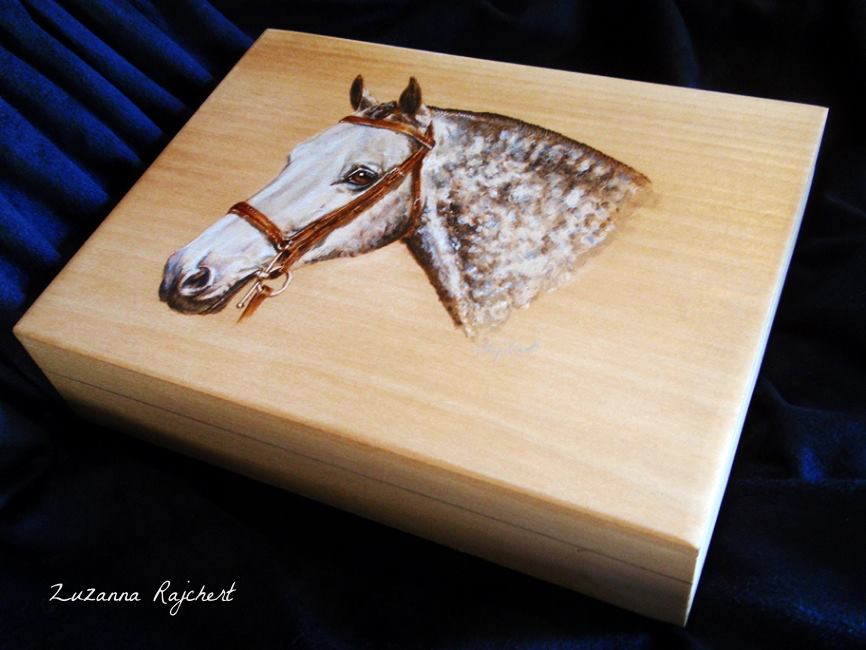 I always have at least two coasters on my night table for my water glass and herbal tea, so I ordered a set from her, but couldn't decide which photos were best! Instead I just sent her about 15 of my favorite shots and told her to choose. Unfortunately, I don't have any good photos of the coasters she made me yet, but even from these 2 basic photos, you can see how she has captured the essence of my horses: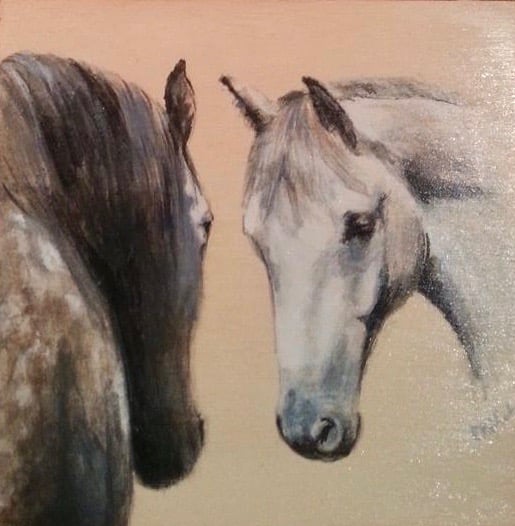 As Zuzanna lives in Poland – which has a much lower cost of living than Canada or the U.S., her prices are very affordable! Eight individually hand painted wooden coasters cost only $40, plus about $20 shipping to North America. The UK would likely be cheaper shipping.
If you're leaning towards a jewellery or keepsake box, Zuza says, "The size of the box can be what you like, I don't make them but we have wide range here of nice wooden boxes to choose. I will show you the pic and you will chose which one you like, then I order it and in few days I can start painting them."
You can see more examples, or message Zuza through her facebook page. She is located in Warsaw and ships worldwide.

Sacred Medicine Ponies
Those of you who follow our Listen To Your Horse Facebook page, know that I have always appreciated Denise Milledge's colored pencil equine art: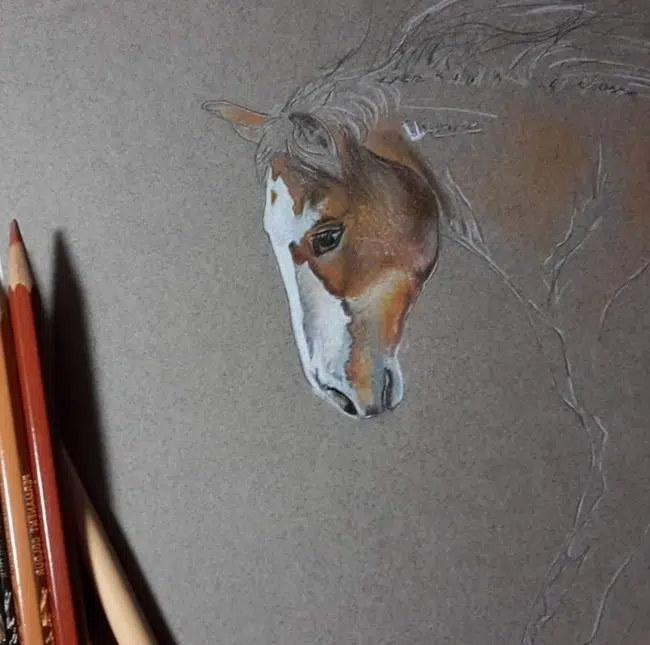 However, when she posted pictures of her newest soft sculpture wall art – Sacred Medicine Ponies – I simply had to have one! Then after I ordered this one: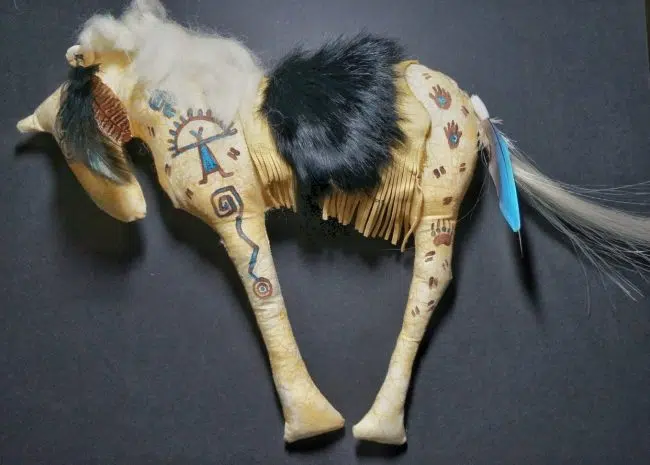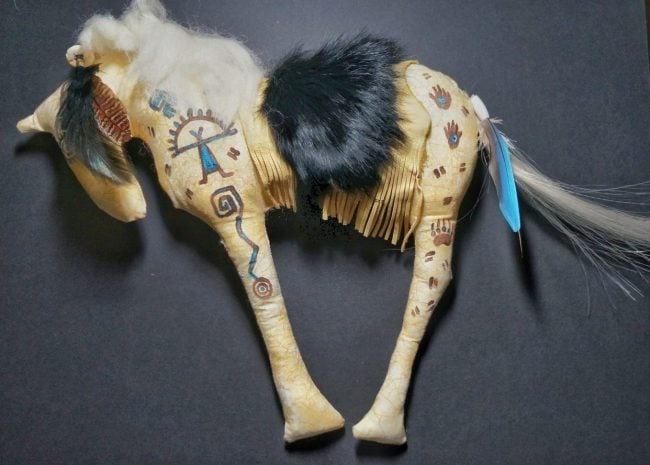 Denise posted a picture of this one and guess what? Oh yes, I had to have this one too!: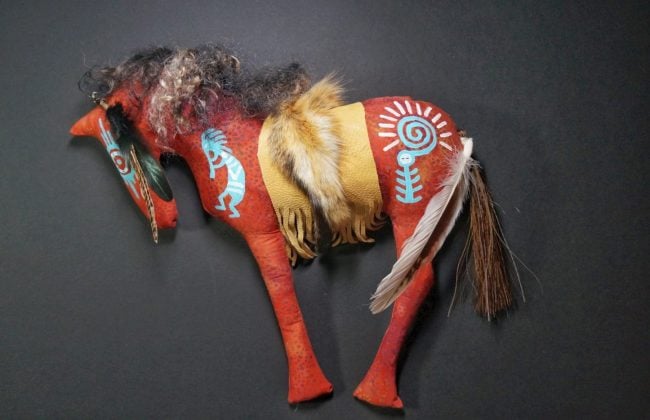 I'm still trying to decide whether to keep both or give one to a special someone for Christmas… and I haven't even shown them to my daughter yet, because I know what will happen then! You can hang these directly on the wall, or have them mounted in a shadow box.
Currently, Denise's medicine pony soft sculptures sell for $85 each and her equine portraits (colored pencils on paper) start at $150 for an 8″x10″.
You can view more art or contact Denise through her facebook page, or Etsy store. She is located in California and ships worldwide.

Wild Apothecary
Okay, I've included these because I can't think of anyone who's a horse lover, who's not also a nature lover!
And herbalist Amy Dadachanji's elegant watercolors are just so dang beautiful! This is someone who intimately understands both the medicine and beauty of plants. I ordered 2 boxes of the greeting cards – one for me and one for a Christmas gift for my mum. I ask you, have you ever seen anyone render a leaf quite like this?:
And her work with color is equally gorgeous:
A box of greeting cards is 20 pounds (about $25) and prints start at 40 pounds (about $50).
You can order original artwork, prints, or greeting cards via her website or Etsy store. Amy lives in the UK and ships worldwide.

Horse Hair Jewellery
Chances are, we've all seen examples of bracelets or key chains made from horse's hair on Facebook and if you're not sure what style or item you want, the fastest way to browse the various items and styles is to go to Etsy and type horse hair jewellery into the search box. There are currently 809 bracelet designs, 145 types of earrings and 398 necklaces – how's that for choice?!
So I'm just going to show you two of my favorites here…
Silver Leather Studio
Katie Cox's designs caught my eye because she's more edgy and arty than most. I also love that she incorporates stones into her work:
So you can not only send Katie your horse's hair, you can also include a favorite rock or gemstone that you want incorporated (or she can provide one). She does really interesting things with purse decorations and pendants too. I'll be ordering a bracelet just as soon as I can decide which of my stones I want to accompany the hair from each of my horse's tails – so I have all 5 together in one bracelet.
Bracelet's cost around $65 and you can order from Katie's facebook page, or Etsy store. She is located in Florida and ships worldwide.
Tails of Adornment
If you like a cleaner, classic look, then Kate Johnson's work is meticulous. I particularly love this choker design of hers:
And she's excellent at doing complex braid patterns in pendants and bracelets. Bracelets start at $60.
Kate is located in Western Australia but ships worldwide, albeit with this disclaimer: "The Australian customs are not keen on hair coming via post from overseas but I have had hair from New Zealand, United States and the UK arrive with no problem. Although all hair sent to me to date has arrived I do need to let people know that there is a possibility that it could be confiscated. If the hair is clean it has a better chance of passing inspection."

Dorota Kudyba Digital Art Portraits
Dorota takes a photo of your horse (or you and your horse) and turns it into a magical scene. She then emails you the digital file and you can get it printed on canvas or paper to hang in your home. Some people order a themed image (like Christmas) and then print up a bunch of Christmas cards. I may do this for next year as I send a gift along with a card to every one of my health store customers every Christmas – usually I put my own artwork on the card, but wouldn't they be surprised to get a fantasy portrait of my herd – wot fun!
You can discuss with her the kind of scene you want her to create around your horse(s) and any symbology you want incorporated. All you need to supply is the photograph of your horse in the pose you want:
Dorota lives in Poland and charges only $45 for one of her magical creations. You can order from her facebook page.
If you want something more than a print or painting – perhaps you want a cellphone case, duvet cover, or throw pillow – you can order Dorota's artwork printed on a variety of products from her online store.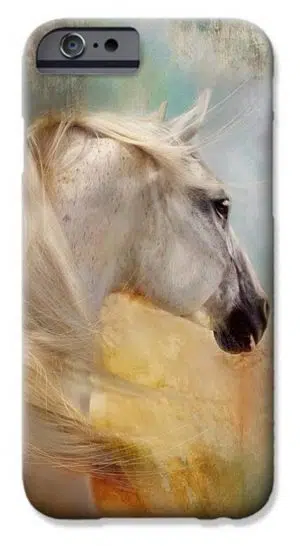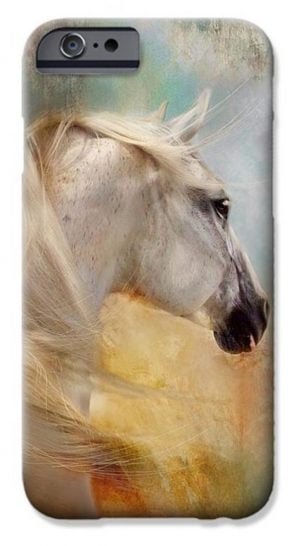 Now let's finish out this horse-themed gift list with something cheap and cheerful (less than $10), yet perfect for the horse lover…

Amazon Horse Pillows
I stumbled across these by accident – I can't even remember what I was searching for! But I was surprised at the quality – a nice cotton/linen blend with some really beautiful images.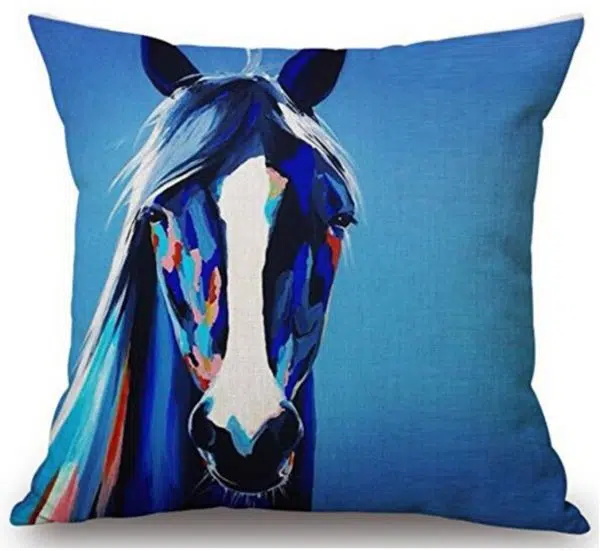 This is one of my favorite ones, but if you scroll down to the section, Customers Who Viewed This Item Also Viewed, you will see a selection of similar throw pillows with various styles of art to choose from:
If you've purchased some equine-themed art or gift you're really pleased with, please let us know about it in the Comments below – and upload a photo or example of the item too please!
Christmas or Birthday Gifts for the Horse Lover
Jini Patel Thompson is a natural health writer and Lazer Tapping instructor. She began riding at age 2 in Kenya, and got her first horse at age 8 in Alberta, and so continues a life-long journey and love affair with these amazing creatures.