What can you do to gain the precious trust of a previously abused horse – without using manipulation, pressure/release, or other forms of coercion? I recently received this question from one of our fellow Horse Listeners:
"Hello. First thing I wanted to say is that I love what I've read/watched in your blog + youtube channel so far.

My two horses were both "unwanted," and I've connected really well with one of them (a 2-3? year old QH stallion who I may geld now that he's at a better weight; he always follows me around everywhere, and is overall a sweet, well-mannered little guy):

Dylan's stallion before & after

But I've been having trouble with the other one (4 year old thoroughbred/QH/Paint mix mare):

Dylan's mare

She'll come up to me sometimes, but if she even thinks I have a halter, she's immediately running to the other side of the pasture. It's making it really hard to trim her feet / deworm / vaccinate her, and I was wondering if you had any advice?

Thank you for your time,
Dylan B."
Beautiful horses Dylan! Let me start by sharing that one of my guys – Jax – didn't want me to touch him for almost a full year. He would just stand there and watch me do stuff with the others, do chores, etc. But I could feel from his energy (let alone his body language) that he really wanted to be left alone.
So I did. All those things that we feel are so important (feet, teeth, deworm) are actually things that can wait. Or you sedate (talk to the horse before and during, explaining what you are doing and why, apologize, etc) and do them once, all at the same time, and then you can leave the horse alone for a year or so, if that's what the horse wants.
After 8 months, Jax was watching me teach our foal, Juno, how to lead using hand and voice signals – which I always do before putting a halter on, so I then don't need to pull on their head:
And for the first time, Jax came over and asked to join the 'game'. So I played the same 'follow me and I'll give you scratches' game with him. He is super smart and learned everything in 15 minutes. Then he walked away. He then interacted with me once every week or two, for very short periods, but still mostly wanted to be left alone. FOUR months after that, he asked to go outside the pasture with me, wearing a halter, for the first time. I had a friend bring another horse with us and he did just awesome.
My point is, if you want non-dominant relationship with your horses, you MUST let them choose when and how they want to interact with you.
Forget the halter!
So if your horse hates the halter – it's obviously the symbol/message that "very bad things are now going to happen". Then don't take a halter to her. There is SO much you can do unhaltered. In fact, I try to do everything unhaltered! I give worming meds unhaltered, trim hooves unhaltered, do bodywork unhaltered…
If you haven't already, I would spend my time just doing chores around her – letting her watch you, study you, learn your body language and what kind of person you are.
The next best thing you can do to build relationship with a horse that doesn't trust you, is to meditate with them. Even if they're at the far end of the field and you're sitting under a tree, or in a chair by yourself – they know exactly what's going on and they are watching/feeling you. If you're not open to meditating (which can be as simple as feeling the sun on your face, or the breeze in your hair while you take deep, relaxing belly breaths), then find a spot to sit down and read a book. No devices, no listening to headphones, just be in her space and read a book, or think your own thoughts.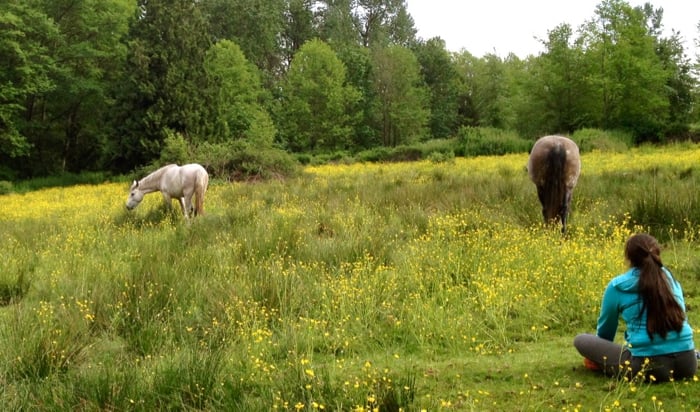 Notice those thoughts… how frustrated are you? How impatient are you? Are you planning all the things you'd like to do with/to her? Use deep breaths to just let all that agenda-driven stuff go.
Use this guided meditation (scroll down the page) to help you get really present, then just hang out near her. No need to even touch her.
She may not come near you for 4 months, or 6 months… can you live with that? Just do some deep breathing to become still and calm and then talk to her about your day, tell her what you're feeling, tell her about work, or your plans for repairs around the place, etc.
I can see from the photo you sent, that she is braced, she is suspicious – if a human is paying attention to her (even just taking a picture) then they want something from her… and that something is not going to be good. That's probably her story to date. You are offering a different story, but trust is like grief; we can't tell others how long it should take.
Once she initiates contact, or touch, or play, or scratches with you, you can then keep building on that just by learning where and how she likes to be touched. Again, there is no halter or rope in sight. This is all just mutual respect and building intimacy. When the time is right, you can use my video above to teach her to "lead" using your hand and voice signals. By this time, you'll know her prime scratching spots and this is ample reward for playing this game with you.
But again, you don't need to make this leading game a chore (as we humans so often do). And you don't need to do it regularly – it's not work. And horses – like humans – learn best through play. So come to her with an attitude, an invitation, to PLAY – not to work. Don't have a timetable, don't have an agenda or plan. Just flow with looseness and play.
Have you realized yet that this girl is going to be one of your biggest teachers? And likely shift your life, your being, and the way you express yourself in your life to a whole lot more joy and peace?
Halter play
Once she will "lead" unhaltered (see my video above), then you start wearing a halter on your body (tie it crosswise around your torso – so it's really tied onto your body) so she can see that YOU wear the halter and nothing bad happens to you. Again, keep an attitude of play and lightness.
Then after a week or two of that, you take the halter off your body after wearing it for 10 minutes or so, and hang it on a fence post or tree and don't go near it until your time with her is finished. And maybe you do that for a couple weeks.
Then you hang it on your shoulder, but again, you don't touch her with it – if SHE wants to explore it, you let her, but you do NOT try to put it on her.
After a couple weeks of that, you take it off your shoulder and hang it on your head as you approach her – see if she will sniff and explore it. Then maybe you take it off your head and hold it out to her a little bit, so she can sniff and explore it. Then walk away and hang it on the post/tree.
After a couple weeks of that, after she's sniffed it, you might try to move it toward her withers and if she lets you, you use it to rub/scratch her favorite places. Now you can build the association that the halter is her scratching tool. And you just use the halter for that for a couple weeks.
At that point, I encourage you to watch both these videos and get some ideas for what you feel your mare would respond/like the best:
Emily MacDonald's method:
My go-by-feel method with Juno:
You just proceed super, super slowly, letting everything be her choice. The point is not 'getting her to do what you want'. The point is intimacy, trust and real relationship.
Let the horse bolt
When my big Belgian girl, Audelina came to me, she had been semi-feral and never handled or touched. But by the time she got to the auction house she had a super frightening association with ropes. And she wasn't too keen on halters either; if you managed to get one on her head, she would just take off anyway and not a soul on earth could hold onto her.
So I followed a very similar path with her as I've described above. She didn't even understand scratching at first – as she'd never been touched. So her initial reaction to my attempts to scratch her were met with, "What? What are you doing?? This is really weird! Oh… ok, well maybe that one is interesting… ok that's enough, don't touch me." So everything had to be done very slowly, with lots of love and lightness.
Knowing her fears, the first time I put a rope around her neck, or attached it to her halter, I didn't even close my fingers around the rope. I just held my palm open in front of her with the rope lying across it and said to her, "You see, I'm not even holding it. If you need to take off, go ahead, no problem." Then I progressed to holding the rope with just one finger and my thumb. And yes, she'd take off and I'd let her go, no worries. And that didn't "teach her bad habits", that taught her she could trust me. Letting her bolt when she needed to, taught her that I understood her – and that it was no big deal. When a horse realizes they don't have to fight to get their needs met… the need to fight greatly reduces, or disappears.
By the time we got out on the road, I wore gloves to prevent myself from getting rope burn if she took off – because I knew that in a panic situation, I would probably clutch that rope (reflex reaction). And sure enough, even though I told her I would let her go, when a car drove by and she got scared and pulled away, I held the rope as my default reaction of trying to keep her safe from the car. Of course, you can't hold a big Belgian who has the strength to pull a tractor! But even though she got scared and bolted, because of the trust we had forged unhaltered and at liberty, she only went about 10 feet and then stopped and waited for me. And we resumed our walk.
Honestly, I would have felt just fine if she'd bolted for home. No worries, and I would have just given her lots of love and kisses when I got there – and praised her for trying.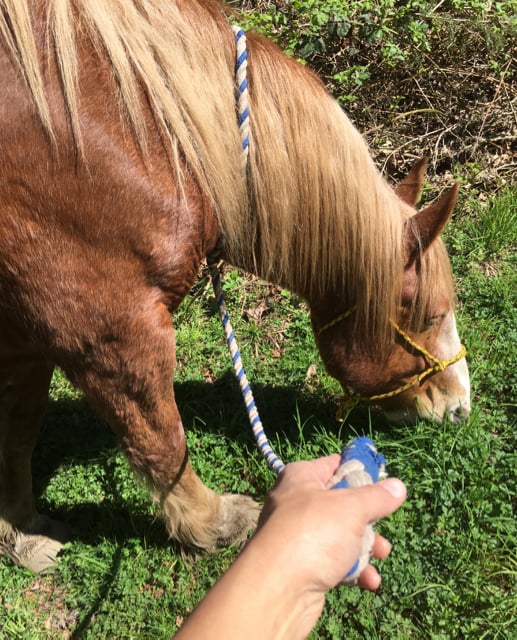 If you want obedience, there is tons of "natural horsemanship" instruction out there on how to get that. But if you want her heart, then everything has to be her choice, made out of freedom and not manipulation or coercion. Simply by saying, "How about this…?" And then she is allowed to say:
No
Not now
Not like that
Yuck! But how about we try this…
and so on.
I encourage you to treat this as a dance, or an adventure – just keep listening to your gut, and listening to your horse and you'll get there 🙂
Gaining the Trust of an Abused Horse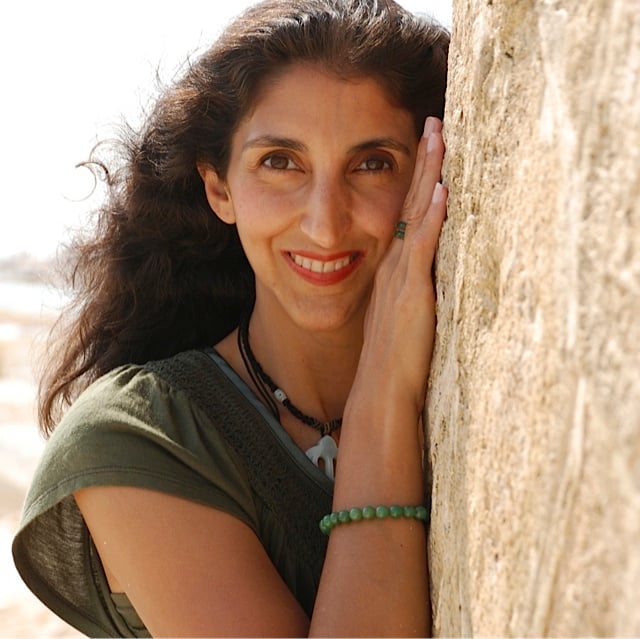 Jini Patel Thompson is a natural health writer and Lazer Tapping instructor. She began riding at age 2 in Kenya, and got her first horse at age 8 in Alberta, and so continues a life-long journey and love affair with these amazing creatures.