By Andrea Datz
It's a lovely idea to give my horse his voice, to take his thoughts, emotions and opinions into consideration. I will never forget the first time I made a conscious choice to connect with my horses and do things together without pulling, pushing, driving, or bribing. I quickly learned how little intrinsic motivation they had to do things with me. They declined my invitations more often than they accepted them.
I can still remember wondering what on earth I was doing when Mystic didn't want to be caught and so I walked away. I honored her choice and at the same time honored my own instincts, my own desire to do things differently. Of course, every fiber of my being rebelled as I walked away, what if I had just taught her that she didn't need to be caught? Ever? Talk about self-doubt!
So, I know from first-hand experience, it's not easy to know what to do when my chosen equine partner says, "No thank you, I'd rather not." Now what? I have a lifetime of training that tells me I'm teaching him he doesn't have to be caught, that I'm letting him get away with something, he'll become dangerous if I don't tow the line, that my horses should be ready, willing and able to do what I want, when I want, for as long as I want. And so I had to ask myself, what I am teaching my horses if I walk away when they prefer not to interact? What's really going to happen?
And that led to asking myself, 'Why?' And I've asked that question of absolutely everything I've done with horses. Why is it so important to catch my horse even if he doesn't want to be caught? Why should I increase pressure when he doesn't respond quickly enough to my request? Why do I have to get him to walk, trot and canter in both directions? Why do I have to teach my horse to back up? Why? Why is any of that stuff important? Is it important to my horse? Is it important to his wellbeing? Or is it only important to the attainment of my goals, or so that I can have fun? Am I defining my success by my ability to get my horse to do something?
And the most important question that surfaced: are my goals the same as my horse's goals?
Huh? How would I even know? Can horses and humans have shared goals?
Why yes, we sure can, though I have found that the journey toward shared goals and mutually beneficial relationships – to genuine collaboration – doesn't look like anything I've ever been taught before!
Now, my goal is to do more than just listen to my horse's opinion. I want my horses to feel they are allowed to stand in their own sovereignty. They are their own being with intrinsic value; value that lies in simply being and that has nothing to do with what they do for me, or don't do for me. The horses consistently show me a desire to interact with me. In fact, the more time I invest in spending with them, the more they seem to want to interact and be curious about what I'm offering.
What do horses desire?
Many years ago, I spoke with the animal communicator I work with and asked her to visit with each of my horses to discover what their goals are and what they see as their life purpose. Imagine my surprise when each and every horse shared a purpose that included partnering with humans in some fashion! Even horses who had suffered abuse at the hands of humans still saw themselves as having a purpose with humans.
Horses and humans chose to partner with each other hundreds of years ago. Honoring this choice as mutual has been an important part of my own journey to discover how to partner with them in ways that feel good for both of us.
When I was asked to write this article, I got excited about telling Rio's story: How I learned to recognize when he was saying 'no' to what I was asking him to do, and what I did about that. I've been contemplating for a while now; how do I write this story? What feels important, and what would I like to say… When I sat down to write, I realized that if I were writing a story about another human being, I would ask their permission before sharing their story with others. Talk about a face palm moment!
And so I reached out to Rio and asked him how he would feel about me sharing his story. He relayed the message back to me that his story is still unfolding, he hasn't said 'yes' yet and he'd rather not live in the past. Fair enough. Then I thought of Sundance. I have so many images of Sundance and his progress since he came here, he'd be perfect! Reaching out to Sundance I ask him – is it okay if I share your story? I feel this sense of pursed lip concentration, he's thinking about it, but I get the sense he wants context for this telling. He's not interested in a 'poor Sundance' story. I have to take a moment to consider this, what kind of story do I want to tell, what kind of story do the horses want me tell?
As I ask for input from the horses, collectively I receive images of so many that have crossed my path over more than 25 years. They want me to tell the story of our collaboration and how it changed me. The story of how I came to learn how to listen, to recognize what they are telling me, and find my path through the morass of conflicting information and opinions out there, especially those opinions and information that are in direct conflict with what my heart and my horses ask of me.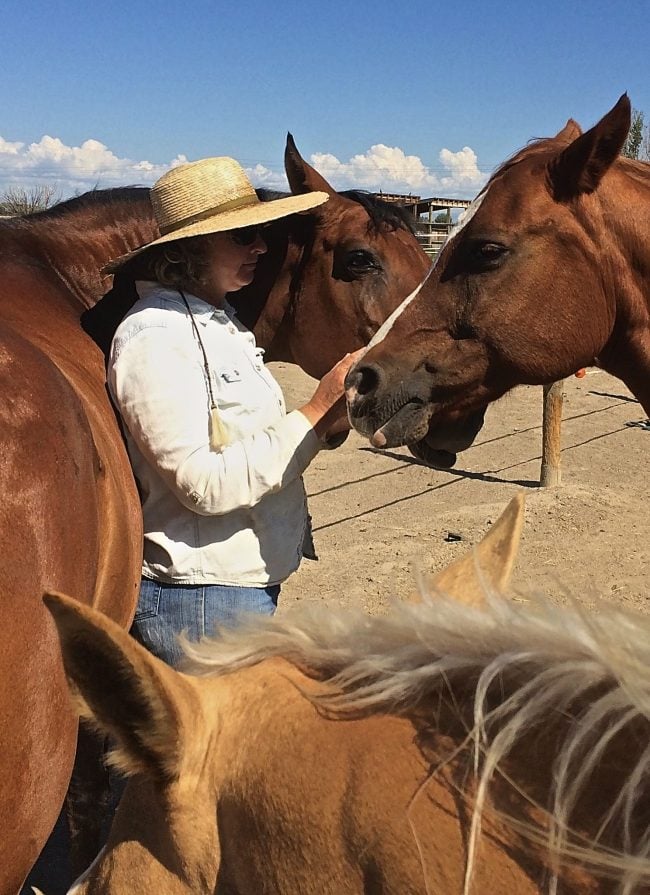 But I don't really want to tell my whole life story either, so I'm simply going to talk about what it means to my horses and I to be in relationship – to collaborate. Ultimately it means I am in direct communication with my horses every step of our journey together. What that means is, during every interaction I do my utmost to remain fully present, in my body, with all my senses engaged. My sensory system is designed the same way a horse's sensory system is designed, so once I tap into my natural ability to perceive and receive on a level as subtle as horses do, then we can really communicate.
Am I really allowed to say no?
I've observed a pattern. When a horse is used to not being heard, not having their thoughts and opinions honored, and then their human starts to listen, they tend to test us. They test by saying 'no' a lot. They seem to be attempting to discover if we are going to listen and honor their opinion all the time, some of the time, only occasionally, or just that one time. Is this new us a novelty that's going to vanish tomorrow, or have we really changed? Some horses will test our convictions by seriously escalating and challenging us. How far can they go in expressing themselves before we'll resort to our old ways? This can be a dicey time in a newly forming relationship, particularly if a horse has been traumatized in the past and now feels safe enough to unleash all the pent up energy and opinions that have been squashed over the years!
I still struggle with this phase of remaking this horse/human relationship where the horses seem to say 'no' more often than they say 'yes' – they are filled with opinions and ideas that are not always conducive to getting things done. All of my life's training with horses tells me I am only successful when I can get things done with my horse, that in fact, my horse will be the better for it when I get them to do things my way. This lifetime of training is also the primary source of my own internal conflict. It never sat well with me, this idea of escalating pressure to achieve my goal. I always wanted a 50/50 partnership and was told time and again that that was not possible. So, how do I 'get things done' when my horse is filled with opinions? How do I reconcile when my horse says 'no'?
The truth is I don't get things done, in the traditional horsemanship sense of the words. Instead, my interactions encompass my own internal and external self-awareness, as well as my horse, and the environment we share. In this way, we engage in a dialogue that is completely improvised and organic. Within the context of this kind of relationship there really isn't a time when my horse says 'no,' but rather, there is a simple flow of exchanges wherein we make genuine efforts to discover how to connect and move together.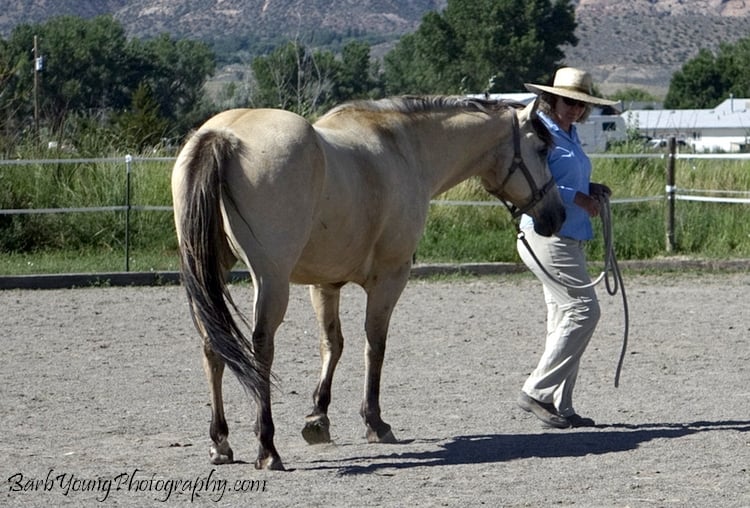 Sometimes they aren't interested in interacting and that's okay. They have a whole full, rich life that has nothing to do with the prescribed time I decided to come and do something with them. My idealized interactions don't always come to fruition. No relationship is perfect. We do occasionally butt heads on things, but I think that's a normal part of any close relationship. The horses don't hold it against me and I don't hold it against them. It's part and parcel of how we discover what it means to really do things together.
Full commitment to choice
I'll never forget, early on in my learning to dance Tango, I had a partner at a social dance tell me to relax, that there are no mistakes in Tango. The only real mistake a partner can make, is not committing fully to their partner and the dance. Her statement was a revelation and something I carry into each of my interactions with the horses.
If I want them to say 'yes' to collaborating in motion with me, then I must commit fully. No doubts, no wishy-washy requests. My efforts are not always graceful and their response is not always graceful. But it's how we learn to find each other. So, I commit fully to whatever course of action I take, while remaining open to listening and honoring my horse's opinion. I initiate something, they respond in some way, I adapt to their response.
As I get more comfortable with allowing my horses to express themselves in our relationships, whole worlds of insight open up. Perhaps the most important revelation has been that my horses rarely actually say 'no.' No is kind of arbitrary and final, and with horses it's usually more nuanced than that. What they are actually doing – when they don't do what I'm asking – is giving me feedback. They are communicating. Sometimes they are letting me know something about myself that I need to attend to. Maybe I'm not breathing, or I'm carrying a lot of tension in my shoulders, or I've failed to go forward with them when they try to go.
Maybe I'm tired and they are trying to get me to slow down and just be with them, to take care of myself. Sometimes they are communicating that what I'm asking them to do is too difficult, confusing, or they can't do it physically, emotionally or mentally. Sometimes they have memories of past experiences with other humans, or with me, stirring and muddying the waters. Sometimes they just don't know how to connect with people, and they remain aloof until I find an inroad. I honestly can't think of a single occasion where a horse said 'no' to a request I made, without having a valid reason.
Whenever I spend time with horses, I'm always considering: How can I make it easier for a horse to do the thing I have in mind? If a horse is consistently saying 'no' to my ideas, there is always a reason. Honoring the fact they said 'no' is one aspect of the conversation, but perhaps more important (in my mind), is figuring out why they are saying 'no'. I have yet to find a horse that genuinely has no interest in interacting with people. If they are reluctant, there is a reason. If I can discover the reason and help them resolve their issue, I've gone a long way towards building a lasting bond of trust with that horse! And I am giving them enough support to say 'yes' in the future.
Why do horses say no?
And so I find myself pondering the original question I was asked when approached to write this article: What do I do when my horses say no? That is certainly a question worth pondering, when our aim is to be in relationship with our horses in ways that honor them as the sentient, intelligent beings they are. But, as I write, I find myself thinking that maybe the question I should be asking is, Why do horses say 'no'? Or better yet, How could I get my horses to say 'yes' more often? That's really at the heart of my own explorations these days. What creates intrinsic motivation in a horse so that they are saying 'yes' to doing things with me?
My work involves rehabilitation; so I get paid to work with horses that have serious lameness, health, or mental/emotional challenges. As you might imagine, those horses don't trust easily. Most have been pushed to work through pain or discomfort, or been traumatized by their early training. Consequently, I make it a top priority, early on in developing a relationship with any horse, to figure out how to give a horse his voice while wearing a halter and lead. I may need that tactile feedback down the road to help the horse with body awareness, or a particular movement that helps them back into balance. It's also the most efficient way for me to discover how a horse has been trained and handled and how they really feel about being tethered to a human!
It's a unique challenge to place a piece of equipment on a horse that implies control, implies they have no choice, and then give them choices. What I want to discover is what is it in me that makes me irresistible to each horse? How do I need to move? How do I need to carry myself? Breathe? What do I need to be doing to capture their attention and make myself interesting enough that they want to do what I want to do? And how do I do all that, without taking advantage of the fact that we are tethered to one another? There's something about being tethered to a horse I'm committed to not controlling, that is seriously powerful – touch amplifies communication, connection and intimacy. Horses innately enjoy moving with others. How can I restore their sense of enjoyment in moving with a human?
Within the context of a conversation where we are tethered to each other I inevitably find things that make it challenging for this horse to say 'yes'. He might have soundness issues, or problems with his balance. Most of the horses that cross my path have been abused or mishandled in some way, and may not even know how to connect with a human being, or more likely have no motivation to connect with a human being. It could also be more basic; perhaps they are stiff and have a hard time turning left – a little bodywork might be just the trick.
Horses most often say 'no' when we're asking them to do something that is too hard, or we're confusing them. By tethering myself to my horse with a halter and lead and touch, whatever the impediment to connection and communication is, it will come quickly to light. Then I can decide how best to support him through what's challenging him; bodywork, liberty work, spending quiet time, going for walks, physical therapy and so on – there are endless options, I'm only limited by my creativity!
It's been a fascinating challenge to put a halter on a horse with a firm commitment not to pull on their head, or drive them from behind to "motivate" them to move. No food rewards either! I wanted to understand what motivates a horse intrinsically (internally) to follow a human?
Tethered to a mirror
In the last several years, I have learned more about myself by tethering myself to a horse and not resorting to using that equipment to my advantage. Talk about frustration! To stand at the end of the line while my horse stands there, looking like they could care less. Or to be carted off as they wander the space checking out everything but me.
What have I learned? First and foremost, that horses notice absolutely everything! One of the more profound lessons is that they can feel what I'm feeling. Which means that if I'm standing there looking back at them and doubting that they'll follow me, or wondering if they'll follow me, or feeling some kind of inner conflict about "making" them do something they don't want to do, they are going to feel that and stand there, or wander off until I resolve that for myself. It's an interesting thing to find a place where you feel no inner conflict or doubt about what you're doing, and then still don't resort to pulling on that lead rope!
For me, being tethered to my horse while maintaining a commitment never to use that tether to my advantage, to listen deeply for that moment when they accept my invitation, and then respond from moment-to-moment so that we are quite literally doing something together, is endlessly fascinating. I've learned more about myself and more about what horses find interesting and motivating than I ever would have if I'd stuck to traditional training methods, or even if I'd been working at liberty (unhaltered, off-lead).
At liberty my horse can escape from me altogether if I do something they don't like. With a halter and lead, I have to go with them, or resort to creating some kind of physical boundary. If I'm not going to pull on their head, then I have no choice but to go with them when I do something that challenges them. There is no room for disengagement here from each other. How do we come back together and face the challenges inherent in being physically attached to each other?
I think it's a worthy thing to spend time on, this exploration into what it takes to be in relationship that's intimate, physically connected, touching each other. Intimacy can be a challenging thing for both human and horse. But if we can find our way through those initial barriers then intimate connection is incredibly supportive and mutually empowering. And practically speaking, if I devote the time to this practice of being tethered to one another, then when it comes time to do something where we have no choice but to be tethered to each other, the trust is there. I would hate to have to sort out that intimacy piece during an emergency!
Learning to share movement and ideas with horses that get them saying 'yes' again, taught me that the first thing I have to do is deal with my inner turmoil, get clear with myself about my relationship with horses, and show up without any internal conflict or angst. Then I have to get a handle on how I move and how I carry myself. My posture, my ability to keep my balance, and my ability to move with confidence and grace are all things horses notice, and seem to care about, in someone they are going to follow. Within that, I had to discover at a deep level – where and how I initiate my own movement, and what energetic quality is involved in the movement I generate? Horses are so keyed into things like posture, balance, movement and energy, that if I don't bring up enough energy in myself, they simply have no motivation to follow my idea. They get bored and wander off.
There are many nuanced and varied reasons for a horse to appear to be saying 'no.' In my experience it's more often: 'I can't,' or I don't understand,' or 'I can't hear you,' it's a simple communication that can be resolved into an enthusiastic 'yes' once I discover the source of confusion or difficulty.
My advice to anyone exploring this path of giving your horse a voice, is to keep going. Trust your instincts and listen to your intuition. Your horses are communicating everything you need to know to help them say 'yes' to just about anything you have in mind! Don't get discouraged and don't take the apparent 'no' as something personal. Horses are the best teachers out there! They'll change you in ways you can't imagine… if you commit to the dance.
Giving Horses Their Voice – What if they say No??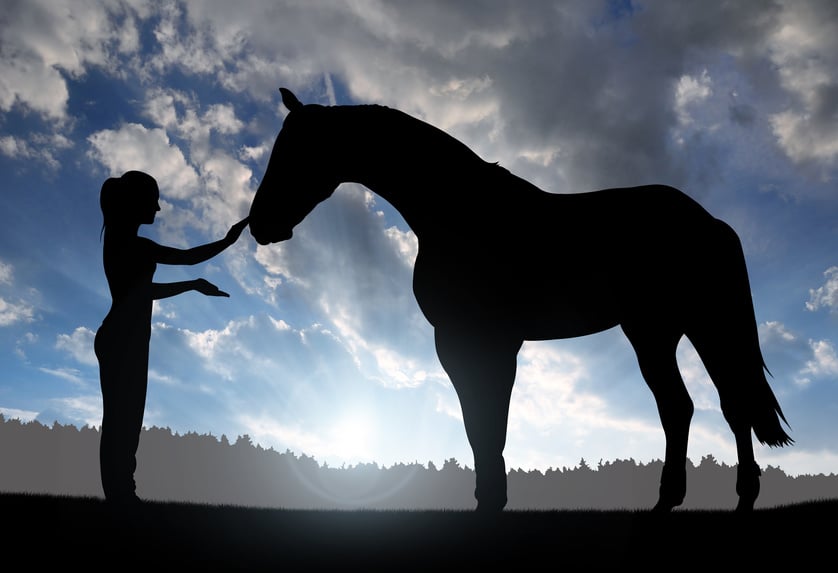 Special stories and experiences from fellow horse listeners