Last week, Andrea Datz gave us a thorough education in what "no" means in horse-talk and how to work with it. She spoke beautifully on the topic of letting go of expectations and trusting the process – that listening to our horses is, in practice, a commitment, and one that might lead us directly into uncomfortable places, faced with realities we might not be egoically equipped to accept in the moment.
I'd like to continue down that road a little this week, and introduce you properly to a little filly called Firefly.
Firefly, or Fly, just turned two. The daughter of my sister-mare, Amalia, and a feral Mustang stallion known as the Jack of Diamonds, Fly was anticipated long before she was conceived. She was going to be that horse I'd dreamed of since I could dream about horses. The best-friend one, the little-bit-wild one, the free-spirited firecracker take-no-shit-from-no-one one – the horse that would seek me out and call me out and play with me and take me to new worlds.
When she finally arrived, on the Fourth of July in the year of the Fire Horse in the smoky red dawn of the worst wildfire season anyone could remember, she was all that and a bag of potato chips.
Firefly was raised largely without human coercion or unnecessary stress. Her birth was unassisted, by Amalia's request (and the pregnancy was completely free of medical intervention, as well). I also stopped the vet from trying to catch her as a skittish day-old for the standard exam. He raised an eyebrow, but told me she and her mama looked just fine and to call him if anything turned out otherwise. The next day or so, she was coming to me willingly and basking in praise and scratches. She was never weaned (still isn't, at two years old), because I thought that was her mother's decision, not mine, and because I have always respected how much strength and comfort she gets out of that bond with her mother, and have no need to replace that bond with her and my relationship.
She learned hand signals and basic cues effortlessly, halter-trained in a matter of minutes, and while life still served her a healthy dose of upsets, surprises and hard lessons, she grew to be robust, curious, expressive, and deeply attached to humans. She willingly leaves the herd to interact with people, calls out across the yard to us, and fights off other horses to claim her spot at my side. She follows me almost anywhere just for fun. She loves to play with me out in the open field, adrenaline-filled games of tag or thoughtful, focused dances. When I make mistakes or push her too far, she recovers remarkably quickly and always seems to give me the benefit of the doubt. She is gorgeous, gregarious, and one of my favourite people in the whole world.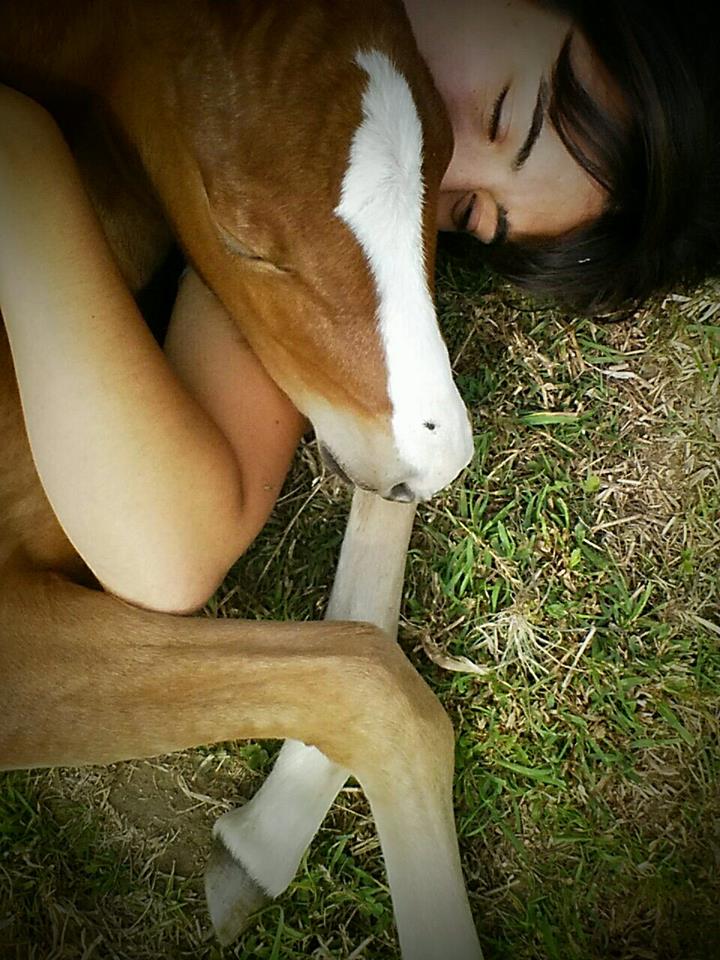 Fierce and Toothsome
She can also be incredibly aggressive. She's been known to rear at, kick, bite, and charge humans…much to my dismay.
I have heard and read about hand-raised foals becoming pushy and aggressive later in life. This might be what happened – but I like to think there is a more complex set of reasons, especially because I took great precautions not to "spoil" her or overwhelm her with unsolicited human contact, while at the same time allowing closeness, mutual conversation, and respect for her body and choices.
She's an empowered horse, and unlike so many domestic horses, she has never not been one. For her, that means letting everyone know when she's had enough, when she wants to play, and when she thinks someone is just weird and ought to stop being that way. She's like a little rugby player, not afraid to use her physicality to make a point. If she's bored while I'm trimming her hooves, she puts that foot on the ground no matter how much of my body is in that space. If something, or someone, enters her field without asking, she charges and at least threatens to stomp them. If I come into her space not present, or with incongruent energy, she bites me in the head.
It's actually comical, when it's not totally alarming and stirring up all my horse-owner shame. I promote loving, caring, consensual relationships with horses as individuals. And the result is that I, on occasion, get bitten in the head by my very own soul-horse. It's probably for my own good, but it sure doesn't feel that way.
At first I fought back, when this phenomenon erupted somewhere in her second year. It's been hardwired into me: a horse needs to respect my space, right? So I'd make my space, and sometimes I'd knock her in the face in the process. Too bad, she had to learn. My righteous indignation boiled up inside, and I was going to make that horse behave appropriately.
When that didn't work (at all – it escalated things), I started avoiding her, since I really didn't enjoy the alternative. I told her that if that's how she wanted to play, I couldn't be involved. I gave her my usual line about how humans are soft and kind of shitty, and even though I'd love to be more like a horse and play hard, probably I'd just end up crying and bleeding everywhere. The truth is, she made me feel squirrelly. Like a soft but persistent vibration under my skin that drove me nuts. And sure enough, visits would quickly escalate to her pushing me around. So I stopped visiting. I pulled back into myself. I hibernated. I pretended like she was going to see the error of her ways and just transform into a nice girl. She, predictably, did not.
The Subconscious Intervenes
It was some time before I remembered my dragon dream, that came to me weeks after she was born, long before any of this developed.
There's this tiny dragon thing, and it keeps perching near my face or on my shoulder. It gives me the willies. It's stunningly gorgeous and completely impossible to categorize, all wings and scales and fur and shiny, shiny eyes. It is so very wild and could definitely kill me and I have no idea how to handle it. I keep flapping at it ineffectually, wishing it would leave me alone. It makes the hairs on the nape of my neck stand up; it gives me that tug in the pit of my stomach. Fear. Dread. Avoidance.

But that's not Aikido, some faceless dream-character reminds me; that's not how I was trained to deal with what scares me. After much protestation I finally center myself, turn to the beast, and engage consciously. It still gives me the willies – that never changes. But the bright tension between us that was fear becomes instead an opportunity for connection, and suddenly this achingly beautiful soul is open to me. It could still kill me, but for some reason it doesn't. And the thrill of that fear once I turn and dive into it is something beyond anything I've ever experienced. And we are friends despite the reality of its incredible power. And I am completely in awe.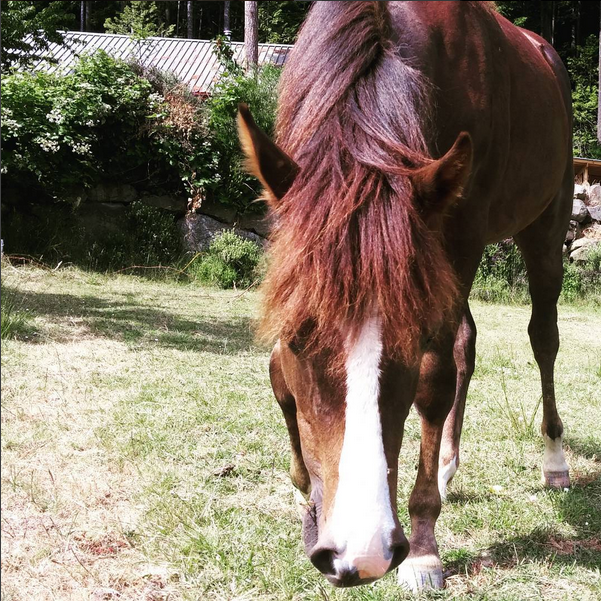 Empowerment vs Assimilation
When we truly give horses their voice, we actually open the door to endless possibility. And like Andrea Datz so eloquently called it last week, it's a "full commitment to choice". I cannot commit only to the predictable or desirable parts of the horse. I must commit to her entire self, her nature and culture, and her way of being in the world – even if it makes me uncomfortable or afraid. We so often put parameters and conditions on our love and acceptance, effectively neutralizing the infinite nature of both things. "I love you, but only if…" "I accept you totally, except when you…" It creates boundaries, consistency, and expectations. It is not inherently wrong, it is arguably necessary in the mundane reality of everyday life. It teaches assimilation to human culture. But that was never my goal in getting to know Fly.
I wanted her to be wild and independent, and didn't stop to think what an actualized horse might look like when encouraged to be exactly who she was, and given endless opportunity to express that. I got myself into this mess – and now I didn't get to pick and choose what parts of her I wanted to interact with. She was bringing this fierce, scary energy, and it was, and continues to be, my job to engage with that.
Hear Me Roar
I truly wish I had some exciting story to wrap this all up. But it has been remarkably simple, and a lot like that dream. I pulled up my big girl pants, I got my outsides more aligned with my insides, and I committed to Firefly in all her complexity, even though she still scared me, and I turned to engage with whatever demonic madness she might have in store for me. And she stopped biting me in the head.
Honest, she hasn't done it since.
Maybe she turned a corner in her development, settling down as she becomes a mare and leaves her filly time behind her. But a big part of me recognizes how important that step was for me, and probably for her. I was resisting who she actually was, and creating stories about it as I went. All this served to cloud our connection and create the incongruence in me that that little horse just loathes. Our relationship snapped back to that close friendship, only now when we're close I remember to keep my energy alert, relaxed and engaged. She may never attack me again, but that doesn't mean I should assume I'm safe.
The other side of that coin is that it is vital not to shut her down and force or bribe her into being "nicer". That's not what she was put on this earth to be.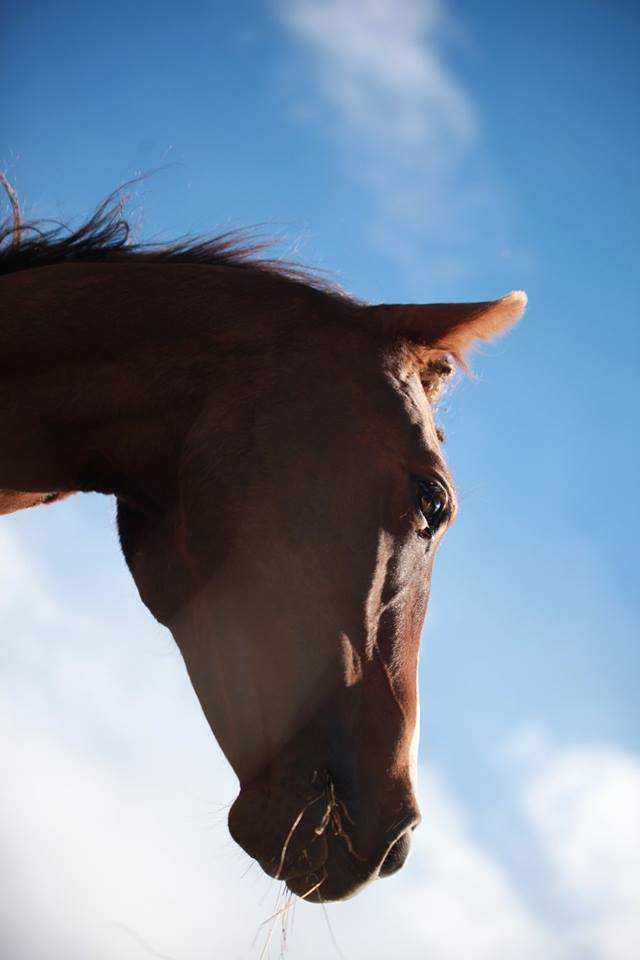 Sometimes I think about how horses like her are usually treated – these are the horses whose spirits need to be "broken", quite literally, before they can be used for human purposes. "Dominant", "Alpha" and "aggressive" horses with as much fire and brimstone as Firefly does don't usually keep much of it through their associations with people, because it isn't compatible with the way we have shaped the horse-human relationship.
Sometimes the "aggressive horse" is fearful, or has been abused, and only needs to be understood and treated gently. But other times, it's a horse that just doesn't subscribe to the status quo, and isn't willing to tone it down. There's something bigger to learn from each of them – if we can get over our aversion to aggression and defiance and instead seek out what's behind it, they will show us power that we never knew existed. And, like the little dragon-being in my dream, it is the bright intensity of these relationships that makes life worth paying attention to.
Empowerment, Aggression, and Engaging with Fear
A barefoot hoof trimmer, a singer/songwriter, an amateur farmer – these are some of the hats Kesia Nagata wears when she's not full to bursting with wondrous equine co-creation.