How accurately can you, your vet, or your trainer, read your horse's body language and facial expressions to determine whether your horse is experiencing pain – even if your pony is not limping or showing any outward signs of injury?
Dr. Sue Dyson – Head of Clinical Orthopaedics at the now defunct AHT (Animal Health Trust) – developed an ethogram depicting pain signals in horses' facial expressions and body language.
Horses used in the studies ranged from child's ponies to advanced level competition horses – so these facial expressions and body language are applicable across all breeds/types of horses:
Classic examples of equine pain expressions:
1. Bucking and kicking out after jumping a fence – especially if ears are pinned back.
2. Spooking repeatedly at jumps, or not wanting to go into a corner. Especially if horse is spooky every day, in its home environment.
3. Horse's behaviour when being tacked up or mounted – fidgeting a lot can mean the horse is anticipating pain.
4. Look for these obvious facial expressions of pain: Ears back, eyes open, unsteady head carriage.
5. Other common pain expressions or indicators – especially if seen in combination: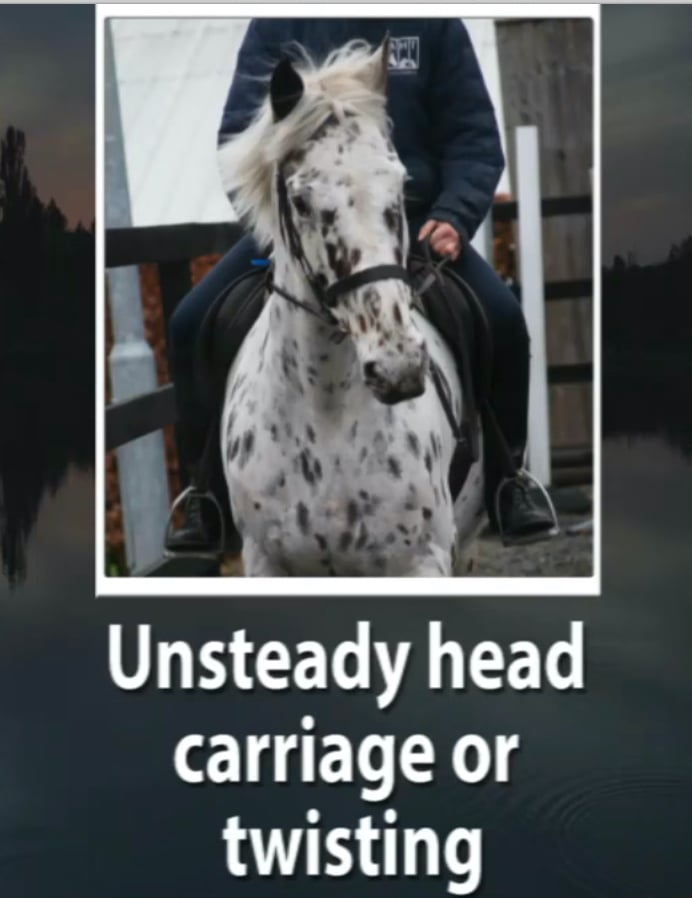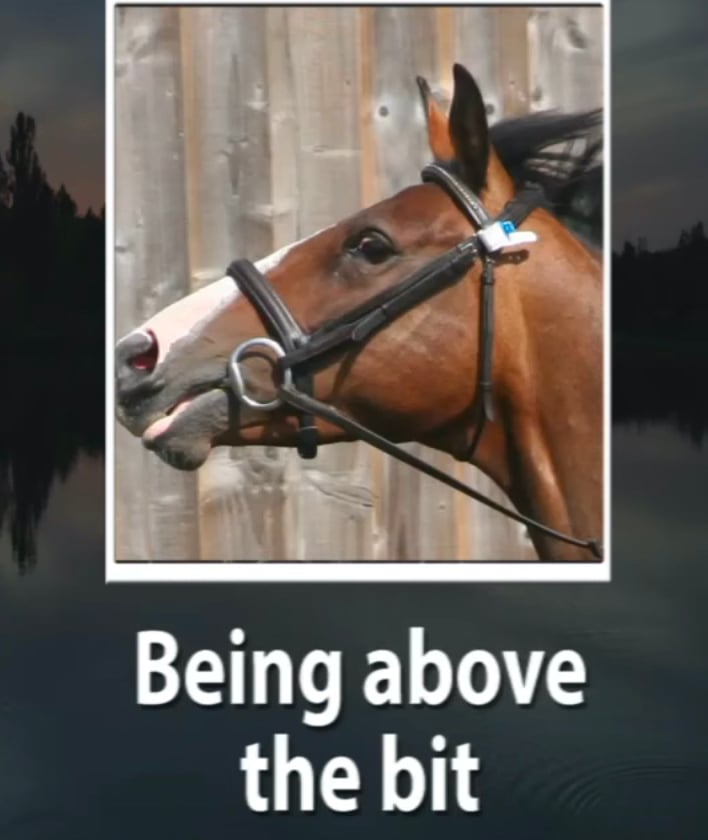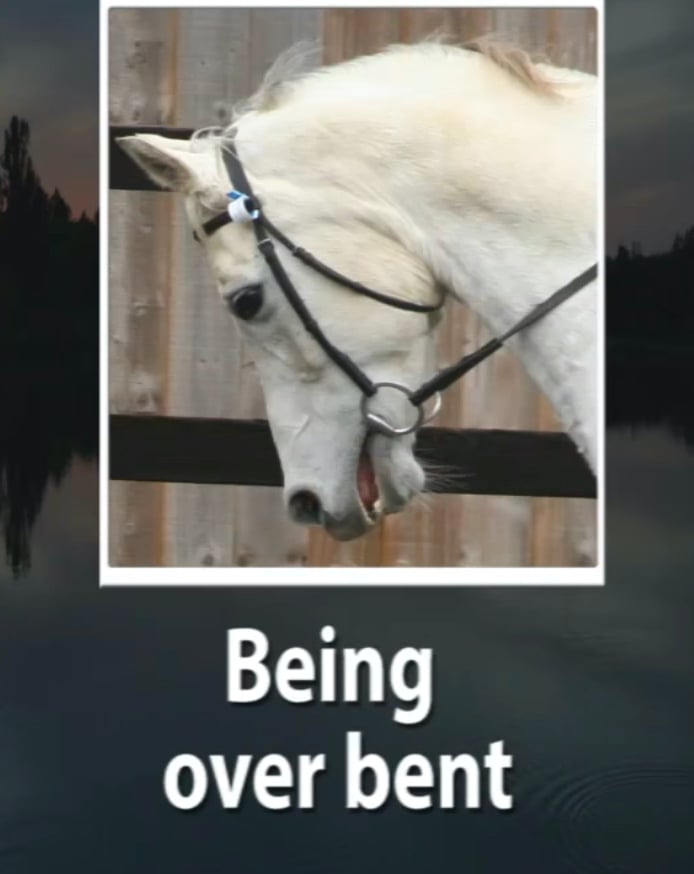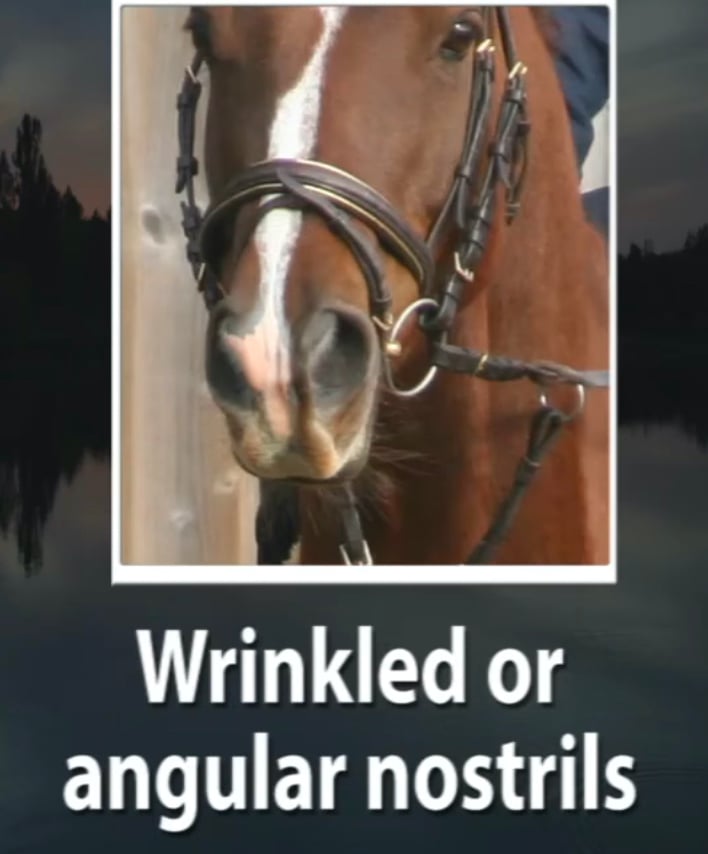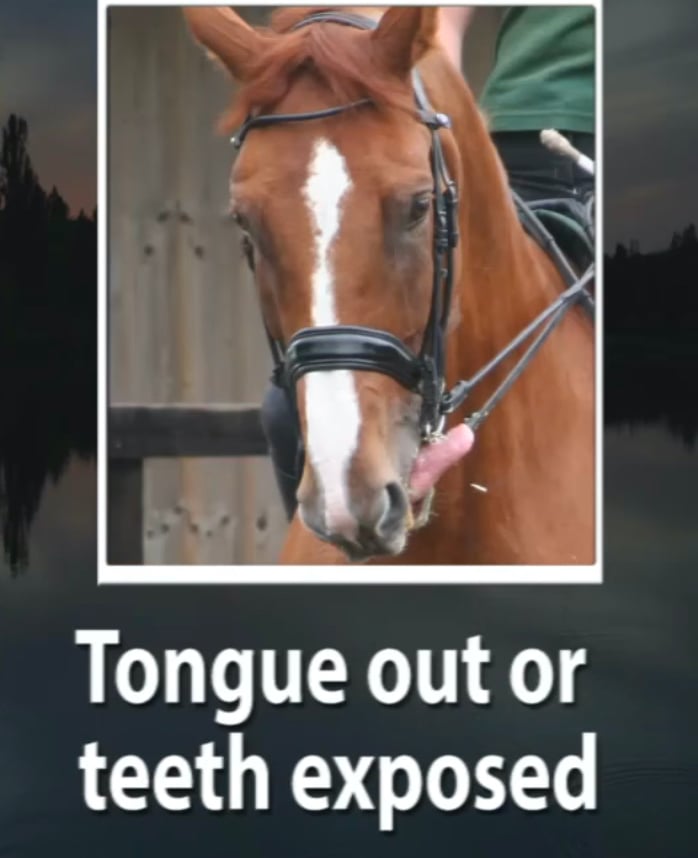 Okay. So. After having a scroll through those pictures in succession, is your mind going where mine is?? I would love it if someone would sit down with video footage of a jumping, dressage, or any other competitive equine event and find footage of any horses that are NOT displaying these pain signals!
Also interesting that most of the facial expressions indicating pain are while the horse is wearing a bridle. So is the pain coming from the legs, back, or the bridle (bit, straps, pressure) itself? If I were a vet, I would want to see the horse being ridden without a bridle – just a halter and loose reins – and evaluate the facial expressions again.
A good example is this photo of me exploring my horse Zorra's pain – with no tack on and she's not even walking. This tells me pretty clearly that her pain is in her back (no matter where I sit, because I'm testing sitting on different parts of her back). Further experimenting showed me that if a child weighing 60 lbs is on her back, she's fine. But my weight of 125 lbs results in this severe pain: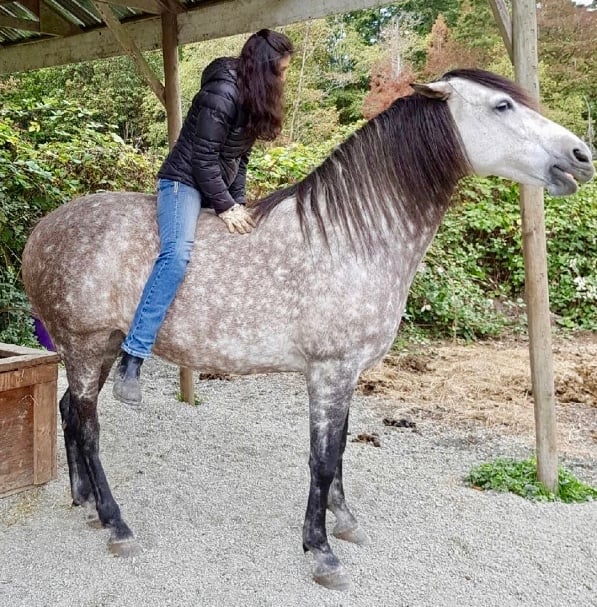 Better diagnostics for lameness or injury
Dr. Dyson says the really frustrating thing is that the average equine patient she sees – when she goes back over the history with the owner – has usually had the problem for 6-9 months. So now she has to deal with a chronic problem/injury that would have been much easier to treat if the horse had been brought in earlier.
She is hoping that by spreading awareness of these pain signals in equines, that owners will get their horses the help they need, faster. So the likelihood of successful treatment would also increase.
It occurs to me that this faster approach would not only be much better for the horses, but also likely cheaper for the owners!
Dr. Dyson also hopes that her fellow veterinarians will learn to recognize facial pain so they get better at diagnosing lameness. And she suggests that vets study facial expressions and body language when the horse is being ridden, as well as being led around – because many issues or pain points don't show up until a rider gets on the horse's back.
Although it's ideal if you could find a vet, a trainer and a ferrier that could talk to & listen to your horse, as well as reading their body language, in the meantime, this alone is a huge step forward for most riders and their veterinarians.
Horse Body Language – What does Pain look like?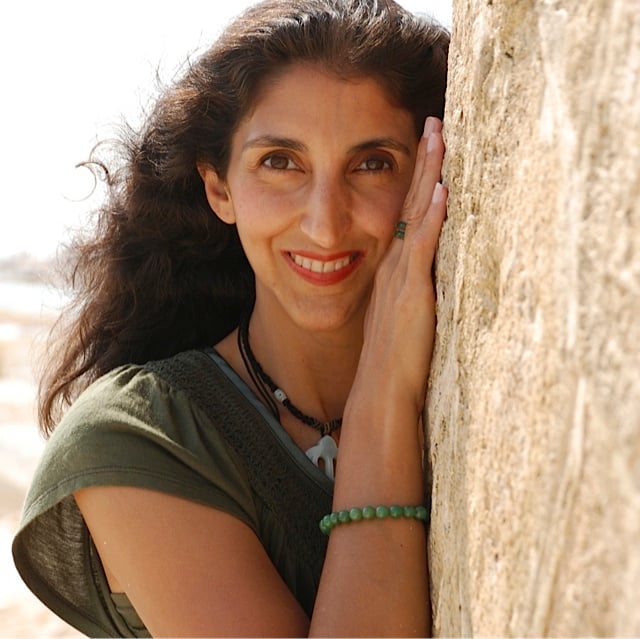 Jini Patel Thompson is a natural health writer and Lazer Tapping instructor. She began riding at age 2 in Kenya, and got her first horse at age 8 in Alberta, and so continues a life-long journey and love affair with these amazing creatures.