Jini and I both signed up for Carolyn Resnick's awesomely priced Chair Challenge (only $15!) and although we're only on Day 3 of the 21-day program, it's already stimulated some great discussion and questions. Here's what we've been tossing about:
We both really loved the first lesson – which simply got people to go and hang out with their horse(s) for 30-60 minutes with no agenda. In fact, you are not even allowed to engage with your horse, you pretty much have to keep your hands at your side, or in your lap, and ignore your horse. It ties in beautifully with Pat Rothchild's series on the power of Mindfulness with horses, and has been a timely reminder for both of us, who find it all too easy to get wound up like anyone else in the daily stuff – chores, duties, worries, mood, and so on – only to find that we've completely forgotten to just… be.
The second lesson and accompanying video – mainly the first scene – is where we both went, "Gah!" as we watched Carolyn work in a small enclosure, using a "reed" (a long flimsy plant-based version of a whip) to get the horse to move away from her when she asked. Here's the video so you can see what I mean:
This is where Jini and I got talking!
Note: Sorry but it looks like they removed this video. I tried to find a replacement, but no luck.
The Million Dollar Questions
This video brought up two issues or puzzles for both of us – and keep in mind we're not trying to trash Carolyn Resnick here, and we both really like her philosophy and this program and all she's done for the horse world. I for one have thrown enough babies out with bathwater to catch myself in reaction mode these days – not to mention, Carolyn's a very accomplished trainer and does things with horses I may never figure out how to do my way. Okay? Are we clear on that? Both Jini and I like Carolyn's work and gifts to the equine world. I'm just going to share our personal responses and musings here.
Watching her introduce the reed to the horse in this video called up a couple things that seem endemic in the "alternative" or "natural" equine community that we're still trying to figure out.
1. Why (oh WHY!) does every trainer on the planet who uses the word "liberty"…seem to work with their horses in small enclosures that they can't escape? I don't think it's inherently wrong to do so, but I do not think you can accurately call it liberty.
2. What is the deal with whips? Whip, carrot-stick, "extension of your arm", pointer, flag, reed – guess what? They're all long, pointy sticks that the horse knows he's got to stay away from or else. And brilliant, one-of-a-kind trainers use them (and defend them) relentlessly, as though they hadn't developed the communication or rapport with their own bodies to make their intentions clear. As if decades of working with the most gifted physical and energetic communicators (horses) didn't impart this one ability…
The Hypocrisy of Liberty Training in Small Spaces
Let's talk about #1
liberty
noun | lib·er·ty  \ˈli-bər-tē\
the quality or state of being free:
a :  the power to do as one pleases
b :  freedom from physical restraint
c :  freedom from arbitrary or despotic control
d :  the positive enjoyment of various social, political, or economic rights and privileges
e :  the power of choice
In my travels through horse training, I developed an allergy to illusion. I found myself saying constantly, "Just say it like it is! Call a spade a spade!" Euphemism serves no purpose but to give illusion wings and further shield us from the truth.
Jini said:
"What I didn't like about this video is the amount of ask/pressure she was using, even in a low-motivation environment. By that I mean, there was no food, treats, etc that she was keeping the horse away from. So if that horse has so much energy to be pushy/dominant in that low-motivation environment then I would change the environment first, not ramp up the ask. What would happen if that colt was allowed into a 5 acre field to run around and kick, buck, etc. How about a playmate etc etc. I would try/do a whole lot more before increasing the ask. Kind of reminds me of that time with Linda Kohanov."
I totally agree. If you don't want a horse in your space, the first step in my eyes is not to get into his space, or rather, not to force him into your space and then punish him for it. What is liberating about putting horses in tiny enclosures and manipulating them into particular behaviours that they then have to be "corrected" for?? Sounds like the same-old same-old to me – actually, kinda sounds like entrapment! I'm not actually as fussed as I sound about this, because I don't think it's necessarily awful for the horse, and there is enough room in the video in question for the horse to simply not interact with Carolyn. It's not abusive, and I get that it's a demonstration. It just seems kind of unfair, or like the horse wouldn't necessarily bother with the human if it wasn't bored and stuck. Regardless, the horse is only as free, or liberated, as the rails around him permit.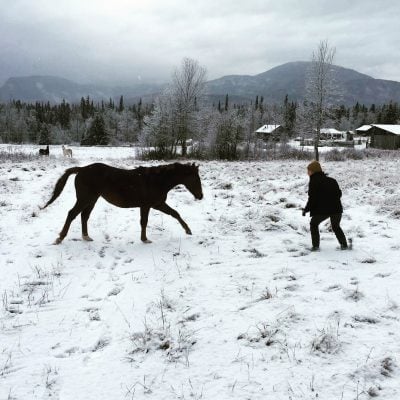 I don't actually have an arena and my paddock area is too small to move a horse around in comfortably, so I've always just gone out in the field with the gang to interact with them. They have food, water, each other, and space to do what they want, so if my energy is off or they're just not into it, they can ditch. Their only draw is curiosity or some kind of fun or pleasure they get out of choosing to be near me. I call that liberty (and even so I know there are still fences) – except that I'm not training, or asking for anything in particular.
If I do have the horse haltered or in a smaller space, I do so for a reason – to force them to be close to me so we can get something in particular done. It is absolutely 100% me exerting my dominance (and the power of my opposable thumbs), and I don't mind admitting to that.
I don't know, maybe it's a nit-picky case of semantics, but I think it is misleading to use the word liberty, where the only other option is boredom – and it has mislead many of us who are so drawn by the energy of the word and the drama of the performance that we fail to see the walls.
Whips, whips, whips!
Question or gripe #2, was about the human dependence on whips, or in this case, a reed.
Jini's first comment, which actually sparked this whole conversation and this blog post, was this:
"Erm. I think I'd rather just send energy through my palm resting gently on their chest, or wiggle my fingers in front of their chest saying, "Back" to move them backwards."
Carolyn uses what she calls a "reed" – and maybe it is a reed, it's some kind of grass thing she buys at Michael's, that big craft store chain. So it can't hurt the horse, and she doesn't use it to intimidate or chase the horses, but she does use it to create space around her and sort of annoy the horse out of that space.
First of all, Chuck Mintzlaff who teaches Friendship Training (a program that altered my entire paradigm and answered a lot of my burning questions), maintains that all horses know what a whip is, and what is meant by it – otherwise they wouldn't bother moving away. It is that or else power that a long, sticky-outy thing carries that makes it work, even if or else never comes.
But even if that's not the case, even if the reed is so low-charged that the horse cannot be, on some level, afraid of it – then what is the point of using a tool at all?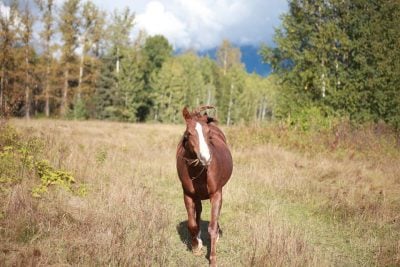 The energy used with the reed reminds me of my filly, Firefly. Imagine she's the human and I am the horse. Occasionally – probably when I'm spaced out or not in my body, or she really wants something from me I'm not getting – she will exert her will by standing close to me and mock-biting at me, with a big scowl on her face and her ears back dramatically. I can tell she's not trying to kill me, but it's a frenetic, aggressive energy and it makes me not want to be around her, so I obligingly get out of there before I get too cranky. Or I stay where I am and ask her to back up with a light touch to her chest, until she stops and waits or leaves because I'm no fun. So I know that while waving harmless stuff in horses' faces isn't a particularly horrible and nasty thing to do, it does seem sort of…excessive and annoying for the amount of reaction you're actually looking for (the goal in the video is just to have the horse walk away calmly, or just to stop coming forward).
This then launched Jini and I into a discussion of 'what's the difference between a reed and a flag, or whip, etc.' And we both figured, 'not much.' We are both more interested in using energy, or ki, to set boundaries and ask horses to move, rather than mechanical aids. I then mused, "Yeah but what about when energy isn't enough?" At which point Jini challenged me with:
"If you can't do this (as a 3rd Dan Ki Aikido teacher) then what is the point of all your training? I don't meant to insult you, I mean this as a challenge. If anyone can figure out how to be the human version of Montaro it's you!"
Wait – Tell Me More About Ki!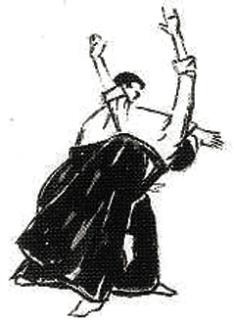 Context break! Ki Aikido has been my practice since I was about 14 years old. We half-jokingly call it a Non-Martial Art. Rather than teaching force, dominance, and killer ninja skillz, it is a physically embodied philosophy that becomes a way of life, and it centers around gaining control and awareness of ki, or the energy that all things have, emit, and direct, whether they know it or not. Ki is awareness, intuition, and life force, and it's also gravity, resistance, direction, momentum, charisma, and thought, and many other things. It is all of us, conscious and unconscious, and the way we broadcast that into the world.
On the mat, I've had ki come at me like a freight train. I've felt oppressed by someone else's ki, I've had the sense that I will be very badly hurt if I don't listen to it. I've also felt it like a gentle hand on my shoulder and an invitation to move in a joyful way. Neither is right or wrong, but the quality comes from the combination of the souls of the people involved in the exchange. I prefer the latter feeling, when the ki comes from a place of joy and sharing, but I also like to be challenged by the former, when I need to move and move fast, because life isn't, despite its efforts to look that way sometimes, all kittens and namaste.
Using Ki to Move 1000 lbs of Horseflesh
So Jini wrote, "If you can't do this (move a horse with just your ki), as a 3rd Dan Ki Aikido teacher, then what is the point of all your training?" And I heard what Jini was saying. I admitted I still need a lot of development on this. I know I can keep one or two horses out of my space with my body and energy, but often it does break down, and certainly with multiple horses it's much harder. I can keep myself safe and communicate my intentions without a tool.  What I can't do is deliver that MOVE energy that sends them right off, unless they bring that spunky energy to me – or are already very fearful.
Likewise, on the mat, it's really hard for me to move or drop somebody who isn't bringing that engagement of energy – who isn't committed to the attack, or better yet, to the dance. I have teachers who can move an unwilling body with the strength of their energy, who even relish surprising resistant students with a tidal wave of ki that even the Doubtingest of Thomases can't deny. I still struggle with that clarity – like I do with moving horses off when they're just standing around.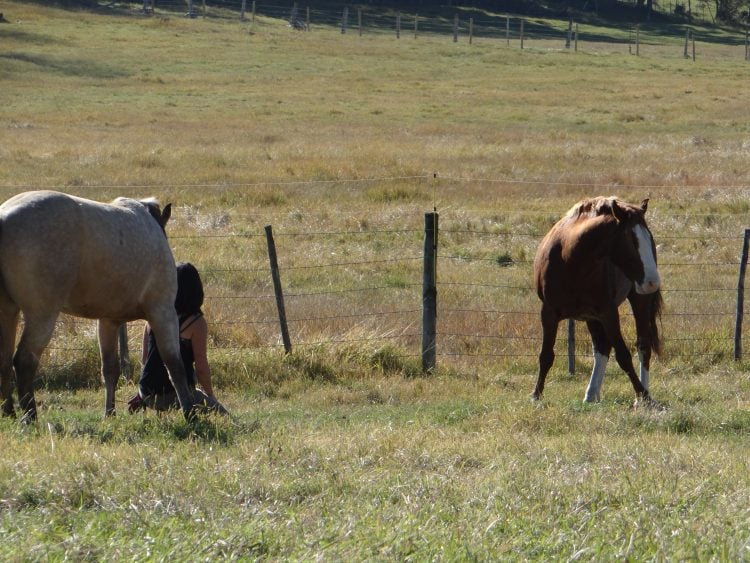 And I think it does come from my intention – I don't personally see the point of making the horse "hop to it" when I really just need room to get by, or for them to wait a second to get their feed, and most of the time I enjoy being super close to my horses and don't feel crowded or pushed. So that's something I've always struggled with while learning about all these methods and theories – SO many of them use a whip or some euphemistic form of a whip to get that impulsion to move quickly and suddenly. But is it just for the drama of it? Horses will do that, but usually occasionally and with obvious aggression, otherwise the ask and the reaction between horses are pretty mellow – "'Scuse me," "Sure, man".
So then Jini and I got into our own experience and experiments with using energy or ki with our horses. Here's what Jini's currently playing with:
"I continue to work on moving them using the rock-solid intention of, "You must." or "That is 100% not going to happen. End of." Enrobed in complete love, caring and compassion. I've been using the flakes of alfalfa to practice this. I will hold a flake in one arm and use the other to hold up my palm as a boundary line. I will walk slowly, purposefully – grounded, peaceful, steady breathing, from the hay storage to the various feeders. And see if I can make that 'boundary' gentler and softer each time (lowering the hand, lowering the palm, etc.), yet maintaining the complete certitude that they must not touch the alfalfa (don't want it spilling on the ground), nor push into me in any way (energetically or physically). My intention is that they too be at peace, calm, walking normally beside me as we go together to put the alfalfa in the bin or feeder.

Believe it or not, Zorra caught on the fastest. And my biggest challenges are Aude and little Juno! I'm still rushing with them and I need to use my body as well to shield to get past Juno. It is easier to get them to stop pushing into me physically, than energetically. To get the energetic pushing/yearning to cease I need to have my energy of peace and caring (I AM taking care of you) larger and stronger than their anxiety/eagerness/hunger/monkeyness etc. So that their energy state is absorbed/transformed into mine."
I think this is great – I've spent a lot of time with her herd, and they are all very big and very energetic! Spreading out alfalfa can be a circus if you're not doing it with a lot of consciousness. Using her energy to try to affect not just their behaviour but the desperate energy behind the behaviour sounds like a very cool, very holistic approach to me.
Jini again:
"In the video, Carolyn's not working with the energy behind the ask. I learned this from watching a friend of mine with my herd who I thought was dithery, fluttery, and without boundaries. However, she got monkey-man-Jax to move away from the alfalfa with the smallest ask I'd ever seen. But her intention was rock solid, surrounded by acres of 'I love you, you're so sweet' with a gigantic smile and adoring eyes. And so he feels the solid inevitability of the request, but no dominance/challenge/pushy energy. She acquired this skill as a hugely popular high school art teacher. She had to maintain order and get the students to produce art projects, yet she genuinely loved and cared about them so much that many still text her years after graduation.

In this video, Carolyn is being as pushy, if not more, than the horse. And she doesn't feel balanced or grounded to me. That disappointed me. I guess I was hoping to see more subtlety/elegance from her."
I had to admit, I often disappoint myself in my own lack of subtlety and elegance. But instead of worrying too much about Carolyn Resnick, I decided to take to heart the idea that we each of us have our own style that we must be true to – or else risk inauthenticity. Using a whip feels like lying to me, even though it can also feel like a really useful or even momentarily thrilling thing to do. Maybe it's different for you, but I can't escape my own feeling and so I have to acknowledge it.
So the next day, I moseyed out to the feeder and instead of waving a stick in Spero's face when he inevitably came over to chew on my coat cuffs and frisk my pockets, I moved into Aikido position (standing oblique, one foot forward) and did raising hands to eye level, our most basic ki-deflection move. It's just that; swinging your arms like pendulums from where they hang, out in front of you at eye level, without tension. You kind of stream ki out your fingertips. I've deflected (and seen countless people deflect) a direct wooden sword attack to the head with this, so I don't know why I doubted it against my loveable bunch. Spero stopped. I praised him. Then he tried leaning into me with his shoulder, and I did the same thing, sending ki to his shoulder. When he didn't move, I stepped forward till I was touching him gently, and gave him a soft push – or rather, moved my whole body into him while touching him. When he stepped over, I dropped my arms and praised him.
I kept playing this way with them, using a combination of telling/showing what I meant when I sent that little bit of ki, and rewarding them, letting them know when they'd done what I had asked for. Within moments, that ki from my hand (or maybe just the signal of my hand pointing at them) was enough to move them off quietly, softly, and without apparent irritation or fear. I didn't have to over-ask and then desensitize them to something (like you do if the horse is afraid of the whip/reed/flag), I could just "use my words", or in this case, my body, to explain what I meant.
I tried it again over their dishes of grain, and this time brought up the same energy I'd used during an eight-man attack, to deal with four hungry horses wanting what I got. I used arms out from side and turning, where you turn or spin with your hands out like a helicopter (a crude explanation of a usually-graceful move). Again, I was surprised that a simple exercise translated so easily. I had to really use my body and my ki, but not in a way that was aggressive, or dangerous to me. But it felt like way more commitment than I usually bring to them. It felt more engaged. The horses saw that I wanted them to back off, and one by one settled at a distance to wait until I came to my senses and gave them their feed.
I realize that a whip, reed or extension of some kind can be very helpful in one particular way: it can create a safe boundary while allowing the person to stay calm. It can "buy time" or space to keep your nervous system regulated and it can make you more more effective with a horse that might otherwise overwhelm you, and therefore promote more clarity in your communication.
But there are still two ways to achieve this without a whip. One, start with the whip, but use that time to integrate calmness and confidence into your body and then challenge yourself to use it less and less while you learn to extend that energy through your body. Two, don't use a whip, but start with a really, really small task, at the edge of your comfort zone. Maybe interact over the fence, or with a horse that doesn't make you nervous. Experiment with sending and receiving energy. Grow your ki from these small places. Teach yourself to be big and bright without tools and dependencies.
When I go out to do my "Chair Challenge" exercises (aka doing nothing and Sharing Territory), I modify it just a bit. If I need to move my horses away, I ask politely and firmly with my own version of the reed – my body and my energy in clear, quiet movements. I also stand rather than sit, even though she is adamant about using a chair – because dammit, it's -20°C out there and I need to keep the blood flowing!
I'm going to keep working this way and seeing what happens. And Jini and I are going to keep talking this way and seeing what happens. So a sincere thank you, Carolyn Resnick, for stimulating such a complex and fascinating discussion, and for the incredible gift of stillness and relationship with horses that you continue to give to the world.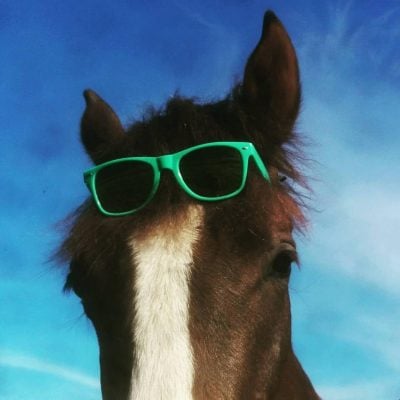 On Liberty Training and Things That Look Like Whips
A barefoot hoof trimmer, a singer/songwriter, an amateur farmer – these are some of the hats Kesia Nagata wears when she's not full to bursting with wondrous equine co-creation.