As we head into winter, some of us are going to get lots of snow, while others are going to get lots of rain! As it's much easier to protect your hay stack against snow, I'm going to give you my fail-safe method for protecting against rain and damp – which of course will protect equally well against snow.
I know, I already did a larger article on Storing Hay So It Never Gets Moldy. But as there was so much information in that one, and many people don't need to store hay long-term, I wanted to do a real short and sweet picture tutorial here for those of us in rainy climates – who have to be extra careful about mold and damp – and who only need to store a few tons of hay at a time.
After a few winters experimenting with different storage parameters (closed or open structure, cement floor, rubber mats, dirt floor, etc.) I'm going to give you a tried-and-tested way to store your hay – for the least amount of money and effort! This method is for those of you who have to order hay every 1-4 months, so your hay stack is sitting there for 4 months or less.
As you can see from this picture, I've got my hay storage in an old cow shed with a dirt floor. If you pull up the tarp, the earth underneath is soggy and squishy:
And hay that has dropped through the pallets is soggy and moldy:
So just having 1 tarp on the ground and then pallets on top of the tarp, might be okay for a few loads of hay if you have a fast turnover and live in a dry climate, but if you are storing hay for longer than a month or two, in a rainy climate, that mold is going to start infecting your new hay.
The best way to set up your barn ONCE and then not have to keep cleaning it out and setting it up again, is to put a heavy-duty (extra thick) tarp on the ground. Usually ones that are sold for RV (recreational vehicle/camper) storage are a good thickness. If you have a completely clean, dry concrete floor, you could get away with a thinner tarp. And extend that tarp as far to the edges of your barn as you can: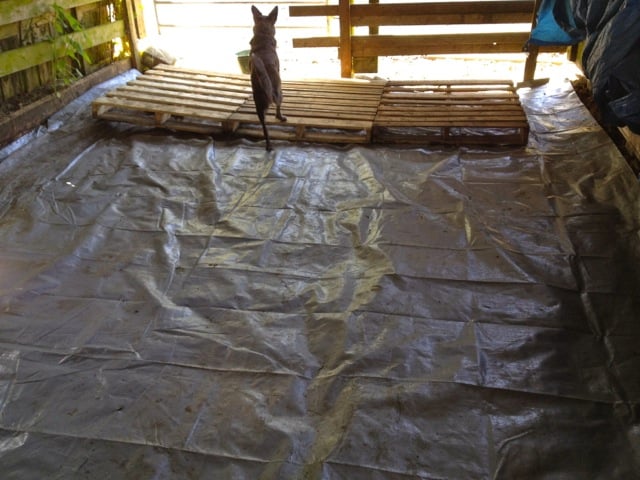 Then put your clean, untreated wood pallets (make sure there is no mold or hay inside the pallets) down on top of the base tarp. Note how I have left extra room on the right hand side – this is so that my Belgian mare can't reach across and rip into the hay stack!
Now you need to lay another tarp on top of your pallets. If you can afford another thick RV (camper) tarp, use that, as it will wear better and not be torn by your hay guy/gal as they stack your hay. Since this tarp has already been torn by the aforementioned mare getting at the previous hay stack, I've just patched it and thrown it down. When this one wears out, I will buy another RV tarp to go on top. If your tarp extends past your pallets, then tuck it in under the pallets:
You may think this second tarp on top of the pallets is not essential. I know a lot of forums etc. say you can just use one tarp on the bottom and then stack your hay right on the pallets.
If you lived in a dry climate, you could probably get away with that, BUT, you are still going to lose a surprising amount of hay as it falls into the pallets. You wouldn't think you'd lose that much, right?
Well, let me tell you, the first time I set up this particular storage (6 months ago), that's exactly what I did and I was very careful to sweep up hay that dropped on the pallets to reduce wastage. And yet… this is how much hay falls through the pallets: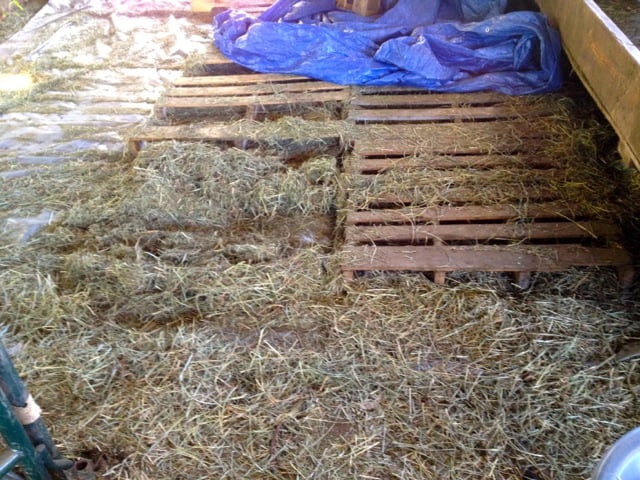 By the time I cleaned out the area, I had collected SIX wheelbarrows of old hay! I don't know how much you're paying for hay, but at $15/bale that's way too much wasted hay for me. I was able to throw 2 wheelbarrows out into the field for them to pick through (not their sole source of food, they still had fresh hay in their feeders) but the other 4 barrow-loads were too damp/moldy and went straight into the manure pit.
So that's why it is much better to cover your pallets with a second tarp!
Lastly, you stack your hay on top and cover with another tarp. If it gets windy, you can use a few extra pallets to weight down your tarp cover so it stays put: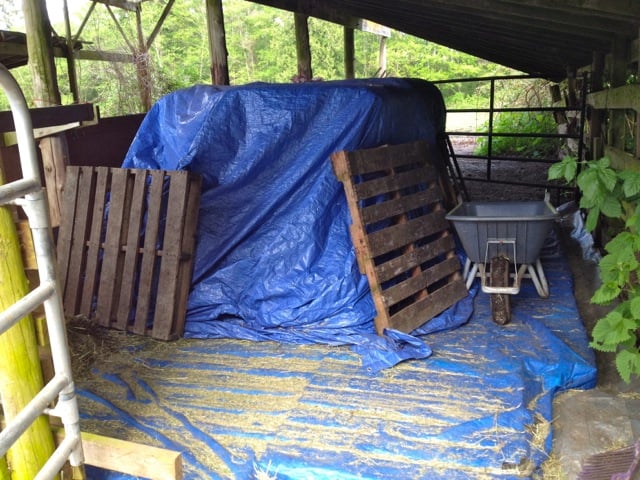 When you set up your hay storage like this, you do not have to do a big clear-out every few months to get rid of accumulating moldy hay. You simply sweep your top tarp and the edges of your bottom tarp clean, and you're ready to stack your next load of hay.
If you don't have any pallets, you can usually get them very cheaply from hay dealers, or warehouses, or large grocery stores. I get my pallets from a local hay seller (Vanderveen Hay Sales) for $2.50 each.  I have also picked them up free from companies that sell tiles for kitchens or bathrooms. Just make sure they are made from untreated wood, so you don't poison your feed supply!
Note: If your hay stack is open on all sides (pole barn) or has no roof, then see my other post for hay storage/tarping solutions that work in those conditions.
Storing Hay on Pallets in a Rainy Climate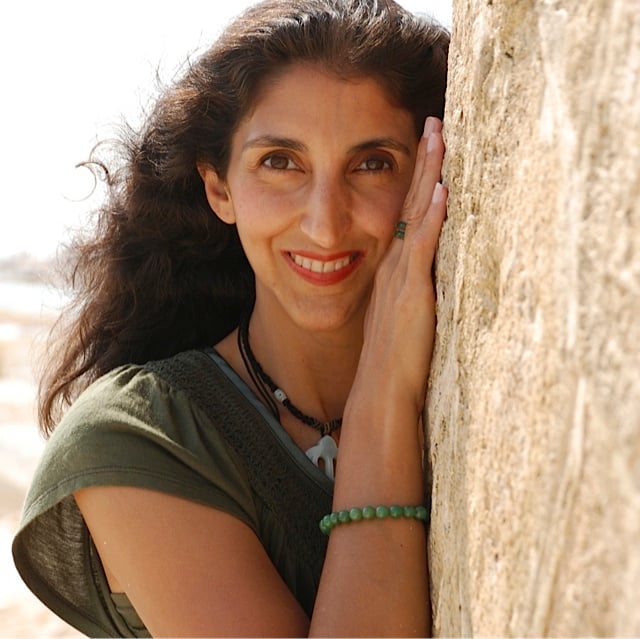 Jini Patel Thompson is a natural health writer and Lazer Tapping instructor. She began riding at age 2 in Kenya, and got her first horse at age 8 in Alberta, and so continues a life-long journey and love affair with these amazing creatures.