In my last post in this series, I talked about the purgatorial state that follows big changes – that part nobody warns you about, when you've done everything in your power to make your dreams come true and they obligingly do, at which point you find yourself suddenly entirely blank, lost, blind, deaf, tired, ineffectual and generally confused. Anybody else? No? Just me?
One of our dear readers, Patricia Rothchild (hi Pat!), left me this incredible, affirming, and comforting comment:
What a lovely piece. It reflects lives lived well in concert with one another and the elements that support them. Your next steps will become apparent. "I don't know" is a challenging, rich and exciting place to hang out. It keeps us humble and attuned to life's directions.
And just like that, the I-Don't-Knowness took on a shape, a purpose. I let it be, and I did my best to settle into the unknown, to let go of my conditioned need to define and direct in a time of stillness.
I had to leave again, and spent three weeks away from the farm, part of that spent studying Ki Aikido in England, part of that spent wrapping up more loose ends in my old hometown. It was all hard work, but it was compelling and invigorating and reminded me about where I come from, what I've left, and what I believe in. I drove back the 12 hours from the city solo, taking the time to let the road sweep away what wasn't needed anymore.
So back on the farm, late summer is in full swing. My mother has tended the garden, goats, chickens, puppy and horses lovingly and everything and everybody is in great shape. The bugs have effed off, much to my delight, and the horses have a newfound sense of peace about them.

When I left, my herd was still a little shy. They were, I think, first amazed and then intimidated by the sheer scope of the place (500 acres!). They spent their time as near to the barn as possible, mowing the field down to nothing around the barnyard, and more often than not I'd see them in their shelter, avoiding the bugs and the overwhelm. When they escaped, it was into the back yard! Hundreds of acres and they're wandering around the driveway…
But now, as they've eaten the best grasses and plant life is slowing down, they're moving everywhere as they forage. They seem to have mapped the whole front 15 acres extensively, and they stride out with purpose to munch on whatever they've found in this corner or that. Their range is expanding, and I'm watching them come in from further and further away as they seek out their delicacies near and far. They are eating a wider array of plants, too, and I love that they are able to select what they want rather than gorge on the same kind of grass.
Each of them looks just perfect to me without supplementation of any kind (besides carrots) – nobody's overweight, even on 30 acres of pasture, yearling Firefly is full-bodied and well proportioned (and still nursing, by the way!), and Amalia, who bleaches from chocolate brown to almost buckskin every summer, has instead kept her luscious rich brown, so I assume this means she is finally getting the minerals she needs, naturally. Here they are, Spero, Amalia and Firefly.
They walk and run more every day than I could ever exercise them, have taken on a guardian role by chasing off bears and coyotes, and tell us when they want their water changed by bugging my mother telepathically – true story!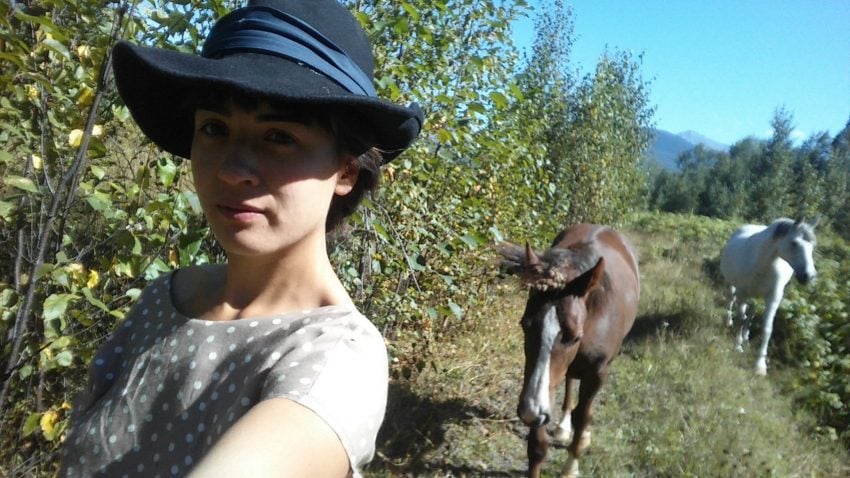 The other day, I set out to the high point of our property where we found a grove full of the most stunning old cottonwoods, where I wanted to sit and connect to the land in a way I hadn't made time for yet. I took my prayers and offerings, and the puppy, and a bear bell. As I walked through the pasture, Firefly ran to catch up, and then Spero and Amalia joined us. The horses followed us up the road through the dense forest, completely relaxed and excited to explore. Up to this point, they had followed only until the edge of the fields before turning and running back to the barn. This time, they followed me right to the heart of our new home, sampling plants along the way, playing chase with the puppy (not fun for puppy!) and stopping for visits and view appreciation moments.
They escorted me to the game trail that led to the grove, and then off they went back to the barn. I found my trees, I stayed a long while in that dark and quite place, speaking out loud my hopes and dreams and needs and desires and promises and responsibilities as a caretaker of this glorious, soulful place.
When I came home, they greeted me in the front field as though I'd been gone for ages. We celebrated our reunion with belly rubs and face-mashing, and I finally felt at peace, too.
So the I-Don't-Knowness continues, but now it feels like an ally, like a book waiting to be read, like a thousand possibilities and their endless outcomes. Reminding me, yet again, to trust the horses and the land and all the goodness I've found thus far in this wild, wild life.
Click here for Part 5 in this series.
Rewilding the Herd – As We Live and Breathe
A barefoot hoof trimmer, a singer/songwriter, an amateur farmer – these are some of the hats Kesia Nagata wears when she's not full to bursting with wondrous equine co-creation.