I have used this Colic Pump technique effectively on four different horses at various stages of colic. I first came up with this technique when my friend's horse had a rock hard belly, no gas sounds, not eating or pooping, and was going down to roll. Within 30 minutes he was normal, eating and happy. The mildest case I've treated using the Colic Pump is my horse Montaro – featured in this video – whose symptoms were: tender belly, kicking/nipping at belly, bloated, and we had seen 2 diarrhea bowel movements in quick succession. So not critical, but gut distress that could head towards an emergency over time, if not addressed.
For example, as you'll see in the video, if the very dry, fibrous poo he passed had remained in there and impacted over the next week, that could cause colic. So the best way I think this technique should be employed is before a horse is actually colicking. That's one of the reasons I wanted to shoot a detailed instructional video and demo on a few horses for you:
You'll notice in the video I also give Montaro some supplements to help clear any blockage and produce a bowel movement(s). So once the crisis is over, or if I suspect a horse is having difficulty (or after worming) I give them:
– Free choice cold-pressed organic flax oil
– High dose magnesium
– Therapeutic-quality probiotics (double dose for 2-5 days, then single dose per day for a week)
Signs of Impaction Colic
Impaction refers to a blockage of feed material in the large colon. Here are some signs of intestinal discomfort or distress to watch for – the sooner you can do the Colic Pump, the better!
Tail-slapping
Looking at sides
Nipping at sides or belly
Interrupted eating or resting (ie. all of a sudden stops eating to walk around, or suddenly jolts out of resting)
Frequent, deep abdominal stretches
No interest in food
Pawing at ground
Rolling
Decreased manure production
Kicking at belly
Belly is swollen, hardened, or tender to the touch
You can see from this anatomy picture how the Colic Pump is working directly on the large colon and can stimulate that wave-like peristalsis.
I encourage you to practice the Colic Pump technique on your horses while they are healthy to build your fluency for when you need it:
Place your hand above the region to be pumped/palpated and ask the horse's belly for permission
If your horse keeps walking away, ask for permission to work energetically; using your energetic hand (just imagine it). Feel for what distance away feels good to the belly, maybe far away, maybe touching the fur.
Try to feel for, or imagine, the rhythm of your horse's belly, or, try to sync your hand pump movement (physical or imagined) with her breathing.
Trust your intuition, or any pictures your horse might send you, and follow that guidance.
As you pump gently, imagine the movement creating rocking waves throughout the horse's intestines; and that movement acts as a massage, or stimulant to encourage or support peristalsis (normal rhythmic contraction of the intestine).
Work unhaltered so your horse is free to express himself to you, and also free to move his body however he needs to, to unwind the tension, stretch, walk, or roll, as needed.
Which brings me to my next point: Somehow everyone thinks you must never let a horse with colic roll – as it could twist their intestines. With my background in natural healing for digestive diseases, this just did not make logical sense to me! So I went looking for 'proof' of my suspicion and found it fairly quickly. This article by veterinarian David Ramey is a pretty good guide as to why the only time it's a good idea to stop your horse from rolling is if he's rolling so violently, he's hurting himself. He also debunks the myth about not letting them lie down to rest.
Thoughts on colic prevention
I had 3 horses for over a decade as a child and not one of them colicked. None of my herd now (knock wood) have colicked. Both herds were kept on pasture with trees (forage, not just grass), with plenty of movement, no grain, with herd members they liked/loved, no vaccinations, minimal de-worming, tooth care only if needed (and then hand float only) and only ridden for pleasure – mostly when they wanted to be ridden and the horse and I took turns choosing where to go. So no competing, no trainers, no crowds, or any other totally unnatural elements.
As stress is a big component of gut issues, I can see how a traumatic trailer ride, or separation from loved ones, pressure to perform/compete, or an unnatural/difficult element introduced could set the stage for colic. Also, I don't think our human idea of "plenty of land" correlates to the horse's idea, or the horse's historical behaviour/need to move 20-30 miles per day, so I'm pretty sure that lack of natural movement (lunging around an arena does not count!) affects digestion and gut health.
Also, what's the worm burden in the pastures? Are we managing worm burdens, or relying on drugs that are hard on the GI tract?
I have toxic plants all over my fields, but the horses leave them alone. Although, horses do use small amounts of 'toxic/poisonous' plants to self-medicate from time to time. So again, do we have a 'doctor garden' set up for our domesticated horses? Or can we offer free choice herbs?
It would be interesting to see a study comparing the rates of colic between stabled, schedule-fed horses (horses fed a rationed amount of hay, 2-4 times per day); and horses on a minimum of 2 acres per horse with 24/7 slow-feeders for their low-sugar hay. I think we'd see a huge difference in colic incidence from those two parameters alone.
In my opinion, the top priorities for colic prevention are food, movement and lowering stress:
Make sure your horse has at least 1 other herd member, with an absolute minimum of 1 acre per horse; unless you set up a Paddock Paradise walking track – then you could get away with less land.
Have low-sugar and forage-type hay available in slow feeders 24/7 (all day & night, every day of the week)
If you must compete or go to shows, make sure your horse at least likes it. If they don't, look for another activity, or another type of competition you could both enjoy. For example, maybe your horse doesn't enjoy jumping in arenas, but likes jumping cross-country. And maybe you have a deal that after the cross-country course, your horse gets to hand-graze for half an hour before getting in the trailer and a bodywork treatment the next day. If you balance the activity with things your horse loves and that support their body, hopefully it will be less stressful for them.
If you're in a temporary situation where your horse must be kept in a stable or paddock, then at least have a slow feeder with 24/7 low sugar hay for them. And take your horse out for hand-grazing daily. Instead of riding in an arena, maybe you ride on trails, letting your horse stop to graze whenever they wish, or at least at certain points.
Lastly, I would never use Bute with my horses – wild oregano oil, cold hosing or cold packs, white willow bark, and energy healing (Reiki) are all better pain treatments than Phenylbutazone, which damages the gut, and sets the stage for ulcers, colic, and possibly tumours. Give probiotics regularly and avoid wormers, vaccinations, and other drugs as much as possible. See Holistic Horsekeeping by Madalyn Ward, DVM for guidance.
Please share your feedback!
After you've had a chance to practice and use the Colic Pump technique, I would love to have your feedback on how it worked (or didn't work) for you. It would be GREAT to amass a pile of data so we can determine how effective this technique is, can anyone perform it just from watching the video instruction, if used proactively does it reliably avoid colic, and so on?
Since I've only used it on a handful of horses, I can't actually make any claim for what this technique can reliably do. That's why I'm throwing it out there for you guys to test and let us all know what happens. It sure would be nice to have a DIY colic remedy that anyone can use to bring their horse relief, or apply at the first sign of GI (gastrointestinal) distress to prevent colic from occurring!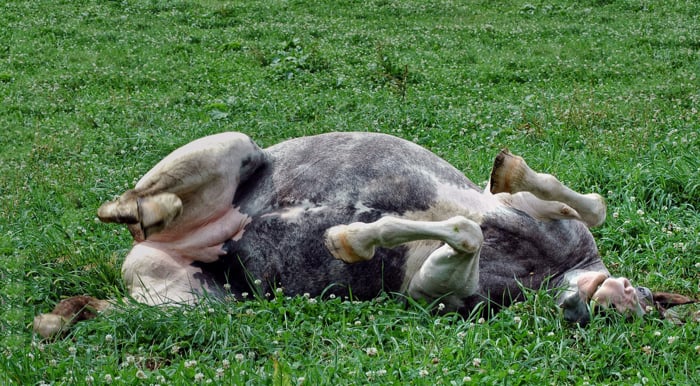 The Colic Pump – Palpation, Massage Technique for Equine Colic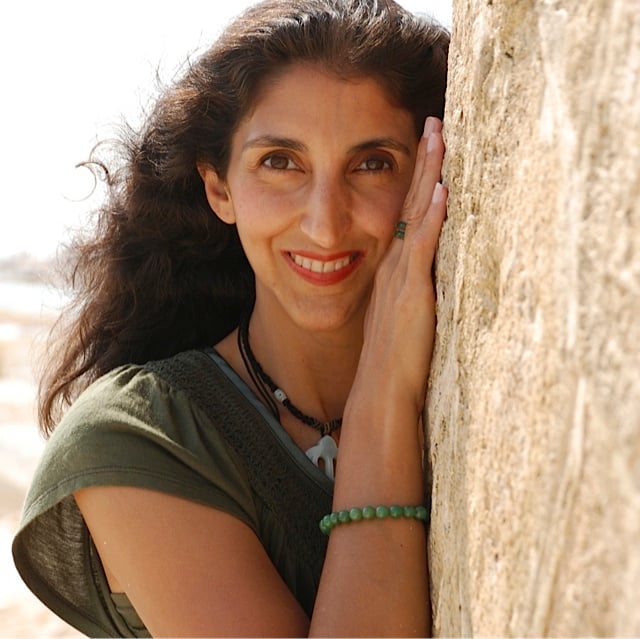 Jini Patel Thompson is a natural health writer and Lazer Tapping instructor. She began riding at age 2 in Kenya, and got her first horse at age 8 in Alberta, and so continues a life-long journey and love affair with these amazing creatures.