If you follow us on Facebook, then you'll already know I FINALLY got my horse trailer! And actually, this is the first horse trailer I've ever owned.
I've bought and sold cars every few years, for decades. But this purchase took me ages to decide upon – it was more stressful and required more research than any vehicle I've ever bought! It's too early to tell you whether I made all the right choices, but so far, so good!
As you'll see in this video, I custom-ordered this Featherlite stock trailer from Maggi Clark at Bickford Trailers in Snohomish, WA. Then drove it across the border into Canada, as it was much cheaper than buying it here. You can see most of the features and specs in the video…
If you want to see everything I ordered for this trailer, you can
download my spec sheet
. Maggi has worked on horse breeding farms (and now breeds her own Warmbloods) for decades. She has done a LOT of trailering horses around and was an invaluable help to me in deciding what was worth spending money on and the differences in driving a gooseneck vs bumper-pull, or 16′ vs 20′ vs 24′ trailer.
A gooseneck hitch trailer (where the hitch is in the bed of the truck, not at the bumper) is far more stable on the road. You also don't have to worry about loading your heaviest horse in front – the rig is stable enough (especially with a Dodge Ram 3500) to just load your most difficult horse first, regardless of size.
The ideal horse trailer length and height
I was seriously debating between the 16-foot trailer – which felt easy to me. And the 20-foot length trailer which felt like it would be a challenge. And then I wondered – having 5 horses – if I shouldn't go with the 24-foot which would fit them all easily! Well, Maggi has loaded horses loose many times and said that if my horses get along well, that 5 would likely fit in the 20-foot just fine. She also told me that there is no difference driving or parking a 16-foot vs a 20-foot trailer, but that a 24-foot trailer made a significant difference in room needed to park or turn around. Oh my gosh, advice like that is pure GOLD to me. So I went with the 20-foot length.
I visited 4 different trailer sales yards to look at all the different types of trailers in person; to open the doors, stand inside them and have the salesperson close the door on me. I wanted to FEEL what my horses would feel. And I have to say, every 'normal' horse trailer – with its tiny windows – felt terribly claustrophobic to me. There's no way I myself would ever want to ride in one – so how would I be able to tell my horses they should get in, and it would be fun??!
The trailers that felt the best to me – lots of light, open, spacious – were the stock trailers. Normally people have one or two rows of open slats on their stock trailers, but I ordered three rows open. Perfect! I can get plexiglass panels that slide into the rows to close up the trailer if I wish. Featherlite only offers smoke-colored or red (!?) plexiglass panels – uh… no thanks. But I found a local custom plexiglass company who can cut whatever I want in clear (or any color) if I decide I want to close it up, or just close up some of the rows.
7'6″ is considered a Warmblood, or Draft height horse trailer. But when I stood in one, it didn't feel that great to me. 8 feet is the highest trailer I could order, without having to pay an additional $15,000 for reinforced sides and I tell you, that extra 6 inches of height makes a world of difference.
If I had 14 hands high or smaller horses, I would not have ordered the trailer 8 feet wide – because that extra width makes a big difference getting through 10-foot gates, or staying in your lane on country roads. But for my big guys, I like the extra width.
I still find it very challenging to drive this rig – not just because of the length, but also the 8-foot width puts me at the same width as many of the big dump trucks or 18-wheelers on the road – and you've seen how much of the lane they take up!
I don't have a place to keep my trailer where I can get it in and out once the weather turns mucky. So I'm just going to leave it in the field and then once the ground hardens, I'm going to hire my friend's Dad (who drives a logging truck) to teach me how to drive and park the dang thing, so I don't feel panicked at the thought! And yes, of course, I'll video the lessons to share with you when the time comes.
And remember, if you're leaving a trailer in your horses' field, you must fence it off so they don't chew the rubber bits and tires – most horses LOVE chewing rubber! The arena panels I used (shown in the video and pictured below) to fence off my trailer are 7-foot long, 5-foot high, lightweight panels that I bought at a local wholesaler called Edge Direct for $54 each. I like these so much better than the medium or heavyweight panels I have that are 8 – 10-feet long! Yet they seem very sturdy and are doing the job just fine. They are also small enough that I can fill one of my 8×10-foot box stalls with these arena panels and the other box stall with a horse or two, and be able to construct a corral in one of the wilderness areas I'd like to hike/ride in. Oh yes, I have big plans for this trailer! We'll have to see if my idea of fun matches the horses' ideas 🙂
Trailer Play (Not Training!) – Session #1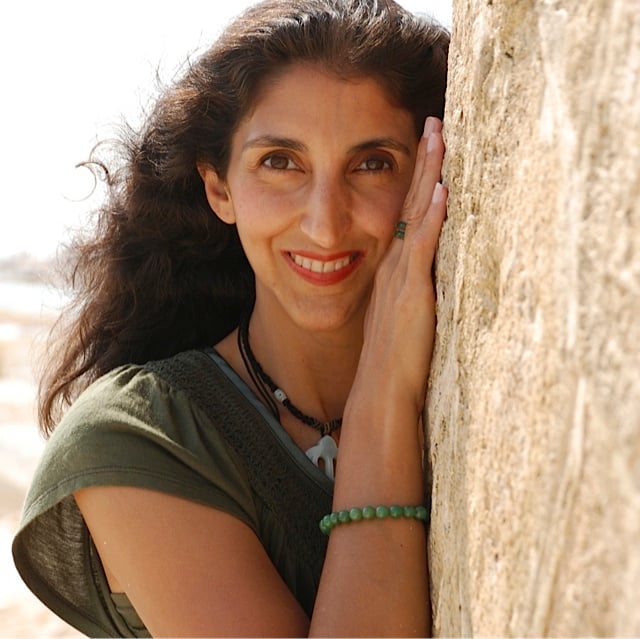 Jini Patel Thompson is a natural health writer and Lazer Tapping instructor. She began riding at age 2 in Kenya, and got her first horse at age 8 in Alberta, and so continues a life-long journey and love affair with these amazing creatures.