I must admit, after my post last week, I thought this story was pretty much finished. But as they often do, the horses had a different idea. Not only was there another big piece to come, but another Tapping video – a gift to ALL of you and your beloved equines…
I arrived at the barn last week and only Zorra was there to greet me.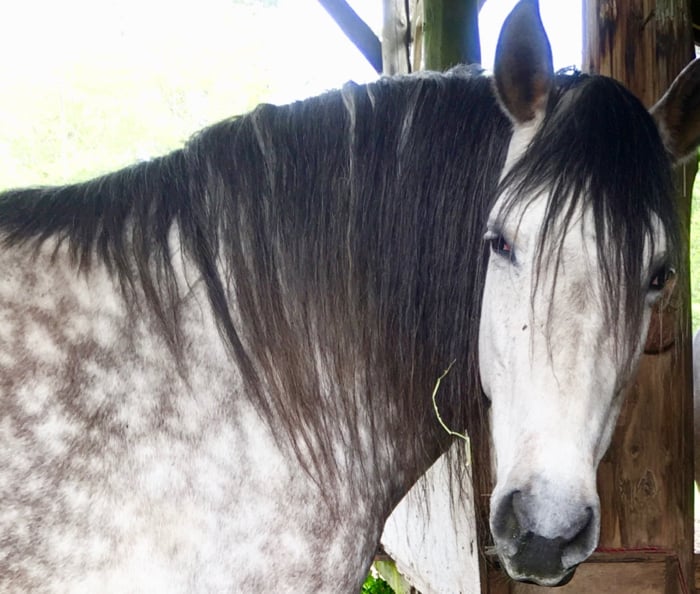 I'm not entirely sure, but I don't believe this has ever happened. Zorra is down the lower end of the pecking order and usually moved off quickly by Audelina or Montaro. But on this day, all the others watched me come in, but they stayed out in the field – also very bizarre since I usually give them their alfalfa or feed first, so they normally all head for the paddock as soon as they see my truck.
I went straight to Zorra and she wanted all her favorite places scratched – inside her ears (gotta put on the gloves for that one!), her udder, her arched Andalusian neck, and her belly. As I scratched away and she soaked up the bliss of having my ministrations all to herself, I said to her, "How come I'm always doing stuff for you? Would it kill you to give me just a little ride?"
I have a strict policy that I do not get on my horses' backs unless they invite me on. Not that they tolerate me getting on, or that they allow me to get on. But they actively, decisively invite me on their back for a ride – that they say, 'Yes, that sounds like fun! Let's do/try that.'
Zorra has not invited me on her back for about 2 years now. We have been walking a path of healing together for her past riding trauma, but we are not done yet. Every so often, I am overcome with longing. I know she doesn't want me on her back because it triggers old trauma and it hurts. But I do so love consensual riding where we become one body linked together with each other and the earth.
So that day I was feeling grumbly about it. I stood up on the slow feeder (about 2.5 feet high) and I said to her, "You know, if you walked up right beside me here, then that could be a signal to me that you want to give me a ride for a few minutes." She immediately sent me a picture of the other horses coming in and how that would panic her – she wouldn't feel safe to be moved around by them with me her back. I said, "The second we see any of them walking this way, I'll get off."
Zorra walked up beside me and then turned her body away from me and backed her rump up against my legs. "What?" I said teasingly, "You want me to sit on your rump? I can do that, even thought it's going to feel pretty weird for both of us." As I spoke, I started scratching her dock and then realized that her lumbar and bum muscles felt pretty tight, so I switched to massage.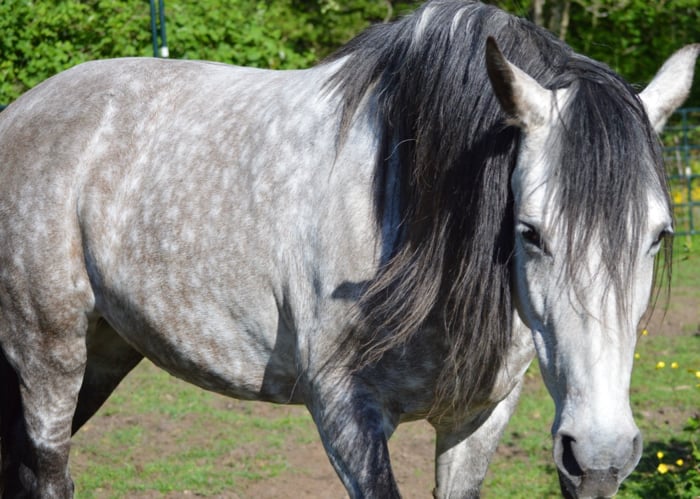 As I massaged her from behind her rump, I was looking down upon her back and withers. As I thought about myself sitting near her withers I started to get this strange, squiffy feeling and then it felt a bit fearful for me. I realized I didn't even want to sit on her back as it didn't feel safe.
I thought, "Wow, I must still be freaked out from Jax biting my head." Because I've been riding since I was 2 years old and Zorra is one of the safest, calmest horses I've ever ridden. When she gets scared, she doesn't spook or bolt, she plants and looks/studies the scary thing. She's also very caring – one time she witnessed me being bucked off another horse (all my fault and I totally deserved it) and she was really upset about it.
At that moment, Jax and Juno walked into the barn. Mystifyingly, Audelina and Montaro continued to stay out in the field. Jax and Juno said a brief hello, stepped up onto the side wing of the barn and immediately dropped into meditative state. Juno's head was facing Jax's rump and he had his nose in Jax's flank. I'd never seen them meditate like that – pressed close together. Jax invited me to join them.
So I stood about 3 feet away from him, with my chest facing Jax's head, and slowed my breathing and sent my energy down into the earth. As I opened my heart (front and back) I felt this absolute wave of love, flooding from Jax into my heart. Then he started speaking to me:
"What you felt when I bit your head is what horses like Zorra feel when a rider gets on their back" He flashed me a picture of a lion taking down a horse by leaping onto the horse's back and gripping the horse's withers with its claws. "It is the same primal, amygdala-response, horrifying terror you felt when I took your head in my jaws."

"When a human gets on a horse's back without loving, caring, slow preparation and without asking for and receiving permission first, that is what happens. And like you are feeling; how can we ever trust you again? Even though years pass, and you treat us lovingly and well, or we go to a new owner who doesn't get on without asking permission, how do we get over that primal terror, that body memory that is now locked into our cells?"

"Just as you are now always on the alert for me, or looking over your shoulder, and your body goes into alert when I am behind you, and you are wondering if you will ever be able to trust me. You are wondering if we can ever have the settled, loving relationship we had before. That is what happens to us when we have been traumatized in that same way."
Understanding seeped through me; especially poignant due to the experience I'd just had with Zorra – standing behind her, thinking about riding and then feeling all fearful and wiggidy. Obviously, those were not my feelings as I sent Zorra the image of me on her back, they were hers. My question to Zorra, of 'Why? After all this time and all this healing, building muscle and strengthening, why do you still not want me on your back?' became crystal clear.
Imagine if Jax wanted to take the back of my head into his jaws again? He could promise me it wouldn't hurt, that he would stop as soon as I asked, that the feeling of oneness would be beautiful… and my answer would still be, "Hell no!"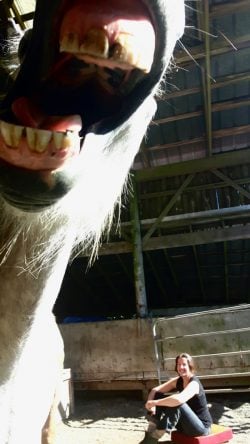 But imagine if he'd seen this as a process and started by just nuzzling my ears, nuzzling the back of my head and breathing onto my neck as we meditated together. What if he took weeks and months to help me feel totally comfortable and safe with him using his lips and teeth (ever so gently and respectfully) on parts of my head. And never once hurting me. And stopping immediately if I didn't feel comfortable. Or stopping for months or years if I said, "Hey, this head thing of yours is really weird, I don't like it." And then slowly, slowly, progressing to taking my head in his mouth – still sounds bizarre I know, but let's just pretend that's our weird way of connecting and sharing love. IF he did all that, and approached it that way, would I still have experienced primal terror? I don't think so. In fact, I've seen this – once with a man and his bear and another time with a man and his lion – and both men showed only happiness as the bear or lion took each man's head in their jaws.
As we meditated together and all of this understanding seeped in, I realized I needed to do an EFT Tapping session on releasing this primal trauma from Zorra. And my way in to understanding the depth of that experience would be informed by my own experience of Jax taking my head in his jaws. Because the feelings, the experience – mentally, physically, energetically – is the same.
It's also interesting that Jax taking my head in his jaws left no visible bruising or swelling on my head or skin. So when we 'break' a horse to ride and we don't see any visible bruising or swelling from the saddle pressing down, the cinch cutting off breath, our heels digging in, the mouth or nose being pressured, and the neck cramping or spasming, we think the horse is just fine and that we are being gentle and humane.
You can't see soreness or tenderness. The points on my head where his teeth gripped were tender to the touch for almost 10 days – and were an ongoing reminder of my vulnerability. Zorra has thickened tissue where the dressage rider dug at her sides – she was 'only' ridden a couple times a week for 3 months. But her body armored against the assault. And even though she was 'broke' to ride by a Natural Horsemanship trainer, who worked slowly, used pressure-release and made the right thing easy, he never once asked permission. Or asked if she was enjoying herself, or let her be in charge of the day.
Of course, as I prepared to do the EFT Tapping session for Zorra and me, I realized that this gift must extend out to all horses and their people. So I used open-ended language in the video and I instruct you how to surrogate-tap for your own horse(s). Even if you never plan to ride your horse again, I encourage you to tap along and release this deep-seated trauma from their cells, tissues and consciousness. I have no idea if Zorra will ever want to be ridden again, but I know that doing this healing will only benefit our relationship. Likewise, if you run any kind of horse sanctuary – or visit one – it will be a tremendous gift to tap on behalf of all the horses there.
I would love to hear what comes up for you as you do this tapping session. It may take a while for any changes or release to show up in your horse(s). And this may also pave the way for another piece or layer of healing to come forward – we'll just keep peeling the onion!
Open to healing in all forms
In the first part of this story, I told you that even in the midst of the trauma, I intentionally 'opened to whatever healing was present for me in this moment.' And in that first week, I noticed that my upper palate in my mouth had widened. And I also had a lot of soreness in my temporomandibular joints (TMJ) on both sides, even though his teeth were nowhere near those joints.
Well this week, I discovered Jax had given me a most precious gift: I could sing again.
Driving home in my truck, I began singing along to my playlist. After about 10 minutes I realized, "Wait a minute, my throat doesn't hurt…wtf??!!" I have no idea what caused it, but about 6 or 7 years ago my throat (near the top, towards the back) began to ache and then hurt whenever I sang. It hurt enough that I stopped singing. I could hum just fine, for as long as I wanted, but the days of singing with abandon were over. I went to various therapists and voice coaches, but there was no change. A couple years ago I bought a fabulous DVD program by Per Bristow, called Sing With Freedom, and that helped, but there was still a strong achy soreness if I sang for longer than a few minutes.
About a month previous to Jax biting my head, I had attended a spiritual Vocal Journey with music therapist Amit Carmelli. I felt things loosen and shift during that experience and my throat stayed looser, but still a bit sore, for a few days, then back to its regular soreness and ache. I'm not willing to have my esophagus scoped, so that was that.
Until this.
I sang for 30 full minutes as I drove home – just like when I was 9 years old standing on the platform at the front of the church, singing loud enough so the person in the back pew could hear the words. And no ache, no soreness, no pain whatsoever. In fitting tribute, I sang Etta James' Out of The Rain as the dogs and me flew down the back roads.
I was kind of afraid to test it again, in case that was just a fluke. But when we had family and friends over for a big Thanksgiving dinner, we ended up circle singing and belting out other favorites as the evening wore on, and again, no soreness whatsoever.
My temporomandibular joints are just fine, my head is fine, my ear is nearly healed:
And we have this amazing, powerful gift for horses worldwide, to be healed from a foundational, core trauma (the EFT Tapping video).
So it's kind of like someone who goes on a Healing Journey from cancer, or colitis, and they say, "This disease is both the best thing and the worst thing that ever happened to me." And maybe that's what true evolution is about – where we move out of the realm of good and bad, black and white, and we begin to see everything as a palette of colors. Red is not better than blue; it's just different. I could have interpreted this experience as a terrible trauma (red) or I could surrender to the multi-faceted kaleidoscope of messages, feelings and mind/body healing woven throughout this experience (blue, green, purple, red, yellow).
And how could our world shift if we opened to simply experiencing each and every color? Without judgement, without fear or bracing – but with ultimate trust in the abundant love of the universe…?
In The Jaws of A Horse – Part 2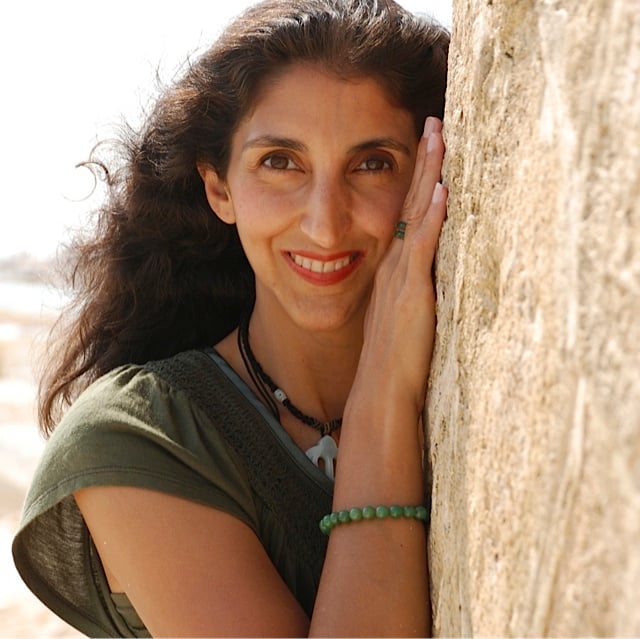 Jini Patel Thompson is a natural health writer and Lazer Tapping instructor. She began riding at age 2 in Kenya, and got her first horse at age 8 in Alberta, and so continues a life-long journey and love affair with these amazing creatures.