In this film, trainer Elsa Sinclair asks the question: If a wild mustang were given the choice – without ropes, halters, whips, food rewards, etc. – of whether to be ridden, or not, would the horse let Elsa ride her?
"What if horses were given a choice? Would they carry us on their backs if they really had a choice? Would they want us to ride?"
Elsa gave herself one year to determine the answer to this question.
Taming Wild has a lovely pacing to it. Elsa's peaceful voice narrates the story and the film footage illustrates beautifully what she's talking about. The original music by Cora Rose is also a lovely accompaniment.
The beginning…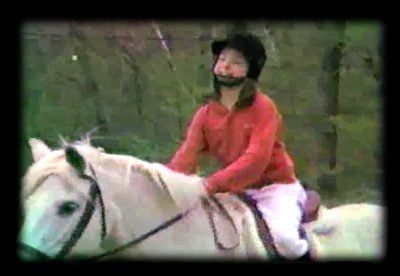 Personally, I resonated strongly with the early scenes of Elsa with her first Arab/Welsh pony. The quintessential dream horse who was 'willing to lend Elsa his wings'. I too, had an amazing soulmate first horse who was my best friend, my spiritual guide, and my mentor. So when Elsa says:
"I feel like I've spent my whole life trying to re-create that feeling"
I know what she's talking about! Although in my case, I'm really not sure if what I had with my Morgan/Arab mare, Dobbin, is even possible. Because Dobbin was like a mother to me – she literally kept me alive as I was unmoored and very much alone. And I am simply not that same person now. So why would I attract, or need, or resonate with that same kind of equine?
The journey I'm on with my horses now is about so much more than my safety and survival. They are challenging me to grow, to expand – they are calling me to mastery in so many areas. But yes, there has definitely been a 'letting go' aspect to this process. It would be like a boy who had the most perfect, amazing mother. And now that he's a man, he's looking for that same perfect, amazing mother – except that really, he does not need another mother, he needs a wife (or partner)!
Anyway, I digress… and I'm not saying Elsa had the same relationship with her first pony as I did with mine. In fact, I think they were likely very different. Elsa seems to have had more of a partnership with her pony, where he enabled her to run faster, jump higher, and go places she couldn't go on her own two little human legs.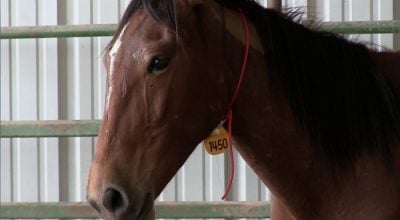 Regardless, it's a nice set-up to the premise of the film and provides the underpinning for Elsa's quest to explore whether she can train a mustang using no tools whatsoever – not even food rewards – only body language.
I like Elsa's emphasis throughout the film on watching for the mustang, Myrnah's, cues – the way she pays attention to Myrnah's breath and uses it as an indicator of bracing, or withholding, or resistance.
As a professional horse trainer who has learned dozens of ways to 'get the horse to do what you want' it must have been challenging for Elsa to try to approach a horse from a more responsive, less coercive, position.
I appreciate this film for it's outline of yet an even softer method of training than Parelli, or Roberts, or Dorrance, etc. And Taming Wild gives a good step-by-step outline of how Elsa progressed through Myrnah's training.
And I guess that's also where my disappointment lies.
In the first few minutes of the film, in speaking of all the horses that came after her magical pony, Elsa says:
"I learned how to talk them into doing the things I wanted to do. But through all those years, I always wondered, did I just coerce them into it? If they really had a choice, would they do this with me?"
So I think I was expecting more of an open-ended exploration of what would the horse choose to do? I was hoping to see Elsa throw all concepts and techniques of "training" out the window and just go be with Myrnah and see what arose organically.
Instead, we see a fairly systematic training regime, with a clearly outlined agenda. The fact that Elsa gave herself only one year to see if Myrnah would allow herself to be ridden tells you right there how it's going to go. We see Elsa asking Myrnah, and then Myrnah saying yes, or no – rather than an exploratory collaboration, where Myrnah suggests things too.
What is CHOICE?
There seems to be a lack of clarity within Elsa as to her primary objective in this film. Even though the pressure is toned way down due to the lack of tools, Elsa still uses 'release of pressure' (looking away, stillness) as the reward when Myrnah does what she wants:
"The time you want to take that pressure away, is the time when she tries harder to interact with me, be a partner, to be part of my herd."
There also seems to be a part of Elsa that is not aware that although she has positioned this film as an exploration of choice, she makes statements like this when describing her first week with Myrnah:
"Our moving together was the thing that we were seeking."
Really? Myrnah in her first 2 weeks of captivity was seeking to move together with you, as you applied pressure and rewarded her with stillness, because she did what you asked? She actually chose that, rather than eating hay, grazing in the fields, or grooming a herdmate?
Perhaps moving together was the thing that Elsa was seeking. And Myrnah was seeking open rangeland, her missing herd, and beloved family members. Just saying.
The other thing I find interesting is that most of the film footage shows Elsa working alone with Myrnah. In the first few weeks in the corral, there is the one other mustang belonging to her friend, who is usually off to the side, but not interfering or wanting to be with Elsa. And then in the open fields, there are only the 2 of them.
So this is a horse that has never been alone in her life. Rather, she has always been surrounded by her family. And now she has only 1 herd member (Elsa) for fairly long chunks of time each day. Right there, how much choice does Myrnah really have? If she doesn't get with Elsa, in her mustang experience, she will face isolation/death. So although Elsa is pretty demanding, at least she's company, and Myrnah's not alone as predator bait.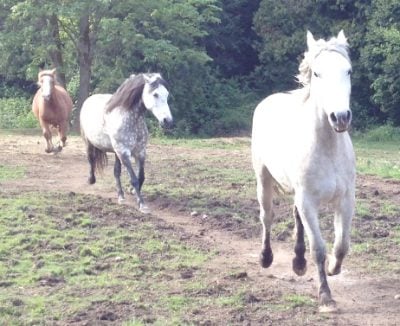 I ask this question because I have been working with 3 semi-feral horses (no tools or food either) within their herd of four horses on 10 acres. I saw a fair amount of resistance/resignation in Myrnah at certain points – where mine would have walked away to graze with a herdmate instead. But Myrnah didn't have that option.
Please know I'm not suggesting Elsa should have done things differently. I'm merely pointing out that wild horses only exist in herds. So isolating one on their own is putting the horse in an insecure position where she would be strongly motivated to align with a companion or protector – and kind of skews the outcome to the opening question of "what would the horse choose?"
You see the same thing with dogs. When you're alone with your dog, trekking through wilderness, your dog is right there. Add another dog or two into the mix and your dog now has a variety of fun, intriguing, compelling options open to her. Although your dog will still be connected to you, she now has a lot more choice as to where to place her attention and energy.
Is true choice even possible?
So although I'm questioning the fundamental assertion of this film; that Myrnah was free to choose. I'm not sure it's even possible for those of us experienced with horses to actually allow an unstructured relationship of complete choice to evolve – with no agenda whatsoever.
Perhaps that could only be done by a newbie with no previous experience or contact with horses whatsoever…
In Taming Wild, we see Elsa coming to Myrnah with a default agenda of training goals, within a pressure/release training paradigm.
So now we're back to the question of how much choice is really present during manipulative training techniques?
Much as I am drawn to and open to the possibility that true choice could exist, I also feel the pressure of preparing my horses to be functional in captivity. And I too have been unable to bypass that default.
For example, a friend left the gate open once and all 4 horses went exploring down the road. If I hadn't taught them how to wear halters and walk alongside a human, how would we have got them back home? The fact that our connection (their choice to be with me) is also solid is what allowed me to walk right up to them in their jazzed up state, and halter them, one-by-one.
I also found it interesting that Elsa first trained Myrnah to give to pressure – her hand on the side of Myrnah's face, or neck, for example – and then trained Myrnah to follow her around at a walk. Whereas I've trained mine the exact opposite!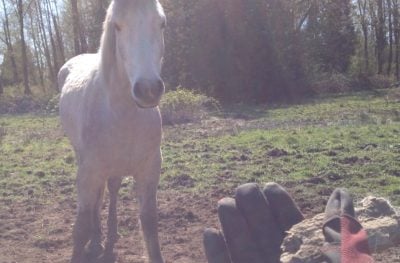 I first taught mine to follow me when I beckoned "come" with my fingers, change direction (left and right), back up, etc. at liberty, using hand gestures. And of course I would follow them too when they asked. After we had established that language, then I added pressure – hand pushing, rope, halter. My reasoning is that although I don't like to apply pressure, someone else might need to lead them (see aforementioned escape) and in that case, they need to know what the person is asking when they pull on their halter.
All paths lead to Rome.
I have to say, I enjoyed this film so much I do wish it were longer! I'm also curious to see/know what happens with Myrnah's gorgeous foal… does Elsa train him the same way? And how does he differ (or is similar) from the way Myrnah responded?
I would also be very interested to hear how someone like Ren Hurst would assess this film. Ren has also trained over 100 horses and then gave it all up to just be with her herd on the ground – she no longer rides and believes that no horse actually wants to be ridden. I wonder what Ren's assessment of Myrnah's body language and responses would be?
And that's another important distinction: Between the horse that chooses to allow you to do what you want. And the horse that asks you to get on their back.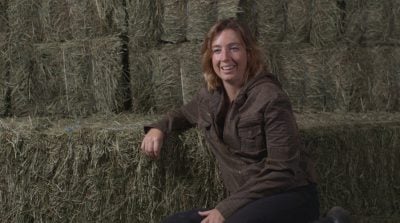 So although the opening question to this film is:
"What if horses were given a choice? Would they carry us on their backs if they really had a choice? Would they want us to ride?"
For me, the film does not answer this question. Instead, it brings up a whole slew of questions about how one defines 'choice'. What would be the parameters involved in setting up an experiment that would give a wild horse true, complete freedom of choice, as to whether to be with a human, or not?
Does the application of pressure negate choice?
Does manipulation by a captor negate choice?
Does isolation negate choice?
Does trauma (separation from family) negate choice?
But this film is brilliant, intriguing, and so worthwhile for bringing up these questions – for spurring us to become more honest, to dig deeper, to think more critically about our methods and motivations. You can purchase the film here. And in case you missed it, here's the trailer.
And once again, I come back to the purest example of choice I've seen to date: Carolyn Resnick as a child, spending 3 whole summers hanging out with a wild herd, no tools, no food, no fences. And yes, the lead mare, and then several other herd members, invited Carolyn onto their backs – after three years of hanging out.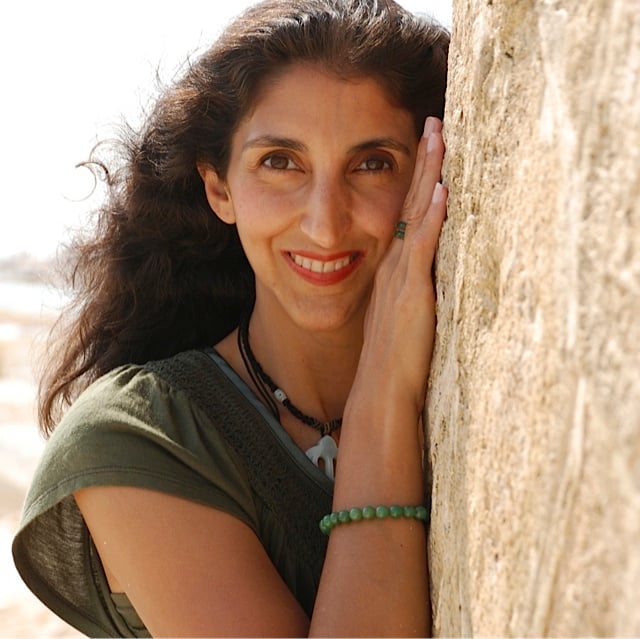 Jini Patel Thompson is a natural health writer and Lazer Tapping instructor. She began riding at age 2 in Kenya, and got her first horse at age 8 in Alberta, and so continues a life-long journey and love affair with these amazing creatures.