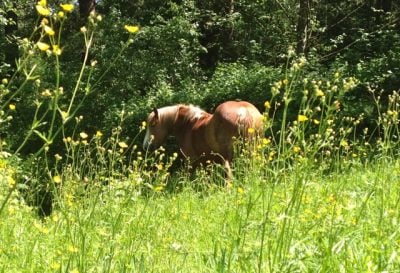 Carrying on from my earlier post on herbs & medicinal plants that horses will eat, I wanted to give you some recipes for herbal blends I've been using with my herd.
These are the herbs I get from Mountain Rose Herbs – all are organic or sustainably wildcrafted – that I've been giving to my herd of four horses. Of course, you don't need to purchase all of these! But I'm going to tell you which ones the horses like, which they love, and which they'll only eat after a few exposures, or when mixed in a blend – I'll call these "meh".
I determined the like-love-meh rating by offering each horse a handful of each single herb, one at a time, to see how they responded. For example, I thought they would love the calendula flowers, but they wouldn't eat them from my hand, just lipped at them. And then the first 1 or 2 times I put calendula flowers in their blend, they ate everything else and left the flowers. But after that, they all decided they were okay with calendula and they will eat them. But, based on their reaction, I use calendula sparingly in my blends and you'll see in the list below it gets the 'meh' rating.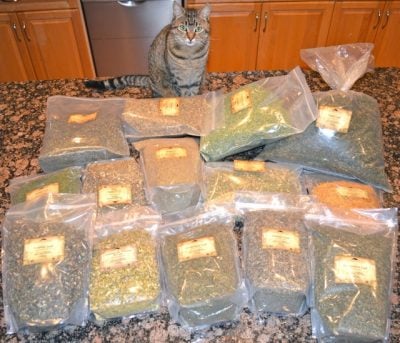 Echinacea – love
Calendula flowers – meh
Plantain Leaf – like
Peppermint Leaf – meh
Parsley Leaf = meh
Marshmallow Leaf – like
Chamomile Flowers – meh
Lemon Balm – like
Goldenseal Leaf – love
Meadowsweet Herb – love
Marjoram – meh
Nettle – love
Coltsfoot – meh
Yarrow – like
Comfrey Leaf – like
Raspberry Leaf – love
Strawberry Leaf – love
Astragalus Powder* – love
Dulse Flakes – love
Kelp Powder – like
*The astragalus powder I dose separately – at 1 tsp.-1 tbsp. per feed – only when needed, as it is a powerful immune booster than can induce sweating if you give too much.
The dulse I mix in with the kelp powder (or SeaBoost seaweed) and sprinkle 1 tbsp. over their feed. I particularly like the dulse flakes as they have the most varied mineral mix of all the seaweeds.
However, as Pat Rothchild says (in the comments section below), be sure to check your herbs more than once; because a 'meh' rating one month could be a 'love' rating at another time!
Click here for the full list of herbs that are good/safe for horses and how each of them can help your horse.
Equine herb blend recipes
Of course, you can use the list above and experiment away to see what your horses like and which herbs would be helpful for whatever ails them. But I'm also going to give you some recipes to get you started that work well with all four of my horses.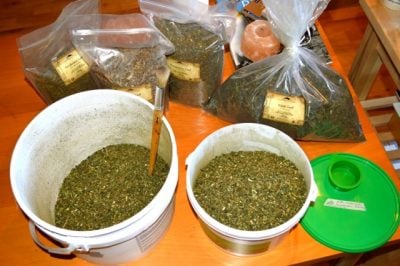 However, do keep in mind that these blends do not allow a horse to self-select what they need – which is really the ideal we should be aiming for. If you only have 1 or 2 horses, you may prefer to let them self-select from individual tubs of herbs each day; time-consuming but worthwhile. Likewise, if you can plant a 'doctor garden' and let your horses in there for 30-60 minutes each day – that is the perfect scenario!
Kris Hughes (see the Comments section below) also has a great technique for giving herbs: "I usually offer one to three herbs that I think they might need in a closed fist, to check interest, then let them eat (within reason) all they want the first day. Based on this, I might feed that herb, or herbs, for two or three days, but then I'd be checking the individual herbs again. I rarely put more than 1/2 cup in a feed, though. (These are 1,000lb ponies, not Shetlands) My ponies are the greedy "eat everything" type, so I often need to look at enthusiasm level quite attentively. Maybe count how many handfuls they eat, or something like that."
My current method – because I don't have a doctor garden and I also don't have 2 hours/day to let 4 horses self-select from 17 dried herbs, is to change-up the blends (not give any one continuously). However, if I have a horse with a particular need, I will definitely use Kris' method to allow them to select which particular herbs you need.
I also give only 1/2 cup per day. I figure – given the size of the horse – this is a very small amount, more along the lines of a homeopathic/subtle dose. If I'm trying to create an effect (eg. wound healing) then I will give 1.5-2 cups of that blend for 2 weeks. And then take a break.
Keep in mind, that just like humans, we don't want to eat the same herb(s) every day continuously – or you will send the body out of balance the other way.
Soothing Mint Blend
3 cups nettle
1 cup marshmallow
1 cup plantain
1 cup parsley
1/2 cup calendula
1/2 cup peppermint
1/2 cup goldenseal
Immune Boost Blend (herd favorite)
2 cups nettle
2 cups meadowsweet
2 cups echinacea
1 cup goldenseal
1 cup marshmallow
1/2 cup comfrey (optional; but don't use more than 14 days in a row)
1/2 cup coltsfoot
Wound Healer Blend
2 cups plantain
2 cups comfrey
2 cups marshmallow
1/2 cup calendula flowers
1/2 cup marjoram
1/4 cup peppermint
Calming Colic Blend
2 cups lemon balm
2 cups plantain
1 cup parsley
1 cup peppermint
– If horse won't eat this (both parsley and peppermint are 'meh'), drizzle a bit of molasses over the herbs. You can also offer some chamomile separately for the colic-prone horse, if you wish.
I give 1/2 cup of an herbal blend each day, sprinkled on top of their vitamin/mineral pellets. All 4 of my equines love to eat their herbs this way.
You can purchase these same Organic dried herbs that I use.
Herb mixture ideas
Another way to create your own herbal blends, or expand your ideas for what might work well for your horse, is to look at what others are doing.
Wendals Herbs is a UK company with a USA branch, that produces some of the best quality herb blends I've ever seen. Before I started buying my herbs in bulk and mixing them myself, I bought Wendals' products for my horses.
Take a look at which herbs they put into each blend, and the purpose of each, and it may give you some ideas for which herbs you might want to mix together. Of course, these ingredient lists don't tell you the amount of each herb, but they do follow the standard labeling rule of listing the greatest quantity ingredient first, and descending to smallest amount of ingredient last.
Livermix – natural equine supplement for horses. Contains alfalfa, burdock root, dandelion, meadowsweet, milk thistle, rosehips, seaweed and vervain.
D-Toxmix – natural equine herbal supplement supports natural detoxification. Supports lymphatic system in cleansing body fluids. Ideal for confined horses, may help with swelling due to fluid retention. Contains Alfalfa, burdock root, celery seed, cleavers, dandelion, echinacea, garlic, marigold, mint and oregano.
Laminix – equine hoof supplement. Especially useful in spring and summer. Helps blood flow and improves the comfort of the horse. Contains basil, celery seed, dandelion, garlic, marjoram and rosehips.
Wendals Herbs Respiration – natural respiratory system assistance. Helps naturally support normal, mucus-free lungs. May be beneficial for seasonal respiratory issues. Contains fennel seed, garlic, liquorice, marjoram, nettles and thyme.
Old Timer –  supplement for senior and older horses. Helps with mobility, digestion and all-around well-being. Contains dandelion, fenugreek seed, garlic, marjoram, marshmallow, mint, nettles, seaweed and thyme.
In Foal – natural herbal supplement for mares helps achieve and maintain pregnancies. Use in mares with difficult conception, not carrying full term or prone to absorption. Contains alfalfa, echinacea, garlic, mint, nettles, rosehips and strawberry leaves.
Note: Notice the common ingredients in the Old Timer and In Foal blends. Makes sense eh?
Okay, hopefully you have some good ideas now to get started incorporating herbs into your horses diet. Remember that Dr. Carol Michael PhD says that, ideally, horses should eat 25 different plants per day. So if you don't have an herbal 'doctor garden' for your horses, or a large foraging area with a variety of plants, this is the next best thing!
And if you have any herbal blends that your horses love, please leave the recipe in the Comments section below…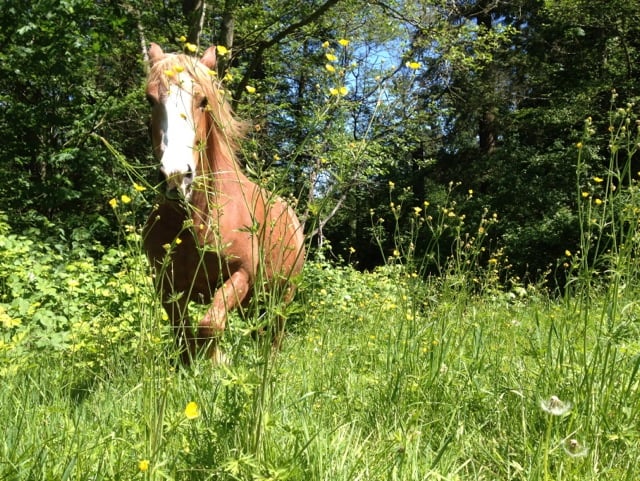 Herb Blend Recipes for Horses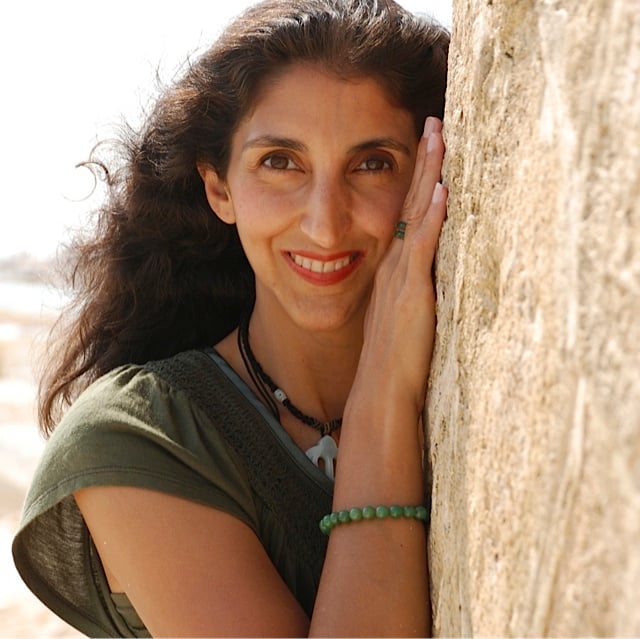 Jini Patel Thompson is a natural health writer and Lazer Tapping instructor. She began riding at age 2 in Kenya, and got her first horse at age 8 in Alberta, and so continues a life-long journey and love affair with these amazing creatures.