Whether you're looking for a new revenue stream, or you'd like to host a fun activity with your friends or family, I'm going to tell you about an intuitive, creative, art activity that both horses and humans love to be a part of! And of course, you could also just do this on your own with your horse(s) and derive the same enjoyment 🙂
This is something I've written about before, but as I was recently contacted by a reader who wanted to try this (but couldn't quite figure it out), I realized I need to give a lot more detail and instruction. So let's start with the logistics…
If you want to host an Art Circle as an activity (paid or free) for a group, then you first have to consider the personalities/activity level of your horses. If you have older, or quieter horses, then you can set up your art table right in the middle of them and they can wander around freely, like this:
Of course, people love this! And it feels very special to have this level of interaction with the horses.
If you had young horses like mine, this set-up would not work so well! Mine would be knocking over the water containers, chewing on the brushes, eating the pastels, nipping people's hair, and so on. So if I were to do this at my place I would set things up so that the horses could come right up and have a look, but couldn't actually touch/reach anything. You could either put up arena panels, or put your art table on one side of the fence, or in a roped-off area of your barn, etc.
The art supplies
This kind of painting usually takes around 2 hours. So you want to use art media that dries quickly. It's also nice to provide a variety of art materials so people can layer, or experiment, or really get creative. I usually put out:
Thick watercolor paper (more versatile than canvas)
Acrylic paints
Watercolor paints
Paint palettes, or squares of wax paper work just as well (and less clean up!)
Chalk pastels
Oil pastels
Markers
Paint brushes
Yoghurt containers or soup cans of fresh water
Table to work on that can get dirty
Chairs or stools
You could also simplify this and call your art circle: Unleash The Child Within! and then just put out:
Crayons
Pencil crayons
Finger paints
Medium weight paper
For this kind of art-therapy-expression all that's needed is color, and permission to not produce a 'good' painting! So don't let the cost of supplies or feeling like you have to provide tons of materials stop you.
The procedure
So now you've got everyone seated around the table with a fresh sheet of paper in front of them. Either lead people through some body-centered breathing, or a quick guided meditation – anything that will get minds stilled and people connected to their intuition.
Now ask everyone to choose two numbers – any two numbers – between 1-100. Nobody gets to see the list but you (until after they've chosen their numbers) – we don't want anyone's conscious mind getting in the way here!
Let's say I choose #4 and #88 – you would then look those numbers up on your 100-Words Chart (yes, I'm gifting this to you, just click that link and download it) and you would read out the words listed next to those numbers:
#4 – Seeking Comfort
#88 – Through the Fire
So now I have to create a painting based on: Seeking comfort and through the fire. Whatever those words/phrases mean to me, or whatever ideas come to me as a result of pondering those words, is what I paint.
Each person around the table creates their painting based on whichever 2 words or phrases they chose (as a result of the 2 random numbers they chose).
This is where we trust the subconscious – in the same way that when we draw a Medicine Card, or oracle card, or tarot card – we trust that these words have meaning, significance, or insight for us. When we first start painting, we may have NO IDEA what they mean, or how they are even relevant. We just need to trust and get going on slapping some paint, color, or lines down on the paper.
Note: We do NOT write out those words on our paper. The words are simply a stimulus or guideline to create colors, shapes, textures etc that embody the feelings or ideas, or images those words produce in us.
For example, during the art circle with Güliz and Sheila (pictured above) I chose the numbers 7 and 11.
#7 – Innocence
#11 – Insanity
I started by painting what Innocence looks/feels like to me – washes of very pale yellow and peach watercolor paint brushed across my paper. Then I thought about how to represent Insanity and I cut in with sharp zig-zags of electric blue and dark orange in chalk pastel. I sat with that for a while, watched the horses, petted the dogs, watched the others paint. Then I added spirals of black oil pastel on top of the zig-zags. Then the painting felt finished to me: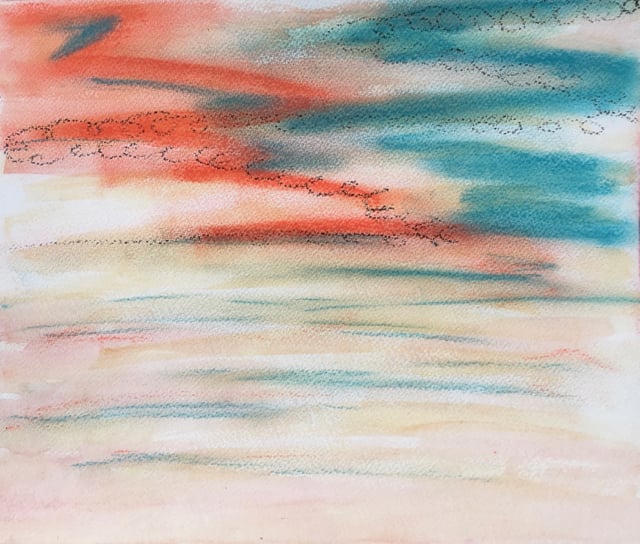 The interpretation
Now we come to the really interesting part of this exercise. As the leader of the group, you would go round the table and ask each person, "Tell me about your painting…?" This is purposely a vague, open-ended question, so the person is given permission to share whatever comes to mind.
Here's how I answered that question about my Innocence & Insanity painting:
"First of all I found it interesting that I chose #11 AGAIN! Because I chose the same damn number the last time I did this game and I'm wondering why I keep going there. The other thing that occurs to me is that us humans tend to think of innocence as a kind of ideal state; something to be preserved or protected. And while I really liked the gentle washes of color I painted to represent Innocence, they were also kind of boring and static. When I added the sharp colors and shapes that represented Insanity is when things got interesting, my own energy increased, and there was more movement and life in the painting.

I've noticed that in my own life I tend to question or whinge about why life has to be so hard, so challenging – why can't it be peaceful and easy? And I think of that as the ideal, as the way I wish my life could be. But this painting makes me think about… if I take away my judgement of events or feelings, and I just see feelings or events as colors (for example, anger is orange and that car accident is electric blue) then I can see more clearly why life might be better as a tapestry. Why I might even – god forbid – prefer a more varied, intense, challenging life. That's a real re-frame for me and it gives me lots to think about, and a different way to view life."
After I've talked about my painting, then you (as the leader) would offer your thoughts or feelings, or something you noticed about my painting. Others will often chime in at this point and I would get even more insight into myself or my process. Or someone might just say that they love the colors I chose, or that my interpretation is really interesting, and so on.
The great thing about this activity is that the horses, or even just being out in nature, automatically connects us more deeply to our intuition. In addition, it creates a safe, supportive space to play with art and color – something many adults no longer do, or never really had the chance to experience, even as children.
You could advertise your art circles through your newsletter, blog, website, and also on Meetup. Meetup is a super easy, completely free way to list your event and get it in front of a large group of local people interested in your topic. For something like this, I would keyword the Meetup description to include Art, Meditation/Spirituality, Self-development and Horses – so you can pull from a number of interest groups who might be intrigued to experience this.
Regardless of whether you do this with a group, or just for yourself, it's a wonderful way to open up the creative, left side of the brain and connect more deeply with your intuition.
And if you're anywhere near Langley, BC I'm pretty sure Güliz Ünlü is going to be hosting regular Art with Horses Circles throughout the summer, so don't be shy!
Holding Art Circles with Horses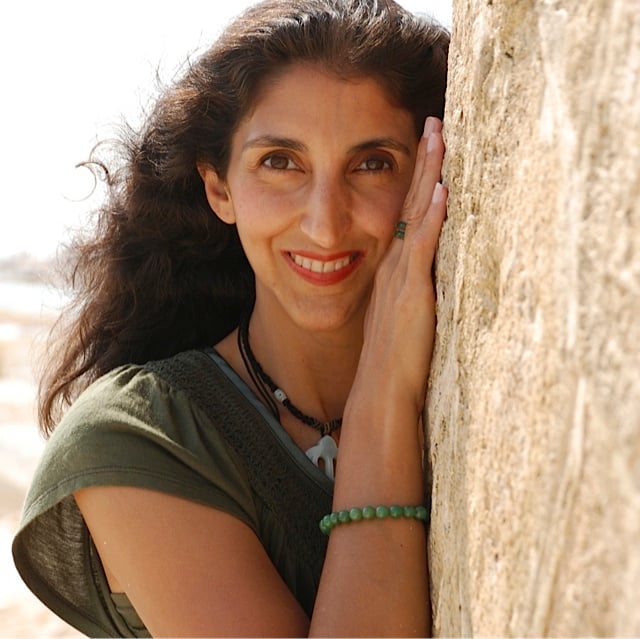 Jini Patel Thompson is a natural health writer and Lazer Tapping instructor. She began riding at age 2 in Kenya, and got her first horse at age 8 in Alberta, and so continues a life-long journey and love affair with these amazing creatures.