About 10 months ago, I started giving my Belgian mare Audelina some alfalfa hay each day – because she was nursing a colt. Then it became too much hassle to segregate her and ignore the pleas of the others, so I just gave them all some daily alfalfa. I was amazed at the changes I witnessed in every horse over the next 10 months.
Dr. Geoff Tucker DVM offers us a hypothesis, "that a chronic protein deficiency is the root cause of many unexplained medical issues in horses." And he shares an in-depth webinar on this topic presenting the background, his ideas, and detailed instructions for how you can assess your horse's protein matrix (they need a mix of proteins, not just one type). Dr. Tucker also displays pictures of various "well fed" horses and shows you where this protein deficiency shows up in their body – so you know what to look for in your own horses (he starts that at 7 minutes):
If you don't want to watch the presentation and just want the cheat-sheet version, then add both alfalfa hay (or cubes or pure pellets) and hempseed or flaxseed (1/2 – 1 cup) to your horse's daily diet and see how they do. Dr. Tucker advises you to feed your horse .5 to 1 gram of protein per pound of body weight, depending on the needs of the horse.
"Alfalfa has a very unique and distinctive quality that sets it apart from most other plants. The root system of the alfalfa plant reaches thirty feet deep into the soil. This allows the plant to access a large quantity of un-depleted nutrients, salts, and other necessary elements, while most other plants simply don't have this advantage." (Source)
I found a few sources including this nutrition data sheet (data provided by USDA SR-21) saying that flaxseed is composed of 18% protein. However, I also found this extensive study done in Italy, showing that both flaxseed and hempseed have a similar protein content which is around 30% (varies according to species). So then I went to my database of human supplement Certificates of Analysis and looked up flaxseed and hempseed and they agreed with the Italian study, listing the protein content for both between 30-35%. Whew, so that's settled.
Flax also contains lots of fabulous Omega-3 fatty acids for whole body health (hemp also has a decent amount of Omega-3), and soluble fibre which helps the intestinal peristalsis and encourages good bacteria to thrive in the gut. So in the winter I like to include ground flaxseed and/or flax oil – because flax needs to be kept cool or else it goes rancid easily. And the rest of the year, I top-dress my alfalfa pellets with hempseed and/or hemp oil.
Equine essential amino acids
Alfalfa contains all 10 equine essential amino acids (EAA), including Lysine (which apparently can be the limiting amino). Let me explain. Dr. Tucker asserts that most hay/grass does not contain enough Lysine, and the way that amino acids work, is that protein utilization caters to the lowest common denominator. This means, you might have 100 g of each of the nine essential amino acids, but if you only have 60 g of the tenth essential amino acid… then your horse can only use 60 g of every amino acid. Dr. Tucker says, "Lysine is the number 1 limiting EAA and it is often not available in large enough quantities in grass and hay. Lysine is the FIRST key to unlocking protein efficiency and supplementation and is essential for horses kept in our care today."
Dr. Shannon Pratt-Phillips also writes, "Lysine is considered the first limiting amino acid, because it is required in relatively large amounts, and is not found in adequate levels in many foods."
However, this article from the University of Minnesota tested amino acid levels in different types of forage, and you can see from their chart below, that the Cool-season grass (Kentucky bluegrass and orchardgrass) actually contains more Lysine than the alfalfa! So that's puzzling. Note that the Teff contains far less – remember this point when you get to my observation below about horse's tails in Arizona.
In addition, if we're following the principle of Limiting Amino Acids… then the lowest essential amino acid in all of these is not Lysine, it's Cystine. Now I'm even more confused.
Perhaps someone who's really delved into the research out there can explain these discrepancies to me…
Regardless, it doesn't change the key point that for protein to be utilized properly by your horse, it must contain all 10 essential equine amino acids: arginine, histidine, isoleucine, leucine, lysine, methionine, phenylalanine, threonine, tryptophan and valine.
Dr. Tucker's preferred protein source to supplement hay is whey or soybean meal. I know that many vets and equine nutritionists advocate adding any kind of complete protein; including whey, casein, fishmeal, soybean etc. But personally, I like to feed what the animal would naturally consume if they were free-ranging on adequate terrain. No horse naturally consumes milk or fish. And soybean contains extremely high estrogen levels and is a top GMO crop.
Dr. Juliet Getty says:
"If hay is your only source of protein, it is not of good enough quality to allow for maintenance and repair of tissues. The best way to ensure that your horse has a sufficient amino acid pool from which to build body proteins, is to offer a variety of protein sources. So, in addition to grass hay, consider adding alfalfa as well as whole foods. Some include hempseeds (the highest quality plant source), ground flaxseeds, chia seeds, black oil sunflower seeds (not too many since they are high in inflammatory omega 6), pea protein, whey, and copra meal (coconut meal). Avoid soybean meal unless it is organic, and only use in small quantities (no more than 1/2 pound) since it is inflammatory."
I suspect that when you combine hempseed, or flaxseed (or chia seed) together with alfalfa, there is a synergistic effect. If you add a grain-free multivitamin that also contains all the essential amino acids and probiotics, you will really be covering all your bases. Or, just add a therapeutic quality probiotic and Shazam! You have all the components needed for protein absorption and utilization. Remember, as with any animal, if you are feeding all the right stuff but the animal is still underweight, poor health, etc. then build the gut flora! Digestion and absorption/utilization of nutrients requires a beneficial gut flora. So if your horse has been given any drugs that destroy gut flora (like Bute, frequent worming, etc), then until you get that sorted, your horse is going to have a hard time thriving.
But enough of the data, let's get back to the story…
More muscle, less fat
I became intrigued by this topic after adding alfalfa to my five horses' daily intake. They have 10 acres of pasture to forage on and slow-feeders filled 24/7 with low-sugar orchard grass hay. Even though this year's orchard grass hay tested out at 14% protein, since Audelina was nursing, I figured she needed a little extra.
The interesting thing is that the previous owner of my Andalusian horse Zorra, had told me to never give her alfalfa – had warned me that she couldn't handle even the tiniest bit without getting fat. So initially I would separate Aude and baby Juno from the herd and only give her alfalfa. That lasted about 3 days and then I would toss the other 3 a small bit of alfalfa too – their pleas wore me down! Plus, as Jax is only 3 and Montaro 3.5 years, I figured growing boys could do with some extra protein too. Alfalfa generally contains between 16-20% crude protein.
After a few days of that (and Zorra my Andalusian seemed perfectly fine), I gave up segregating entirely and just gave them all about 60 pounds total of alfalfa loose (not in the slow feeders) per day. Since Aude and Montaro are the dominant horses I figured they would automatically consume more than Zorra, so I also gave them two flakes and the others only one – although Aude moves around the piles to make sure she gets the best bits!
I kept a close watch on Zorra though, and so was very surprised when I noticed that she was actually slimming down! Over the next few months, she morphed into the best shape I've ever seen her in; sleek with muscle and noticeably less fat. Keep in mind though, that all of my horses were in pretty good shape before we started daily alfalfa feeding, so the differences may not be dramatic, but they are nonetheless interesting.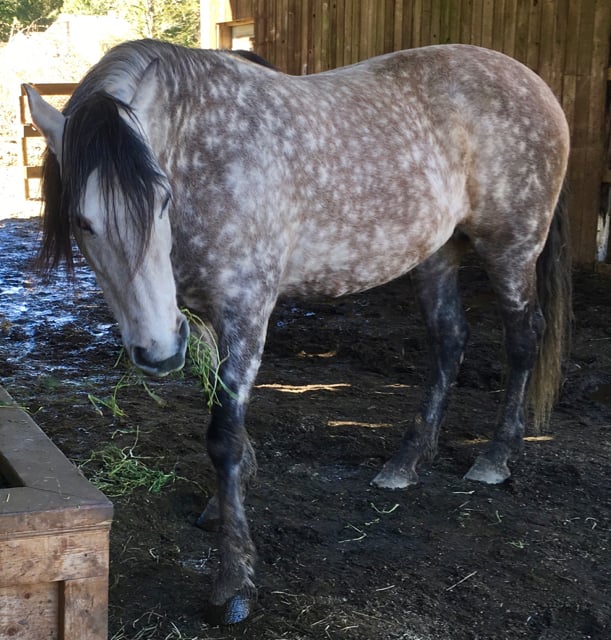 Longer manes
The other thing I noticed was that the manes lengthened on every single horse: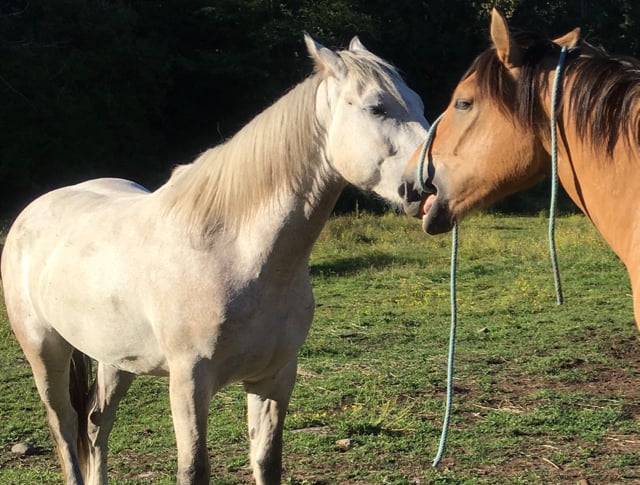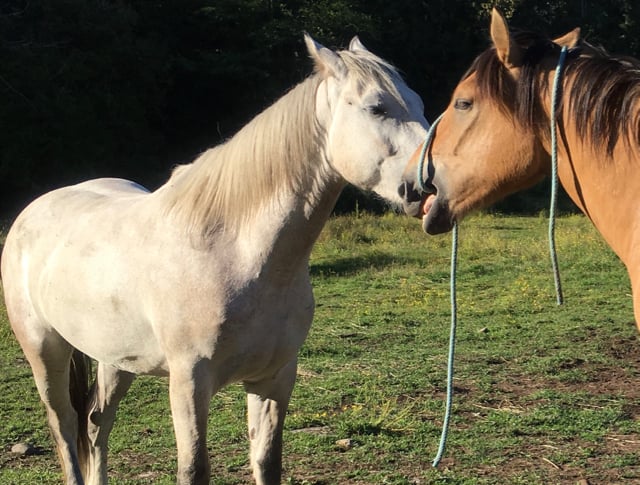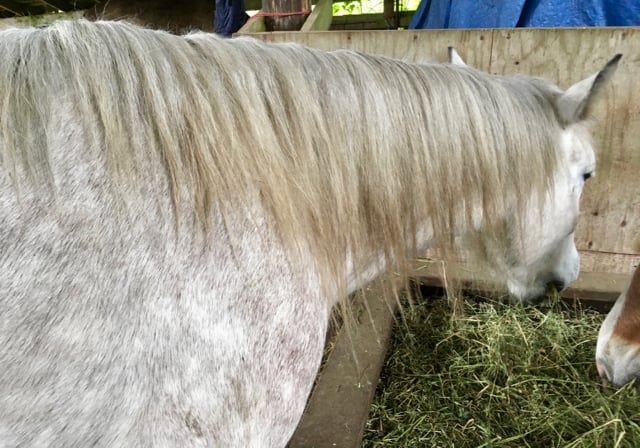 Now keep in mind, in addition to the full feeders of low-sugar hay always available, I had also been feeding each horse this for a full year:
The ONLY thing I had changed (that could explain the manes and fat loss) was to add alfalfa to their diet. My hay seller also told me that they don't even bother to test sugar levels on alfalfa anymore, because it's always low. Apparently, this is because it's a legume and according to Dr. Martinson, legumes always have lower NSC levels than cool-season grasses like timothy, brome grass and orchard grass.
What you do need to be careful of, with alfalfa, is that you don't buy from a farmer who uses a drying agent to speed drying time and prevent mold. This can cause soreness in the mucous membranes of the mouth. The alfalfa I give my horses comes from Alberta and my hay seller knows the farmer who grows it.
So this personal experience made me particularly fascinated to hear what Dr. Geoff Tucker had to say in his Chronic Protein Deficiency webinar (see above). His slides and stories are very interesting.
Essential amino acids = complete proteins
My biggest take-away from the webinar is the point that horses need a complete spectrum of amino acids and this is why Dr. Tucker doesn't advocate just feeding one type of hay. He also points out numerous other protein sources you can use, especially if your horse has marked health issues or muscle wasting.
Equine nutritionist, Dr. Juliet Getty, echoes this information:
"If your hay is high in protein, but it is the only source of protein, much of those amino acids are doomed to be deaminated in the liver. To prevent this from happening, you'll want to start by feeding a variety of grasses, not just one type of grass hay. Adding alfalfa will also help. But a preferable approach is to offer a small amount of non-grass feedstuffs such as ground flaxseeds, chia seeds, hemp seeds, and other whole foods. This results in a assorted group of amino acids, sufficient to meet your horse's needs."
But what exactly does Getty mean by "a small amount"? Well, on her site, she says that half a cup per day is sufficient to make up the missing aminos from your hay regimen.
When Kesia's horses were boarding together with mine, they showed marked improvement from just the low-sugar hay and basic supplements. But, when she moved them to 500 acres where they could free-forage a variety of plants, they improved even more and for the first time her mare Amalia's coat didn't blanch out in the summer sun, nor did she lose any muscle over the winter. Perhaps this is because her horses had enough fresh land (not already eaten down, or pooed on) to forage the variety needed to provide the complete spectrum of amino acids?
And why did alfalfa make Zorra slim and muscular this time, whereas before it made her obese? Well, perhaps the difference is in the amount of movement available. In her previous home, she shared a large dry paddock area with her mother and sister and then in good weather had access to 3/4 of an acre. In her current home, she has free access to dry paddock areas plus 10 acres of field and forest at all times – and she lives with 4 young horses who wrestle and run around a lot!
My litmus test for, "Is my horse fat?" is to look at my horse square on from behind. If their belly sticks out further than their butt, then they're packing some extra weight. Not that this is necessarily a bad thing (sometimes horses chunk up seasonally and there's nothing wrong with that if they can move naturally) but it does provide me with one more bit of information…
So here on the left we have the purebred Andalusian, Zorra. And on the right, big Belgian mama, Audelina. Both these breeds are known for being "easy keepers", or, prone to putting on weight easily. But after receiving loose alfalfa daily for 10 months, I think they're looking pretty darn good! Perhaps both of them were protein-deficient before. As Dr. Tucker points out, you can receive a lot of protein, but if it doesn't contain the full spectrum of amino acids needed, then the body will still be deficient. Note the long, thick tails on them. Speaking of which, during my recent trip to Arizona, I have to say that I never seen so many stringy-tailed horses in one place! I must have seen about 15 horses and every single one of them (regardless of breed) had a thin, stringy tail.
I wondered if perhaps this was due to the hay they feed and the lack of natural forage? I believe Teff hay is popular in Arizona and it has a similar protein content to Timothy. But again, does it provide all the essential amino acids needed? Dr. Tucker suggests we don't feed just one type of hay, but rather feed two or more types to provide a broader spectrum of amino acids.
In the human world, we sometimes see this with vegans who don't know how to combine vegetarian-source proteins to receive all the essential amino acids. The reason they're called "essential" is because the body cannot be healthy without them.
Perhaps all the negative stories about alfalfa are from horses confined to a stall or paddock? Or also fed daily grain? Or horses who for one reason or another, simply don't experience natural movement?
Perhaps my horse's manes have thickened and lengthened because their bodies now have enough protein left over (from vital bodily processes) to splurge a little protein on their hair?
I will also be interested to see how Zorra's ability to carry a rider changes with this new protein intake. The last time I dialogued with Zorra about this issue, she said that she doesn't have the musculature to carry me. But she is happy to carry a lighter person:
Zorra suggested we begin conditioning her by starting with kids and gradually building up the weight. That's our project for this summer. But you can see from this photo that having me on her back – I even tested sitting on different parts of her back to see if that changed anything – causes her significant pain:
Perhaps Zorra is also now receiving the protein required to build that musculature… it will be interesting to see what happens with this issue as the summer progresses.
Well, I thought I'd throw this out there and see what y'all have discovered. Any experiments or experiential knowledge – I'd love to hear about it!
Does Your Horse Have Chronic Protein Deficiency?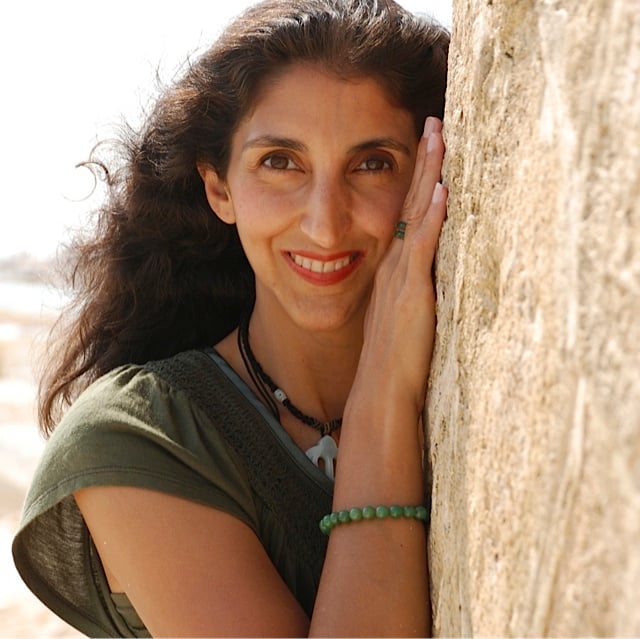 Jini Patel Thompson is a natural health writer and Lazer Tapping instructor. She began riding at age 2 in Kenya, and got her first horse at age 8 in Alberta, and so continues a life-long journey and love affair with these amazing creatures.