In the good old days (when I was a kid) hay bale twine was made of natural substances. We re-used it for all kinds of things – I once made an entire harness out of braided sisal hay bale strings, and my horse pulled me around our yard in a wagon – until the harness broke. Lord but that horse was patient with me!
Unfortunately, all the hay I buy now is held together with plastic twine – polypropylene. I am now the Twine-Nazi making sure that stuff is not buried in the ground anywhere! The farmer on this land before me (about 10 years ago) was not so careful and the earth spits up lengths of twine all over the place – ends or loops protruding out of the soil. Which I then pull on like a madwoman to unearth and dispose of them… in a landfill. Gah.
After talking to a large hay seller in Alberta, I found out that natural Sisal twine is made in South America. Apparently, there used to be 3-4 plants producing sisal, but now there is only one plant left and the price has doubled. Hay sellers say that polypropylene twine is stronger, cheaper and doesn't rot when it sits on the ground. The knots also hold better when the machine is baling – so there's less hay loss from a bale breaking apart.
I get it, but I personally would pay more to have my hay baled with sisal, or hemp, or bamboo – surely there are stronger materials we can use if market demand is there? Sure, recycling is better than dumping in a landfill, but to really solve the problem, we should use natural (biodegradable) hay bale twine!
From my very first hay delivery I have been saving, tying and storing every piece of plastic hay bale twine – I simply refuse to throw this stuff in the earth. Here's what 3 years of hay bale twine looks like: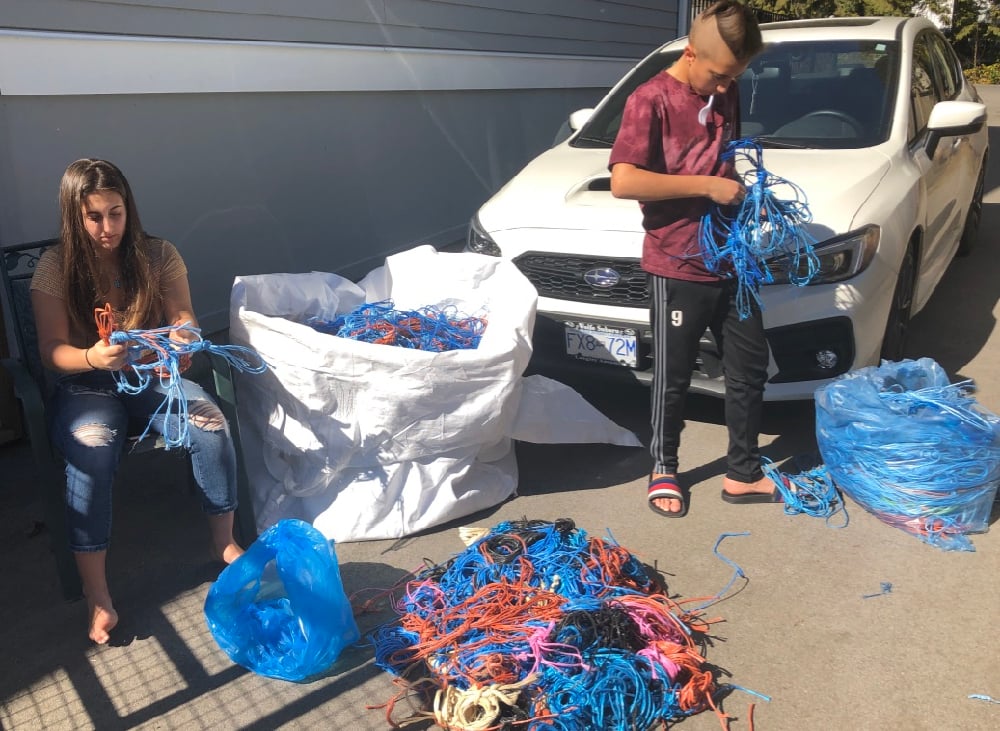 But where can you recycle hay bale twine?
Here's what I plugged into Google:
Langley recycle hay bale twine
You would just replace "Langley" with the name of your city, or your state/province – try both and see which works best. You can also try:
Gloucestershire recycle polypropylene
Again, just switch out the name of your city/region in place of "Gloucestershire". You can also try:
Santa Barbara agricultural recycling
And of course, change the name of the city to your own. If you try those three search terms, you should be able to pull up the recycling options for your area.
Here's an example of hay bale string recycling guidelines, from an Agricultural Recycling program: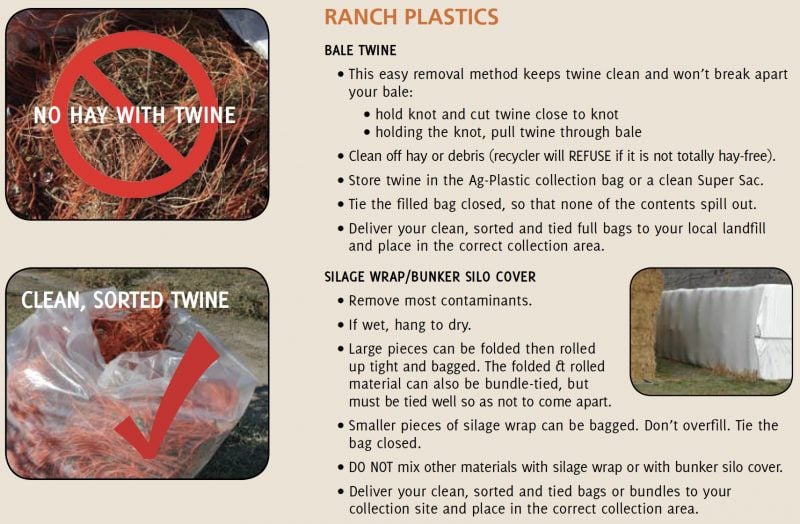 As you can see from the instruction sheet above – the twine has to be completely free of all debris and hay to be accepted for recycling. In the beginning, when our city/province had an Ag Recycling program, they wanted each few strands of twine doubled and knotted like this:
I have no idea why this government-funded recycling program stopped here in BC (it is still going strong in Alberta, Manitoba, etc.) but after SIX MONTHS of searching and calling every commercial recycling facility I could find, I finally found my recycling angel – Alex at Westcoast Plastic Recycling.
Alex said the problem is that in 2018, China closed it's doors to receiving other countries' recycling materials. So no one has filled that void yet and there are no processing plants in North America. Polypropylene bags (most grocery bags) and buckets have a slightly different structure and so are easier to recycle. He said the normal recycling charge for polypropylene is $16.95 per 2 cubic yards (4x4x4′).
Well, Alex took up the quest to find a recycler who would handle polyproylene hay twine and made my dream come true! He had 2 ginormous 4 cubic foot bags dropped off to me and told me to fill them with clean hay bale twine – and I could even tie them quickly in bulk, like this:
So if you live in BC, Canada, be sure and give Alex a call (he's at the Richmond office) to get yourself set up to recycle your hay twine. He also arranges for the full bags to be picked up at no extra charge. You might even want to talk to your hay seller about setting up a program, so you can just drop your clean, tied twine off to your hay seller – otherwise it might take you a few years to fill a 4-cubic-foot bag!
Here's an example of hay/debris in hay bale twine that is not acceptable and will get your hay strings rejected. For something like this, it is pretty easy to loosen the knots and pull out the hay. I gather my hay twine and tie them up every week or two to avoid this becoming a big job. And I get my barn workers to just hang the twine loose, so I can easily gather them, strip out any clinging bits of hay or dirt, and tie them up.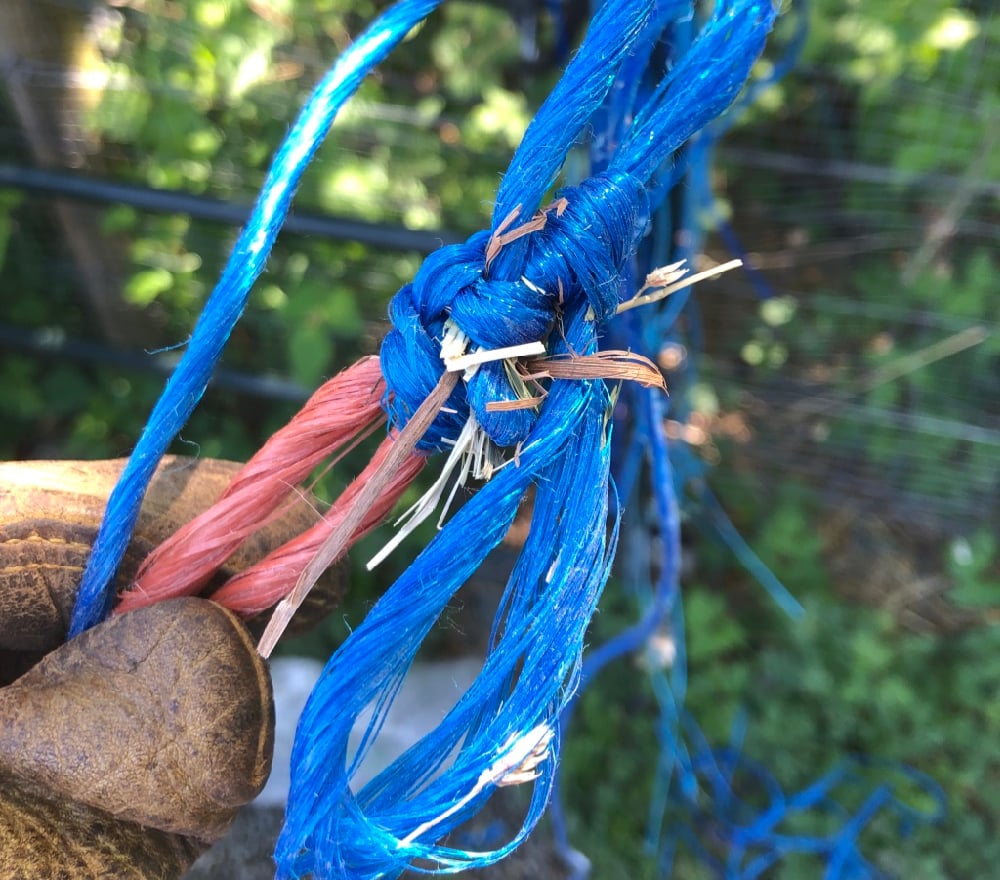 Also try calling your Province or State recycling department, phone them up and ask where you can drop off your hay bale polypropylene twine. Also ask what their rules are for how the twine must be bagged. If you have State/Provincial agricultural recycling, you will not need to personally pay for the recycling.
There are an estimated 7 million horses in the EU, over 9.5 million in the USA and 1 million horses in Canada.
So if I just look at Canada, where I live:
"Canada's horse industry generates $13.5 billion in annual expenditures for production, care, and activities with horses. And horse owners spend some $1.6 billion each year on products and services for the care of their horses."
EACH horse eats about half a bale of hay per day – 2 strings on every hay bale. This is an INSANE amount of plastic with no recycling facilities! And as you can see from industry revenues, it's not like horse owners aren't injecting enough money into their local economy to warrant recycling options.
AND Imagine if we could somehow band together to lobby for low-sugar hay growers who will use natural baling twine and do away with the need to recycle altogether – now we're talking!
In the meantime, I continue to collect my giant bags and am thankful that at least I can now recycle these noxious strands for a very reasonable price ($16.95 per 4-cubic-foot bag) – thanks Alex 🙂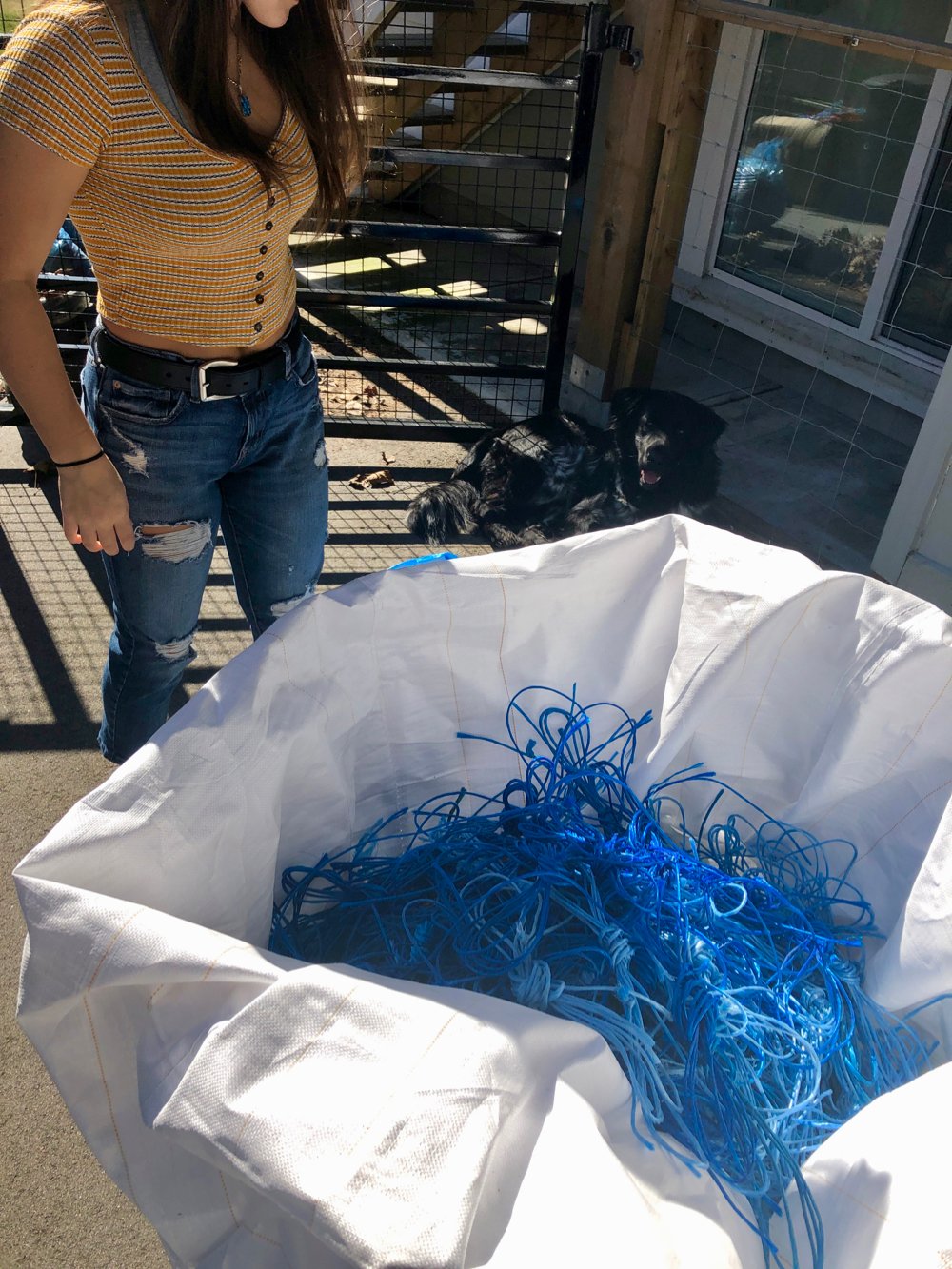 p.s. And while we're on the subject of recycling… don't forget to consider what happens to all the plastic/synthetic clothing we buy…
How many tonnes are going into landfills every week from our closets? I buy natural (organically grown) fabrics whenever possible – which is also better for your health (no chemicals or xenoestrogens leaching into your skin from clothing).
How To Recycle Hay Bale Twine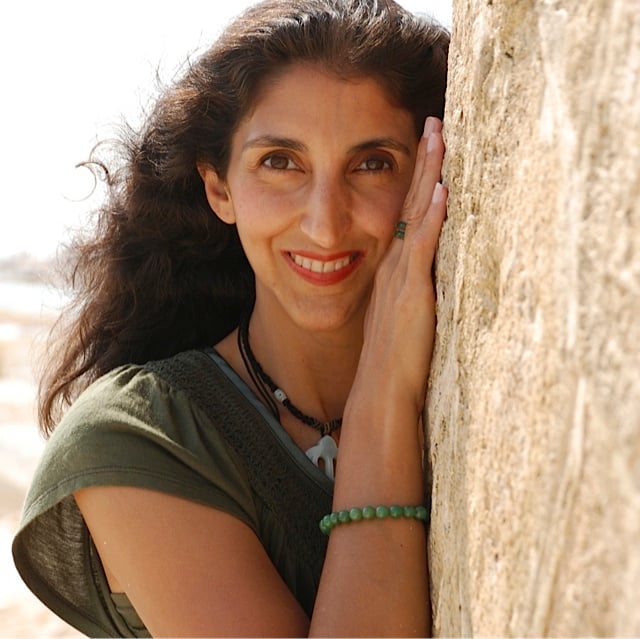 Jini Patel Thompson is a natural health writer and Lazer Tapping instructor. She began riding at age 2 in Kenya, and got her first horse at age 8 in Alberta, and so continues a life-long journey and love affair with these amazing creatures.