I haven't written in ages. At first it felt like there was nothing to say. The long snowy winter was gentle, monotonous; a much needed break from the insane pace of the last year. With all the seasons under our belts the cold wasn't so alien. Despite ourselves, we have established some systems and built a little infrastructure, and everything feels more managable. The horses settled into their thick wooly coats and carved their trails into the snow, blinking white ice mascara and teaching me more about their incredible resilience in all climates.
Then after a while it felt like there was too much to say. In all that quiet so many incredible moments and thoughts had sprung up that I struggled to hold them as they pooled in my hands and dribbled back to the earth. How could I possibly tell all the tales? What was even worth telling? What should I just let go, and what should be captured and immortalized? Maybe I needed the quiet to seep into my own bones.
Spring came, finally, in fits and starts, nearly 6 months after the first snow. We have a Gitxsan word here to describe "the snow that takes away the snow": Delugwa. After a couple weeks of Delugwas (and arguments over which one was the real Delugwa), the town and valley folk took to consoling each other. Surely spring would come. It had to. It always does. Doesn't it?
This spring came with a new horse. Aha! Finally something definitive to blog about.
My oldest childhood friend is moving through some massive life stuff. A few months ago she asked me if it would be possible to retire her jumper, Nacho, on the ranch. She had been trying to sell him for as long as I could remember; back in her competitive days, he wasn't jumping as high as desired and she wanted to move up in the show ring. But every time he met prospective buyers, something would go wrong. He'd have an "off" day or he'd be suddenly, inexplicably lame. Year after year he evaded being sold, to the point that I began to joke, and then wonder, that he had some other plan up his sleeve. If maybe he meant to stay by her side against all odds.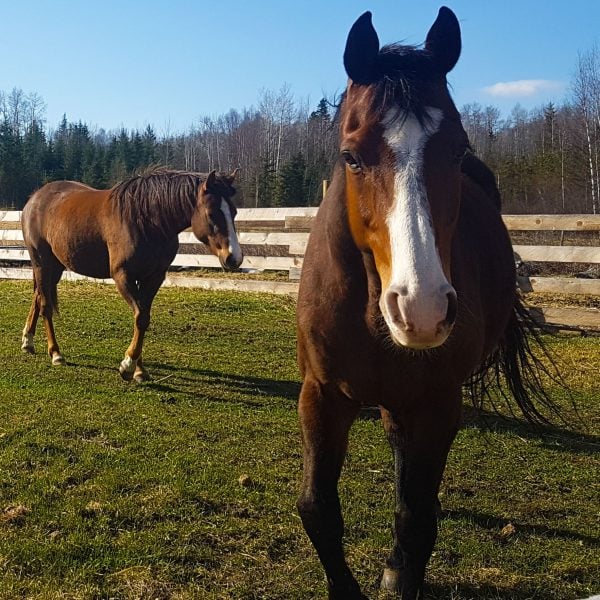 Turns out he really was playing the long game. I like to imagine he knew exactly where he was going, long before we had even the foggiest. He stuck with his girl like a giant tenacious, expensive barnacle, through the hardest years and right up until the moment that she wanted to truly let him go – not to another owner, but to his well-earned freedom. "He's worked hard. I've put him through so much. He deserves to just be a horse!" He arrived on an April evening.
As we walked him up the drive (after a lifetime of showing, a two day trailer ride and a brand new environment hardly registered on his alarm meter) he craned his long, thin neck to see his new herd. There was something purposeful about him. Not quite anxious, he seemed like he had been waiting for this for a long time. I was struck by his appearance, so distinctly different from the solid, compact, evenly muscled bodies of my four "rewilded" horses. And then I was struck by that fact: four horses of different breeding, age, work history, and training, have all developed in the short space of roughly 18 months (spent moving freely, grazing and foraging on varied terrain, and not ridden or worked at all) a fairly uniform shape. Would our gangly Warmblood transform too?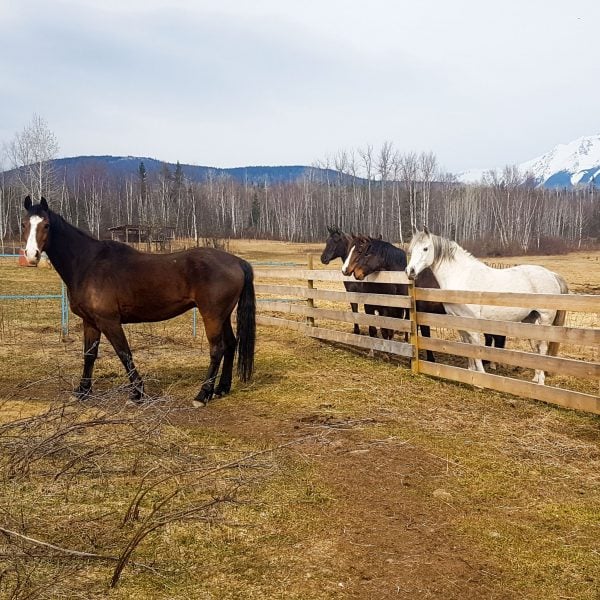 I had prepared a paddock for him alongside the big horse field, planning to keep him in there for a day or two, then maybe let our quiet boy Falcon in with him to ease him into the social dynamics, before letting everyone out together. But this was not Nacho's plan. He wanted out, running determinedly along the short fence line when the herd moved even 50 feet away, his lofty trot lifting him with the implied warning that he certainly could jump that teensy fence. And when the herd came back, he kicked out, those Dutch Warmblood hind legs easily clearing the four foot height. My friend and I looked at each other. It was late evening, but past the spring equinox the northern light was holding later. "Should we let him out now?" We both felt a big, clear, unmistakable "YES."
Here is the footage of Nacho's release. Spero, lord and protector, impressed me with both his work ethic (keep the new guy away from the girls, keep the girls away from the new guy) and his conservative approach (don't waste too much energy making a scene).
When Amalia and Spero were introduced to Firefly's future daddy, a wild mustang off the range never broke or "gentled", they were run ragged for 24 hours. Jack of Diamonds chased them at high speed until they were all slick with sweat and bug-eyed, lashing out with hooves aimed to do damage whenever anyone slowed or took a poorly calculated turn.
But Spero's heart isn't in violence and derision, it's more tuned to, say, multiple long naps in the sun or avid mutual grooming. It was almost as if all five horses were performing a ritual, an ancient dance they all knew the steps to, but the outcome had always been decided. Nacho never wavered, never questioned his belonging, but took care not to overstep. The herd moved him off, moved away, and flowed back to him like waves on a beach, gradually shrinking the space between them all.
The next day, the mare-folk were approaching Nacho on their own, quite clearly brought into heat by his mere presence.
Five days later, Firefly stole Nacho, taught him how to climb through damaged barbed wire, and took him on walkabout up the valley road! When they reunited with the herd, the stress and relief apparently called for a pool party – I'd never seen any of these horses play in water before:
All this time, the big horse would not speak to me. He would only approach me if he thought I had food, and it was very clear that was all he was after. He knew he was meant to be here but he wouldn't acknowledge me, just another human in and endless rotation of humans. I wasn't his girl, and I wasn't his new herd, so I was nobody. Two legs, busy appendages, loud and loathesome and hard to read. Keep away, keep away.
There is a kind of magic in doing nothing, something I've learned from my own horses and from many spectacular humans. I need nothing from this horse, and he clearly wants to be here. So I watched him bond with each of his new herd members, suss out the goats and pigs, and insert himself solidly into the farmscape. I've really never seen it go so smoothly; within days it was like he'd always been here, save for the occasional half-hearted lunge from Spero. I don't witness much in the way of static hierarchies or "pecking orders" in our herd (herd dynamics are far richer and more nuanced than military-style chain of command), but it's true that there is a customary line-up for breakfast bowls according to who will take what kind of abuse from whom. Suffice to say that by day seven, Nacho was third horse from the gate instead of fifth.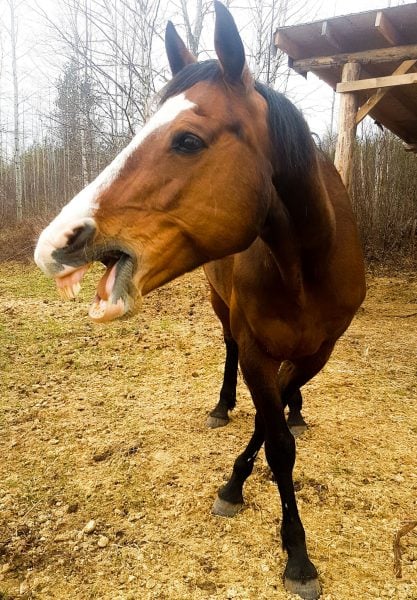 It was on the eigth day that the big man came to me, picking me out as I wandered the field and finding a quiet moment while the rest of the gang was occupied. It was the first time he'd acknowledged my existence, so naturally I was curious when he made eye-contact and headed my way purposefully. He stepped into me; I stepped back. Then I slowly reversed the energy, and stepped towards him while he stepped back. We traded back and forth a few times, secured by a thick rubbery band of ki, or energy. It wasn't a conversation about pressure, dominance, or personal space. It wasn't a preconceived ritual. It was a spontaneous movement, a strange little dance that meant nothing and everything. He then asked me to rub his withers, shoulders, neck, and finally head. Then he licked and chewed and yawned and stretched and licked and chewed and yawned.
I knelt down close in front of him and let him smell my head, inspect me at will. On his front legs there are white trauma marks, two on each cannon bone. I had asked my friend about them and was told that while she didn't know for sure as he had come into her care with them, she suspected they were the result of yet another training abuse I had never heard of. Apparently, if a horse is knocking down rails or not lifting his legs as high as they'd like him to, one method used is to set a jump standard's top rail on a strong spring. A helper stands by the jump and when the horse makes his jump, the helper releases the spring and the rail shoots up, slamming into the front legs as they pass over. Think of the pain of a sharp and unexpected blow to the shins – in this case, hard enough to take the skin off. The horse would now be wise to assume any rail could, well, jump at him at any time. Theoretically, he'll now jump higher to avoid it happening again (or refuse to jump anything, ever – the undesired and completely logical response).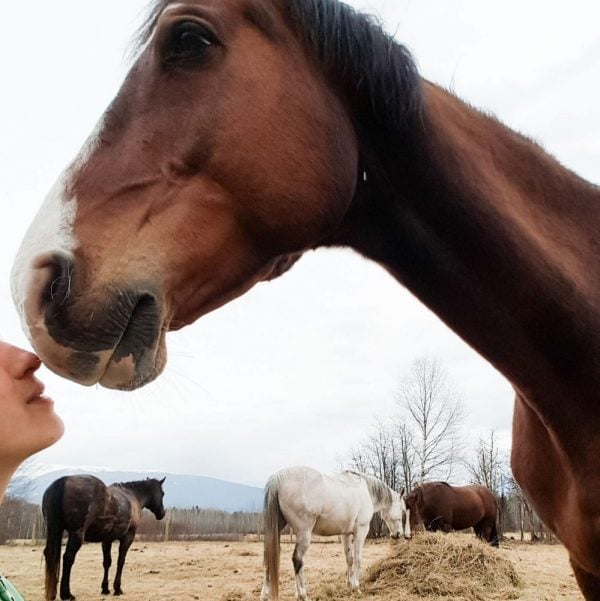 The story stuck with me – yet another baffling, ingenious human invention to force meaningless performance through fear. What else has he endured? Feeling led by him to acknowledge the marks, I set the tip of my thumb to the bright white fur on his left leg and sent ki, a neutral flow of life energy to be taken or left. He pulled it in as I worked my way down the largest mark, then stepped back slightly to stop me. He took a beat, staring blankly, and then his jaw started working again; licking and chewing and yawning and licking and chewing and yawning. And we were done for the moment.
Soon after, we (he and I) chose the name Nechako, meaning Big River in the Carrier language, and indeed a big river further east in our region. It relates to and honours his lifelong identity (Nacho the hunter-jumper) but opens into possibility, strength, and timelessness. He has always been the big river, and he has always been making his way towards us, and he has carried many souls, and you can feel him slow and widen deliciously as he reaches the mouth, and the open ocean.
Click here for Part 16 in this series.
Rewilding the Herd: And Then There Were Five
A barefoot hoof trimmer, a singer/songwriter, an amateur farmer – these are some of the hats Kesia Nagata wears when she's not full to bursting with wondrous equine co-creation.