It's been roughly a million years since I sat down to write about life on the edge of the wild. What can I say? There is not a lot of time to spend pondering, when you reside primarily in the proverbial thick of things.
Two years ago I moved with my mother, three horses, and a smattering of cats and dogs to our new home in Northern BC on 500 acres of alder and rose bush. I thought I'd keep you all updated on our methodical progress "back to nature". Or something. I thought I could scout ahead and lay some bread crumbs for those of you who might like to follow. I thought a lot of things.
I realize now what a misnomer "rewilding" was back when I snagged it for this series. In fact, the "herd" part wasn't right either, unless you take the whole gaggle of us humans, horses, dogs, cats, pigs, goats, chickens and geese (and sometimes ravens) as one giant mad herd. My life with horses has morphed and expanded to one among all sorts of beings, milling about in a perpetual motion matrix of love and war, life and death.
Rewilding, though a handsome term and a romantic one at first glance, has come to mean a lot of things to me, but like all good words it is thoroughly problematic and hardly precise. For one, we do not live in the wild. We live much closer to it, yes, than the vast majority of people, but I cannot allow the pretense that we are somehow living post-domesticity. Though perhaps we might one day fancy ourselves gatekeepers to a wilder place. Perhaps we begin to uncover keys to something larger and stranger and messier than we'd ever like to know.
How can I even begin to tell you what I mean? Or even, what I've seen? It blurs together drunkenly as I look back; stories I thought I'd tell you as soon as I had time, but then more stories happened before those stories were written and now it's all just What Happened, the sharp edges smoothed over and jumbled hopelessly like stones at the confluence of mighty rivers.
My mother was bewitched by seven raven-black, fairy-trickster cows (does this ring a bell, dear readers? Like the 6 new horses making their way into the LTYH herd??), who convinced her to bring them home at great effort and cost. Literally five minutes after they arrived, they departed. Gone through the fence, all seven, with nothing but a single black hair on a barb to prove they were ever there, into the Wayback, the Great Beyond of Bush and Swamp, materializing and dematerializing as we tracked and called and begged them in vain. A month-long story short, they are all home and thriving in the thoroughfare of a pasture we now call Beastly Acres (as there are all sorts of beasts who frequent them).
The cows came and went, and came back, in June. Since then, we have had multiple rounds of piglets lost and found, we have brought a new horse (and some pigs, chickens, and cats) into the herd, we've been gifted with endless family visits, we've watched the waters sink low with drought and the salmon struggle to finish their journeys, we've made haphazard evacuation plans as the wildfire 15 kilometres away grew daily. We have had the best year yet in our garden, we've been gifted with divinely perfect fish and moose, we've put away so much bounty it's made our heads spin. Leaves and berries, meat and milk, tubers and fruit and bones and jellies, oh my! We have said goodbye to an aching number of loved ones, two- and four-legged. We have learned and lost and learned and let go.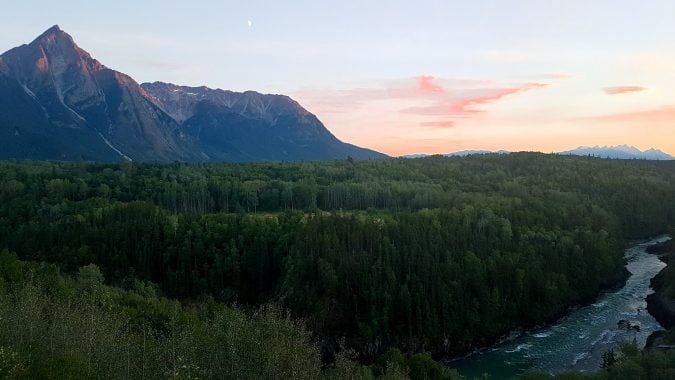 I feel stretched, and full. I feel ancient and brand new. I am exhausted and invigorated. I know humility and gratitude very, very intimately. I might take a life and save another in the same week, or day. I harden and open at the same time. I learn how arbitrary, and how sacred, every moment and choice can be. I am immersed in love and grief and fear and chaos and sweet, tender goodness on the daily. Gradually it is sinking in that this doesn't end; we won't one day arrive and be done. The more I lean in the faster it goes…
Perhaps this is wildness on some level, after all. Perhaps having your heart stretched (as though in some incomprehensible cultural ritual from far away) somehow makes room for something else to nestle in, something you're not sure you even invited…
I once thought I could tell you how it was, how the horses unfolded themselves into freedom, how our hearts and souls unfurled into the wild woods, how we shook off our human conditioning and dove into the dream. And all that happened, or is in the process of happening. But it turns out wildness isn't a place, or even a state. It cannot be reached through theory or practice, it cannot be earned or achieved or awarded. No prayer, no meditation, no lifestyle or diet, no cords of wood chopped or gallons of water carried will get you there. No – but in between, when you aren't watching, it seeps in from the edges, plants its seeds and sets its barbs and lays its eggs deep in your flesh. It will find you lost in the woods or locked up in a concrete condo. It's everything you fear and everything you long for; majestic and wondrous and messy and weird and very, very alive.
So for now, I am surfacing to wave heartily and let you know how much I appreciate every one of you finding your own wildness as I find mine, whatever shape that takes.
Click here for Part 17 in this series.
Rewilding the Herd – Update from the Northwestern Frontier
A barefoot hoof trimmer, a singer/songwriter, an amateur farmer – these are some of the hats Kesia Nagata wears when she's not full to bursting with wondrous equine co-creation.