I'm taking a break in this series from my poetic ramblings about adjusting to life on the land to get my junior scientist cap on and nerd out about horse herd dynamics. I hope you'll bear with me; don't worry, I'll be back to my usual exaltations and musings soon enough…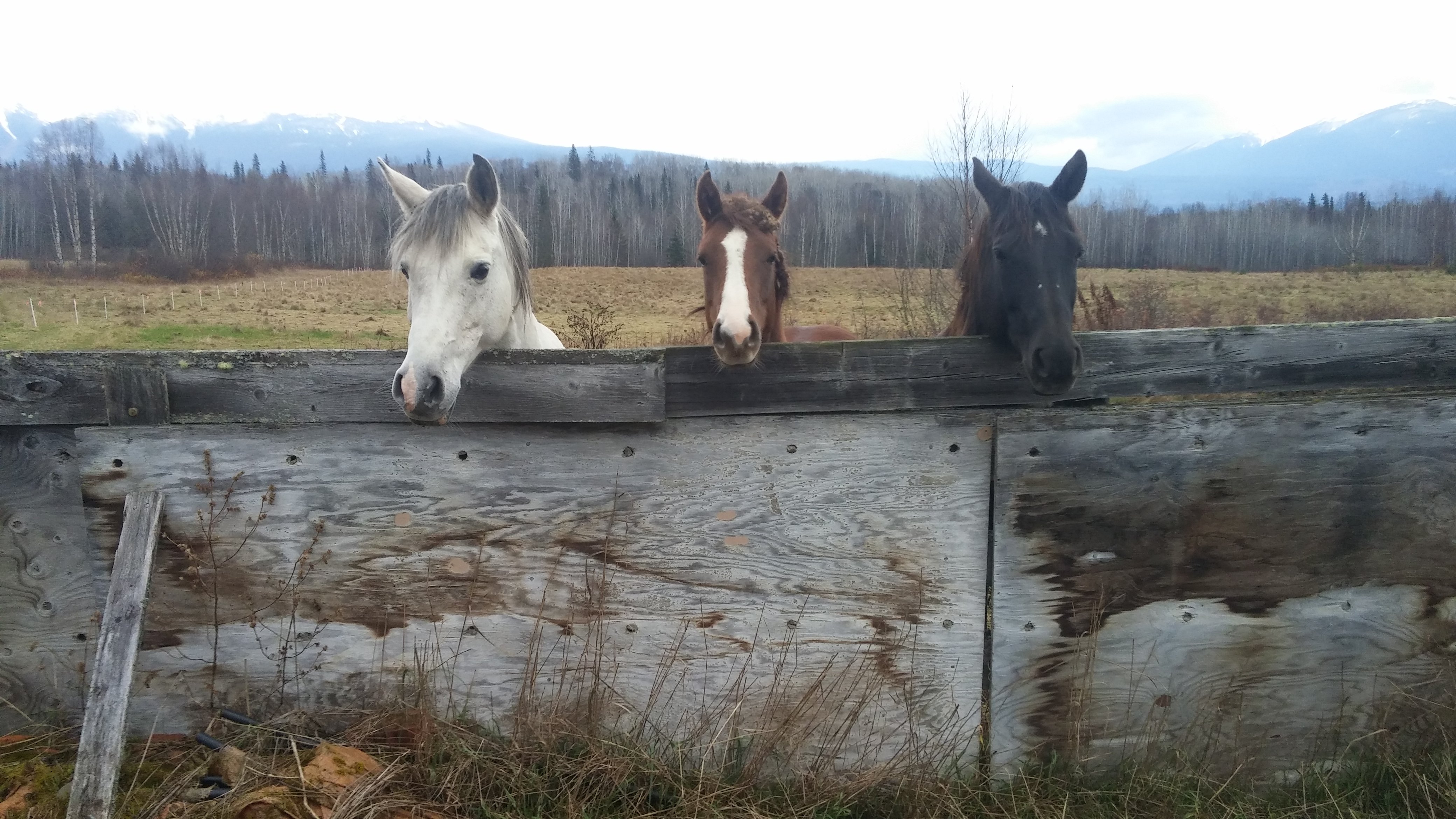 So there is increasing research that points to holes in popular horse psychology, such as dominance theory, lead-horse theory, and the principles of round-penning and negative reinforcement. I love this stuff, both considering the initial theories and pulling them apart to see what they're made of. It all fascinates me.
There's a reason for this breakdown. Originally, pioneers in "horse psychology" were largely observing domestic herds – as are most of us watching and learning from our own horses. The problem with this is that most domestic herds are so deeply influenced by humans that getting a clear picture of how horses "really" are by nature is virtually impossible. Their herd members are selected for them rather than being related closely by blood; their food and water is managed and restricted; and their movement is restricted and/or dictated by stalls, paddocks, fences and so on. This creates competition for space and resources, and has given rise to this sort of Lord of the Flies model of hierarchy and "every horse for himself" lens that tends to creep into horsemanship rhetoric.
As a result, many people keen on answers have turned to observing wild or feral herds – but this, too, is problematic due to the human influence over territory and resources, round-ups, population management, and so on – all of which affects how horses operate in herds.
A select few ethologists, like Lucy Rees, are studying herds that are relatively free of human influence. They have shown us that how horses behave under the stresses of domesticity is not necessarily how they would behave if left to their own horsey devices. They point to the possibility that their culture is more of a collective and less of a militant hierarchy; that aggression is rare or non-existent without significant biological stresses; and that collaboration and communication are sometimes more about fun, flow, and curiosity than they are about basic survival.
My small herd of four have checkered pasts, some of which are unknown to me. Except for Firefly's arrival by way of Amalia's womb, they are unrelated. I chose them through circumstance and placed them together regardless of their preferences. When there were three and we were in tighter circumstances, there was obviously a ranking: Spero was boss, followed by Amalia and then baby Firefly. This was maintained through casual aggression. Firefly and Spero bonded as a pair and Amalia was often left out. When we moved here and shortly after added Falcon to the mix, the little man was, as is the custom, run off and abused for a while – the standard "omega horse". We had a pretty regular, linear "pecking order".
But since we've started to settle in on this large, unmanaged acreage, the horses have been free to roam at will over 20-500 acres, foraging on a wide spectrum of plants during times of plenty and free-feeding off a constant round bale during the hard months. Busy as I am, they've had little to do with me in terms of management or training, though our constant proximity has created a whole new kind of relationship. They face the elements without much comfort or shelter, and are largely forced to entertain themselves. And as I watch them, I notice that they are breaking out of the parameters that once seemed like a given.
Observation Number 1: Follow Which Leader?
Everybody knows horses need a leader. Right? Well, aside from the fact that nobody in the horsemanship community can seem to agree on what behaviour constitutes a "true" leader (and therefore which ones to emulate in order to position yourself as your horse's leader), I've noticed that my herd has mixed it up so entirely that there simply isn't One Horse to Rule them All. These guys share the load.
The Boss-Man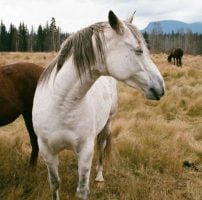 If you're looking for dominant behaviour, as in one horse who has more physical control and can move other horses off resources, you'd call Spero the leader. He's the biggest, he's a male, and with a pinned-ear glance or a snakey charge his authority is relatively undisputed over alfalfa pellets or the occasional hay pile. In times of potential danger, he takes the stallion role and keeps the herd together, which is sort of like herding cats given how independent the girls are… He is the protector, the worrier-warrior, and the self-appointed king of resources.
The Captain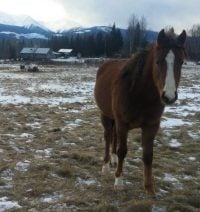 But who's the one who gets the herd moving – the one who leads the curiosity-driven explorations of pig pens, junk piles and the Great Beyond? That would be Firefly, the youngest and most gregarious. She's also the most aggressive, and the most communicative. She's the one who alerts me (usually vocally) to low hay levels, rogue dogs in the field, and herd boredom. She will happily leave her mother and the rest to explore the trails with me out back, causing the herd to follow no matter how much they want to stay at the feeder. She is the initiator of movement, the scout, and the expander of territory.
The Matriarch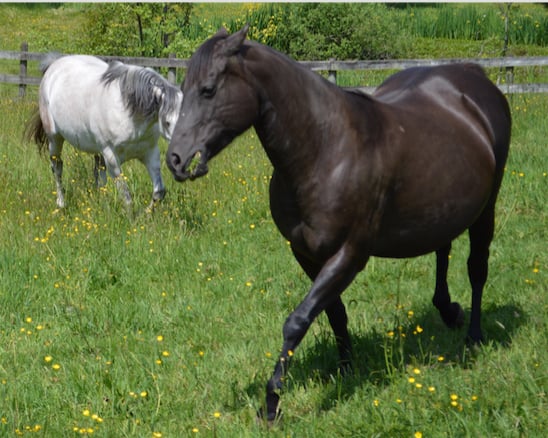 Our "lead mare" would be Amalia, who with her quiet, no-nonsense sternness will lead the strike against bears, foxes, coyotes and strange dogs, lay down the law with the younguns, lead the herd to water, and demonstrate how to paw through snow and ice. She keeps an eye on the water trough levels, tends to be the watchwoman at nap time, and reminds the herd where home is when they stray. She is the hearth, the mother, and the strategist.
The Teacher
With three equally strong personalities, the mild-mannered Falcon, our 2 year old rescue boy, would be the only horse left to call a follower. He's the last to eat, the first to be chased off, and the scape-goat of uncomfortable feelings. But he's also the stoic, grounded presence that attracts the others in that subtly magnetic way. He wanders off into the woods without a backward glance, prompting the rest to drift in his direction over the course of a morning. Or he lays in the straw for hours, resolutely ignoring Firefly's badgering, meditating in his good-natured way until everyone is lulled into his wave-length and they drop to their knees in surrender to the good vibes. He is the harmonizer, the sage, the leader-by-example.
Observation Number 2: It Rarely Comes to Blows
And aggression? When there isn't direct competition for limited resources (a pile of hay, a treat, or a human with only two hands with which to scratch), I see none. Besides play, there is no reason to bear arms or raise voices. Why would there be? Maybe it's because they have ample time not in competition that allows me to see them so peaceful, and to consider that the norm.
Observation Number 3: Nothing is As It Seems
And at other times, I see each of them take their turn to initiate movement, move each other off food, make decisions regarding the whole herd, and defend against intruders. There is no consistency or pattern I can work out besides their own personalities and interests that lead to common behaviours. There is no hierarchy to speak of – at least not a linear or predictable one. They each have authority over their own person, and express that in their own ways.
Observation Number 4: The Love Quadrangle
Another behaviour ethologists point to is pair bonding. Pair bonding manifests as two horses with a strong preference for each other out of an entire herd (or a deep connection between a small herd of two). They exhibit this bond by mutual grooming exclusively with their buddy, sticking close while grazing or moving around, and often sharing food. Many people suggest keeping herd numbers even for this very reason – an odd horse out could be a lonely one.
I used to think this was a given, having noticed it in most domestic herds. Lucy Rees reports that the wild herd she observes does not exhibit pair bonding – that outside of mares and stallions bonding in a natural herd setting, it is an artificial or domestic behaviour born out of extreme stress and trauma.
My horses have been through all kinds of stress and trauma due to the realities of domestication, so it stands to reason that they'd bond up this way. I was just trying to mentally pair my horses off the other day when I realized that I couldn't – I have, I realised, instead witnessed every possible permutation of horse-buddies, and each relationship is as unique as it is strong.
Firefly and Falcon are besties and possibly going steady; they often wander off together to smooch in the bushes or stand close together with their heads over withers. But Firefly also needs her momma, and she and Amalia spend hours each day nursing and getting their girl-time in.
Spero and Firefly love to share a pile of hay, or learn new games with the humans together and bicker over whose turn it is to get the treat. Spero loves having Falcon around to wrestle and have manly conversations with, and Amalia and Spero like to hang back together when the kids wander off. They've known each other the longest, and while they often feel like oil and water to me, there is something undeniable about their connection. Falcon and Amalia aren't seen together that often…unless Amalia's in heat! Then she's all about that sweet young thing…
And of course this is entirely anecdotal, and I'm projecting a bit for the sake of a story. But the behaviours are what I witness day after day, as I'm able to peek at them at any time without getting myself too far into their dynamic and changing it.
What You (Want to) See is What You Get
Why is this so fascinating to me? I think because we have created some well-worn grooves in our assumptions about herd dynamics and horse psychology. If you want to see something, after all, it's pretty likely that you'll see it – regardless of what else might be at play. Theories, after all, give us possible justifications or new directions for our own behaviour and, in this case, our relationships with our horses.
Dominance theory ("Horses are violent/oppressive/hierarchical! You can be too.") gives us permission to dominate through physical or psychological means. It has led to some abusive methods, as well as some bizarre ones, and some that are arguably practical, even necessary, for safety and survival in a human-determined world.
Leadership theory ("Every horse is looking for a leader. You'd better be it.") softens that approach and adds some fabulous insights, but essentially perpetuates the idea that horses should do as we say all or most of the time. Approaches vary wildly, from psychologically abusive to super-chill and loving, which increases my suspicion that there isn't, in fact, a universal archetype for an equine leader that we can all refer to. It makes for a giant grey area for people trying to create a healthy relationship between themselves and their horses.
The lesser known phenomenon of pair bonding ("My horse is my partner/best friend") is, as a basis for relationship, again a giant leap forward – but does allow us to take advantage of (and/or misread) our horses' deep need for companionship and collaboration (which they may be missing in their artificial herds or isolation), by inserting ourselves as their one-and-only, despite only being in their lives an hour or two a day.
None of this is wrong, in and of itself! But it could be that these ideas are only little bits of a much, much bigger picture.
I'm admittedly somewhat of a leftist socialist collectivist tree-hugging idealist, so maybe that's why I'm observing my guys defying convention. It certainly gives me permission to continue as I am – leaving them largely to their own devices, joining in when possible or appropriate, exploring and following their lead as much as I am offering and inviting them to follow mine, and making sure they have most of what they need whether or not I'm there to provide it daily. I'm probably missing some really important bits, too – and I'm sure I'll write about them when I inevitably stumble across more of my own mistakes and blind spots!
Educate Me!
I'd love to hear about what dynamics you've observed in your horses or herds you've known in the comments below. Can you think of reasons for these behaviours? Do they affect how you interact with your horses? Have you rejected (or adopted) any theories that have shaped the way you work or live with horses? Children? Dogs? Goldfish?? I wanna know!
***************************
Oh! And I almost forgot – drum roll please….my full length album will be available on CD and digital download July 15! It's called Looking For Horses and, though not exactly horse-themed, is undeniably horse-influenced. It follows my songwriting over the course of 10 years – from first love to dark times and big realizations, the idealism of my younger years and the persistent call to wildness. Always, always, horses have been there to guide, define, support, and witness my winding path.
Head on over to our shop page to pre-order the album with a heartfelt discount for you incredible horse listeners 🙂
Click here for Part 12 in this series.
Rewilding the Herd: Daily Dynamics
A barefoot hoof trimmer, a singer/songwriter, an amateur farmer – these are some of the hats Kesia Nagata wears when she's not full to bursting with wondrous equine co-creation.