Why must we chop the balls off all our male animals? Why is this considered normal and even necessary? Luckily I was able to take my dog Kumba across the border for a canine vasectomy. But when it came to my stud colt Juno, hours of searching produced hardly any information – scientific or anecdotal – on equine vasectomy.
My journey into this realm started 18 months ago when Jax and Montaro came to me as 1-yr-old and 2-yr-old stallions. Jax seemed to have no issues with being castrated – almost as though he was expecting it and it was no big deal. Montaro, on the other hand, desperately wanted to remain a stallion and had already bred a mare or two when he arrived.
He was so incredibly responsive to me, with such a stellar character, that I too wanted him to remain a stallion if possible. I put him in with my Andalusian mare, Zorra, and even when mounted on her, he would stop and come away with me if I asked. Likewise, if he was in mid-playfight with Jax, he would stop when I asked (just using my voice and a hand gesture). But there was one insurmountable problem.
At the end of the field, the neighbour had seven mares, who all simultaneously bloomed into estrus and called to Montaro all day and night. He held it, and held it, and then bam, would go through the fence. After several days of him going through the fence twice a day, I told him I would have to phone the vet. As I was boarding, I couldn't do any more to the fence than the line of electric I'd added above the top fence plank, but he was crashing right through the wooden boards and electric wire.
Closed Castration
So I trailered both of them to the vet for a closed castration. When I looked at the research, the typical open castration (done in the field) had an infection rate of 25%, while closed castration (where they sew everything shut) had an infection rate of 2%. So although it was double the cost, I felt it was worth it.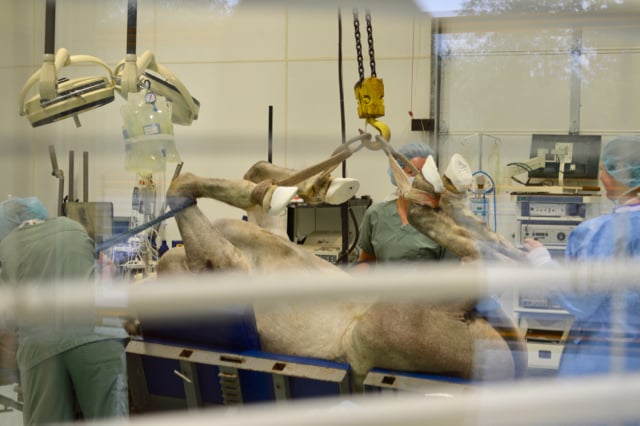 I had no idea they would rope, belt, pad, or position the horses in this way. And check out the breathing tube – that results in a very sore throat afterwards: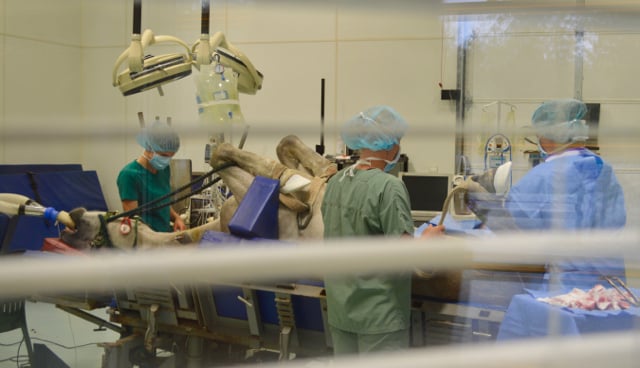 After the surgery, while both horses were under sedation, Kesia got in there to give them their first ever hoof trim, working furiously to get it done before the anaesthetic wore off. Jax and Montaro were semi-feral horses so they'd never been haltered, trimmed or handled by humans before: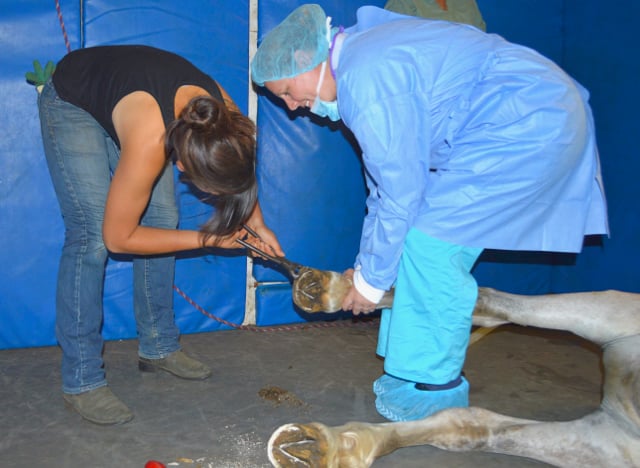 After both lads were up and eating again after their surgery, I left them at the vet's overnight, in large side-by-side stalls (where they could see and touch each other's face) and drove home. I felt the trauma from Montaro's procedure so acutely that I just cried and did Ho'oponopono for him all the way home. During the next week I proceeded to do both energy healing and two EFT Tapping sessions for him.
I Want my Balls Back!
Nothing worked and he continued to be angry and withdrawn from me. My formerly super-connected, responsive guy would now barely let me touch him. Fast-forward 6 months or so and he's still angry. He's also refused to let equine chiropractor/bodyworker Ainsley Beauchamp touch him either, whereas before his surgery, he would ask for adjustments and move into the pain as she aligned certain body parts.
He kept saying to me, "I want my balls back!" And I would explain once again that he couldn't have them back, and that he needed to accept responsibility too, as he also chose to be castrated because he wouldn't/couldn't stop going through the fence. This made no impact on him, and his anger and separation continued.
So Ainsley is out at my barn, and I've told her that he's still straining a lot to pee and I'm concerned that scar tissue from the surgery might be restricting things. But as he won't let her touch him, she is just running Reiki to his groin area, with her hands underneath his belly. After about 20 minutes, she comes over to me and says, "Well, there's only a few people I would tell this to, but… as I'm running Reiki for him," she shows me her two hands cupped together, "I feel this weight in my hands, so I look down. And there are his balls. So I reattached them."
I gasp. "Oh my god. That's what he meant! He meant he wants his energetic balls back!" Montaro then also wanted me to affirm this new reality, so for the next week, every time I saw him, I would visualize his scrotum hanging there and I would say "Nice balls Taro!" or "Looking good down there!" And then, all was complete. Montaro returned to being in powerful connection with me. He requested hands-on adjustments from Ainsley again, and all his anger was gone. My super-responsive, heart-connected lad was back.
This experience makes me wonder about amputees who suffer phantom limb pain. Perhaps if they asked a Reiki or Pranic healer to reattach their energetic limb… perhaps their pain would cease?
Another Kick at the Can
Of course, when I realized that Audelina was pregnant – from one of Montaro's fence crashers – I desperately hoped for a filly. But of course, she birthed a colt. Gaaaaaaahhhh!! Why does the universe do that?!
So here we go again. This time I was resolved to try even harder to not have to mutilate a loved one. I read, researched and talked to everyone I could find who had managed to keep stallions on the same property as mares. Surely there was some way I could manage – even in my roughshod leased facilities – to keep Juno intact and yet let him stay/live with his family… What about a horse vasectomy? And why do we deny domestic animals a sex life anyway? Is this yet another puritanical dysfunction?
The closest scientific information I could find on equine vasectomy, was for something called Section Ligation Release (SLR) – which is where they ligate (tie up or close off) the spermatic cords but leave the testicles in place. There were a few papers on the procedure tested on bulls, like this one for pinhole castration in bull calves. And then ONE paper on performing the procedure on a group of stallions. However, it looks like this procedure does not preserve the animal's hormones and the testes eventually atrophy and die.
Still. The vets at Paton and Martin who did Jax and Montaro's surgery are pretty advanced and innovative. Even if I had to fly a particular vet in from the States to do a horse vasectomy, I figured I could talk them into it. Especially if we filmed the surgery and they could then publish a paper about it.
And then, two things happened.
The first thing is that for 3 days in a row, I saw Juno mount Zorra – with an erect penis – and she did not like it at all. Keep in mind, Juno is 9 months old and is still nursing frequently. But, neither my barn help, nor the family that lives there had ever seen Juno mount Zorra. He only showed me.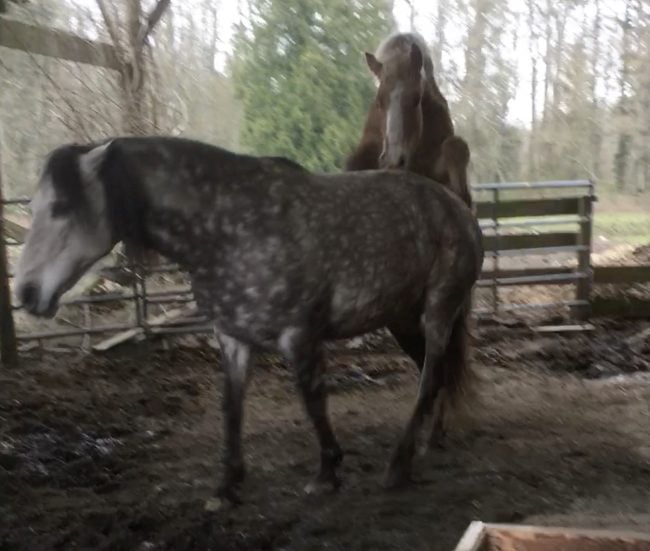 The second thing that happened is I finally drove down to Bickford Trailers in Snohomish, WA and ordered my horse trailer! And guess what? The woman who sold me the trailer, who had been patiently answering my questions and sending me revised quotes for over a year – breeds Warmbloods. And has worked on breeding farms for over 30 years. A more down-to-earth, practical person I could not hope to meet.
"Alright Maggi," I said, "Tell me what you think of equine vasectomy. Let's say I want to keep my colt a stallion, but I just don't want him to impregnate my mares. So they can still have a sex life and live together as a herd. Do you think that would work?"
Keeping a Stallion with Mares
And oh, Maggi had some very important information for me. She told me that first of all, stallions know when a mare is pregnant; that her smell changes. If the mare is not pregnant, they're just going to keep breeding her. So it's highly likely that my mares will come into heat every 3 weeks, all year long, and Juno will mate with them for their entire heat cycle. And whether my mares like it or not, is not really the question. Because when the estrus hormones come on, the mare doesn't really have much choice, she kind of checks out and is driven by those hormones.
I had seen this myself, when Zorra and Montaro were together before his castration. She was exhausted. She barely ate and had lost weight. Her ankles were all banged up and swollen from him knocking them as he slid off. Montaro had lost interest and just wanted to eat, but Zorra would not let him rest and kept goading him again and again to mount her. When I removed her for while to get her to rest, she refused and just paced the fence line until I let her back in again.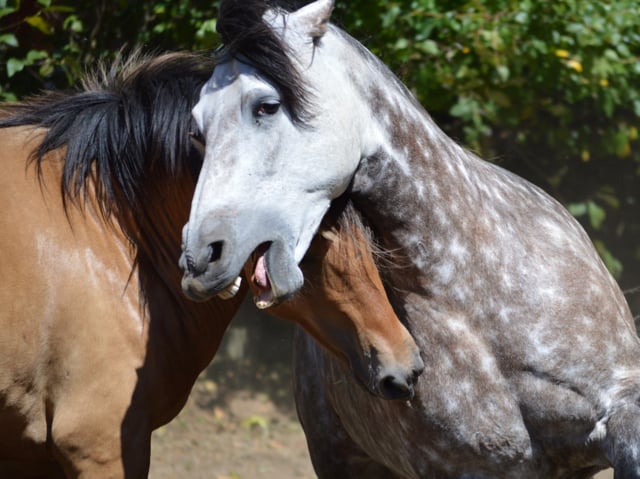 In addition, Maggi figured it was almost guaranteed that my mares would become infected at some point. Because the vaginal canal is quite good at cleaning itself out after a normal breeding period, once a year. But repeated like that, at that intensity and frequency? Not gonna be good.
She also told me that if Juno is mounting Zorra with an erect penis, he can then also impregnate his mother and possibly already has. "What??!!" I said, "Even if he's still nursing?" Oh yes. She told me they once had a 4-month-old colt that impregnated a mare. Maggi explained that stallions mount mares all the time as play. As long as their penis is not erect, it's not a problem. She's had stallions up to 2 years old displaying mounting behaviours, but they're just fine as long as the penis is not erect.
And so. That was that. My ideas about vasectomy being a more humane, natural alternative galloped away. And I was now under a time crunch as well. Because yet again, since I don't have my own place, I am constrained by my boarding facility, which has no cross-fencing. I would be okay if Juno bred Zorra, but please god, not his mother. So I phoned Paton and Martin to book Juno's castration.
Since he is still nursing, Maggi felt it would be much less traumatic for Juno to have an on-site open castration done. She said they now give an antibiotic injection that lasts four days and she has yet to see any colt become infected, so she wonders if the stats I found are from data gathered before this injection was available. Then Juno could be with his mother right away, and out with his herd in 24 hours.
The earliest date the vet could come out was 7 days later. So I decided to surrender to the process and whatever was meant to be. Because Juno also had never been separated from his mother, or his herd. Nor was he halter trained yet. And I now had 1 week to do both. And get him fluent enough with both that he would not be traumatized by either! Yes, I was a wee bit anxious at the prospect.
But yet again, a foundation of trust, and authentic, intimate relationship proved to be more reliable than any training technique or schedule. The very first day, Juno happily went into the paddock alone with me and stayed there being scratched, eating alfalfa, and hanging out with me for 20 minutes before he asked to rejoin his herd and mum. I immediately opened the gate when he asked.
The second day, he accepted the halter on his nose and the strap around his poll for about 40 seconds and then I removed it when he looked uncomfortable. The third day, he let me put it on and fasten it. Then the fourth day I did nothing.
The fifth day I was leading him around using the hand/voice signals I'd already taught him, along with adding a tiny bit of pressure to the halter – so he could start getting used to feeling that pressure on his head. On the sixth day, I led him out of the paddock and down the barn road a bit, and then back again. We were ready. On each of the six days I invited him to come away from Mum, sometimes with one other horse there too, into the paddock where the castration would take place. I wanted him to feel comfortable being alone in that space on the day of his castration. I wanted him to have lots of positive associations with that space (scratches, alfalfa, feed & carrots) You can see here how the surgery went and how I supported his healing with herbs:
And while we're on the topic, here's my list of the things I wish I'd known before the surgery!
Castration Prep List
1. Flat Nylon or Leather Halter – your colt will be manipulated and stabilized by the vet pulling on his head during the time he is tranquilized and as he is lowered to the ground as the anaesthetic takes effect. While he is down, they will also be wrapping his lead rope around his hind pastern, which will be anchored/pulling on his head (cranking his neck around) during the surgery. For these reasons, it's best he is not wearing a rope halter with knots that will increase pressure to the tender points on his head.
2. Soft, thick Cotton Rope – as mentioned above, your colt's lead rope will be wrapped around his hind pastern, so a thick cotton rope is most comfortable and will not abrade like nylon may.
3. Open Space – the vet requires an open space with no nearby fences, poles or other things your colt might crash into if he stumbles around going into, or coming out of the anesthetic. If they can't perform the surgery in an open field, you can lay rubber mats or soft bedding material down in a large area in a paddock or arena – locate the soft area a minimum of 10 feet away (on all 4 sides) from any fences, poles, etc.
4. Cotton blanket or large towel – your vet will want to cover his eyes and wrap his head during the surgery. As the tranquilizer will increase his body heat, cotton is ideal for airflow.
Oh We're Not Done Yet
And now that we've dealt with the practicalities, let us float into other realms, shall we? If you thought the energetic reattachment of Montaro's balls was out there… we's goin' even farther!
During Juno's castration surgery, Dr. Paton wrapped the rope from Juno's halter around his hind pastern and then gave me the end of the rope to hold as I sat behind Juno's withers, so I could anchor and keep the tension on the rope. He and his assistant then went to work.
As he crushed the spermatic cord with the emasculator (which looks like a massive set of pliers), I "saw" him crushing the balls. Except Juno's balls were already lying on the absorbent pad in plain sight near his hind end. I thought, "Weird." But I was pretty distracted and busy and didn't think anything more about it. Until later that night, as I was getting ready for bed.
Keep in mind, Juno was fine. He was in with his herd and he didn't hate me. Of course, when I had talked to him earlier about the surgery, I had explained that he did not have to lose his energetic balls, he could keep them – just like his Uncle Jax did.
But as I climb into bed, I start feeling really distressed about the surgery. I know from experience that the best antidote to this state is to pull out my journal and start writing. As long as things just swirl around in my head, they continue to vex me. But if I can flow them out onto paper, all those ideas, beliefs, hurts, etc. get purged, organized and very often illuminated.
I start writing, "Today was Oscar's birthday [my eldest son] and Juno's castration. Such a barbaric, horrific thing to do to another being…" And then I write the word Eunuch. As nausea rolls over me, I decide to surrender to whatever wants to come forth.
Well, turns out when I "saw" the vet crushing the scrotum… those were my scrotum, in another lifetime. My parents sold me to become a eunuch (male who is castrated; often to guard females), I was in a fever for days, nearly died, didn't want to live, and so on. Whether you "believe" in past lives or not (or whether I do) is not the point. It is more useful to ask, why are these images/memories coming forth?
Whether they are merely symbolic stories cooked up by my subconscious, or recalled memories, or fragments from the collective unconscious – doesn't matter. What matters is why? And why now? And where do these thoughts/experiences lead me? And most importantly: Where is the opportunity for healing?
As I allowed this experience to flow, I began to question the wheel of karma. Also known as, "we shall reap as we sow" (Galations 6:7) or "they that sow the wind, shall reap the whirlwind" (Hosea 8:7).
So I was brutalized, and I have now brutalized Juno in exactly the same way. How am I ever going to get off the damn karmic wheel?
As my nausea increased, I realized I had to forgive the people who did that to me, in that lifetime, "I release you from the wheel of karma." And then I needed to forgive myself. Not so easy. I wrote:
"I am having trouble forgiving myself. I should pay my debts. I shouldn't get a free pass. It's important that I balance the scale.

So then why is it that I can just forgive others? Why isn't it important that they balance their scale?

Perhaps this is the central message of Jesus – that this balancing the wheel of karma, can take a very long time. But we can balance it another way: By forgiving all those who wronged, abused, tortured, hurt me; I can then forgive myself. And I can use this mechanism actively in this life to avoid generating any new karmic debts. Because we always hurt each other. Look what just happened with Juno. Even with the best of intentions, I have brutalized him, and Kumba (my dog). So perhaps rather than now having to live through a similar experience to balance what I've done, I could ask their forgiveness. And I could forgive myself.

Perhaps by consciously – with full intention – giving the ultimate (his life) Jesus created a third alternative to a previously dualistic reality; yin/yang, dark/light. The 3rd alternative is forgiveness.

Forgiveness is not forgetting. It is not sanctioning behaviour, saying, 'oh it's fine that you did that, it's all okay now, I forgive you.' Forgiveness involves the act of separating the behaviour from the person. Of viewing that behaviour through a wellspring of compassion and wisdom that understands that at our core, we are all pure joy/love. And for us to fragment to the place where we behave so terribly, well, we must have had some significant pain and trauma to cause that behaviour. Or, like me with Juno, we just didn't have, or couldn't see, a better option at that time. And we did the best we could.

Forgiveness is compassion. It's a form of saying, 'there, but for the grace of god, go I' The other person may or may not be affected by my forgiveness of them. But I will. I will be set free. I will be released from the karmic wheel. From the law of sowing and reaping."
I tried to draw this concept – this concept that forgiveness changes the dualistic nature of reality; transforms it into something completely different. How do you draw forgiveness?? These are my attempts from my journal that night – but if anyone is inspired to do better/different, I would love to see it! (just upload your photo/scan in the Comments section below)
I went to sleep peacefully and the next day I asked both Kumba and Juno to forgive me. And I forgave myself.
You can see in the video how Juno trusts me to massage right near his incisions a few days after the surgery. If that isn't proof that he's forgiven me, I don't know what is.
I also think about his mother, Audelina, and her behaviour during the castration surgery. She had asked me to put a hay box right near the paddock fence, so she could see Juno at all times without even needing to lift or turn her head. Maggi had said we would need to sedate her too, since Juno was still nursing. But she was as calm as a tranquil pond. She did not even clang her hoof against the gate – which she usually does when she wants to come into the paddock, or is getting impatient.
Dare I suggest that she felt/knew this was the best option at this time and was anchoring both Juno and me with her peace and tranquility?
When Juno was going through the worst of the pain the day after the surgery, I was doing Pranic healing for him (streaming in blue/white light from my iceberg) and I said to him, "Oh sweetheart, I know it hurts, and it doesn't make any sense. And you just can't imagine why I would do such a thing to you. But do you trust me? Can you trust me that I have done this for a very good reason, that will benefit you greatly in the long-term? You won't lose your family now, you'll get to be together, and no harm will come to your mum or Zorra. Do you trust me?"
And I smiled ruefully as I thought to myself, 'Oh listen to me, and how many times has the divine had the "Do you trust?" conversation with me?!'
Equine Vasectomy, Castration, and the Karmic Wheel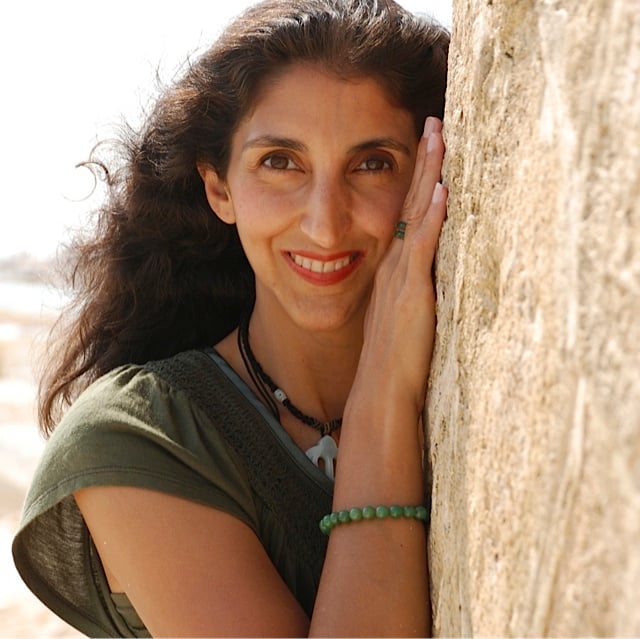 Jini Patel Thompson is a natural health writer and Lazer Tapping instructor. She began riding at age 2 in Kenya, and got her first horse at age 8 in Alberta, and so continues a life-long journey and love affair with these amazing creatures.