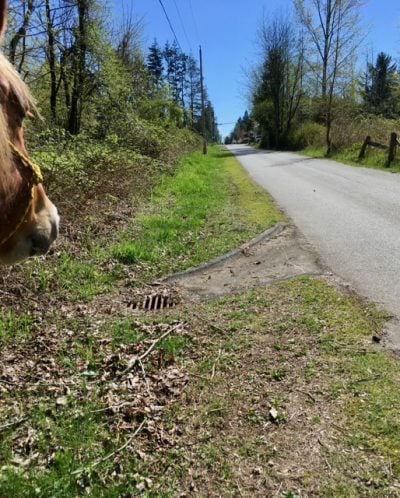 How is it that by doing very little with my horses; mostly meditating, doing chores, and avoiding the rain together… when I put us in scary or high pressure situations, they respond like an old cow horse? You know, one of those horses that is totally bonded like glue from riding for weeks, camping together, being a working team…?
Let me tell you about my latest kerfluffle. My Belgian mare, Audelina, is still nursing her 9-month-old colt, Juno. But there is very little grass in their pasture, plus Juno was castrated only 4 days ago, and is nursing more than usual. So when Aude suggested yesterday that I take her out on the road (which has plenty of fresh, Spring grass down both sides) I thought that was an excellent plan.
I had also noticed lots of dandelions in bloom, so wanted to gather those for Juno to help him detox from the drugs he was administered during his surgery.
Now, if you follow this blog, you may know that Aude came to me semi-feral 18 months ago. But she was also terrified of ropes. So finding a way for her to view the halter and the lead rope as positive experiences took a while. Add that to the fact that she is only one of my four untrained horses and let's just say she hasn't been out on the roads too often! In fact, the last time was about 4 months ago – which was also the first time baby Juno came out on the road.
Today, I decided to just take her out on her own, without Juno – which requires some extra bravery from her to leave her herd and her baby. As I was thinking about the outing, I thought, yes, let's try her with a neck loop, if all goes well, and see how she feels about that. I occasionally lead her around the paddock with a rope around her neck, so she does understand the signals from pressure on her neck. But she's never been out on the road in a neck loop before.
I had taken Montaro out on the road with just a neck loop a couple weeks ago and he had let me know that if I do that with the others, I should also put a halter on them, just in case I need it. He also told me (by sending me pictures) that if I want to take him somewhere challenging – like around other horses, or in a public park, then I should put a halter on him too, just in case.
Remembering his advice, I haltered Aude and slung the neck loop and lead rope crosswise across my body for easy access, went to the gate and asked her if she wanted to leave her alfalfa and come out with me:
We started off in just the halter and lead rope and as we walked down the barn road I asked Aude to, "Whoa" and come to a complete stop several times to check how responsive she was and all went well. I have trained all my horses to hand and voice signals so I don't have to pull on their heads. Out on the road, I continued to keep a very soft lead rope – I always make sure there's a loop/bend in the rope with all horses so I'm not pulling on them. This teaches them to also be soft on the rope and prevents negative associations with the halter. Just think how you'd feel if someone pulled you around by your face!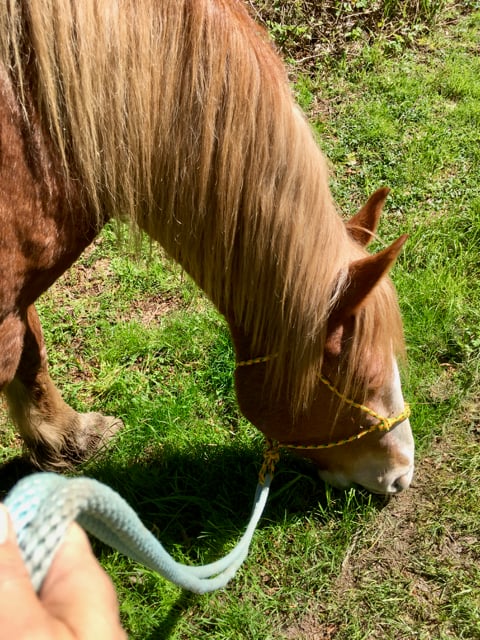 Aude was doing really well, crossing the road when I asked her to, so I switched her to a neck loop. However, for some reason I didn't bring her real neck loop, but just looped a lead rope around her neck and ran it through the clip to make a circle – you'll see in a bit why this was a bad idea…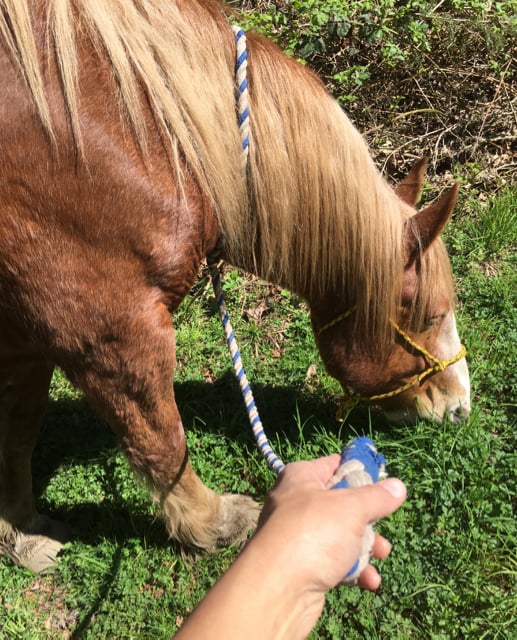 Here's a quick tip that makes using a neck loop much easier: Simply braid the mane around the loop and then it won't slip down when they graze or drop their head. Just use your saliva to seal the hair at the end of the braid (keeps it from unraveling), yet you'll still be able to loosen the braid quickly if you need to: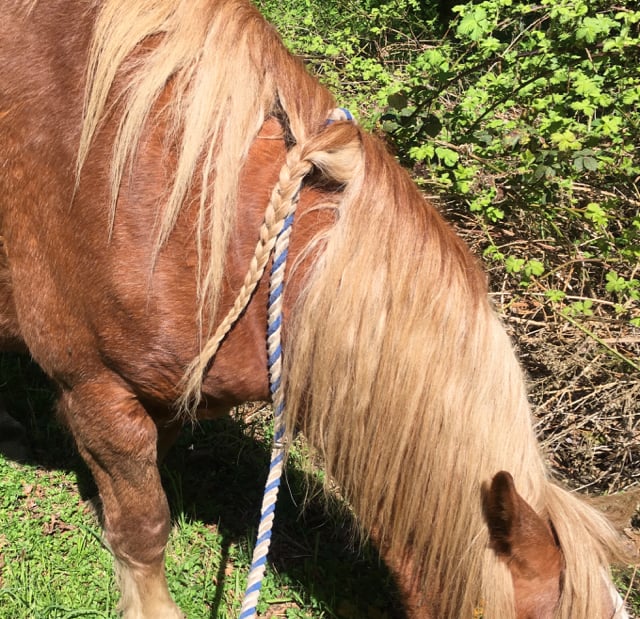 You can see how well Aude was doing out on the road – there were cars whizzing by about 200 feet away on a cross-road, but none had come down our road yet: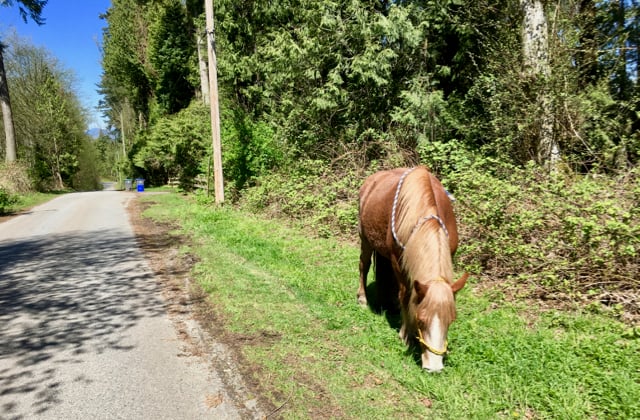 As she grazed down the sides of the road, I led her over to a couple of dandelion patches, so I could gather the flowers and leaves for Juno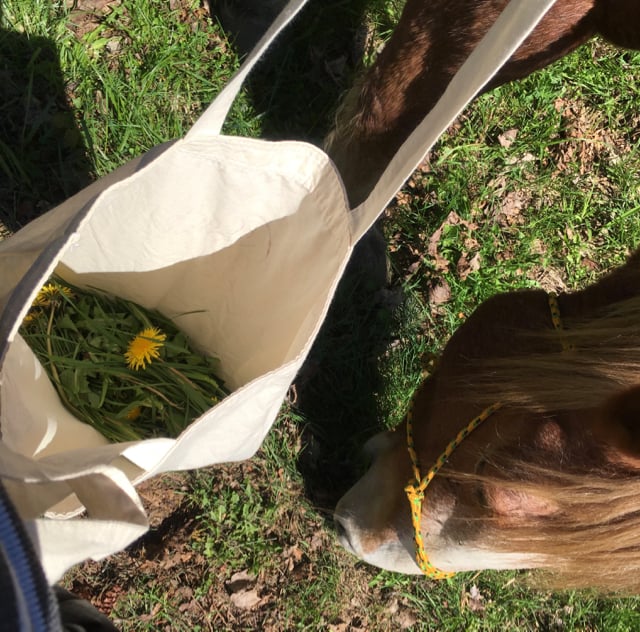 As we walked and grazed along the road, people started arriving home from school or shopping. First a van came down the road towards us and then stopped right opposite Aude! They rolled down the windows and had a chat. Aude was a bit nervous, but quickly settled down as we talked. I thought it was great they had done that to give her more experience with vehicles, windows rolling up and down, people inside, etc.
The next car that passed a few minutes later was a small hatchback with a man in his 20's who went by fairly quickly – again, Aude was nervous, but listened to my "Whoa" and then dropped her head to eat as soon as he'd passed.
Not a minute after that car, came another small white car – this one approaching more slowly. And whether it was the color, or too many cars in a row, or something else… Aude kinda blew up. Now here's where the makeshift neck loop was a bad idea: As I pulled on the neck loop, while saying, "Whoa" (but she was past listening), the lead rope (passed through the clip) was tightening like a noose. It's possible that the noose effect was the main contributor to her blowing up! Regardless, when a 2000 lb Belgian pulls on the rope, there ain't no way pulling back is going to control or stop that horse!
I know this about Aude, and her past pattern when she gets afraid is to take off – you can hold on and get dragged, or lose the skin off your hand – your choice. But in the heat of the moment, reflex caused me to hold onto the rope to try and calm her down as she was pulling to get away from the car, and by the time I remembered to just let go of the rope, it tore a flap of skin off the side of my finger as she bolted away.
But here's where the foundation of trust we have built kicks in. Even under dual pressure – from both the car and the dreaded rope tightening like a noose around her neck, she did not bolt for home, or even down the length of the road. No, she ran a grand total of about 5 feet and then waited for me as I walked over, picked up the neck rope and immediately loosened it. Then I passed my other rope through the loop on her halter, undid the neck loop/rope and then motioned for the car to pass.
As the car drove slowly past – she too stopped for a moment to say, Hi! – I kept the lead rope on the halter loose and tapped on Aude's bum to get her to swing her hind in a circle. We both agreed to head for home after that, but on the way home I asked her numerous times to "Whoa" and she stopped just from my voice command. Then I tapped on her bum and she swung round in a circle – without me pulling on the lead rope at all. We repeated this about 4 times during the walk home and she was perfectly stellar and responsive every time – what a star!
I apologized for the 'neck noose' disaster and we were both pleased to practice "Whoa" and swinging into a circle, to discharge movement, rather than running in a straight line. We both felt it was good to cement that into our body memory more fully, so we can access it quicker in an emergency.
And Juno was very pleased to receive his bag of grass and dandelions and ate all but 2 small ones:
What makes my heart soar during experiences like this is that we can come through trials or disasters with no loss of trust or bond. In fact, our bond is strengthened as we fix problems, apologize and figure out a better way, and thus build resilience. In life, and in horses, seeking resilience is far better than seeking safety. Because life happens, and shit happens, and we will never be able to control all the variables.
But if our goal – rather than safety – is to roll with the punches, figure out where we can improve, take responsibility and apologize for our mistakes, try something different next time, keep the love flowing –> this all builds resilience in ourselves and in our relationships.
I find my horses never hold my slip-ups against me. In fact, they simply trust me MORE with each sideways-slide we get through together. I think they like the fact that I own my oops' and apologize and I'm always willing to try again and get better.
I'm not too big on safety, but I'm all over resilience!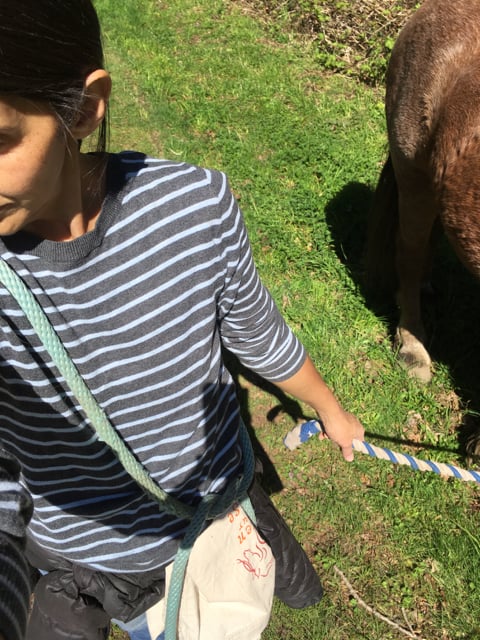 A Foundation of Trust When It All Blows Up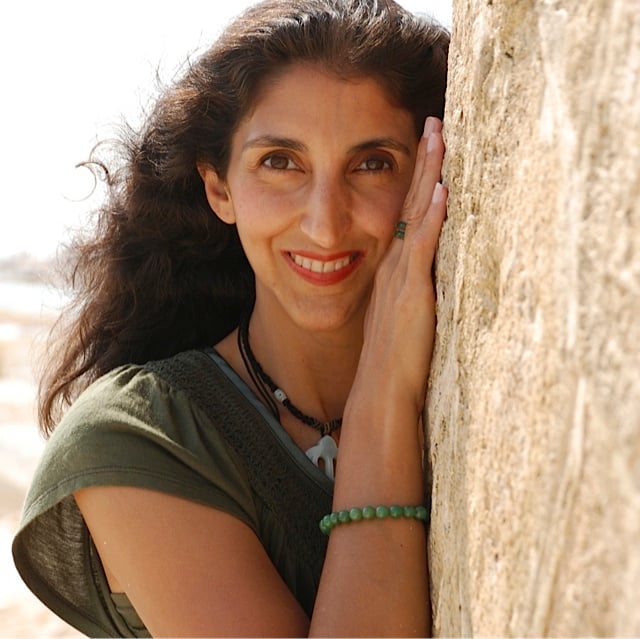 Jini Patel Thompson is a natural health writer and Lazer Tapping instructor. She began riding at age 2 in Kenya, and got her first horse at age 8 in Alberta, and so continues a life-long journey and love affair with these amazing creatures.