I wish I could tell you everything – about how a year on the land came and went, about what it's taken out of and from us all to make it this far, about what the horses have been up to, about each perfect little puppy from the second batch, about everything we've built and unbuilt, changed, burned, dreamed of, and given up on. I wish I could tell you these and many other things, but I won't, because there isn't much time. This isn't about horses. This is about right now.
It has been a time for spirits. We've had Halloween, Samhain, Guy Fawkes Night, Dio de los Muertos, and a brand new full moon in Taurus. The temperature has plummeted over the week, and the eerie, silent gray of river mist that swallowed the valleys in an autumnal shroud dropped theatrically to reveal the terrible splendour of winter. The damp chill has crystalized into -15 centigrade and a second dusting of snow brightens up the farm.
The final harvest is upon us. We've dug potatoes, dried herbs, frozen tomatoes, kale and beans, shelved the cabbages and planted and mulched next year's garlic. Some of it we grew and some of it we bought from other, more experienced farmers. This was an odd growing season; with apocalyptic wildfires in the south, our area had blessed rain through the summer – which, while keeping us safe, also kept the garden from fully expressing itself. The wild berries were few. Game has been scarce. The fish runs suffered brutally this year, and the politics of our salmon river towns have been tense. The bounty of this place hangs by a thread, but still it hangs. It's time to butcher.
A few days ago I was tending to the myriad animals, tense and worried as I have slowly become. My back ached between my shoulder blades. My elbows and wrists were sore from the relentless moving of thousands of pounds of hay, feed, wood and water. Heavy boots, heavy mind, heavy heart. Somewhere out there the foxes prowled, waiting for the dogs to turn their backs long enough to snag a plump chicken. I waded through goats irritably, fending off their hungry, oppressive hooves and faces. Yes, I will get you hay. Yes, if you leave me alone for one Jesus-H-Christ-damned second I will feed you.
Somehow Birdy, in her inimitable goat-wisdom, caught my eye and pulled me down to my knees so she could reach my face – how she caught my attention in that indulgent state of self-absorption I have no idea. While the other goats faded away like choreographed chorus members, their piranha-frenzy inexplicably quelled, Birdy touched me gently with her nose and then buried her face in my neck under the collar of my jacket. We stayed like that a long while, and she let me cry as the tension spilled up and over to express itself.
Dreading the pig slaughter that loomed ever closer, I'd been slowly, unconsciously, shutting off my connection to the pig herd. And as that link withered and hardened, so did the rest of them. All my joy, love, and delight for my animal family was dulled, as though that might somehow make it hurt less to lose them. And meanwhile, I was forgetting the point of it all. I was doing that thing where you peer into the Void and chuck rocks and never hear them hit bottom.
I could call it off, and quit eating meat, and avoid this altogether – this is a choice we are making, one that doesn't make sense to many. Do you know that scene in Cold Mountain, where the wise old healer woman is loving up her goat and then deftly slits its throat and helps it die? Some people find it really morbid, and some people aspire to that. I'm in the second camp.
I don't believe any food, or life, can be produced absolutely free of suffering. I think of the incredible life within or beneath the soil that is displaced, diseased or destroyed by most vegetable farming practices. Things without faces, or with faces we don't connect with easily. I think of the bees and the worms and the soil bacteria and the birds and the migrant workers and every other unacknowledged soul; of the sentience of plants, conveniently forgotten or ignored; of the nitrogen run-off and the soil degradation and the deforestation and the climate effects that taint whatever else we put in our mouths; whether we know about it or not. Legumes don't grow well in this climate and half the year nothing grows at all, except critters. Protein is precious. I believe I might feel right in this world if I can lovingly tend and harvest what I eat. I want to participate fully with my heart and eyes wide open. I want to be big enough to hold it all at once, and I realized right then that I simply wasn't, yet.
With Birdy's sweet snuffling guidance that morning, I poked some breathing holes through my own illusions, pried open my heart again, and waited to see what would happen. I also stank like a goat for the rest of the day, incidentally.
This season's festivals are about death, but they're also about life. We are apparently meant to celebrate in the face of death, poke fun at it, pull its mask off and see it for what it truly is – not something to fear, but something to dance with. Something to welcome when the time is right. Something to make room for, to acknowledge, to respect and to know intimately. Something to make every day sweeter and brighter. And lo, when we light the candles and sing the songs and send our prayers up with the smoke, something does loosen its grip. And something else, perhaps an accordance with all things, takes its place.
Yesterday our neighbours came and took the lives of the two pigs that will feed their family through the winter. The cheerful, brave little souls passed quickly and without distress, on home ground with friends and family near. One moment they were eating porridge and apples, and the next they were gone. No separation, no travel, no fear, no trauma. Tomorrow, the third pig goes. Another thirty or so chickens are feasting in what's left of the garden, unknowingly reaching the end of their days. Less absolute but still sore are other losses – soon six of the goats, who we have fostered for friends, return to their people. One puppy of four has gone to his forever home; another leaves next week. And I can't explain why this soul stays and this one goes, why dogs and cats are fed but not eaten and horses get forever homes while goats must leave, even on this farm. But I find that heavy worry and didactic reasoning doesn't cure anything, and turning away from the world's woes has never seemed to lighten them.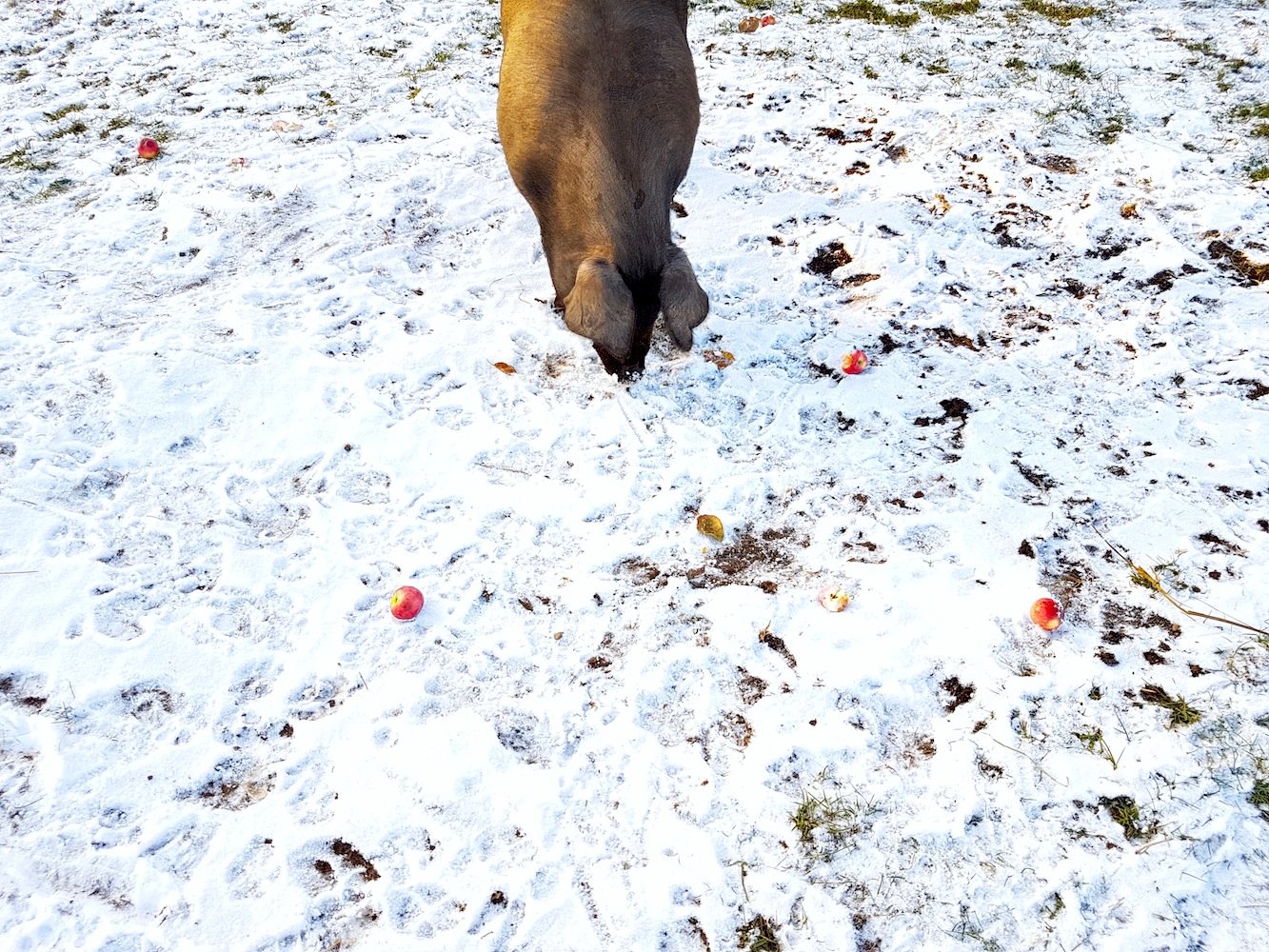 So today my exhaustion makes way for quiet celebration, and the sun shines and the barnyard calls. I open the pig gates and oust the swine from their afternoon nap. I demand that the goose join us; I call the chickens out; I summon the goats. I toss salmon roe to the chickens who revel in their fatty goodness. I take flax and alfalfa and spread it out for the herbivores. I bring crisp red apples from the cellar and dump them out in the snow. We are having a party for Big Boy's last night on earth.
The horses hang on the fence, waiting for me to pitch them fruit to hunt in the snow and weeds. The barnyard hums with contented activity, eight species milling around in busy, light-hearted competition. This place holds us all, and Big Boy, our sweet pig born and raised and soon to die here, strides bright-eyed and easy through the snowy grass, rooting and foraging, and then flops on my lap, enormously, for one last cuddle. I thank him and love him fiercely, and let him go while holding him close. And think, there – if death came to me exactly now, swift and absolute, I'd be at peace with it. Let him be as well.
This life we are living together is not wildness in the common language, no – this is managed, this is predicted, this is orchestrated and tended and tamed to many degrees.
This is undeniably domestic, but its edges give way to truth. The rules remain the same. We all live, we all die, and we all do better when we are fed well, afforded some freedom, and able to express our deepest natures; animal and spiritual and whatever else is in between. The coyotes howl no matter how thick the walls. The darkness falls and the light reclaims. And everything is more vibrant when you remember you're a part of it.
After Big Boy pig left this world, I went to the remaining pigs, and I thought, how do I carry this? How do I apologize or… explain this to them? My voluntary part in it, my choice to have him die…
They were snuggled up together, the energy was very low; I had kept them apart but let them see his body afterwards so they wouldn't wonder. And as I reached out energetically, I got the answer. I said, "Yeah I'm so sad too. I can't believe he's gone." And we flowed sadness between us. And I kept the complicated parts to myself, because they aren't part of their world. And then they got up and came out into the field with me and rooted around, pausing over the frozen blood stain on the ground and then carrying on.
I had a round bale delivered into their shelter and when they came back, they were so excited and got to work pulling it apart to make a comfy bed. Here's a video of them – they surprised me by appearing balanced and content, despite the recent deaths. Mama Pig actually carries mouthfuls of hay to place just so in her boudoir (I've also seen her lay hay over her sleeping children). Her small husband prods her affectionately. Everyone rejoices in the tasty green novelty. Life goes on.
p.s. The big snuffles are from my running nose because it's dang cold!
Click here for Part 15 in this series.
Rewilding the Herd – Last Night on Earth
A barefoot hoof trimmer, a singer/songwriter, an amateur farmer – these are some of the hats Kesia Nagata wears when she's not full to bursting with wondrous equine co-creation.