I rode my horse the other day.
This sounds fairly unremarkable, but it's been awhile. I wrote about this a while back – I gave up riding as a singular goal, or right as a horse owner, several years ago. Since then, I have been experimenting with ways to communicate with my horses; in an attempt to discover if riding can truly be a mutually enjoyable activity. It has resulted in a lot of, well, not riding, because when I'm honest with myself, even the gentlest of techniques still feel – to me – like manipulation based on my own desire to ride. This is not, by the way, a judgment on those who do ride: these things are deeply personal, and it's my own person I am seeking peace with in this regard.
But the other afternoon, after polishing my lovely (and extremely underused) treeless saddle, I had one of my feelings. I took the saddle out to the barn, did my usual putter-and-cuddle with my herd of three, and then casually tacked up my gelding, Spero (better known as Spoo). Again, fairly unremarkable – except that the last time I tried to put so much as a saddle pad on him, he wasted no time in informing me that it was a terrible idea, moving away and eyeing it fearfully as I approached with it.
This was typical, and it was why I hadn't pursued riding for a long time. It was the sheer desperation in his facial expression and movements, how he looked entirely wigged-out by anything tack-related, and his deep suspicion of me whenever I was at his left side – which, as I'm sure you know, is where most horses get tacked up and mounted from. Damage had been done to my boy, whether physical, mental, emotional, or all of the above, and I was not solid enough in any of my philosophies to try to force, manipulate, plead or demand a change through one training method or another. I just wanted him to be happy, and that appeared to mean not riding.
When horses have spent their lives with no option but to do as WE please, that stays in their nervous systems even after they are given a voice. Unlike my yearling, Firefly, who has always had a say and therefore always gives me the benefit of a doubt when I slip into old, pushy ways ("you're kidding, right? yeah that's what I thought,") my older horses have years of conditioning that they are undoing slowly, messily, and beautifully – not unlike my own process. It means that my mistakes often result in setbacks, lack of trust, and time required to mend and reframe things for both of us.
So when Spero stood calmly for tacking up and mounting, it was indeed an incredible thing. I didn't let myself do too much conscious thinking – his coolness with it kind of triggered a coolness in me, where neither one of us really admitted what a big deal it actually was. After moseying around in the barnyard, I gently asked for him to walk out into the front pasture, 12 acres of gently rolling grass and other forage, surrounded by birch and pine. The mares followed, and we moved at a walk and gentle trot along the fence line. I was struck by how much had changed, and how much hadn't. For starters, he needed no refresher of cues, no reminders of how to be ridden. He seemed entirely unfazed and was the same, sensitive, responsive mount I'd known years before.
But he also communicated back to me, asking to stop and wait for the rest of the herd, or to eat this really tasty dandelion, or to point out where the cinch was itchy so I could fix it for him with an adjustment and a good scratch. Satisfied, he'd pick up my voice or energy cue and we'd stride out again. I could feel both of us wondering if the other one wanted to go fast, and also the mutual decision that we'd keep it safe and quiet this time so as not to scare either of us on our first real ride in years. But he also spoke out loud, verbalizing with these adorable squeaks to let me know I was sitting wrong, or holding too tight. Never once did he use his signal for "stop, please," which is usually him turning around and holding my boot with his teeth, looking me in the eye reproachfully.
When I used to ride regularly, what distressed me most was that I couldn't feel the horse. It was like the line of communication between us had been cut – extremely bizarre when you're doing something so intimate, body to body. I wanted the talk to be two ways, but it was almost entirely me I could hear, and it took all the enjoyment out of it.
We went back to the barn after a while and Spero graciously accepted my kisses, alfalfa cubes and complete adoration, otherwise not indicating that anything unusual had happened. The time I've been spending with my horses toward building our relationship on the ground – not with training specifically, but with love and conversation, exploration, and experimentation – felt suddenly, succinctly rewarded. It made the simplest ride into an incredible gift.
You know what the hardest part has been? Not taking for granted that this is how it is now, just because it happened. A couple days later, I got the saddle out again. Spero came to his halter, but kept walking off and moving away from the saddle pad and saddle. I had to swallow my newly inflated expectations and put the tack away, because I'd promised him that if we did this, we'd do it together. He always gets a say. Still, I was disappointed and a little put off, until moments later, when all three horses stormed out of the barnyard toward the middle of the pasture. As I looked out, I saw a lone bear ambling towards us. I hollered "Hey Bear!" as we do to alert them to our presence. It looked up and saw us.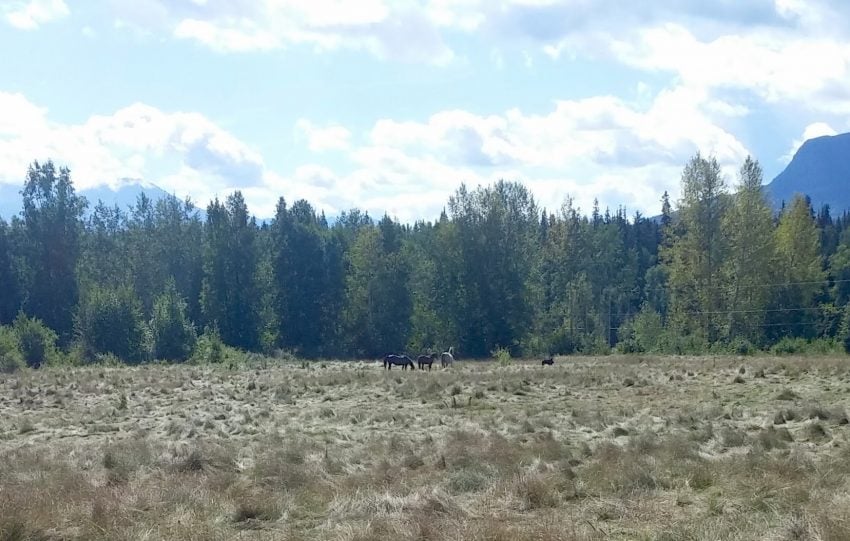 Spero took the lead and trotted strong and confident towards the bear, keeping himself between it and the mares. After several advances, the bear stood on its rear legs, then wheeled away and hurried back towards the woods. I marvelled at the sequence of events – how if I'd pushed my way into riding again, we would have had to face the bear together, both of us compromised by being attached to each other. Instead, Spero had let me know it wasn't a good time, and had taken charge, and now there was no bear in my apple trees or my goat pen!
Since then, I've been thinking a lot about forgiveness, of ourselves and others, for our foibles and inconsistencies, for our misconceptions and our beliefs. It isn't about our horses owing us their obedience, and it isn't about us swinging entirely in the opposite direction and taking on responsibility for the destructiveness of all humankind. It seems to me to be more about meeting each other where we're at and seeing what we can make of it. Spero and I allow each other our imperfections and idiosyncrasies, spend a whole lot of time expecting nothing of each other, and every now and then, magic just happens.
Riding, Relationship, and Mutual Trust
A barefoot hoof trimmer, a singer/songwriter, an amateur farmer – these are some of the hats Kesia Nagata wears when she's not full to bursting with wondrous equine co-creation.