I'm going to start this review by telling you why I wanted to go on a retreat and why I chose Equinisity. Then I'm going to get into what I loved about this retreat and also what I felt was wrong, or not so good about it.
You see, I was feeling the need for some alone-time; away from the 15 beings I'm responsible for daily, and a space to sink into and connect with where I was currently at in my soul journey, and where I needed to head towards next. I knew we needed to make some big changes in our life (like moving) but I had no clarity about where to move, or how to make that happen.
So when I heard Taming Wild trainer, Elsa Sinclair was going to be co-facilitating a retreat up at Equinisity, it seemed like a sign. Here's what Equinisity promises on their website:
"Our Sacred Land is home to a herd of free roaming horses, and our resident Buddha, Tesoro the bull. The 320 acres of enchanted forests, hills, lakes, rivers of underground crystals and magnificent views, is an energetic matrix for personal transformation through higher consciousness, universal love and connection to all life."
The main draw for Liz Mitten Ryan's Equinisity retreats seems to be the unique opportunity to interact with her herd of warmblood horses at liberty. To meditate with the horses, to lie down on a massage table and have the horses facilitate healing for you and to pillow a horse's head on your lap while they snooze. One of Liz's top videos on YouTube shows just that:
Liz's other video that has gone viral on Facebook (5 million views and counting) shows the same horses snoring and farting away – love it!
For myself, you'll know if you read this blog, that I already have a herd of horses with whom I do all of these things and more. So for me, the draw wasn't the horse experience, it was THE LAND.
I had a growing discontent with boarding my horses on other people's land and a pressing urgency to find Our Land. But WHERE is it? Is our land in the interior of British Columbia (BC)? Or is it in California? Without going into all the logistics, pros and cons, and feelings of my family members (hubby and I have 3 kids aged 10, 13 & 16), I set my intention for the land and the universe to speak to me.
When Kesia and her Mum walked onto their soul's land in Northern BC, her Mum burst into tears and Kesia began having visions as the land spoke to her.
So I went to Equinisity primarily to commune with the land; to hear what it had to say to me. I had a discussion with Liz before I came to ensure she knew my goal and wouldn't be offended if I didn't participate fully in the horse activities, or if I kept wandering off around the land by myself. Luckily Liz was in full support of my purpose and gave me permission to flex in and out of the group as I was led.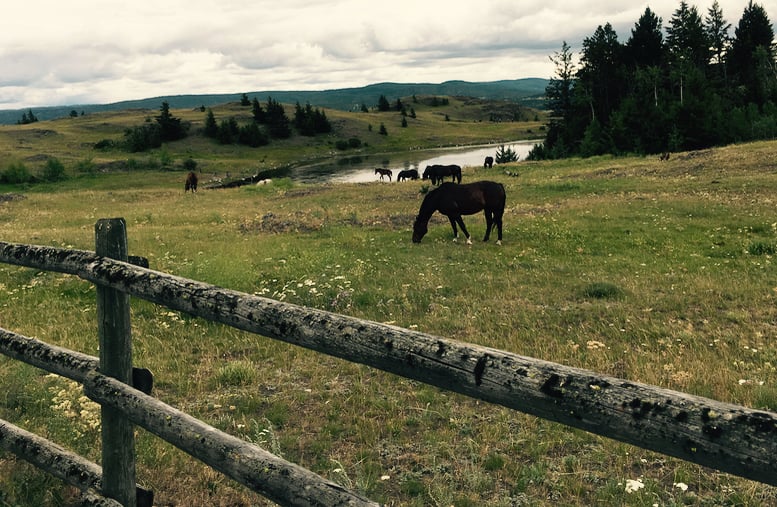 We had a bit of a rigmarole with the accommodations for the first couple of nights – Liz doesn't allocate anything beforehand, so people with varying needs and preferences have to jockey around and figure things out for themselves. Once we realized that Liz wasn't going to organize anything, but she also wasn't going to tell anyone that you cannot do things, we figured out a way to get everyone's needs met fairly quickly, as much as was possible.
So I ended up sleeping in a dome tent, right on the land. And although I didn't do much sleeping, the land sure talked to me, the horses gathered round me one night (yes, they snore and fart at night too), and the coyotes the next night (sure wish I'd brought Tiah, my Tahltan Bear Dog), and after 3 nights I had my answer: No, our land is not in the interior of BC.
Since I also felt my Belgian mare urging me to return home (she was very close to foaling), I left, and the 5 hour drive back home allowed me to muse over and cement in my experiences.
I paid $3,000 to sleep in a tent, crap in an outhouse, hang out with some wonderful women (and Elsa's lovely man), learn some cool stuff from Elsa Sinclair during the day, and be led through some exploration exercises with Liz Mitten Ryan as she drank wine during the evenings. Was it worth the money? You bet!
I'm a big fan of allowing life to unfold, just taking the next step where I'm led, and I've never been hesitant to pay for learning or wisdom. It was worth it to me, because that answer is directing the next 2 years of my life; which is already resulting in some exciting events.
I'm not going to comment on Liz's horsekeeping practices, or the way she interacts with her herd. It was interesting to me because here we had Liz at one end of the spectrum and Elsa at the other, and I was in-between the two. I certainly enjoyed Elsa's ability to throw herself into new or uncomfortable spaces and open herself to experience. Yet at the same time, not give her power away, and find a way to language things so that both her way and Liz's way could co-exist. I really admired that.
Elsa loved working with the herd at liberty (outside the closed paddock) in the big fields and she gave us some cool exercises to try and demonstrated some of the training techniques she uses with wild mustangs.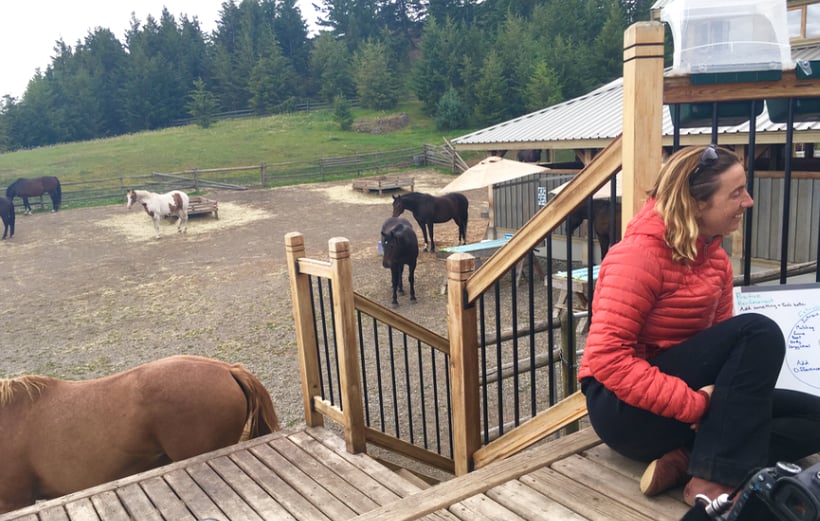 What's not so good about Equinisity
So now that I've told you about the good stuff at the retreat, let's talk about the not-so-good stuff.
The primary reason I'm writing this post is to provide information that is currently not available on Liz's website, nor in the information she sends you after you register for a retreat, that really does need to be accessible.
There were two people at the retreat with significant mobility issues. And one who had to urinate up to 4 times a night – you're going to see why this is relevant, so stick with me!
What is not made clear by Liz beforehand, is that the tent-cabins – which are the normal accommodations – are built at least 2 minutes hike away from the toilet, which is down a pine needle covered trail at a fairly steep elevation (slippery):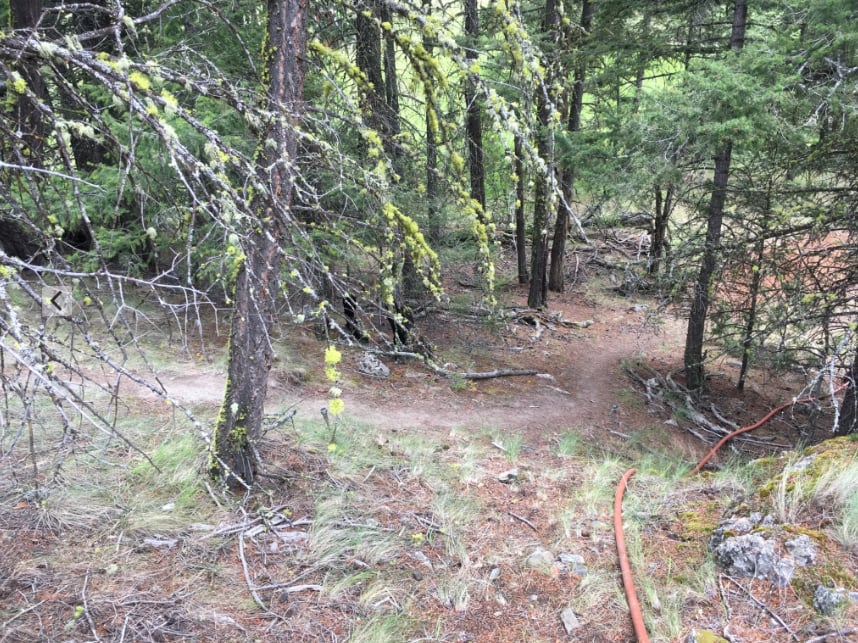 Anyone with any knee or back issues is going to have hard time navigating those trails in the daylight, and in the middle of the night, forget it! For that reason, Liz provides pee pots inside each of the tent-cabins (part wooden structure, part tent). So you get to either hike to an outhouse – no, not a compost toilet, just a hole-in-the-ground outhouse with a toilet seat – or pee into a chamber pot inside your tent-cabin; which you share with a roommate.
And god help you if you need to poo in the night – just you, your flashlight and the coyotes howling. Not that there is anything wrong with rustic experiences. Millions of people adore camping. I'm simply pointing out that I would have greatly appreciated knowing all this before I booked, and most importantly, if I was injured or handicapped with mobility issues, it is vital to know this stuff beforehand.
So let's continue on. The other logistic that is not made clear is the large amount of walking you will need to do to get to and from:
The cookhouse – where you have your meals and evening discussions
The horse's area
Your tent-cabin
The latrine & shower house
As an example, you cannot even see the cookhouse from your tent-cabin. One woman who had trouble walking ended up driving her car as far into the trailhead as possible to reduce the distance. Sometimes there is an ATV available to give you a ride, but not often.
In my opinion, you need to be able to walk along a trail in your local park for 20-30 minutes to be comfortable getting around during an Equinisity Retreat. If you're in pain after 5 minutes of hiking a gentle trail, you're going to seriously suffer here and possibly worsen your injuries.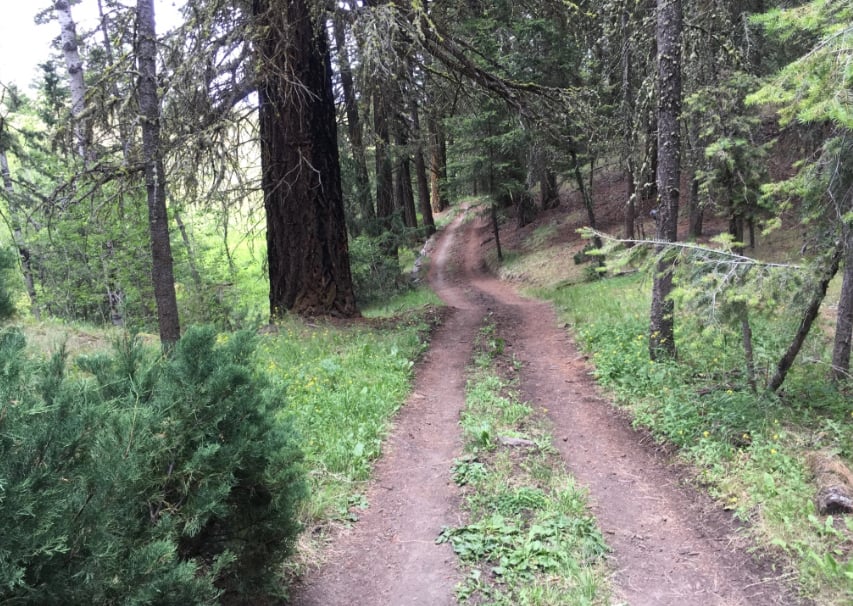 When I queried Liz about this she said, "Oh the land is healing, we've had people come here who could barely walk, and by the time they go home they're walking all over."
I give that credence, because I know few things are as healing as land and sunshine. But I also can tell you that the 2 people at my retreat with mobility issues got worse and either didn't venture out, or got given rides in vehicles. So again, you can feel into your body, and what your body needs, and make your own decision. I am simply providing the information that I feel is missing from the Equinisity website.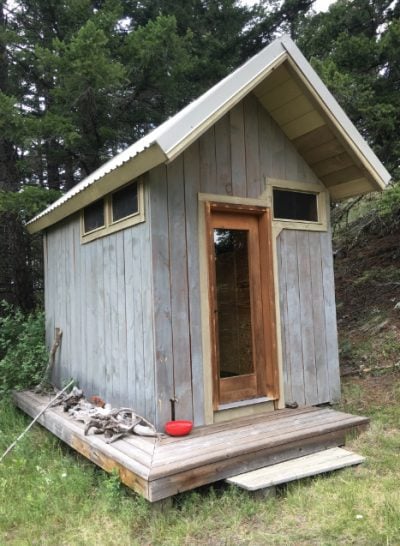 Aside from the 2 outhouses, there is also a separate propane-powered shower house with a pump you turn on to get the water coming in from the tank. Again, this is the same distance from the tent-cabins as the outhouses. And what ended up happening is that most of the people could not cope with either, so they got to the cookhouse early (which had a normal bathroom with flush toilet) and showered and had their morning dump, one after the other.
As a result, the cookhouse ran dangerously low on water by Day 3. Each building has a water tank which needs to have water trucked out to it and filled. At the same time, the pump was malfunctioning at the shower house – so a few people had to wait a day or so to shower.
Again, nothing wrong with rustic, but personally I think the fee is a bit steep for the accommodations provided. On the other hand, horses are expensive to maintain, so perhaps that balances it out.
Thankfully, the food was good. But there is no actual chef, just people pulled in who can cook. And as apparently happens often at Equinisity, most of Liz's staff had quit just before we got there. There is one meal served for lunch and one for dinner; main (fish, or lasagne, or barbecue chicken, etc), salad, breads/crackers, sometimes cheese, and chocolate or nuts for dessert. Breakfast you forage for yourself from supplies in the cookhouse kitchen.
One last tip: The retreat package instructs you to bring a sweater for the evenings, which was not sufficient for the weather we had (in July). Those of us who brought down-filled jackets were zipped up in them during the evenings and for a few of the days too. The weather in Canada is unpredictable and can change in a heartbeat, so you would need to bring clothes for both sweltering hot and very cold weather.
Which reminds me – many people didn't sleep well due to the cold, so you really need to bring a toque for the nights. What saved my bacon was that I snagged an extra blanket from the closet in one of the bedrooms at the cookhouse and made a tent with it to cover my head, and an extra sleeping bag to go over top of the one I brought (yes, you have to bring your own bedding too). Thank god I also brought a hot water bottle with me (yes, I've done a lot of traveling so have a few tricks up my sleeve). So I filled that just before bed from the kettle at the cookhouse, stuffed it under my coat and got it in my sleeping bag pronto. Ah… toasty warm all night!
Note: there is an entire closet in the cookhouse filled with extra blankets and sleeping bags and you can just help yourself – don't wait for someone to tell you about it, or ask you if you need extra bedding.
Oh and before I forget, there was no horse riding. On the first night, many of the participants mentioned they were really looking forward to riding the horses at liberty – as shown in all of Liz's videos and the photos on her website. However, Liz then informed us that her horses that could be ridden by 'normal' people were all too old or injured, and the younger horses were trained to respond to subtle cues like change of seat, or turning the head. So they were too sensitive to let anyone else ride.
So all interaction with horses was done on the ground. Again, nothing wrong with that! But it should be made clear that what you see in the videos and the photos on the website is no longer what you get.
The best thing about Equinisity
Aside from being able to commune with the land – land that is truly wild and magical and not overrun with humans and their accoutrements – I SO enjoyed my time with Tesoro, the steer. We had a time of learning each other's language and then I asked permission to sit on his back.
He agreed – for about 10 minutes – and then asked me to get off (which I did). I've always loved cattle, but have not lived with any (yet!) so this was probably special for me in the same way the horses are special for guests who don't live with horses. One of the other gals snapped this photo of us: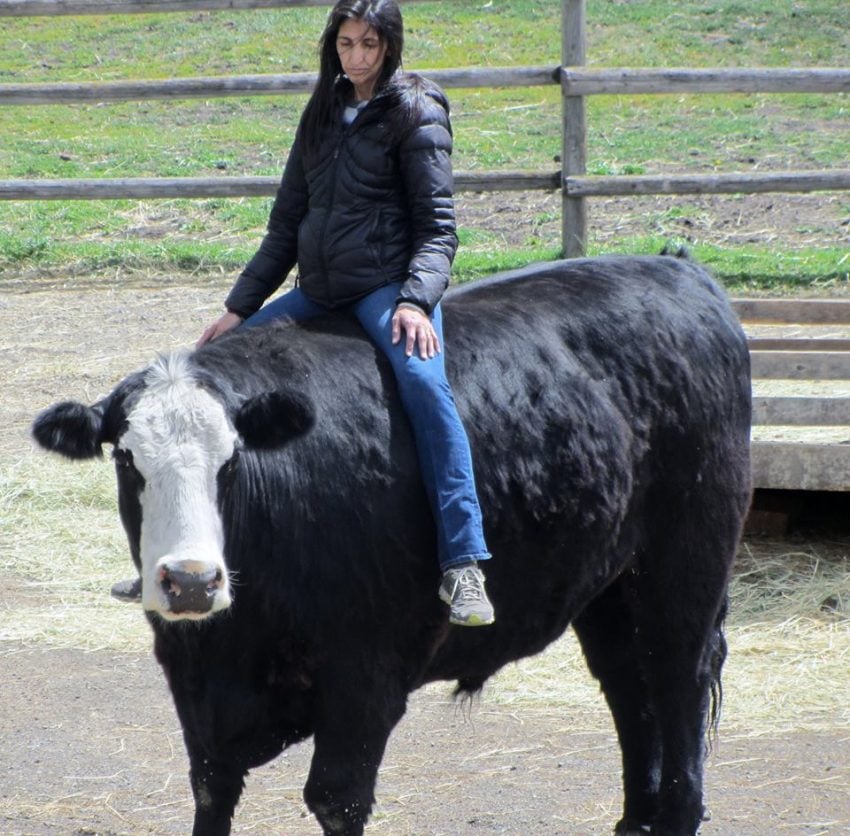 The other thing that was notably great about the retreat was the caliber of women attending. Normally at any retreat or workshop you get at least 2 or 3 seriously dysfunctional people with a lot of pain directed outwards at other participants. Which you just accept as part of life; or any normal human grouping. But for whatever reason, this group was just lovely; vital, alive and open. Yes, some of us were dealing with some heavy issues, but everyone was owning their shit and not trying to put it on anyone else.
So I super enjoyed getting to know the other women there and most of us have stayed in contact and even visited each other since! Here's two of the fabulous ladies I met at the retreat, who came by a few weeks later to visit our new foal: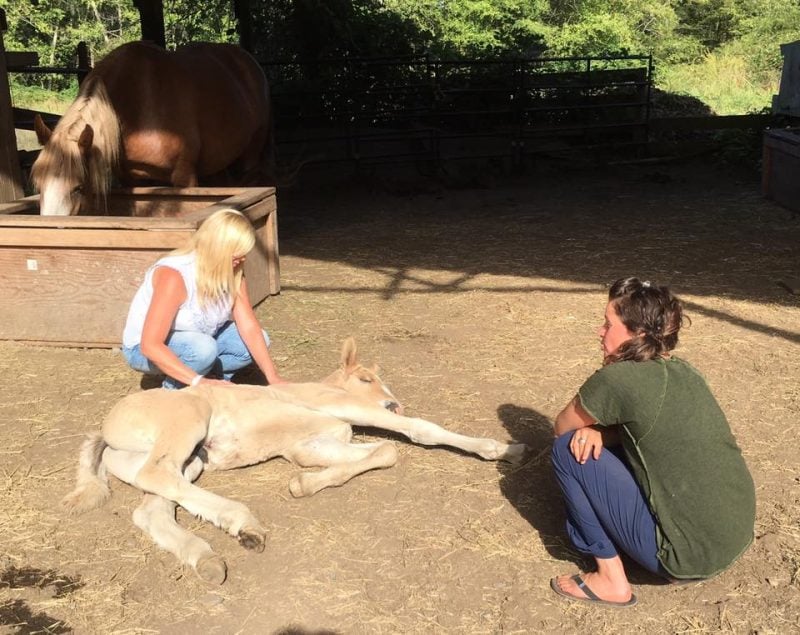 From what I heard other people saying in the three days I was there – the land and the horses were the biggest take-away's for them. And I'm thankful Liz Mitten Ryan has opened her doors to make these powerful elements available to people who would otherwise not have the chance to experience either.
If you've attended an Equinisity Retreat, I would love to hear about your own Equinisity experiences in the Comments section below. And feel free to give your name, or comment anonymously; whichever feels good to you. Or, if you've been on a different equine-centered retreat that you really loved (or hated), please tell us about it!
Equinisity Transformational Retreat Review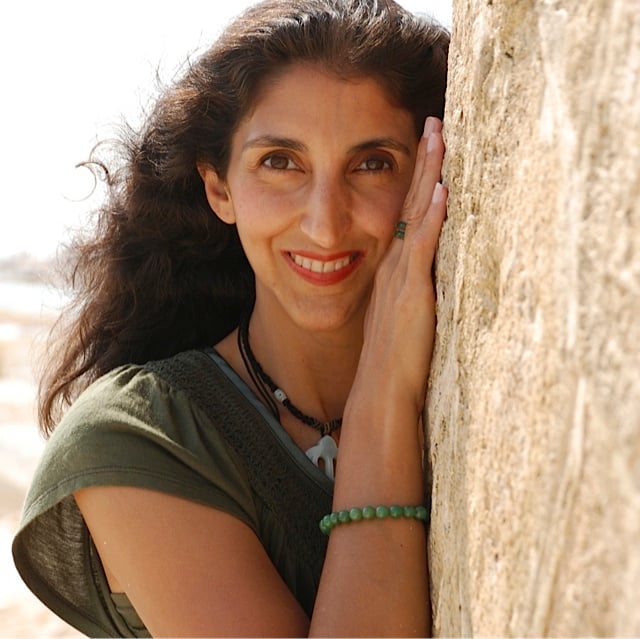 Jini Patel Thompson is a natural health writer and Lazer Tapping instructor. She began riding at age 2 in Kenya, and got her first horse at age 8 in Alberta, and so continues a life-long journey and love affair with these amazing creatures.