My equine chiropractor/bodyworker Ainsley Beauchamp (who has owned 21 geldings) came out to show me a super easy, no-water-needed way to clean my geldings' sheaths and remove the hardened smegma bean (which can press against the urethra). BUT keep reading, as recent research shows it's actually better to just leave the sheath alone!
I'm going to take you through that research further down, but for now, let's take a look at this simplified, less disruptive technique for those times you feel you really must clean your gelding's sheath.
This video shows a much simpler, faster and more easily-tolerated version of sheath cleaning than the traditional water, soap, cloth/sponge clean. So if you have a young horse, a horse that hates having his sheath cleaned, or a more skittish horse, you may appreciate this technique. Towards the end of the video, Ainsley and I discuss the parameters around doing bodywork on a horse that's unhaltered, or resistant, and the role the horse owner plays.
The water-based lubricant (shown in the video) allows the horse to "self-clean" as the penis descends and retracts during rest, urination, etc. Or, if your horse wants, you can use water to rinse off the lubricant afterwards. Neither Jax nor Juno wanted theirs rinsed and you can see from the footage 1 week later that leaving the handful of water-based lubricant in the sheath has not created any issues.
Neither of the horses (Jax age 5 and Juno age 3) in this video have had their sheath cleaned before and you can see how Ainsley works with their full permission – unhaltered. However, both horses are well used to having their belly and sheath rubbed, scratched, massaged and they thoroughly enjoy that.
If you have a horse that is skittish around the sheath area, wait until summer when the bugs are biting and then slowly rub your way closer and closer to it. Having an itchy, hard to reach area scratched/rubbed with the right amount of pressure can be extremely enjoyable. Listen to your horse and go at the pace he decrees. Even if it takes you a year or two, you're better off than bulldozing through his boundaries and then having to use sedation ongoing.
The part that Ainsley makes look easy, but that actually takes a bit of practice, is locating and removing the bean. Here's an excellent photo showing where the smegma beans can be located that will hopefully make it easier for you – feel free to download the full guide compliments of Horses And People Magazine in Australia that I grabbed this photo from, as it has lots more pictures and info:
What if I never clean the sheath?
On the flip side of the coin: Do we even need to clean our geldings' sheaths regularly? Who came up with this idea, or the idea that it's necessary? And if it's so necessary, how do wild horses survive, breed and urinate without ever having their sheath cleaned? Is this something that only becomes 'necessary' once a horse is gelded?
I found this superb article on the subject by Dr. Ben Epsy (DVM) who says, "Contrary to popular belief, cleaning a horse's penis and the sheath containing it (the prepuce) is rarely necessary. In fact, the aggressive cleaning methods promoted by many well-meaning horsepeople often do more harm than good." Here's one of the best bits from Dr. Epsy's article:
Myth #4: An unusually large smegma "bean" can block a horse's urethra. Smegma can accumulate in the depression at the end of the penis, called the urethral fossa. Commonly known as the "bean," this smegma plug can vary from about the size of a small eraser to a lima bean. When male horses stand "camped out"—with their hind legs stretched behind them and their backs hunched in an uncomfortable-looking stance—some people worry that they're having trouble urinating. But the force of a horse's urine stream is far too strong to be inhibited by any amount of smegma. In fact, the "camped-out" stance is usually a sign of abdominal pain caused, for example, by ulcers or colic.

Not only is sheath cleaning unnecessary, it can often be harmful. The traditional method of poking a hose up into the sheath and scrubbing it and the penis with sponges and antibacterial soap removes the natural protective covering and healthy bacteria population, potentially causing microabrasions and sores.
Dr. Epsy's opinion is confirmed by this controlled study carried out on 19 horses by Mariah Beaver et. al at Delaware Valley College in Pennsylvania and presented at the International Equitation Science Conference in Denmark in 2014. The study authors concluded that, "Cleaning a horse's sheath causes an increase of bacteria, is unnecessary and removes important anti-bacterial proteins from the sheath."
Interestingly, the study also cites research done by Dr. McDonnell – who maintains a semi-feral herd for the purpose of studying their physiology and behaviour under semi-natural conditions:
"This is supported by observations collected by Dr. Susan McDonnell at the New Bolton Center, University of Pennsylvania. Five stallions coming from the feral herd and castrated from 3-5 years prior to examination and 2 stallions castrated 8 weeks prior to examination were found without bean or malodorous smegma build-up. The geldings have not had any attention to their penis since birth. This concludes that smegma problems may result from human contact with the sheath."
This is particularly interesting to me, since all four of my feral/semi-feral stallions showed minimal smegma build-up or malodor prior to being castrated. Their penises were quite smooth and lubricated.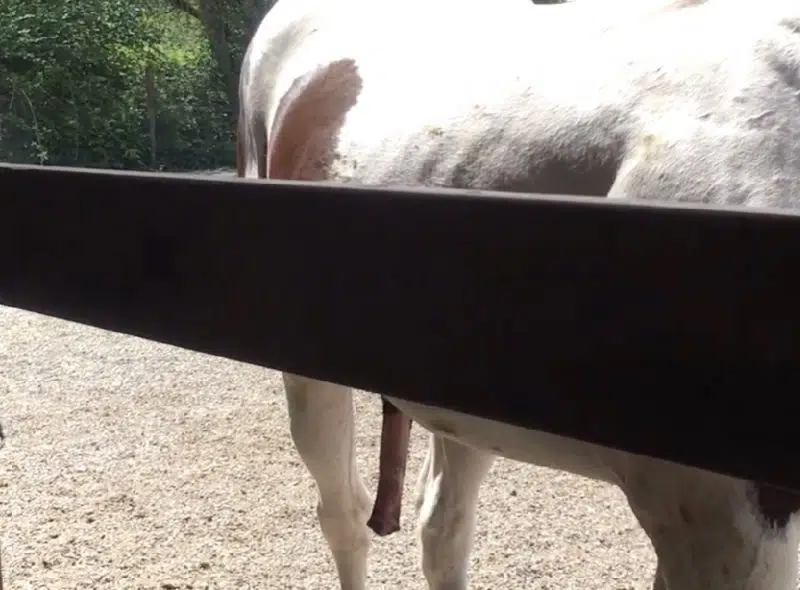 Only after castration did I begin to see a build-up (varying in amount from horse to horse) of smegma. And only in Montaro's case, was the smegma excessive and malodorous.
Cobra (feral mustang) was castrated during a drunken episode at age 7 – so no anti-bacterial substances were used before or after, nor has his sheath been touched before or after. His sheath and penis (age 9 now) look and smell just fine. My other feral mustang, Makah, was castrated at age 3 by the vet. Within 6 months I began to see an increase of smegma on his penis, whereas before it had been fairly clear. My three semi-feral horses (Jax, Juno and Montaro) were all castrated by a vet. Jax and Juno did now show much smegma before the cleaning shown in this video. As I mentioned, only Montaro had excessive smegma and a malodorous smell.
I wonder if the bacterial balance of the sheath is negatively affected by the antibacterial fluids (to sterilize the area) applied prior to the castration surgery? In Montaro's case, he also received oral antibiotics 6 months later due to a heel injury/surgery. Although I followed these with oral probiotics, the pre-existing bacterial imbalance, combined with his anger at being castrated (emotional contributor to dis-ease), could have resulted in an overgrowth of undesirable bacteria. Interestingly, Montaro's half-sister Audelina also has malodorous moist smegma between her teats – which I treat sporadically with a wild oregano/zinc oxide paste.
In Dr. Beaver's study, the horses were divided into 3 groups cleaned with water, Excalibur and baby shampoo. The group cleaned with just water had the least increase in bacterial growth; and the group cleaned with Excalibur (which contains tea tree oil, SLS and other undisclosed ingredients) had the greatest increase.
So if you must clean your horse's sheath, then just use water, or a water-based lubricant like the one we used in this video (make sure the lubricant doesn't contain any antibacterial substances). 1 drop of Lavender oil is unlikely to do much harm, but feel free to skip that as well. I also suspect that the missing piece here is not just to say, "Don't clean the sheath." But rather, to replace the missing bacteria with good bacteria, then sheath cleaning is no longer necessary. If you have a horse that continuously produces off-smelling smegma and massive amounts of it, or large beans that produce visible relief when removed, it's not going to be helpful, or change the outcome, to just stop cleaning the sheath. However, in light of this research, giving the sheath a good clean and then liberally coating with probiotic gel seems likely to produce a positive outcome. The question is how often would you need to apply the probiotics and how much probiotic gel do you need to use?
I have thoroughly cleaned Montaro's sheath four times now since his gelding 3 years ago. I have used various natural anti-pathogen agents and then applied Equiflora probiotic gel to the sheath once. In light of this research, if I feel led to do anything more, I will limit my intervention to only applying probiotics to his sheath and I will also increase his intake of oral probiotics.
However, after Montaro's last craniosacral session with Ainsley a few months ago, his sheath area has smelled okay and the smegma is no longer oozing out in great big clumps. During the session, Ainsley was hit with a wall of grief from his body, and she energetically supported him as he processed it. She also worked with his heart and liver. So perhaps this was the final piece of the emotional healing around his castration (he really wanted to remain a stallion) and has resulted in the marked physical change in the sheath area.
Remember, the mind/body/spirit are ONE, so with any chronic health issue, we need to address the emotional/spiritual aspects as well.
Super Easy Sheath Cleaning for Geldings – BUT Should You?
Jini Patel Thompson is a natural health writer and Lazer Tapping instructor. She began riding at age 2 in Kenya, and got her first horse at age 8 in Alberta, and so continues a life-long journey and love affair with these amazing creatures.