In my last post on the topic of working with victim energy and the victim archetype, I told you how sore and painful my throat became as I vented and cried with the herd. Not just a sore throat type of thing, but a really painful, squeezing, deep tissue ache kind of pain.
But that wasn't the only 'throat issue' that had happened recently: The week previously, our cat Rupert had surgery to remove a piece of speargrass that had entered through his throat and worked its way down his chest to the thoracic inlet (1/4″ away from entering his lung!). Three days later, my filly Xadaa choked on her feed (alfalfa pellets, vitamins and dried herbs) – we spent an hour and a half with her helping her through it using a combination of massage, Lazer Tapping, and pranic healing. To cap it all off, I had then come down with a weird throat bug that didn't hurt, but I almost lost my voice.
I was discussing my meltdown at the barn and this bizarre sequence of throat issues with my friend Jenny Andrews and she said, "Would you like to do a session on that – we could start with your throat and see where it leads?" Hell yes. I love to work on mind/body/spirit stuff with Jenny, because she has a huge toolbox to pull from; Hypnotherapy, EFT Tapping, Matrix reimprinting, Parts work, Tarot, etc. She tunes into me and my energy field and her intuition guides her in which therapy (or combination of therapies) to use at that time.
As the session began, Jenny asked me, "Focusing on the pain and ache in your throat, tell me about your earliest memory where this occurred."
I recalled a memory on safari in Kenya as a toddler. I was on the bed, surrounded by mosquito netting, with my brother and perhaps my cousin. My Dad wanted to go hang out in the bar and my Mum didn't want to go. I really didn't want my Mum to leave me and was crying loudly. I saw my father's hand descending on my face/throat through the mosquito netting and that's the last I can recall.
I had discussed this memory with my Mum before, as I figured he must have smothered me until I passed out. But she said, no, my father had such control over me that he could simply terrorize me into silence. By my late twenties, I had already seen a number of past lives I'd had with my father, where we had spent numerous lifetimes trading back-and-forth between the roles of perpetrator and victim. In one life, he would be the perpetrator and use his power to crush me. In the next life, I was the perpetrator and used my power and position to destroy him. And so on. I understood that we had incarnated in such close proximity in this lifetime to finally end this cycle of violence between us – this was our karmic contract, our mission for this lifetime together.
Note: I'm aware that things like 'past lives' and karma are simply frameworks of interpretation. If you prefer, let's just say I was 'making up stories' – but even then, there would be symbology or some significance that I made up this story and not some other. I'm not attached to the paradigm. This is simply the framework that feels most real to me and so I'm explaining my experience within the language of this paradigm.
During this session with Jenny, the focus switched to my mother. As the realizations unfolded, I came into a new understanding of my mother's role in this karmic contract. I had always wondered why she didn't stop my father from hitting me (or my siblings) and why she hadn't divorced my father, or at least run away. Over the years of my healing journey with my parents I had discussed this with my Mum and she told me that if she had left my father in Kenya, his family was too strong/influential and she would never have been allowed to see us again. True. She also pointed out that she was too dysfunctional at that time to survive on her own and would have just ended up in another unhealthy relationship. Also true. So I had just accepted that my mother was weak and messed up (from her own painful childhood) and she had done the best she could, at that time.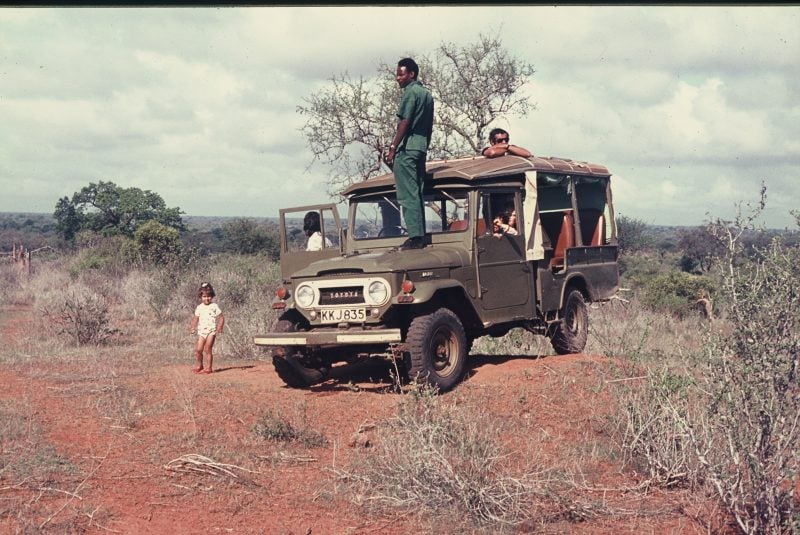 However, during this session, I came to the realization that my mother played an equally important role in my karmic contract with my Dad. And indeed, that she had her own soul agreements with both of us. Remember that a karmic contract is an agreement you make with other souls to assist each other in specific tasks, growth, experiences, or knowledge/learning you wish to acquire during this lifetime – here's a great explanation of exactly how a karmic contract works and what it can look like.
I realized that my mother's agreement with me was to support and help me in my mission to heal the karma between my Dad and I. If she had stopped him from touching me, or taken me away, we wouldn't have been forced to heal our dynamic. So her job was not to interfere with our karma, but to support me throughout this difficult journey.
There were only two times my mother stepped in when my father was hitting me. The time I remember, she pulled him off me and he looked at her wildly and said, "Oh my god, I was going to kill her!" In that moment of lucidity, he couldn't believe what had come over him and was aghast at the otherwordly intensity of his emotion/actions towards his young child. But let me tell you, after seeing what I did to him in those other lifetimes, it makes perfect sense.
After each violent episode with my Dad, my Mum would hold me in her arms and cry with me. Her heart would stream love into me. She countered his aggression with compassion. She was one of the key reasons I was able to endure my childhood. My other crucial helper during that time, was my Morgan/Arab mare, Dobbin.
My father bought her for me when I was 8-years-old, after I begged him every day for a year to let me have a horse. He also spent the summer building a barn and fencing the field with me and my brother as helpers. I couldn't lift the saddle, so I just rode Dobbin bareback. I had one book called, "My First Horse" and the rest Dobbin taught me. No one in my family knew anything about horses, so it was left entirely to me to handle and care for this animal I had begged into existence.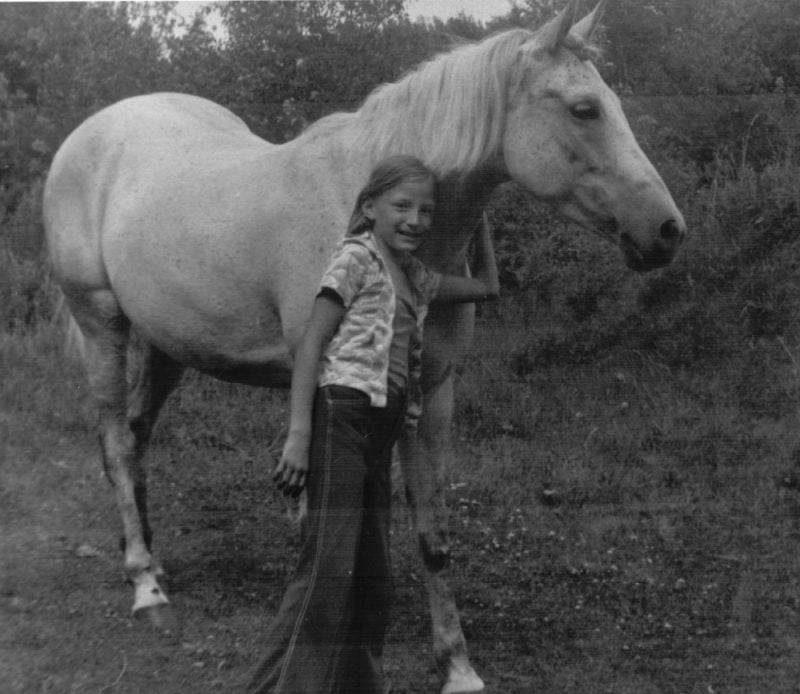 When I got on Dobbin's back, I could literally feel the heavy chains drop off my neck, shoulders and back. My body joined with hers and I felt I was flying as she galloped me down the sandy country roads outside of Edmonton, Alberta. Whenever I thought about killing myself, I got on Dobbin's back and it all just drained away. We snoozed together, and she lay her head on my lap. I let her out on the lawns around the house to eat while I lay on her back, looking up at the clouds, sinking, disappearing into the vastness. Then I would slip off to go play and dig in the sandpit with my friend – I never imagined she might run away, and she never did.
It wasn't until I was in my thirties that I realized the man who threatened my life, is also the one who bought me the horse angel that saved my life. Yin and yang.
And so in the session with Jenny, I realized that I was actually never the helpless victim – I had two amazing helpers who loved and supported me every single day. I had thought my Mum abandoned me to my perpetrator, but actually, she held and supported me through an incredibly challenging task – only stepping in when it truly was life or death. But otherwise, leaning in, with compassion, vulnerability and tremendous love. Karmically, she could not remove my challenge – I needed to and had planned to do whatever it took to heal this karma with my father in this lifetime – she would not have been serving me, or my highest good, if she had rescued me.
Up until that day, I had spent my whole life in fear of being attacked again. Seeking to control any and all contributing factors, so that I am never, ever, the victim again. And then, then I realize that, actually, I never was the victim… because I planned it all. For my highest good.
Well let me tell you, that turns the world on it's head! It is one thing to know concepts like this intellectually, and quite another to know/feel them in your viscera; throughout your tissues and cells. I can honestly say that if I ever find myself in a heinous situation (like torture, or gang rape – my previous deepest fears) I will know that it is part of my life's path and there is a reason I am in that position, having that experience. Of course, it's early days yet, and there may be more layers of the onion to peel, but this final illumination of the karmic roles/contracts in my life has resulted in my first felt experience of body safety.
I worked with Louise Hay's affirmations for years and still could not feel – not for five minutes – that, "The world is a safe place. I am safe at all times." After extensive EFT Tapping on these issues of 'feeling safe' I finally got to the place where I could say, "Right now, in this second, I am safe." Ten seconds from now, who knows? But in this very moment, I am safe. This then morphed to me feeling that the core issue here was not safety. Look around our planet! No one is ever safe. The key instead, is resilience. This served me very well for years.
But as I outlined in my last post, I would still default to Victim position continually – and it was driving me nuts. I've been filming a workshop series with the herd and the final workshop is on the victim archetype. I had thrown this topic out to the horses about 4 months ago and asked them (and the Divine) to guide us through this – how do we shift victim and powerlessness to safety and empowerment? Well, as you know, when you set an intention to work with something, or call something in, things start to heat up a bit! So it's been a rough four months, but I believe this awareness and understanding of karmic contracts is the final piece of the puzzle.
When I told my Mum about the session with Jenny, the realizations I'd had, and how it all started out with the deep ache and pain in my throat, she told me that after my Dad dragged her off to the bar at the safari lodge that night, she had sat there with her throat burning and aching terribly as everyone smoked around her, until finally she could escape and return to us children.
Interesting that it was the resonance with her body memory from 48 years ago, that led me to the realization of our karmic contract, or soul agreement, and into the wholeness that lay on the other side of that.
What is the point of all this healing? Why has it been so important to me to heal the karma between my father and I? For the same reason I walk the healing path with my husband, my horses and my own children, because: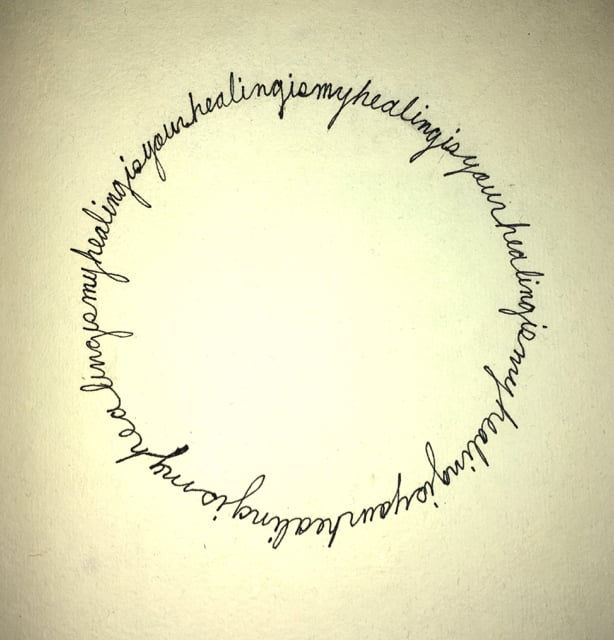 The driving force behind my quest for healing all the facets of my body/mind/spirit was my own physical health. During my journey of healing from widespread Crohn's Disease (a supposedly incurable condition) I learned that I simply could not heal my physical body completely, without healing the emotional and spiritual contributors to my dis-ease. This gave me plenty of motivation to explore places I would otherwise be resistant to delve into. I have spent the last 20 years teaching hundreds of thousands of others how to walk this pathway of healing and encouraging them to enter the jungle of their innermost selves. Because it is SO VERY WORTH IT.
I am also very blessed to have parents who have been willing to walk this pathway together; to talk about things, to share our truths, to have difficult conversations. The last Lazer Tapping session I did with my father was at the dinner table with his sons on either side. Almost every male in my Dad's family has heart disease. Because abuse is a multi-generational phenomena. Both of my own sons have opened my father's heart a tremendous amount, my brother's infant son is now continuing the job. But until my father can fully forgive his own abusive father, and more importantly – as Juno's castration taught me – forgive himself, his heart cannot function properly. Because the body/mind/spirit are ONE. The body is not separate from the soul, it is the densest part of the soul. Namaste.
Meltdown at the Barn – Dancing with Victim – Part 2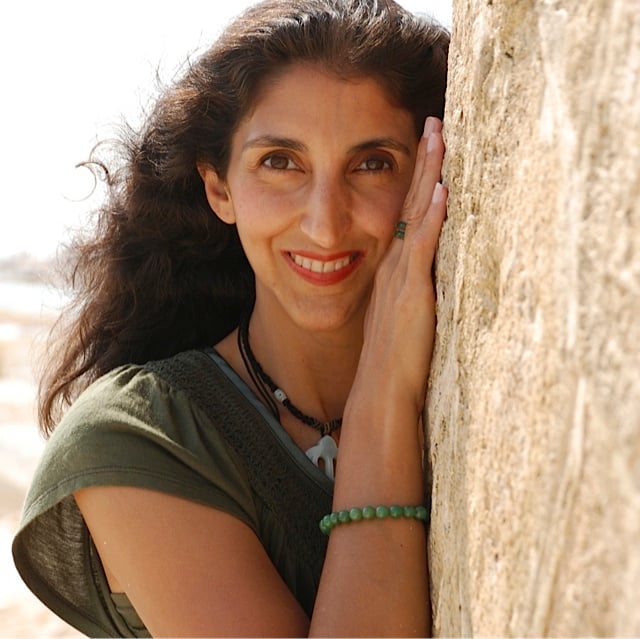 Jini Patel Thompson is a natural health writer and Lazer Tapping instructor. She began riding at age 2 in Kenya, and got her first horse at age 8 in Alberta, and so continues a life-long journey and love affair with these amazing creatures.