Psychotherapist Pat Rothchild talks about how the horse has more mirror neurons in its brain than dogs, cats, or even humans, "which cause them to experience and reflect the emotional state of those in their territories. Mirror neurons enable our companion critters to get where we're coming from, often better than we do."
And boy, did I get a chance to experience the 'horse as mirror' effect last week! I arrived at the barn and greeted the 5 members of my herd – one of whom was already walking over to the hay shed to tell me, "Yes, it's lovely to see you, now let's get the alfalfa out in the field, chip-chop…"
As my Belgian mare is nursing a 2-month old and the two boys are both still doing a lot of growing, in addition to the low-sugar hay in the slow feeders, I also give them a bale of low-sugar alfalfa, loose, out in the field once a day. This is pretty darn exciting to them and they like (or want/need) this even more than their feed dish with supplements and carrots.

After distributing the hay in 6-8 piles around the field, I walked up to my Andalusian mare Zorra to say hello. I stroked her for a bit while she was eating, then scratched her udder for about 5 seconds until she pushed past me and went to the next hay pile. What?? Zorra adores having her udder scratched! There is nothing she won't trade for udder scratches and however long you scratch is not long enough. How bizarre.
Little Jun-bug was staring at me, so I went over to give him some neck scratches (one of his favorite spots) and he bit me. What? "Hey, Juno, that's not okay, that hurts!" And he bit me again. Not hard enough to break skin or leave a bruise – just hard enough to hurt sharply.
Now I'm upset. I huff my way over to his mother, Audelina, who is my most loving, affectionate horse, who loves to smooch with me, and I press my cheek against her side as my arm slides under her belly for a hug and a scratch, and… she immediately walks off away from me.
Moving emotions into flow
By this time, even dimwit here is starting to realize there's something wrong… with me. So this time I go to Montaro Sensei and I don't touch him, I just stand across from him and sink my feet into the earth (as he has trained me to do whenever I'm around him), roll my shoulders back, and say, "What?? Why is everyone ignoring me, and Juno bit me, and I don't understand–" And as the frustrated questions roll off my tongue, the tears well up from inside me and I'm bawling my head off before I finish the sentence. Because the boy holds a space and I'm finally open to seeing/hearing.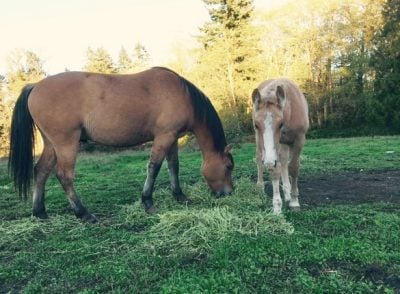 What am I so upset about? As my thinking-brain kicks in to try and figure out what's causing the tears, the tears recede and the wiser part of me says, "Stop thinking! Just let the emotion flow." So I do and I'm back crying again. The horses continue to eat calmly around me, Juno raising his head to peer intently at me between chews.
I cry on and off over the next 20 minutes or so, as the dogs come and go, and I spy a piece of old garbage, and I breathe and look at the trees, the horses, the coyotes, the grass and weeds, the manure.
As my tears come to an end I have loosed enough space inside my tightly wound and clamped together self to realize the tremendous amount of stress I've been under.
We have an accepted offer on a new house (close to the kids' new school) subject to the sale of our existing house. Which is in a rough state from 10 years of dogs, cats and children running amok. So I have been working frantically to get everything fixed, replaced, re-painted, and so on.
I have just managed to settle things down, after much negotiating, with my current boarding place, so hopefully the horses can remain there for the winter months, at least. Which doesn't take the pressure off me to find OUR LAND – and where the hell is it???!!! Just a wee bit stressed about that one. And part of that process is dealing with the grief that no one in my family wants to live on land, other than me. So my dream of looking out the window at my horses has taken a reality-check. And then… what will my life with my horses look like? At this point, I have no frickin' idea.
On the business front, we're switching out some pretty big suppliers, I've got deadlines for books that need to go back to print (because we're nearly out of stock) and it's taking me 5 days of tech support to get my files transferred over to my new computer, while everything that can go wrong, does.
Because this is my life, and I live here (like the frog in the slowly warming pot of water until it's boiled alive), I was completely unaware of the boat-load of stress, tension, frustration, disappointment and anger I walked onto the field with. But my horses knew. Every last one of them. And they mirrored it right back to me. As Pat says:
Montaro Sensei

"What's important to horses? The same stuff that's important to us. Fifty-six-million-years ago, we shared stem parents. In the way-back times, we were siblings. We've evolved similarly. We share a social proclivity to live in small, changeable bands that cleave together for safety and emotional comfort. A lone horse is extraordinarily vulnerable, as is a lone human. After centuries of selective breeding, the domesticated horse is highly tuned to humans. In their view, we become members of their bands. If we play our cards right, we can become recipients of their healing in the process.

When people practice mindfulness regularly, we function better. This leads to the development of virtue, which in turn brings wisdom. Mindfulness, virtue and wisdom are what spiritual traditions are charged with cultivating. They're also what heals character disorders. Horses train us better and faster than religion or psychotherapy. They have more practice and don't judge. The practice demands physical engagement. This opens the internal space for us to be present in the moment; instead of fretting over when and how we will be shamed, betrayed or abandoned next, we're focused on keeping our feet out from under theirs."
The last time this happened, about 6 months ago – because I really am that dense – Zorra whacked me with her head into my pubic bone. Which made me really mad, but I controlled it and continued on with my chores. I imagined the horses exchanged looks, "Geez, now what are we going to do? You're going to have to hurt her more – no, you do it, no – YOU do it!" So my beloved Audelina bit down on my finger (she's never bitten me before or since) so hard I exploded with anger, which quickly segued into tears, as they all relaxed their heads and gazed lovingly at me.
Anger creates flow
I realized that what my horses do with me, when I arrive in a tightly wound yet clueless state, is very similar to what my husband, Ian, had to do with a seizure patient at his very first job.
Ian worked at a hospital in the UK for patients deemed mentally ill enough to require lifetime care. There was one patient who suffered terrible seizures, so the staff learned to watch for when the tension was building up in this fellow. If it built too high – without being released – the guy would have a seizure. So when the staff noticed him getting significantly stressed and tense, they purposely made fun of him to make him angry. He would then release his pent-up emotion through anger, his body would relax again, and he would be spared the trauma and injury of a grand mal seizure.
So the challenge for us as horse owners is to always be alert for what our horse's behaviour means. Sometimes it can mean our horse is unhappy. Maybe there's something in their environment or diet that needs to change. Maybe a need is not getting met, or other herd members are pressurizing or bullying a horse. Or maybe, the horse is merely mirroring back the problem or imbalance that exists within our own self.
Horses are not afraid of authentic anger, the way many humans are. My herd realizes that when I'm wound up so tight, the only way to access my pain, sadness, fear, or stress is through my anger. Once they get my anger flowing, the rest of my tightly clamped and controlled emotions can also loosen and move into flow.
They have also figured out that the quickest way to make me mad is to physically hurt me – especially if it's an out-of-the-blue and unjustified attack. But the second they wound me, they do not pull back in fear or jerk away from me, they stand in stillness and gaze at me with loving eyes – even as I erupt I can feel their support.
Once my emotions are flowing freely, I can then get clarity about all the things that are not right in my world. Things I need to action, or do some acupressure tapping on, or difficult conversations I need to have, or needs that aren't being met, or boundaries that need to be set, and so on.
And then, I am usually able to meditate, reconnect with my peace and re-set my nervous system. As soon as I own my imbalance and lean into whatever aspect of myself needs healing, the horses gather round in support. Namaste Equus.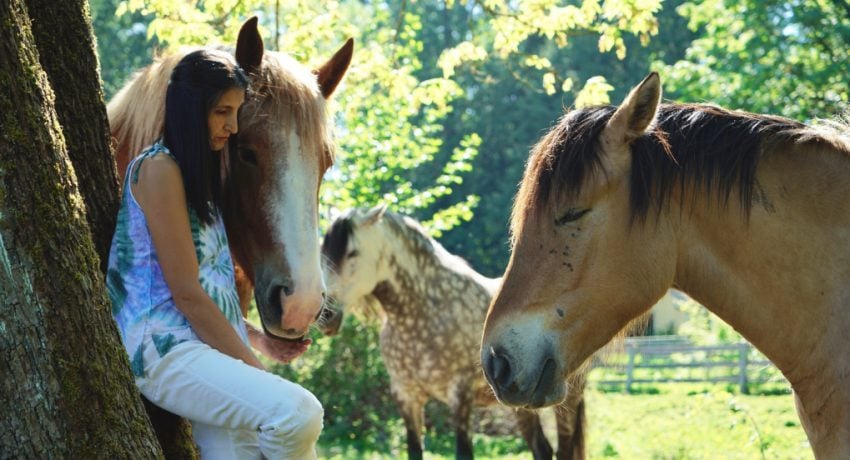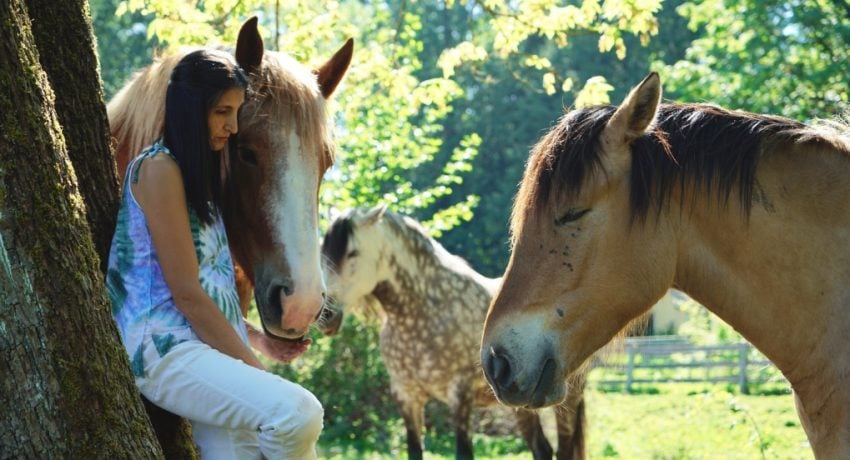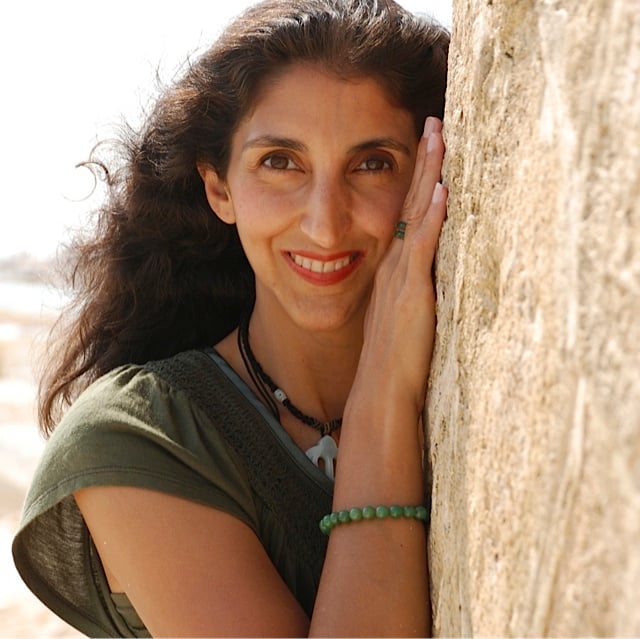 Jini Patel Thompson is a natural health writer and Lazer Tapping instructor. She began riding at age 2 in Kenya, and got her first horse at age 8 in Alberta, and so continues a life-long journey and love affair with these amazing creatures.