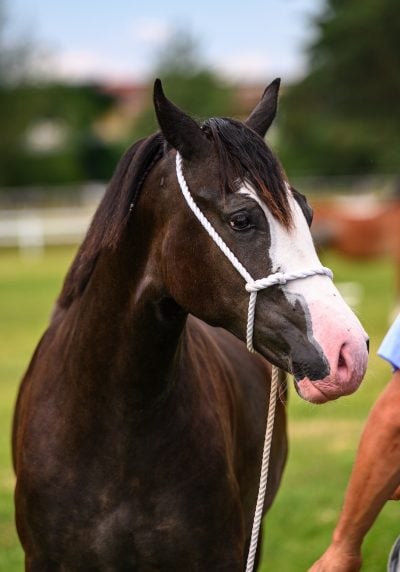 I received this email from one of our horse listeners. Afterwards, Kesia, Guliz and I will all give our answer, and I invite you to respond as well. It's an interesting exploration of perspectives…
"I was introduced to horsemanship by the Parelli method – my sweet Spitfire (a 20 year old Arab/Welsh cross) was started within that framework – and yet no one can tell me why we dominate and command them, even in the most radical natural horsemanship circles like with the trainer Mark Rashid, or Buck Brannaman, Klaus Ferdinand Hempfling, or maybe even Amy Brimhall-McCord. I'm basically completely confused about how to understand horses and animals in relation to humans on a spiritual level.
So I thought to ask you and your readers for your thoughts? Please excuse the length, but I wanted to err on the side of too much instead of too little 🙂 I'm a bit stuck with what to do!
Poor Spitfire is being tormented by flies and is beyond itchy – she's scratching so hard her mane (what's left of it) is dyed black from the panel fencing, and her belly and top of the tail is a mess of sores. And yet she seems to be telling me she doesn't want me to put stuff on it like baby diaper rash cream, or fly spray; she walks away when I offer it. She is lately fatter than ever, even though I reduced her hay. I know from reading your posts now that this was a bad idea but I did introduce some alfalfa into her diet in case she's too low in protein, but she only got fatter – I only feed her a quarter flake.
I'm watching all this in some amazement as I'm preparing to bring her home to my small acreage and noticing how much is coming up in me: the resistance to it, the big questions arising about who horses are and what kind of relationship and expectations I want to have with Equus in general, starting with her.
Something else that may be connected is I've wanted to help Spitfire engage her belly and collect herself more, instead of hanging like a saggy line between her front legs and her back. But I don't know how to accomplish this without making her run around on the end of a line and at liberty, which seems to go against the idea of a free being. Not only that, it's particularly easy to make her do things, and hard to read what her opinion is about it, which is exacerbated by the impression that she's not a particularly opinionated or dominating horse anyway, but very willing and loves to be connected, offering it sweetly.
Maybe she is silently trying to get me to stretch and grow – not with behavior issues but with the subtle and slow degradation of her physical body…?
I think my biggest question is around the spiritual nature of the relationship between horses and humans. There is a destiny and evolution I am struggling to understand, so I can know whether I'm supposed to be a dominant stallion (Klaus Ferdinand Hempfling's work) or a lead mare (Mark Rashid, Amy Brimhall, Buck Brannaman's work), or something else – a steward maybe, like our angels are for us? We were thrown out of the garden of Eden so we could progress on our path, but the horse was not – she still is one with the spirit.
And she suffers along with us, not out of choice like us, but because its her karma, determined long ago, like her very existence is dependent on us waking up and becoming wise; bound to us. I wonder what kind of relationship is needed and right? Are we meant to "help" or is it the other way around? Horses are not humans, so what are they in the evolution of consciousness?
All the horse people I have studied and watched, I never could quite get which neat little box into which they have put the horse-human relationship.
I'm just beginning to work at listening to Spitfire. I am a serious meditant (western esoteric path) of many years, but working on this listening level in the feeling realm is new to me – I completely suck at it. So I haven't gotten very far, probably because I have overlays that need to be torn down so I can actually hear her, and I'm encountering a lot of sudden emotions coming up that I then have to process and release before I can get to any listening. Still working on that. So what her opinion is, or what she might add, I really don't know!
I'm studying horse body language (Sharon Wilsie) so I can see physically what she might be saying, like what you describe in your videos.
Also, I'm inhaling all your videos and articles, plus Guliz' as well, to try and learn into this new realm. Your work and approach with horses is the first time I've felt like someone has forged the way forward I need and want. I'm so happy and relieved to have found your work! It seems to me that all the inner work I have done and prioritized really does have a part to play in my future with horses and in helping my Spitfire. This is a big deal.
My husband last night was surprised when I wailed "I can't hear her!" right after I had told him about my interactions with her that day. He thought it sounded like I WAS hearing her, and that we had had a rich dialogue about opening gates, finding good grass and herbs, staying out of the hay barn when she was about to be fed and using that time to meander instead, and meandering around the ranch together. Maybe I was hearing her more than I had realized…
Anyhow, what do you make of all this?
And how do I engage with a domestic horse and help her find her joy in flowing movement, and bring her back to health without dominating her or being too tentative?
Thank you so much for any guidance you might have 🙂
With much love and appreciation for the world you have opened for me.
p.s. Her name came with her; she gets called Spitty most of the time. She got the name because when she was still ridden (and younger) she could turn on a dime, and was small and fast – like the spitfire airplane."
***
So first of all, I'm sure we have more than a few horse listeners who have struggled with exactly the same issues/questions that Louisa has raised here – so please don't be shy to share any insights you've gleaned, or wisdom your horses have shared, in the Comments section below. Don't worry about writing too much – just tell your story! 🙂
Guliz's response
It seems like Spitfire is asking her to level up and stop reaching to others for answers. I feel like once she gets this confidence, her intuition will kick up a notch or two and the "connection" she is looking for will naturally arrive.
We teach children and guide children. We do not dominate them. Jini has shown me truly how to lean into pressure… the pressure of this life, so why can't we teach horses to lean into pressure while giving them confidence, as well as deepening their trust in us…. but none of this is possible if energetically, spirituality, mentally and emotionally we don't not know how to BE there and meet our horses at this place.
We may very well THINK we are, but as we know, the horses don't lie.
So much going on yet you are so close! I just feel that there is some inner alignment and some incongruence to speak to within Louisa.
Shifts on some deep levels are being asked to be observed within herself.
As for the physical, are there hills around the property? In my opinion the BEST way to get a horse into their body is walking mountain trails. Up, down, over, through a natural environment. Also, great for their mind too. If there is not anything like that around, how can you create a similar experience for her? Can you haul out somewhere once a week?
We must get out of this training mindset and into being and teaching.
Think about your best teachers in your life. Why were they so effective? What were they like energetically or what vibe did you get from them? I encourage you to do this exercise. Bring this into the work with your horses. Embody the teacher that empowered you.
My experience lately with Nova has been to give myself a couple of hours with NO agenda. Just hang out and walk together on a long line out into the forest. Sometimes we stay on the road and she nibbles on grass along the way. Sometimes I jump on her back (halter, lead rope not tied like reins). Sometimes she wants to adventure so we will just go up trails. Sometimes I slide off and get back on or not. The trail can be busy with dogs and kids and bikes and everyone wants to pet her.
Do you see my point? We are just BEING in togetherness.
Whatever comes up without nervous anticipation. It just is. We have been developing this beautiful trust and relationship. Sometimes I need to guide her yes, she is a sentient being with a voice, but for example I won't let her go down a deep ravine to get the grass at the bottom (I once gave her the opportunity to try and and she ended up slipping into it) there are times when I will offer a more safe option, but mostly, I know she doesn't want to hurt herself, so I will allow her the freedom of her body.
I don't make her walk right beside me. She walks wherever she likes as long as it's not on me. She has only had 3 months of training from a man with a good reputation. Otherwise she is as green as they come, but her mind is solid. She is 8.
I hope this helps. The biggest gift we can give our horses is the trust and confidence in ourselves. Be so steady and clear in our thoughts and actions that they WANT to be with us. This is where internal work is so important and how they are such great teachers.
Kesia's response
My only question is, what relationship do you want with this horse?
Go for that.
It doesn't sound like you particularly want to be lead mare or dominant stallion. I never did, and yet I spent years trying to be what I a) was not and b) sucked at pretending to be. It was only when I gave myself permission to be me, and therefore gave them permission to be them, that I started getting anywhere near the relationship I actually wanted with my horses. I have spent years "doing" very little with them, and finally now as I begin to wake from what feels like a long slumber I no longer have any "shoulds" or "oughts". I only have what I want today, and whether or not they want that too. Bringing your horse home will bring you home. You will no longer feel surrounded by the expectations of the horse-human industrial complex. You'll enter into something new. And that goes on infinitely.
Horses trained in Natural Horsemanship, I find, are often divorced from their bodies as the training tends to capture and control the mind, instead. She may need time and space to come back into her physical form. Don't we all?
Jini's response
Oh my gosh Louisa, do you even need me to say anything after these amazing perspectives from Güliz and Kesia?? I also suspect that in the couple of weeks since you posted your questions/request, you have already experienced shift or growth… That's how it works, when we verbalize or otherwise throw our intention or request for clarity out there, the universe and our horses immediately start moving to bring that towards us.
I too have read/watched all the authors you reference above, and more. And like Kesia, I have trained in Natural Horsemanship and worked with more than a few horses trained by those methods – I totally agree with her assessment.
At it's core, I think there is a dance – between what we want and what the horse wants. I think this is unique to each horse-human pair and also shifts over time according to who you are, what you need, what the horse needs, etc. What is your deepest desire with Spitfire? What are the things that are fun and bring you joy? Forget what everyone says you should do or want, just sink into your heart space and feel for what is your heart's desire. Then bring that to Spitty and co-create your reality. Also meditate on what co-creation is and looks/feels like – it's a nice word, but what does it really mean?
For me, co-creating with horses (or the universe!) looks like this: I come to the horses, or a particular horse with an idea. This is based on my desire, or thoughts, or interest. And I say, "Hey how about we do this?" or "What do you think of this?" And then the horse responds. The same way I'd say to a friend, "I wanted to go the lake today, does that sound like fun?" And then maybe she says yes, or maybe she has a better idea, or maybe she wants to do something else first, and then go to the lake, or… You see what I mean? In a truly equal, fully sentient relationship, there is no 'boss' or 'leader'. It is an ongoing negotiation or dance between desires, limitations, ideas, fears, etc.
Regarding her skin issues, in my experience, physical issues/ailments in both animals and people are almost always messages from the higher self, being conveyed through the body. Because the body is the densest part of the soul. The body is the subconscious. These messages can be simple, or quite complex – see my videos on Cobra's healing journey. Or Aude's abscessed hoof. I've got a new one I'm editing now about Posa's recent injuries. The mind/body/spirit is ONE. We cannot separate them. I know you already know this.
So yes, once something that may have originated in the emotional/energetic/spiritual plane sinks into the physical body, we usually have to treat the physical body too. BUT without addressing the origin/message, our physical remedies will not heal the condition. Put the mind/body/spirit together and you can have rapid, almost miraculous healing take place.
When you meditate, once you sink into stillness, imagine a circle around you and invite Spitfire to come into that circle and share space with you. Not so that you can ask questions or get answers. Just to share space. Do that several times a week and see what emerges. It is a powerful practice.
Let us know how it goes! And much love to both of you.
Understanding the Spiritual Nature of Horse-Human Relationship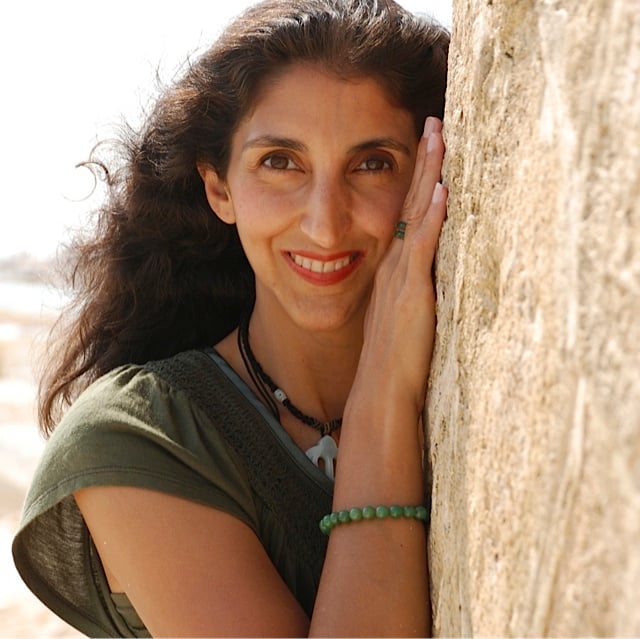 Jini Patel Thompson is a natural health writer and Lazer Tapping instructor. She began riding at age 2 in Kenya, and got her first horse at age 8 in Alberta, and so continues a life-long journey and love affair with these amazing creatures.