I just returned from an Equinisity retreat up near Kamloops, BC, featuring trainer/filmmaker Elsa Sinclair.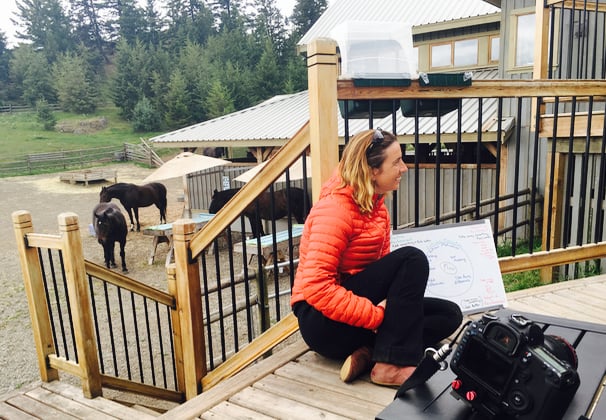 Elsa talked about the difference between using Extrinsic Motivation with your horse (pressure/release, whip, flag, etc.) and Intrinsic Motivation. Intrinsic motivations include things like matching your horse's energy/tension level, moving your feet in the same way/direction as your horse's feet, looking where they're looking, matching their interest (in hay, grass, etc.).
Matching actions or matching states with your horse will result in you joining your horse and moving into FLOW together. This is what my horse Zorra invited me to do when she taught me the Stillpoint Practice.
For this day's exercise, Elsa invited us to draw a horse's name and see if we could find flow in all zones of the horse. My horse for this exercise was a warmblood mare named Prima: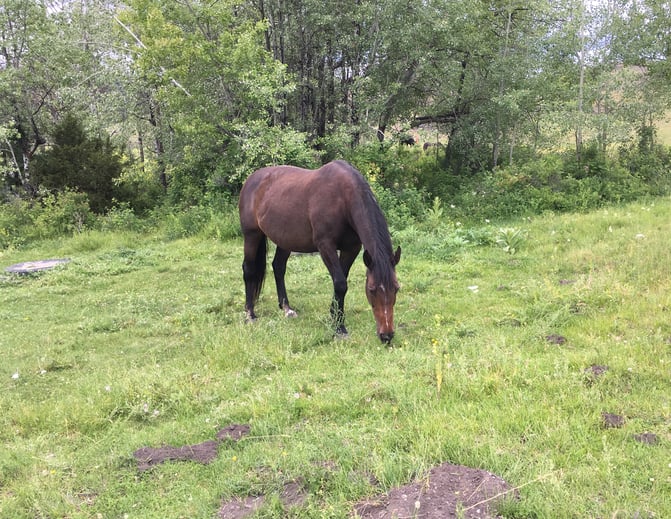 Once we received our horse, we were to experiment with standing/walking with the horse in each zone of their body:
In front of the horse
Behind the horse
Near the left shoulder
Near the left ribs
Near the left hind
Near the right shoulder
Near the right ribs
Near the right hind
See or notice where the horse is sticky, or resistant.
How close, or how far can you go? – find where the horse is comfortable in each zone.
Then push just a wee bit into that comfort zone. See how it feels. See how the horse responds.
My results
Prima was pretty comfortable in all zones of her body, near or far, except for the "mounting spot" – you know, that spot near her left shoulder where you stand and put your hand on her neck just before you mount. But once I said to her, "Don't worry, I'm not going to get on." Her tension dissolved.
The only other spot that she (and I) didn't feel comfortable was when I was directly behind her, in her blind spot. But as soon as she moved her neck even slightly around (as she grazed) so she could see me, all became soft again.
Interesting for me to note, was that when I was standing about 2 feet away from either hind side, I felt very uncomfortable, even though Prima was fine. This is because I have worked with some angry/aggressive horses and that is a great spot to get kicked. Even though my mind knew I was safe, my body had it's own ideas about the risk I was taking!
This is a great exercise to do with your horse as they are out grazing in their field, or even standing still munching hay. Not only because you get to notice things you might have missed, but because it is a great way to connect with your horse. To show your horse, "Hey, I'm really listening to you, I'm feeling into you, and I'm noticing every vibe, flinch, movement, etc. that you make."
When any being feels truly seen or heard, it creates a new level of trust and bonding in the relationship.
Take it even further
Once I had mapped Prima's (and my own!) sticky spots, I decided to take it even further and experiment with the angle of my body.
For example, maybe she felt fine when my body was directly facing her ribs, but how about when I turned 15 degrees, or 45 degrees and angled my body towards hers? Or vice-versa? Did that turn an observation into a pressure? Horses are so subtle that even a micro-adjustment can convey a different meaning and evoke a different response.
I found this exercise just fascinating and am looking forward to playing it with each of my horses at home!
Very Cool Exercise from Elsa Sinclair Equinisity Workshop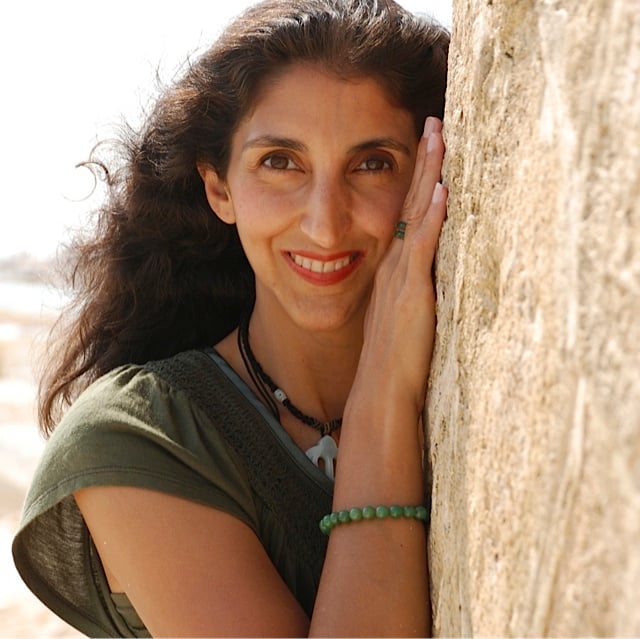 Jini Patel Thompson is a natural health writer and Lazer Tapping instructor. She began riding at age 2 in Kenya, and got her first horse at age 8 in Alberta, and so continues a life-long journey and love affair with these amazing creatures.