If you have a horse that is fearful – or the flipside: aggressive or bullying – often the behaviour is coming from a past experience of scarcity. Not enough food, competition for resources, inadequate care or love. EFT Tapping for your horse can help heal the roots of this pain and trauma.
EFT Tapping is a mind/body healing tool that uses the acupuncture points along the body's meridian lines. But instead of sticking needles into these points – to activate the chi or energy flow of the body – we tap on the points instead.
The great thing about EFT Tapping is, because it is an energetic therapy, you can do it surrogately for someone else. You could tap for a friend, a child, or an animal. Once you have done the energetic link-up (which I will show you), the effects are the same as if you were tapping on the other person's body, instead of your own.
My Belgian mare, Audelina, asked for this session. I'll tell you the story and then you can join us and tap along for your horse (or dog, cat, etc.) if they have a similar pain or trauma…

As I mentioned in the video, if you have a recurring theme or situation that keeps coming up with your horse(s), tell me about it in the Comments section below and I'll see if it's something I can create another tap-along video for.
Is one session enough?
You may be wondering whether you only need to do this tapping session (in the video) once, or if you should do it again, or repeatedly. There are no rules here. You need to follow the lead of your horse. So if you feel (or suspect) your horse would benefit, then do the session again.
As you do it the second, or third time, you may feel like changing the words here and there – go for it! Trust your connection to your horse and if s/he needs you to tap for others things, thoughts or images will pop into your mind, so feel free to go ahead.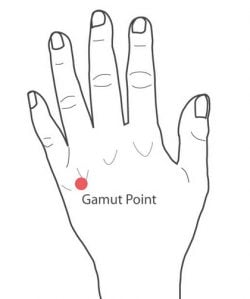 The other thing you can do – which is a shorter way of repeating the session – is to tap on the Gamut Point while saying, 3 times, "This remaining fear and scarcity, this remaining fear and scarcity, this remaining fear and scarcity."
Go ahead and tap on the Gamut Point and repeat this reminder phrase as often as it comes to mind. Sometimes it will come up repeatedly throughout the day, or for several days – just follow your inner prompting.
Keep an eye on your horse and see what happens over the next week or two – it can take a while for the healing to filter down and shift the various layers of the Self.
You may also notice some changes in yourself. Since you are the one doing the tapping, you will automatically "borrow the benefits" of the session.
More EFT for animals…
If you love this healing method, check out the recorded sessions for animals here that you can tap along to, or book a private session with Gwyneth Moss – who is a very good EFT Practitioner.
After the session
Two weeks after I did this tapping session for Audelina and the herd, I noticed a few things had shifted.
Aude released the extra weight she was carrying around. Here's what she looks like 2 weeks later:
Zorra (Andalusian) has also slimmed down a bit, and Zorra and Audelina's relationship has improved. Aude is still the boss, but she's not frequently driving Zorra off the food. I've even seen them eating together, which previously would not happen.
Occasionally, I'll throw them each a flake of loose alfalfa out in the field for a treat. Aude has twice left the alfalfa to come be with me for scratches or meditation!
She has also become… how do I say this… less overtly affectionate. She has not become less loving. But before, it's like she could not get enough love, like she wanted to climb inside me. There was also something a bit desperate about her affection. As though, if she loved me enough, she could bind me to her and she would be safe. No wonder she chose the flower essence Infinite Love!
So she's giving less kisses now – more like a normal amount of kisses for an affectionate, yet balanced, secure horse. It feels like a more peaceful, secure way of sharing love with me; secure in her self-worth and secure in my love for her.
And if you'd like to try flower essences – for either yourself or your horse – Lotus Wei has given us a special discount code. Just enter: HAPPYHORSE and you'll receive 15% off your order – thanks Katie!
A word about chubby horses
However, a week later, Aude put a bunch of weight back on as we had a few days of rain and the spring grasses shot up. She's a Belgian draft horse and gains weight easily. This doesn't mean she has a metabolism issue. It's just her natural physiology.
A few days later, she had slimmed down again as they'd eaten all the new grass and were eating only low-sugar timothy hay. I've also noticed she can look 70 pounds heavier or thinner depending on how relaxed, or energized she is.
I think we can get overly concerned with whether our horses chub-up in the Spring or Summer. But it's important to remember that this is natural. Let's not assume our horses are headed for founder or laminitis – here's an awesome article to prod your thinking on this topic.
VIDEO: EFT Tapping for a Horse with Scarcity of Food, Love, Care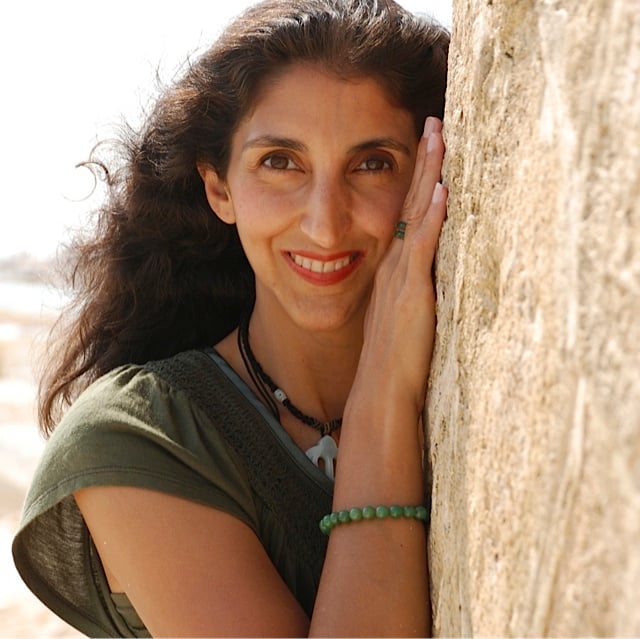 Jini Patel Thompson is a natural health writer and Lazer Tapping instructor. She began riding at age 2 in Kenya, and got her first horse at age 8 in Alberta, and so continues a life-long journey and love affair with these amazing creatures.