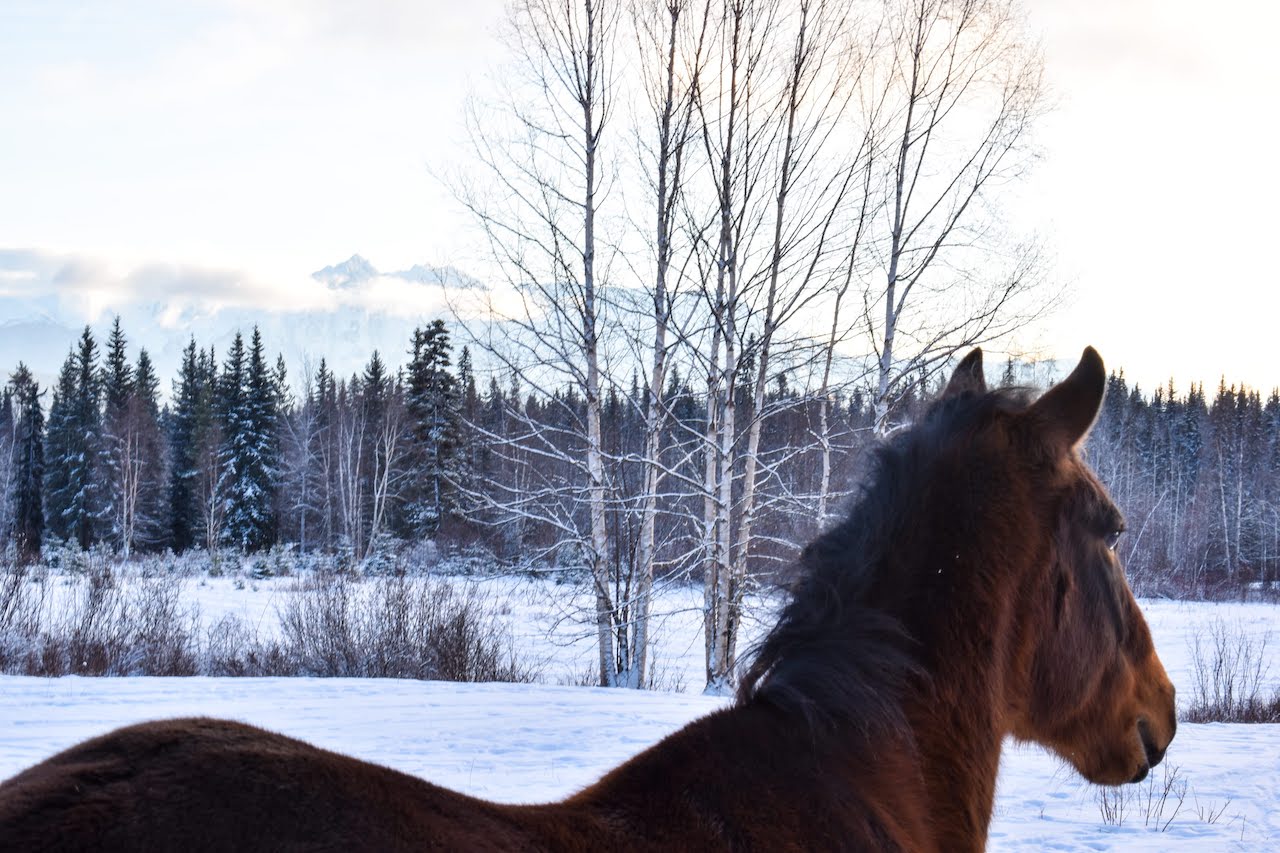 I can now tell you with some confidence what the temperature is outside by looking at the light; before coming here, how could I have known the seemingly endless variations of light on snow? Here we sit at a perfectly pleasant -1C, cold enough for the snow to keep its form but it is packing moistly on our skis, in the concave hooves of the horses. The light never falls on us directly because the Skeena, River of Mist, sends up a fine and persistent vapour over the land, leaving streaks of pastel pink above while the valley lies in gentle shadow. To the South, the Mountain Stegyoden. She is the stuff of Gitxsan and settler legend, stories that are not mine to tell. In town she rises sharply over the buildings, an unapologetic reminder of our endless smallness, a craggy sundial cutting short the already stingy winter light. Up here she's a distant cousin. Up here we are surrounded by her kin.
The new horse claims he's always been here. Already his sharp form is softening, compacting and rounding out as new muscles grow and others subside. His voracious hunger has quieted, his distrust of two-leggeds has all but disappeared. He mingles with free-roaming pigs and cows fearlessly, and answers only to Spero in his new herd. He has developed a sweetness with Amalia, for whom it is rare to choose friends and allies so openly. His eyes change, widening and brightening as the months go by. After living his life in stalls and manicured paddocks, show rings and long-haul trailers, he is a testement to the wildness that swells just under the surface of each of our skins. He doesn't look back but plunges into the burdock to reclaim his tousled, rough-hewn birthright, nibbling dried hawkweed sticking out above the snow, braving the winter storms and running head low and tail straight like the pack of feral ponies he has somehow, against all odds, become a vital part of.
I never, ever tire of winter light on winter fur, most specifically that of brown and white horse chests. Firefly has been asking to come with me out back, but the timing is never quite right. Today, we're heading out too far into the bush and I know she'll get tired and want to run home to her mum. If I close the gate behind her when we leave, she won't be able to put herself back in. If I leave the gate open, we'll have horses, cows, and probably pigs turning up at the neighbours' in twenty mintues, tops. She tries to convince me that she'll come all the way with us, but I know her better than that. At three and a half years old, she still sneaks a private sip of milk regularly, though she doesn't like us watching. Our bushwhack will take us longer than her nursing schedule will allow. Next time, I promise. She fixes me with those sharp little eyes. You always say 'next time'.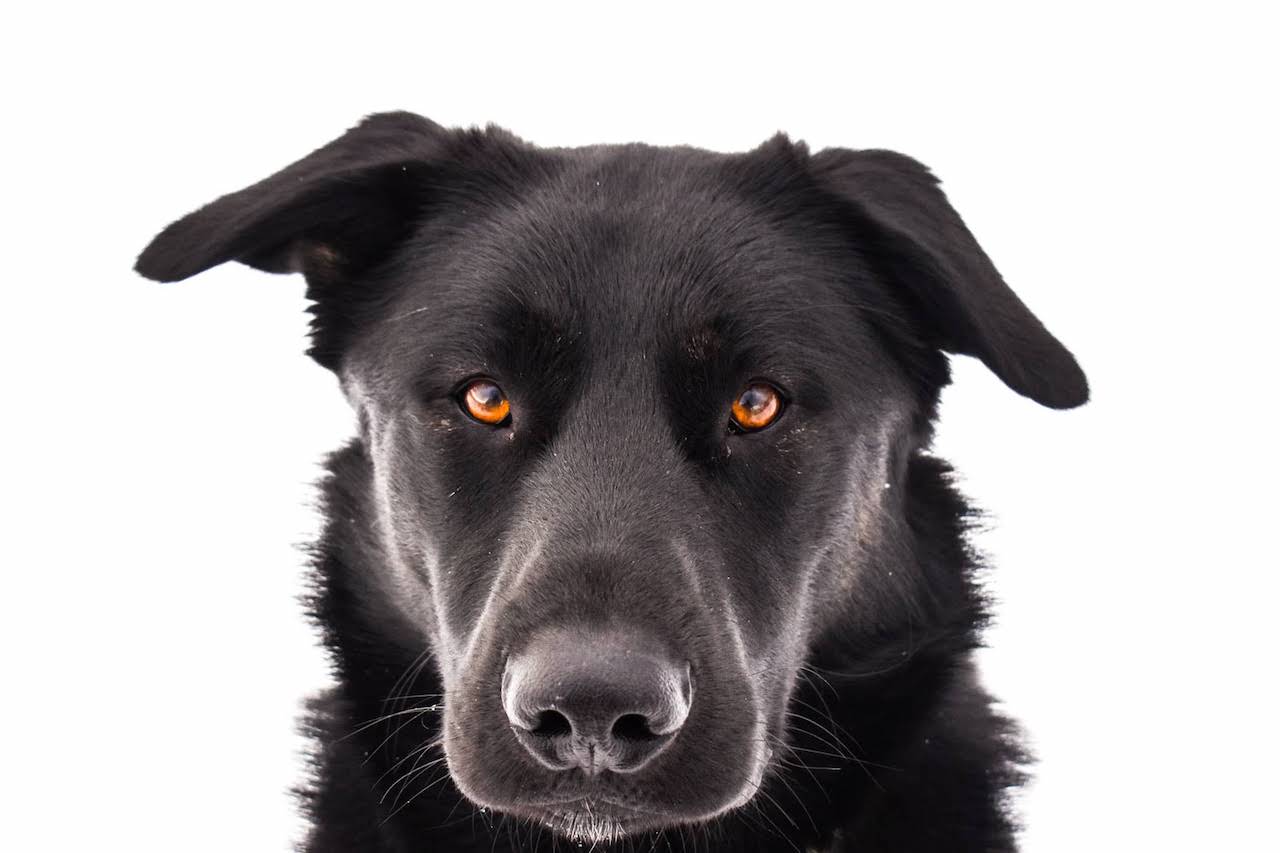 The dogs think winter is the best thing since sliced bread. They bound and plough through the snow like crazed dolphins, slamming bodily into each other and tumbling off the path and into the trees as they snarl and laugh. For every mile we travel they cover three, racing between the first and last human, tracking us when we split up and keeping tabs on everyone. Sometimes, a grouse requires chasing. Sometimes, a belly needs cooling in the cold snow. To them, there is nothing better than running face first through snow and slash alder, twigs whipping eyes and ears, tongue lolling pinkly in the forest half-light. Black claws sinking into crisp moss below trees so thick they have held off the snow, the scent of all things driving them giddy. But when I call their names low, they still their joyful bodies and flow back to me, two pairs of sharp predatory eyes, yellow and orange, fixed on mine for a sweet, brief moment.
When we return home, wrestling the barbed wire gate back into its deadly loops, turning towards the last of the light, we see the Elephant, that sleeping form rising up over the Kipsiox river. The dogs mouths wide and bright red with happy exhaustion, snow balls clinging to Bea's wooly legs. The Red Pigs, bored of the younger pigs' antics, have come to watch for us and escort us home in time to feed dinner. The horses know they'll get an extra bale of hay in the barnyard if they ask. The night descends as quickly as day began just seven hours ago. The quiet and the darkness envelop this place once again.
Happy return of the light, my friends. We've been around the sun once again, and I know it has been wearisome and invigorating and confusing and extraordinary. May this new year bring you closer to whatever you seek, may it shed for you the skins that you've outgrown, and may you find yourself in the presence of many thick-furred, sweet-smelling, bright-eyed beings. Thank you for all that you do.
Winter Blessings From the Northern Herd
A barefoot hoof trimmer, a singer/songwriter, an amateur farmer – these are some of the hats Kesia Nagata wears when she's not full to bursting with wondrous equine co-creation.