She turns suddenly from my outstretched hands, the plea in them hanging, unanswered, between us. I can feel the hard light of the summer sun arrowing through the dappled shade. The back of my neck is moist – like my upper lip, my armpits, the backs of my knees. Her dark body rotates past me neatly, the rope attached to her face slipping through my fingers, until I am standing directly behind her at a slight distance. There is a pause, and in rememberance now the moment takes on the liquid shape of dreamtime; it is slow, it is lighting fast, I know everything that will happen and I have no idea what will come. And yet, when her two hind hooves collide with the drum of my delicate breast bone, I am certain of nothing at all.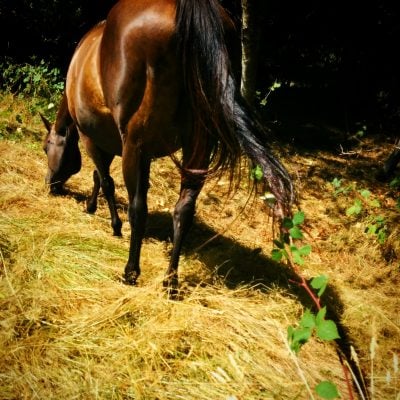 I was seventeen when I met her, the same year I met my first "real" boyfriend. It was a year of unknowns, of learning how other beings' bodies moved, of navigating the complexity of relationships and consent, of trying to do what I thought was expected of me though none of it made any sense to any of us. Kicking her around a dingy arena, wishing I knew why she was supposed to lope at such and such a speed, riding out her defiant bucks and rears, whispering that I knew something was wrong but until she could find a way to tell me what it was, I didn't know what to do. My cheeks burned bright with confusion and shame.
I'd had a pony for a summer. He was a small sturdy pinto with feathered feet. We mosied all over the Pemberton valley bottom, crossing rivers and climbing hills, his little legs fast when I urged him to run. At home, I'd drag off his heavy tack and he'd roll in the dry dust. We'd eat my cheese sandwich together and I'd slide back on bareback for another go around the potato fields.
This was not like that. This horse wanted nothing to do with me. When I entered her stall, she pinned her ears. When I lifted the saddle onto her back, she twitched and sidestepped. When I went to her in the field, she wheeled and ran, her long tail thrashing out her silent laughter.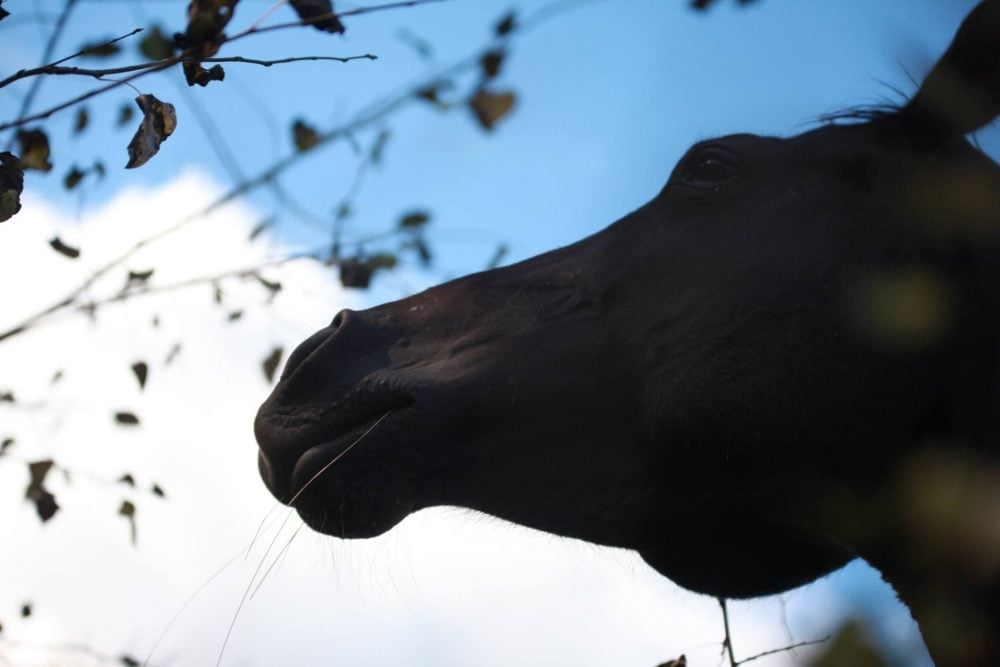 I don't quite remember how I got my hands on the essential oils, or who told me they'd fix her. So far she wasn't that keen on my attempts to balance her chakras (which were probably out of alignment), she wouldn't eat the supplements I'd researched and bought with my summer job money, and she wouldn't stand still for the TTouch. I was so determined. There was something wrong with her, and when I figured out what she needed and fixed her, we would be able to have that relationship we both deserved. If I could just be wiser and stronger and more focussed, I could help her. I was taking everything in I could find that wasn't conventional, reasearching and experimenting and writing to every expert I found in every corner of the Horse Internet – I'd found the rabbit hole and thrown myself in head first.
I don't remember if it was the Sweet Orange (for happiness) or the Patchouli (for grounding) that did it, but I do remember unscrewing caps off little vials and holding them out to her one after the other, something like panic rising in my guts every time she snorted dismissively, or tried to leave. Why was nothing working? I was trying everything! What would it take for this dark little mare to see that I just wanted to help?
When she double barrels me point blank in the chest, I feel the wind leave me. I stand for a second, disbelief and terror and shock and the anticipation of pain blooming through my body rolicking around me like so many unruly creatures. I draw a breath. I screw the cap back on the vial. I stare at Amalia, who watches me over her shoulder, her back to me still. My face crumples and my free hand goes to my chest, which is not broken. Which is not bloody. Which is not bruised. And when the tears come – of betrayal, of embarrasment, of despair – this hard-eyed mare drops her head and comes to me, lipping the hem of my shirt, wiggling her ears and peering up at me as I ugly-cry in the hot sun, my calves quietly cooking in their rubber riding boot prison. It is the first tenderness she has shown me. I feel her apology with my whole body. It is not that she is sorry for what she has done, but that she is sorry for how she has made me feel. She hadn't known any other way to tell me: no actually means no. And I could kill you. But I won't.
This was long before I knew horses could wallop people over the head to convey a message or fix an imbalance (or both). This was before I knew that everything I did with horses was through a thick lense of conditioning that was there whether I liked it or agreed with it or not. This was before everything.
I told my mom that night, and the next morning as I pulled on my boots and slung my backpack on to catch my bus and train back out towards the barn, she stumbled down the stairs in her nightgown, eyes still half-closed. She said "I just had a dream. Amalia says, 'back off and heal yourself first'." This was before our combined dreams would take us to 500 acres in Northern BC together. This was before either of us knew how to listen to horses. This was loud and clear.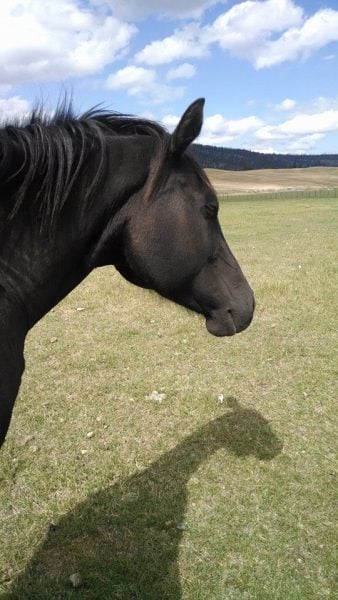 It took me many more years of experimenting and learning to listen before I even began to understand what Amalia had been trying to tell me that hot afternoon. Because no matter what tool, technique, or approach I tried with her, no matter how miraculous the results were promised, nothing seemed to be the key to unlocking her darkness and her mystery. Even so, over time, she softened and opened, bit by bit. She moved through health issue after health issue, teaching me how to recognize and deal with rain rot, abcesses, thrush, laminitis, back pain, mineral deficiencies, and all manner of afflictions. Most of the time she refused most of my help and managed it herself. Her "no" became stronger, though never again did she strike me like that. At times she retreated deep into herself, into a zombie-like depression where she seemed to have only one foot in the reality I was rooted in.
Over a long, long time, I learned to let her be. She taught me to back off and find other projects to keep my busy mind out of trouble – most specifically, working my own stuff out, bit by bit. Her rejection became less personal, and I began to see it as an attempt to communicate rather than to shut me down. I stopped riding her. I stopped "working" her. Eventually I learned that she didn't even want to be touched most of the time – that she didn't need to be touched to receive healing, or direction, or comfort. During a chiropractic treatment of what looked like the air around her body (because she wanted the treatment but was adamant that she didn't need to be actually touched), she revealed a deep aching sadness that she couldn't be what I'd hoped she would be. And when I and the chiropractor helped her release that, since now I didn't want her to be anything other than who she was, she eventually made a baby with a wild horse on the range who grew to be the bright, brave, willing, loyal friend I'd dreamed of. And still Amalia remained, stronger and stranger and more mysterious than ever.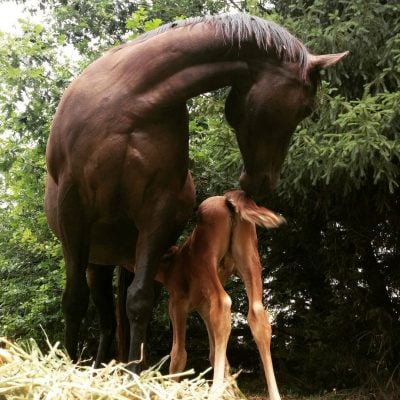 I started writing about my god-sent Amalia to tie into recent discussions on this blog about energy, permission, and our own unacknowledged power. In truth, I am in so much awe of her that I could write ad nauseum about our time together. But I want to go back to the day she kicked me in the chest for offering her one essential oil too many. At the time, it was enough to learn to pocket the vials along with my dashed hopes, give her some space, and turn my attention inward to what was incomplete in me.
Now, I see another lesson in all this, which is that we humans are far more capable and powerful than we choose to acknowledge. We think we don't understand energy, that we can't connect to our intuition, that we're failing to hear or communicate with a non-verbal being, while all the while we are shooting energetic signals and pulses in every direction. We are made of the stuff, and we have forgotten how to direct it, but the animals have not forgotten how to feel it, and they are not immune to us. While I was trying everything for Amalia's sake, I believe I was actually bombarding her senses with uncontrolled assaults. And while I wasn't beating or whipping her, I was still sending the same message: you need to be different. What you are is not acceptable. I had no idea how harsh my "gentle" techniques were – oils and chakras and tuning forks and healing touch are all real and fabulous things, but using them on her rather than with her turned them into more unwanted interference.
We can learn to be more skillful, to listen, and to be careful and judicial. But as "energy work" and "natural healing" become more and more accessible, I wonder if they should come with a warning disclaimer. We are all energetic beings and this is our first language, but as we relearn it we must remember two things. One, we need to be clear with ourselves what our intention is, and two, we must ask for permission before administering energetic touch or healing – because while we cannot avoid our clumsiness at the start, we can easily avoid the collatoral damage by setting intention and asking permission.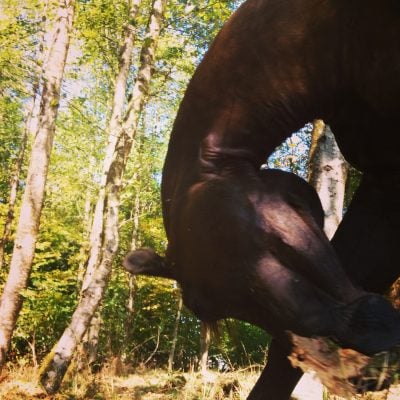 Do you see what I mean? We are actually so powerful, so naturally energetically talented, that even when we think we are absolute duds, we are still sending and receiving energy loud and clear to everyone but most members of our own species. It's embarassing in retrospect, like reading drunk texts you sent the morning after, realizing what you were broadcasting to so many sentient beings before you had the good sense to tone it down. But the more you work with your unseen faculties, the more clear and everyday they become. You'll become conversationally fluent. It'll be no big deal. It'll be part of your movement, part of your glance. There will be very little to write home about, but life will be inexplicably more smooth.
Actually, let me amend my two points to one: just ask permission, even if you don't know what your intention is. You can do this out loud, or in your head, or in your body. They will tell you yes or no, and you will know, even if you don't want to hear the answer. And if you proceed anyway, that no will get louder and louder until you finally acknowledge it.
These days, I barely touch Amalia. In fact, I hardly look at her without permission – because that's who she is, and that's what she has finally been able to tell me. When we connect, it is through the softest, lightest hint of a touch. But I can lay in the snow behind the feet I have long known could kill me and feel nothing but quiet, and love. Most of the time, she keeps to herself; even within the herd she is often just slightly removed, her soul finally safe to be in dreamspace or wherever she goes, her body strong and healthy enough to hold her in this world while she explores the next. When she needs something, she stares at the kitchen window until any one of us humans catches her meaning. To her, the notion of permission runs so deep that I am surprised and grateful she ever let me write this, and I wonder if she'll be sharing more. I'm so deeply happy that she has found her self, and through the process, brought me to my own.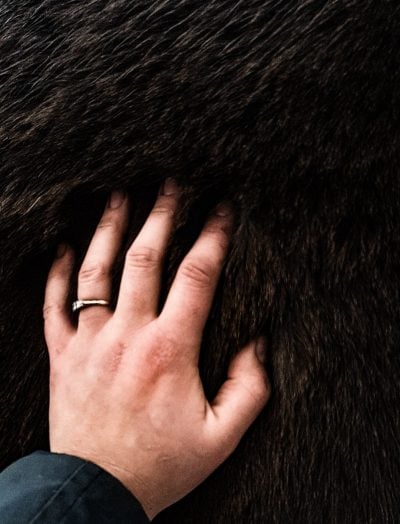 Amalia Speaks – Energetic Permission & Your Hidden Power
A barefoot hoof trimmer, a singer/songwriter, an amateur farmer – these are some of the hats Kesia Nagata wears when she's not full to bursting with wondrous equine co-creation.