Enjoy a break from the daily with a little herd spiciness! The girls enjoy a game of 'chicken' (with me!) at any opportunity. Zorra jumps a bush, Posa jumps the creek, and the dogs dodge hooves.
I open up the back pasture for the first time after a long, wet winter. But the bank down to the creek is still very slippery. Lots of coyotes live back here, cougars and even the occasional bear pass through, so the horses are very keyed up and alert for any danger.
They won't come back here unless the dogs are with us – because they know how good Tiah and Kumba are at running off coyotes and sounding the alarm. But once the horses get spicy, the dogs ramp up too! It's a great opportunity for me to see how much the dogs can 'hear' me once the intense, elevated energy sets in.
Kumba (the black dog) is now 3 years old and he's much more responsive than last year. The only reason I seek to contain the dogs is to prevent the fillies from getting injured. They're still not mature enough to make consistently good decisions once they're wound up. I'm not too concerned about the dogs getting kicked – it's a game they play with the horses and the horses have laser accuracy with their kicks. Of course – especially with the young girls – misjudgments can happen. So again, I tune into the energy and only interfere if I feel it's necessary.
I have only ever seen the horses kick one dog, once, who was genuinely aggressive towards them. And even then, Montaro only kicked him hard enough to send him yelping/limping for home, but the next day the dog was fine. When the landlord's dog, Timber (St. Bernard/Bernese cross), was young, he would leap up into the air and snap at their muzzles! But they knew he was only playing and all the horses tolerated him with good humor. With Tiah and Kumba, even the wild mustangs understand the dogs are part of their tribe and they will lie down in R.E.M. sleep with the dogs right next to them.
The horses may also drive the dogs away from me, chase them out of the paddock, and play run/kick games with them. It is all good fun, with no aggression or danger to anyone.
Creek Crossing Bush Jumping Mayhem with the Herd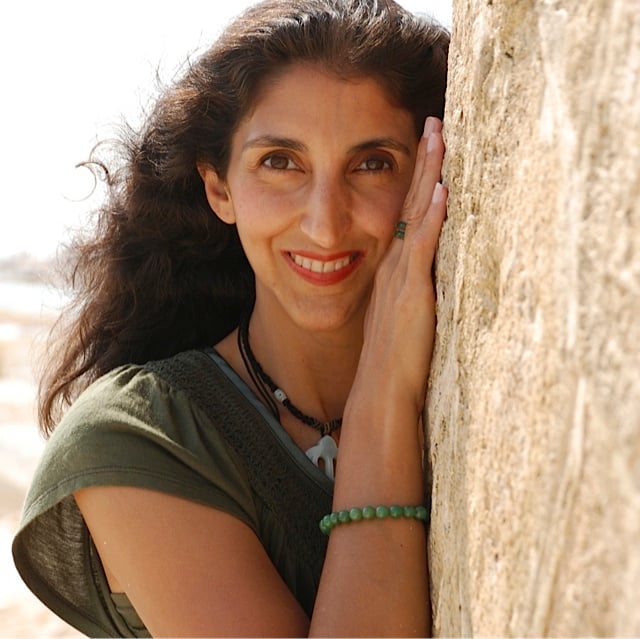 Jini Patel Thompson is a natural health writer and Lazer Tapping instructor. She began riding at age 2 in Kenya, and got her first horse at age 8 in Alberta, and so continues a life-long journey and love affair with these amazing creatures.