Makah-Mahpee and I invent a game together and Xadaa soon joins in. This is not about training, rewards, treats, or manipulation. Just pure fun together and seeing what wants to happen…
As someone who's ridden horses since I was 2 years old, and had my own horses from age 8 onwards, I'm not too interested in training horses anymore. I've had plenty of, "Look what I can make my horse do!" and I'm bored with that now. For me, a far more interesting proposition is, "What happens when a wild, untouched horse is completely, totally, 100% free to chose the level of interaction or relationship with a human… what might happen then?"
For most humans, simply asking that question is not possible! Because most animal-owners fear death, they also fear discomfort and pain, and feel strongly that there are certain things that must be done to an animal's body "for it's own good."
Personally, I don't have any of those fears or restrictions. Having had a NDE (near death experience) probably has something to do with my view of death as a largely positive event. Having re-experienced numerous 'past' lives also takes the fear out of death and replaces it with a continuum view of the evolving, eternal soul.
And lastly, having cured myself of a supposedly incurable, often extremely painful disease (Crohn's), using entirely natural methods, leaves me with a deeper understanding and appreciation of pain or discomfort. When we have stopped trying to numb or escape our own pain, and we've reached the point where we can receive pain simply as messages from the body (aka our higher self), then we are able to lean in to pain.
When we can lean into our own pain, we are able to simply witness another's pain – without feeling the desperate, panicky need to "make it go away, right now!!"
Why am I talking about pain and death, as related to horse training?
Because if you question the motivation for pretty much everything humans do to horses, for their own good, you will end up at, "so they don't suffer" or "so they don't die."
Think about it: Why do I NEED to trim Siyone's hooves when she's made it very clear she doesn't want me to touch her hooves?
… because I'm afraid she'll go lame (pain)
… because I'm afraid it will hurt her to walk or stand (pain)
… because I'm afraid her hoof will split all the way up to her coronet band (pain)
… because I'm afraid she won't be able to walk (pain)
But is Siyone worried about any of that? If I believe Siyone is a fully sentient being, then I must also admit that she is fully aware of what is happening and the risks entailed.
And if she chooses to experience pain or discomfort, is that not her choice? Does she own her body? Or do I? Can someone ever own someone else's body – is that even possible?
Yet we infantilize animals all the time. On the one hand, we exalt them as wise beings, connected to nature and Source in a way far superior to us. In the next breath, we bind them and rope them as we have our way with their body, for their own good.
But what happens if we're willing to actually treat them as equals? As fully sentient beings throughout their mind/body/spirit.
Yes, horses die in the wild all the time. Has anyone ever done a comparison of the death rate of a wild, untouched herd versus a stabled group of horses? A group of supposedly lucky, cosseted, protected horses given every thing their humans can possibly afford, to ensure their health and safety? I think the stats may surprise us.
Then there's quality of life. If there's one thing we all got the chance to experience with covid, it was a brief taste of an existence with restricted movement, bindings over our faces, separation from our families, isolation from our herd – all these things we impose on animals without a second thought. How did it feel?
Were you happy to exchange your freedom for perceived safety? Did the thought that, you might not die this year, make up for the restrictions and isolation? Maybe it did. Maybe nothing matters more to you than the avoidance of pain or death. Okay. Namaste.
I think there's a part of us that longs to be truly free. To not fear pain, discomfort, or death. Why else would songs like Tim McGraw's Live Like You Were Dying have 24 million views on YouTube? Why do things like ultra-marathons and climbing Mount Everest exist? Because humans yearn to move into pain and find a way through it. And if our body doesn't give us that opportunity via injury or illness, then many of us go out and seek it. The rest of us then watch movies and read books about those experiences.
Every popular movie, book, video game, film series that ever existed involves the archetypal Hero's Journey. Where the reluctant protagonist has to move into his/her pain and discomfort, and persevere in the hope for life/love, despite horrible odds and many trials that cause even more pain and discomfort. And what is the grand prize, upon successful completion of all these frightening, difficult trials, risking death, and experiencing great pain? The great prize is FREEDOM. Freedom to LIVE the way you want, freedom to LOVE who/what you want, freedom to BE your whole, true self.
If we do not all secretly long for this freedom, then why does all of our great or popular literature, myth, film, gaming, story, embody this same journey?
We cannot give this freedom, this autonomy, this empowerment, to our animals, to our horses, until we can give it to ourselves.
You can't give what you don't have.
Juliet and I hosted our monthly Interactive Livestream with the herd for our Singing Horse Members today, and one of the members had emailed in, asking the herd for their guidance about some back pain she was experiencing. Another member wanted to know what the herd required from us humans, to help them in their work. The horses and my big dog Kumba proceeded to act out the most amazing demonstration of: pressure, feeling trapped, rising anxiety/panic, increasing pressure, increasing anxiety, rising to a crescendo of danger, and in the climax of distraction, taking a big risk and bolting for freedom. They acted out someone (Kumba) in the pressure cooker of PAIN and discomfort.
This enactment also demonstrated what the horses request of us humans – a lesson they have give many times before – that we take responsibility for our own energy (frequency, presence), and take full responsibility for our actions, our purpose, our safety, and what we bring to the collective. How are we influencing what happens, and the possibilities that are then available to us?
About 22 minutes passed, and they all re-enacted the exact same scenario!
But this time, Kumba changed his energy, changed his perception, and changed his response – he leaned in to the situation (pain), rather than trying desperately to escape it. He made peace with the escalating pressure and the threat of more pain. He no longer tried to flee, or make it all go away. Instead he surrendered to what is. And as he dropped into his own grounding (connection to earth and all that is) and allowed peace to suffuse his body/mind… all the pressure dissipated. None of the horses physically moved away or released the pressure, but the threat, the panic, the anxiety, all disappeared. NOTHING changed physically with this scenario/enactment, but Kumba shifted his energy and emotion. He then found a spot to lie down quietly, in the midst of the ring of horses, and they all meditated together.
The horses formed a container that represented pain. You can't leave. Are you going to feel trapped here? Are you going to feel pressured, anxious, panicky? You try to escape and a horse moves to close the gap. You are trapped. There is no way out.
Most of us respond to pain, or the threat of pain/suffering, in same way Kumba responded in the first scenario. We get desperate, panicked, and overcome with fear and anxiety. This intensifies pain. This intensifies suffering. We may resort to desperate, dangerous measures to escape pain.
But if we surrender to the pain, if we no longer try to escape it, but we lean in to why it's here, if we seek to discern the message of pain… then pain no longer hurts.
On the physical level, pain is a series of nerve impulses, or communication. It's primary function is to keep us safe: Ouch! The fire is too hot – remove your finger right now, or you'll get burned!
On the metaphysical level, pain is an emotional or spiritual message from our higher self. Until we lean in and receive that message, our higher self cannot release the communication. Because the body IS the subconscious. The body is the densest part of the soul; it is not separate from the soul.
Purely physical pain is not too difficult to transmute. Remember that fear is what makes pain hurt. Without fear, pain is simply nerve impulse communication with the brain. You can use the Wim Hof method to transmute physical pain or discomfort, or, you can use my method. This is the technique I use to have all my dental work done (fillings, crowns, extractions, jaw surgery) with no anaesthetic – because pain doesn't have to hurt:
Persistent, or chronic pain, always has a metaphysical component to it as well. Techniques that work well to delve into the emotional/spiritual messages of pain include, craniosacral therapy (go to Upledger.com and find a therapist at Level 2 or higher), Lazer Tapping, hypnotherapy, oracle or medicine cards, and various forms of somato-emotional release. You need to use therapies and tools that integrate the spiritual/emotional with the physical body.
This demonstration from the herd and Kumba was a fabulous example of why I prefer to hang out with animals that are fully enlivened, embodied and empowered – rather than animals who are trained to do what I want, when I want it. And yes, Mr. Don't-Touch-Me Makah was an integral part of this teaching today.
Exploring with a Wild Mustang – No Training No Touching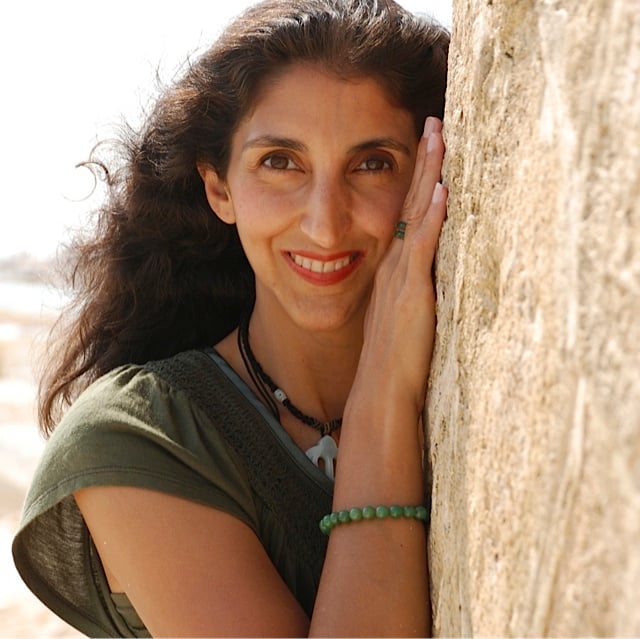 Jini Patel Thompson is a natural health writer and Lazer Tapping instructor. She began riding at age 2 in Kenya, and got her first horse at age 8 in Alberta, and so continues a life-long journey and love affair with these amazing creatures.