I walked into the paddock area and Montaro briefly smelled my hand in greeting, then tried to nip me. Zorra turned her head away as I came near. Aude stood patiently as I approached, then brushed by my extended hand as she turned to walk to the hay area, 'Alfalfa now please' she pointed with her nose. Jax and Juno just watched me from a distance.
That's fine. I don't have much time for canoodling anyway. I've been under serious stress and tension these last few weeks:
My health biz expanding to new product lines and also setting up in Australia.
Dialoguing with different coaches, testers, etc. to try and figure out why my biz-building program is not expanding as I thought it would.
Numerous issues with my 3 kids (2 are teens) as they face their own life struggles/issues – good thing I'm an EFT practitioner!
Selling our house – so 10 years of detritus cleansing/detox, plus it takes SIX hours to get the house ready for each showing/open house – yes, thank god I have a housekeeper, but she doesn't work weekends and sometimes she can't make it in, since she's going through her own very stressful time.
But you know what's causing me the MOST stress? What is wrapping me up in tangled knots of manky-ass, boiling-cauldron, tense-as-a-bowstring yuckiness?
I still don't know where OUR LAND is!
As you may recall, my horses are in a semi-hostile boarding situation. Things have calmed down for a bit, but they will no doubt erupt again. So I have to lay low. I need to move them by the end of the winter as their field will be trashed come Spring – because I can't cross-fence it, or re-seed it without risking another blow-up. So…
I am actively looking for where to locate my horses. This may seem like a simple endeavour, but it is actually more complicated than setting up warehousing and order fulfillment for my health store on a different continent!
First of all, I am blessed with plenty of choice. Which sounds like a good thing, but also exponentially increases the difficulty of making the right choice.
The Paradox of Choice
A couple of psychologists once set up an experiment in a grocery store. In the first experiment, they had a stand with only 6 varieties of jam for people to sample and choose from. Then they set up a stand with 24 varieties of jam. Guess what happened? Yep, they sold ten times more jam when there were only 6 flavors to choose from. Because when people were faced with 24 options, it became really difficult to choose, and most people ended up walking away to 'think about it' – no purchasing decision was made. Choice does not necessarily equal freedom.
Because I work for myself and my businesses are all automated, Internet-based companies, I can be anywhere in the world – as long as there's good Internet service.
My kids are aged 10, 14 and 16 and none of them want to live on a farm – they are all happily ensconced in their schools, community and neighborhood, thank you very much. My husband doesn't want to live on land here in Canada (due to the weather). He is open to living on a ranch in the U.S., but that can't happen until my two eldest kids have graduated. So.
I have thus far taken trips to look at land in San Luis Obispo, San Diego, Blaine (Washington), Cave Creek (Arizona), Sedona, Kamloops, Osoyoos, Kelowna, Vernon, and in a couple weeks I fly to Sonoita, Arizona.
Honestly, I can feel the franticness rise up as I type this – because I'm looking back over the journey thus far. The journey with no answers other than, NO. Not here.
I can't even figure out whether my herd is meant to stay within driving distance of my family home, or, whether I'm meant to go set up a ranch in the U.S. as my retreat place. A place I go to write, paint, commune with nature and hang out with my herd in the sun. A welcome retreat from this land of rain and grey. A place to hold workshops once a month or so.
All I know is that when I said to the divine, "Okay, you know what, this is just way too stressful and I can't possibly know what will be the best arrangement for all 15 members of this family, so how about I just surrender and wait for you to give me a sign; a dream, an encounter with someone, a book, etc. and tell me where our land is?"
The universe said, "Nope. You must stay in action. You need to activate both the feminine/masculine, yin/yang at the same time. You must be connected at all times to your intuition, yet stay in action and keep moving forward."
Gah!!
And so as the stressors piled up on me, I could feel myself winding far away from my usual grounded self. To the point where my herd has not wanted me to even touch them this last two weeks. Not one of them has wanted to cuddle, or have their itchy places scratched. If I sat down next to them, they would actually move a few paces away. Sometimes they would walk away entirely.
This has never happened to me before! But when I examine myself honestly, I also cannot recall a time (other than when my babies were young – and I didn't have horses then) that I have been this off-the-charts stressed before. When I went into my energetic state – my energy body, this is what I saw:
See all the spiky shards pointing outwards? The dark, tangled manky ball in the middle? And yes, that is green slime dripping off the grey/black coils of despair/frustration. So if this is me, flinging spiky shards and dripping sticky gobs at my horses' face, belly, withers… is it any wonder they want to get the hell away from me?!
This was not a state that could be dissolved through meditation, or EFT Tapping, or solution-focused counseling – not that I didn't try. Because here's what I realized about this oh-so-tangled journey I'm on: It's a complicated, multi-factorial work in process! Let me explain.
When you're single (i.e. no partners, children, or beings to care for) and those inspirational speakers, writers and gurus tell you to, "Be true to your authentic self, follow your soul's calling and don't let anything stop you!" It's pretty easy to do that, right? Your only block or variable to contend with is YOU.
Then you get married or partnered up or add some significant 4-legged soulmates and now what? What if your soul and destiny is calling you this way, but their soul and destiny is calling them that way… then what?
I've got three kids – strong, spiritually-gifted and aware, wise beings – and there's now FIVE of us humans. Each with a soul calling, a destiny, a gut guiding each of us to this or that. HOW does that work?
Now add a herd of spiritual masters who've incarnated in horse form for a specific purpose(s). Add an old Indian soul dog and another dog I've had a past life with. And a cat whose energy body is 10 feet tall… I could go on… But now we have FIFTEEN beings in our family. 15 souls and destinies to serve and manifest.
I've asked many gurus, authors, etc how to navigate the soul's quest when there's more than just one of you. No one has yet given me a good answer, or one that clicked YES in my heart.
And yet this is that path I've been walking – intensely – for 3 years now. With lots of tension, dissatisfaction, questing, experimenting, researching, dialoguing and meditating. And no, the solution is not gratitude, for god's sake. If I hear one more person banging on about how gratitude is the solution to everything, I'll throw my damn Gratitude Journal at them.
So what IS the answer?
Here's what I realized after two solid weeks of my herd turning away from me. After three separate dreams of my husband betraying me (not just sexual betrayal), multiple screaming fights with my teenagers, and dropping into bed so exhausted I could cry…
The reason I must stay in action and keep pressing forward is because the PROCESS is the point.
The universe indeed does have a solution, an answer, that will serve the needs and soul's calling of all 15 beings. BUT. Each of us 5 humans has to walk our own path, must complete our journey to X, before the solution can be revealed.
Perhaps I've already walked that journey and I'm standing right next to the solution. But my daughter is only halfway through her journey, and my eldest son is 3/4 of the way there and my husband is 95% finished – the solution cannot be revealed. Because then they wouldn't finish walking their path. And if they don't finish their journey, then that solution won't work anyway!
Let's say one of them hits a block along the way and refuses to move forward, or chooses to go right, or u-turn. Well then that initial solution won't work – so it is no longer the solution.
Let's say the solution is 'C' – right now, in this minute – based upon where each of us is headed, and the choices we're making. But if I tried to skip ahead and actually action, or step into 'C', then it would no longer be the solution! Because 'C' is not a fixed destination. It is a quantum physics kind of responsive-evolution solution. In layman's terms: It ain't over till it's over.
So I can't speak to the others' journeys. I can only speak about mine. And as I travel around from place to place, sinking my feet into the varied earth, walking it, sometimes sleeping upon it, feeling whether it claims me, or not, this exploration feels vital. And liberating. And with each exploration I know more about what I like and what I want.
Each region of land I walk, the herd walks with me (in spirit) and I feel into what they are feeling about this land. They are not as picky as me, but I can tell you my big Belgian girl did not like the crispy fried heat of San Diego county!
Funnily enough, friends new and old are appearing at each exploration. Sometimes to walk some of the land with me, sometimes just to meet for a meal. But it is heartwarming and FUN and I feel like I am connected to so many amazing heart-centered souls who are themselves seeking nature and the horse.
And MY process, my working through of my tangle of frustration, desires, hopes/vision, impatience, anxiety is of course pushing me to grow. To develop aspects of myself further.
The beauty of action
I sat down to breakfast with my hubby, Ian, to try and work through the symbolism of the 'betrayal dreams'. Together we explored the different possibilities: Where did I not feel he was supporting me, or on my side? Where could I be betraying myself? Am I in need of stronger boundaries with him; in our personal relationship, or in business? And so on.
I shared with Ian my insights about this being a multi-person, multi-factorial process. And I showed him the drawing of my energetic state (see above). A few days before, I had come across Linda Kohanov's workshop with artist Kim McElroy, Horse As Muse, and emailed it to him, asking, "Do you think I should go?"
At breakfast he said to me, "Why are you even asking me? Why wouldn't you go? It will be good for you to get some sun, get a break from the kids – I'll be back from my business trip by then, and your mum will still be around to help – and you can explore the land. If only to cross one more possibility off your list. Just make sure you get someone to take care of the horses while you're gone!"
And just like that, I felt released, I felt set free from the dark, manky ball I'd been wrapped up in. As I went through the actions of booking the workshop (of course they had room for me), the flights, and the Inns, the remaining strands of slime slid off me.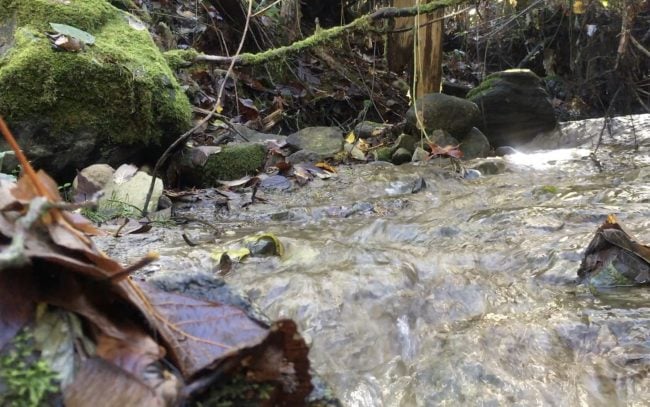 Because here's the thing: Sometimes surrender and patience is the right place to be. And sometimes ACTION is the only remedy for what ails us. Our soul may need us to get into motion, because once a boulder is rolling, it's fairly easy to steer it right or left. But when it's sitting dead-weight at a standstill, it takes a lot of effort to get it to move even an inch.
That's when it helps to step into vulnerability with loved ones and trusted friends. To open your heart for insight and guidance, but of course, simultaneously keeping your own gut intuition in charge at all times. Maybe your tangled manky ball is your job, or a relationship, or your lifestyle, or a dream you've given up on, or a health challenge, or the book you're not writing, or the art you're not making. Sometimes we need a set of fresh eyes to look at our tangled mess and give us permission to move into action – to help the murky way become clearer.
The 3rd Alternative
Stephen Covey – author of mega-bestseller, The 7 Habits of Highly Effective People – also wrote a book called, The 3rd Alternative. The message of this book is that compromise means everyone loses.
Normally, compromise is the solution that's held up as the way to help everyone get some or most of what they need/want. Covey asserts that this just means that nobody gets what they want! So the solution is not to compromise; where everyone loses and nobody wins. But the solution is to look for the 3rd Alternative; the solution that no one else has thought of. The solution that meets everyone's needs, where everyone wins. He boldly asserts that there is always a 3rd alternative.
And once you accept that this 3rd alternative exists, and you set your intention clearly and firmly towards discovering it, or allowing it to reveal itself, then the magic happens.
I've been playing with this concept for several years in both my business and my family life. And I have to say, it has not failed yet. And yes, sometimes it takes time – for all the reasons outlined above – but usually, it is fairly rapid. And inspiration (solutions) can come in many different forms, but that magical 3rd alternative that is a win-win for all parties involved always emerges.
Of course, as we already discussed, moving into action can be the catalyst needed for the 3rd alternative to make itself known. So if you find yourself similarly stymied, look for where you can give yourself permission to action some piece of your soul's calling. Not the whole thing, not actioning a solution, just a little chunk of it. Maybe it's a workshop, or a pleasure trip, or a hike for day, or a book, or time set aside each day to journal and do yoga, or Feldenkrais in your bedroom.
Where can you give yourself permission to action a tiny piece of your soul's yearning?
I skipped into the pasture, muddy from 28/31 days of rain in October, announced to my horses, "I'm going to Arizona – I'm going to SUN!!" they gathered round me for our usual love, scratches and cuddles. Part of me had been worried they would feel I was abandoning them to the mud pit, but all I felt was support, You go do this thing, we trust you. And we're with you – go make it happen.
If you want to follow along on that trip (November 18-25), I'm going to post a daily pic on Instagram. And of course I'll do a blog post later about the Horse As Muse workshop and share any take-aways with you. Here's a quick blurb about it – art, creativity and horses, what could be better?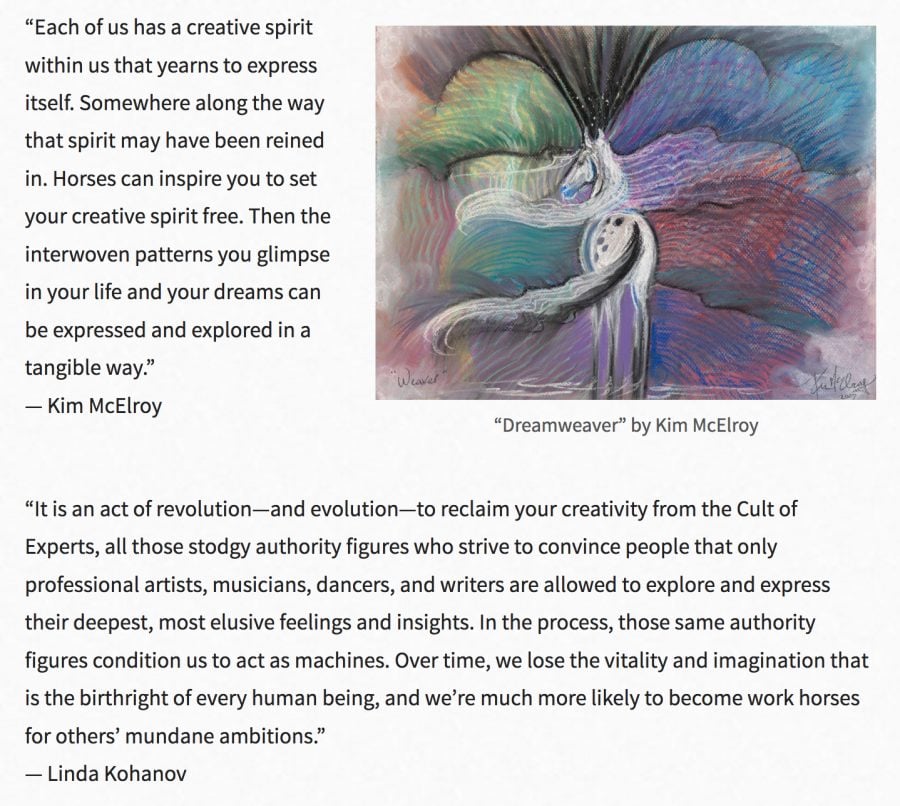 P.S. One last thing! I've done a teleseminar with Diedre West of the Healing With Horse Collective – exploring the intricacies and pros/cons of Equine Assisted Learning/Therapy. Click here to leave your comment/feedback, or to download the call.
My Horses Don't Want To Hang Out With Me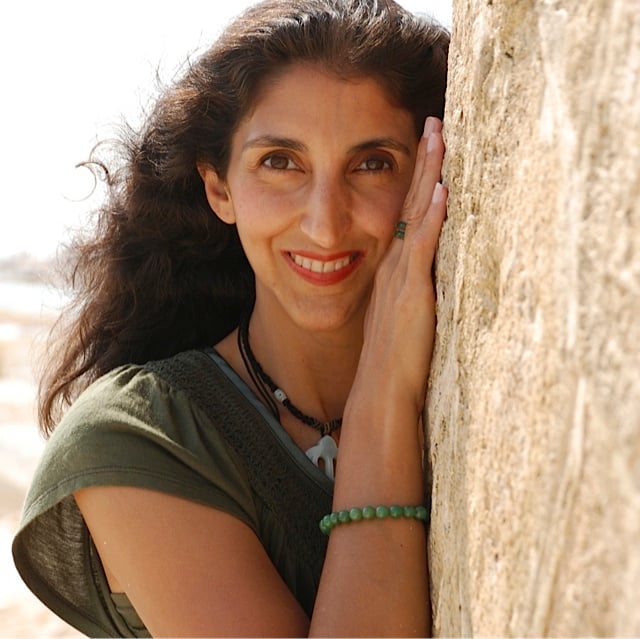 Jini Patel Thompson is a natural health writer and Lazer Tapping instructor. She began riding at age 2 in Kenya, and got her first horse at age 8 in Alberta, and so continues a life-long journey and love affair with these amazing creatures.