In this video, my big Belgian mare Audelina gives me an experience of what it's like to receive LOVE from Divine Mother energy. Aude invites me to join her in meditation and then tells me I have a 'mother wound'. After the experience, I call my friend Jenny Andrews over to tell her about it, because we have discussed this before. I want Jenny to sit with me and Aude, to feel into what was shared, and I wonder if perhaps Aude will share this love with Jenny at some point.
This Divine Mother love has a very specific quality… which I describe in the video…
Imagine if we could embody and provide this kind of love container for our own children, or children we work with, or teach?
Imagine how our wounded souls could heal and transform upon experiencing this kind of Divine/Devi love…
"We are all floating in the effulgence of one scintillating unseen cosmic energy called the 'Devi'. The Devi or the Divine Mother is the womb of all creation. She is the seed of all dynamism, radiance, beauty, equanimity, peace and nourishment. She is the life force energy.

A mother has total love for her child. The Divine Mother has unconditional and unquantifiable love for Her children which includes every being in this entire creation." – Bhanumathi Narasimhan, Devi – The Various names and forms of Divine Mother
Aude is this huge, powerful horse. She literally stops people in their tracks when they look at her. Then she comes over and love pours out of her eyes and she smooches them. Super strong, powerful, fierce and equally loving, open-hearted and gorgeous. She will usually fix your hair for you – make it more bouffant, give it some height, helping a girl out ya know.
I am blessed to learn at the feet of such a marvel.
The Divine Mother – Love Bath from my Horse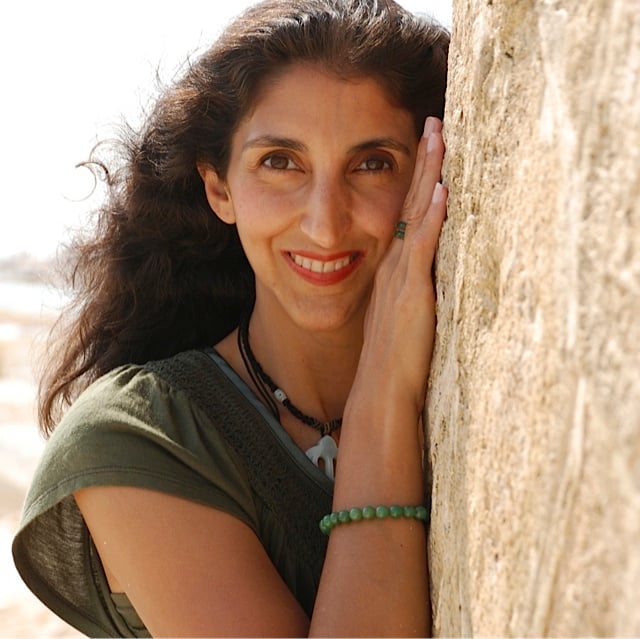 Jini Patel Thompson is a natural health writer and Lazer Tapping instructor. She began riding at age 2 in Kenya, and got her first horse at age 8 in Alberta, and so continues a life-long journey and love affair with these amazing creatures.