After Firefly and I had established a close relationship, a few cues, and most importantly for our purposes in this article, how to come, follow, turn, back, and stop before she even saw a halter, it finally felt like time to introduce the halter. At this point she was about two or three months old, but age and time will depend entirely on your horse, your schedule, your relationship, and your own intuition.
Part 2: Introducing the Halter
First, I went and bought a super cute baby halter – I chose a rope halter not at all for its usual pressure-training uses but simply because it was lightweight, so hopefully not overstimulating for her…and it was cheap! I mean come on, she'll fit it for like five minutes, do I really want to spend more than fifteen bucks?? I also found a miniature pony lead line, with a tiny little clip, again because it was very lightweight with a small clip and wouldn't drag too much on her little face. It was important to me that she be as comfortable as possible in her new gear.
First, I showed it to Fly and let her explore it and get used to this new weird thing I had in my hand. I held it out to her while talking to her gently and scratching her favourite spots until it was a Normal Thing instead of a Weird Thing. I casually raised it to her face, on her neck, down her back, til I was using it to scratch her, stopping and letting her smell it when she wanted. I should also add that she was, as always, loose, with her mother, and totally free to choose to be there or not.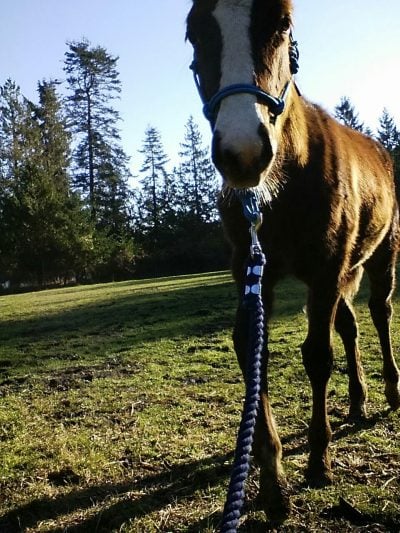 Because she wasn't worried about the halter, I moved on in that "session" to the next part – at this point we had been "working" for about two and a half minutes. I held the halter open by the nose-band so the straps fell down away from her and she had an opening to put her nose, should she so choose. Being curious, she of course began nosing the halter. I'd say "Nose in!" and any time her nose dipped into the opening, even just a tiny bit, she got oodles of praise and love. Pretty soon she was stuffing her little face into that noseband no problem. That was enough for the day, she went to her mama to nurse and I went to do something else – I don't remember what it was, but chances are it involved horse poo and the altering of its whereabouts.
The next time I brought the halter out, "nose-in" was the first thing Fly tried. We practiced that a few times, and then I began holding the halter on her nose for a couple seconds before taking it off.
Next step (again, when she was ready, not necessarily the same moment or even day), was to place the strap around her head and simply hold the halter in place for a second or two, until she showed signs of wanting it off: backing slightly or raising her head. At that point it came off and praise ensued both for wearing the halter, and for letting me know when she'd had enough (it's important to me that my horses know how to communicate clearly what their wants and needs are – which means I have to listen!).
Once she was comfortable with that, I tried doing up the halter, waited a moment, praised her, and then took it off. Then, leaving it on for longer and longer periods, I returned to playing with her "off-leash", with the halter on but no leadline.
When it was time to clip on the line, I let her adjust to the added dangly thing and weight under her chin, which she did by vigorously shaking her head up and down until she realized it was pretty much stuck there. Then we did as we always did – come, follow, turn, back and stop without any pressure on the line. Having learned all of this already, and having had the chance to adjust to the feel of the halter on her face, she was not learning anything new – she was just doing her usual stuff, this time with this thing on her head. No problemo.
In my experience with this sweet little horse child, I'm learning that it is so much easier for you and your horse if you add new things a bit at a time, or break them into separate skills that they can then do simultaneously (Leading at Liberty is Skill #1, Wearing a Halter is Skill #2, and combined they are Two Skills I Have Learned, Done At the Same Time). If the first time a horse learns to follow is also the first time she encounters a halter – let alone wears one and discovers she is suddenly being restrained by her face – you are bound to overload her nervous system and you will end up with a struggle. Struggle = stress, and stress only impedes learning and relationship-building, whereas learning Skill #1 and Skill#2 separately allows for struggle-free learning and better integration.
Next up in Part 3: Leading the Confident Foal, I'll talk about introducing the realities of pressure and how to minimize it, working with the limitations of the halter and lead, and how we progressed to long, incident-free walks and perfect leading manners together.
No Pressure, No Fear: Teaching Your Young Foal to Lead – Part 2
A barefoot hoof trimmer, a singer/songwriter, an amateur farmer – these are some of the hats Kesia Nagata wears when she's not full to bursting with wondrous equine co-creation.