Although I bought Jamie Jackson's, Paddock Paradise book over 3 years ago, I have not been able to implement anything yet as I am still boarding my horses on other people's land – where I have already sunk tons of money just to create a dry paddock area for them to eat in our super rainy, muddy climate here in BC, Canada!
But it looks like we will be ready to move to our own property within the next year (fingers crossed!) so I have stepped up my research, and begun fleshing out my plan for my ideal Paddock Paradise/walking track/equine permaculture habitat, and came across this simply fabulous example from Marja van Run in Holland.
I mean, just LOOK at how much FUN her Icelandic horses are having with their waterhole in their 2.5 acre Paddock Paradise!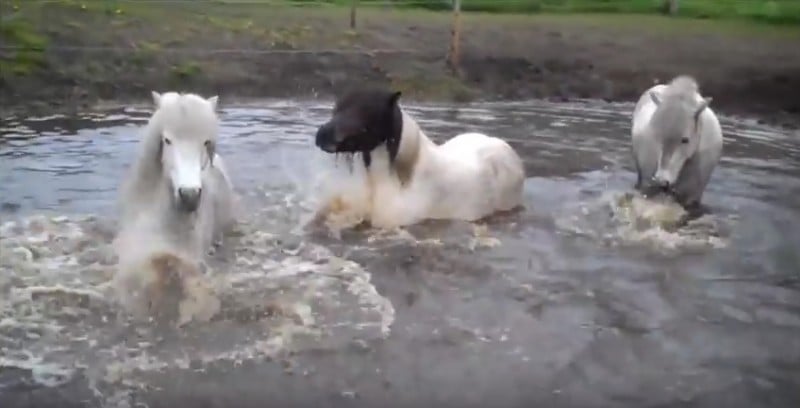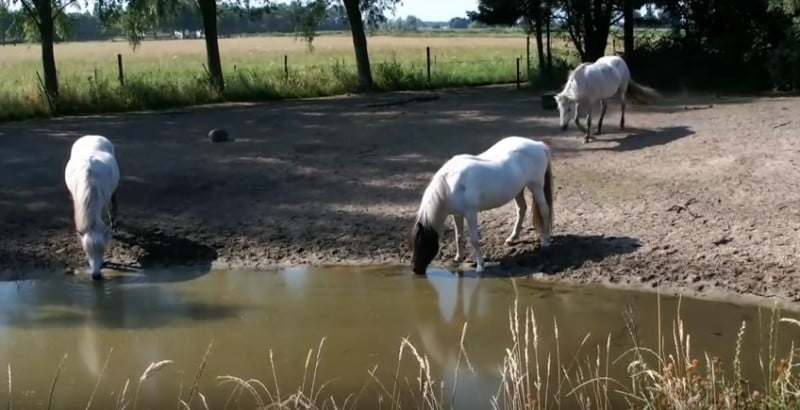 I'm going to be sharing more about Marja's (and other's) excellent Paddock Paradise setups in future posts, but for now, let's just focus on this waterhole. I watched about four different videos on Marja's YouTube Channel and sifted through dozens of video comments to distill down the important info for us. So let's turn this over to Marja for some how-to…
How do you keep the waterhole clean and fresh?
Marja van Run writes, "If a pond is big enough it is self sustaining, so I don't do anything to the water to keep it clean. It is a living organism though, and I could clearly see my pool go through different phases from the moment it was dug. But it can take a few years before it reaches that balance."
"Over the years we have seen the water gradually becoming cleaner. At first it had a lot of algae on the surface and one summer we had weird pink flakes in the water which turned out to be some kind of bacterial pollution":
"So we closed off the pond to the horses, but it disappeared in 3 days and didn't come back. Last year there was no algae and instead we saw a lot of duckweed (which the horses loved!)":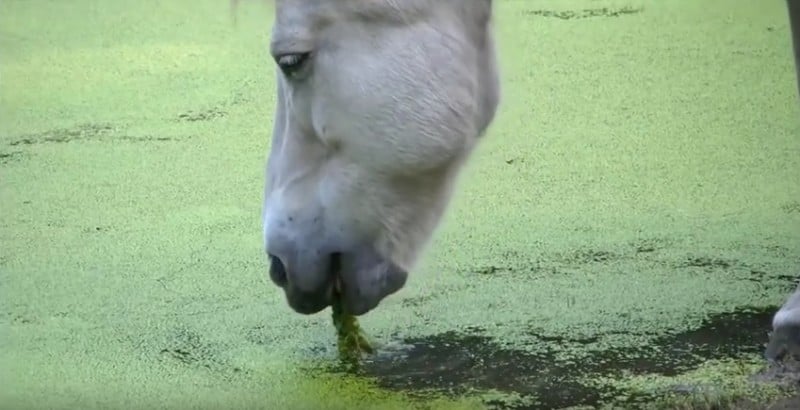 "So I guess the waterhole is going through all kinds of phases and slowly coming into a more balanced state now. By the way, the horses always have a free choice between drinking from the waterhole or tapwater from a tub. They usually prefer the waterhole."
Do you line the bottom of the pond with anything?
Marja says, "There is no foil or anything else on the bottom of the waterhole. This is the natural groundwater level, so nothing is needed to keep the water in there."
"First we drilled a small hole at the driest time of year (August/September) to see how deep the groundwater level was. Then I drew a plan with the depth of the waterhole (2 metres deep) about 80 cm lower than the groundwater level (so that the waterhole would never dry up), a steep bank on one side and a very gradual one on the other side. Then we made a hill with the dirt from the waterhole."
Here's the video showing how Marja dug her waterhole and then used the excavated earth to build a nice hill for the horses to romp on at the other end of her Paddock Paradise. I don't know about you, but I will be showing this to my excavator guy when I'm ready to create a waterhole for my horses!:
Those of you who have read Jamie Jackson's book, or studied Paddock Paradise models, know it is very important to vary the terrain as much as possible. And horses LOVE playing on hills, gravel piles, compost piles, or anything else piled up or asking to be climbed. And what could be better for their agility? So I just love, love, love this idea of doubling up the benefits by getting a waterhole and a great climbing hill all in one go!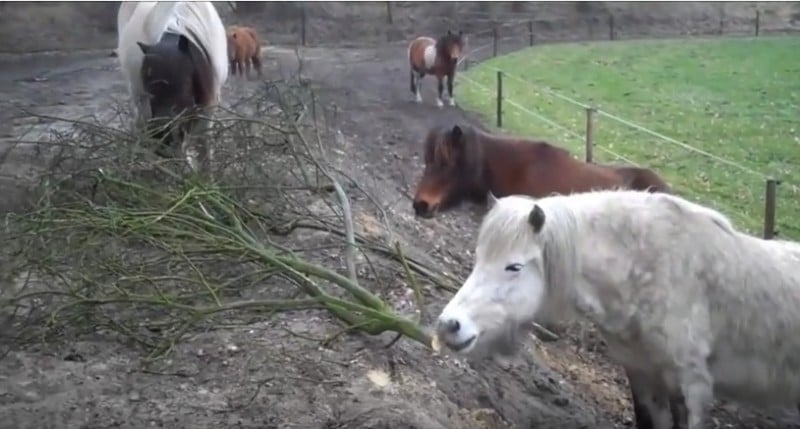 Marja has a few videos showing how much the waterhole enriches her ponies' lives, something I did not fully realize before. I thought it was a great idea, but I didn't realize how it's actually crucial to their natural enjoyment and behaviour.
My Fjord/Belgian gelding, Montaro, has been begging me to open up access to the creek again, at the back of their pasture. Unfortunately, the fencing in the back portion of the field is often taken out by trees falling on it. So when they crossed into the neighbour's property after a windstorm last month, and she threatened to phone the SPCA (while I was in Mexico!), I closed off the back portion. But after watching these horses cavort, explore, enjoy and utilize their waterhole, I understand WHY it is so important for him to have access.
I was going to save this most fabulous video for the next post, but the waterhole footage is just too good to leave out. If you want to go straight to the waterhole video footage, start watching at 22 minutes:
Wait! I can't afford a big waterhole right now – any alternatives?
Well, funny you should ask, because Cynthia Cooper has a fantastic, super easy, DIY tutorial about how to make a hoof bath from materials you probably already have lying around. You can use this to hydrate your horses hooves during dry weather: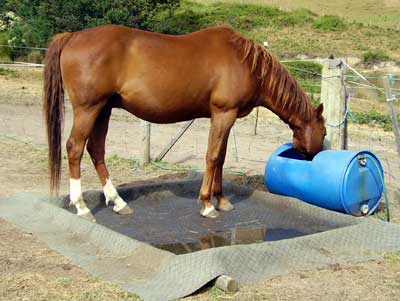 And even incorporate it into your walking track (Paddock Paradise), like Tina Brandt from Horse Harmony NZ did: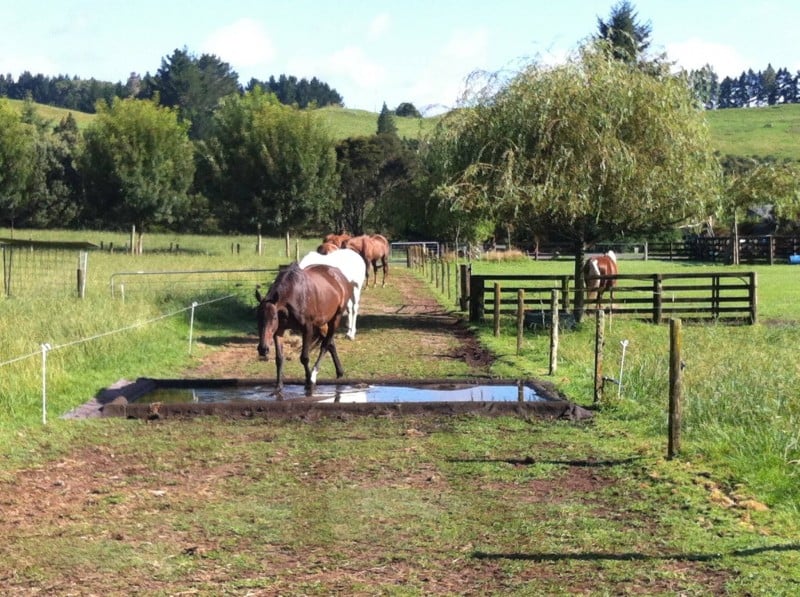 As Tina says: "Last year the horses hooves got really dry with the dry summer we had, so this year with the impending El Nino, I wanted to rectify this rather than using hoof creams etc. I installed a hoof bath earlier in the year across a part of their track system, which has solved this problem, although it hasn't nearly been as dry as anticipated. But I am really happy with the results of this simple way of hydrating their hooves."
Needless to say, if you have a horse that's squeamish about walking in water, this would also be a good way to teach the horse that water is okay and even no big deal. Once you've supported the horse through their first encounter or two, when things are part of a horse's natural environment, even the scariest items become normal after a few weeks.
One final example
Just to make sure you're as fully ensconced in waterhole-envy as I am, I'm going to leave you with this aerial photo of how Horse Haven has incorporated a waterhole into their walking track, and then a video showing it in closer detail and how their horses use it: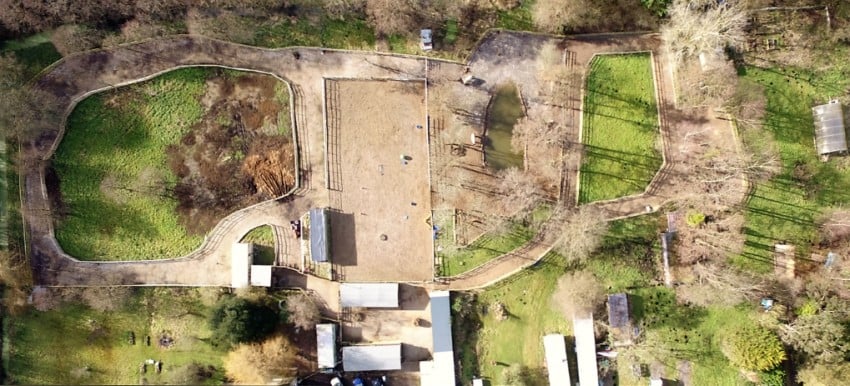 Aeration stones for mosquito control
Lastly, if you're wondering how Horse Haven keeps their waterhole from becoming a mosquito breeding ground, owner Suzannah was kind enough to give me the details.
They use something called air stones, or, aeration stones. Suzannah got theirs from a pond supply shop. She used 3 inch stones, placed 4 feet apart on either side of their waterhole.
She also said they haven't gotten clogged with algae or needed to be cleaned, since they put them in 2 years ago. Here's some more information on air stones and examples of what they look can like.
Equine ethologist, Lucy Rees' videos on Epona TV, also show how a waterhole is crucial for natural fly relief during the summer months. So that's something else to add to the list of benefits bestowed by providing a waterhole for our horses!
VIDEO: How To Make a Great Waterhole for Your Paddock Paradise or Pasture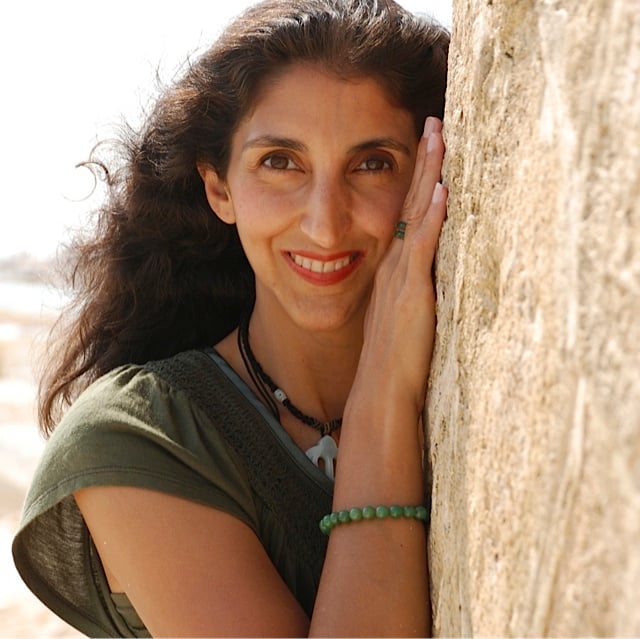 Jini Patel Thompson is a natural health writer and Lazer Tapping instructor. She began riding at age 2 in Kenya, and got her first horse at age 8 in Alberta, and so continues a life-long journey and love affair with these amazing creatures.